After Long Year, Barbara's Birthday Bash Just What Hillside Needed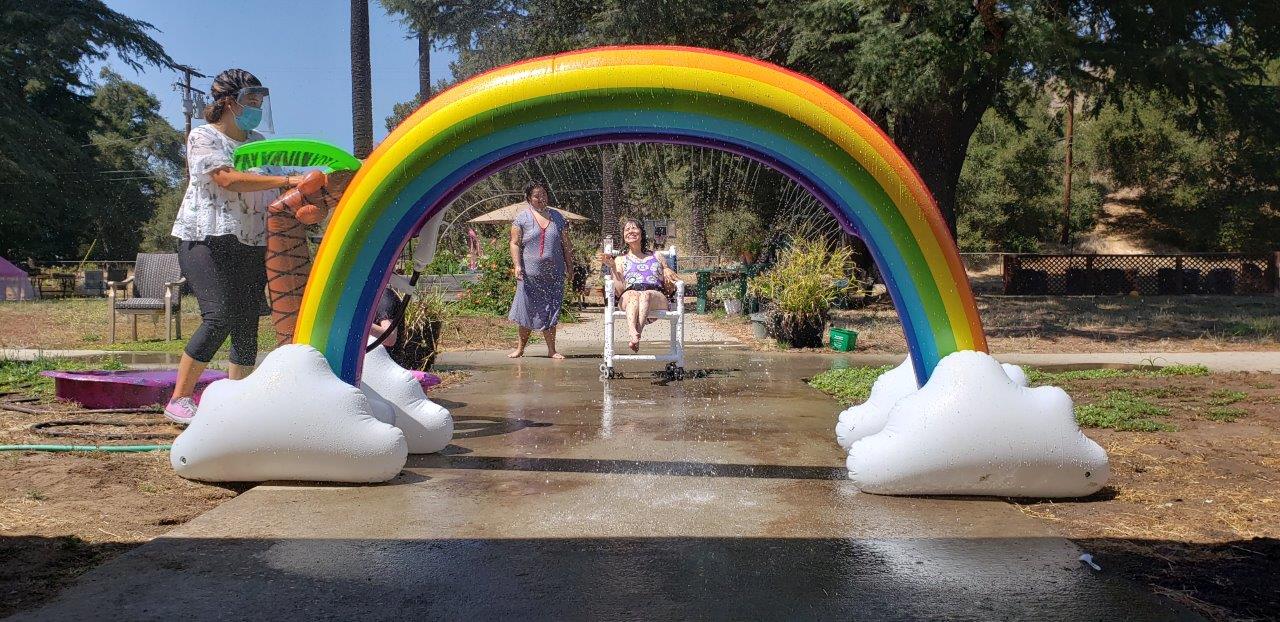 The pandemic put a damper on everyone's best-laid plans, but for the residents of Hillside — a Santa Barbara facility for adults with intellectual and developmental disabilities — it was truly devastating.
Many of the residents lead active lives and follow carefully constructed routines under usual circumstances. Most leave Hillside daily for a variety of activities, but because facilities like Hillside are high risk for COVID-19 outbreaks, the residents were unable to go outside or receive outside visitors.
In May 2021, some of these restrictions finally eased. When a staff member discovered that a resident name Barbara would turn 77 years old on June 10, 2021, making her both the oldest and the longest-term resident, everyone agreed that the best thing to do was celebrate in a big way.
"Barbara was basically raised in Hillside," said Ashley Lucero, skills development specialist at Hillside for six years. In fact, Barbara has lived in Hillside since she was nine years old, when her mother and grandmother could no longer physically lift her to care for her.
In many ways, the unpredictability of the pandemic imbued Hillside with a renewed zest for celebration.
"We decided to celebrate Barbara because we want the residents to know how important these milestones are in their lives and in the life of Hillside. Just the idea that Barbara is 77 years old — we don't know what tomorrow is going to bring," said Michael Padden-Rubin, Director of Development at Hillside. "Who knows where we're going to be tomorrow with the pandemic? Some people were saying, 'Oh, well we should wait to celebrate her 80th.' Calling it a milestone, usually that's a 75th or an 80th. We're calling it a milestone because we are so grateful she's able to celebrate her 77th birthday party."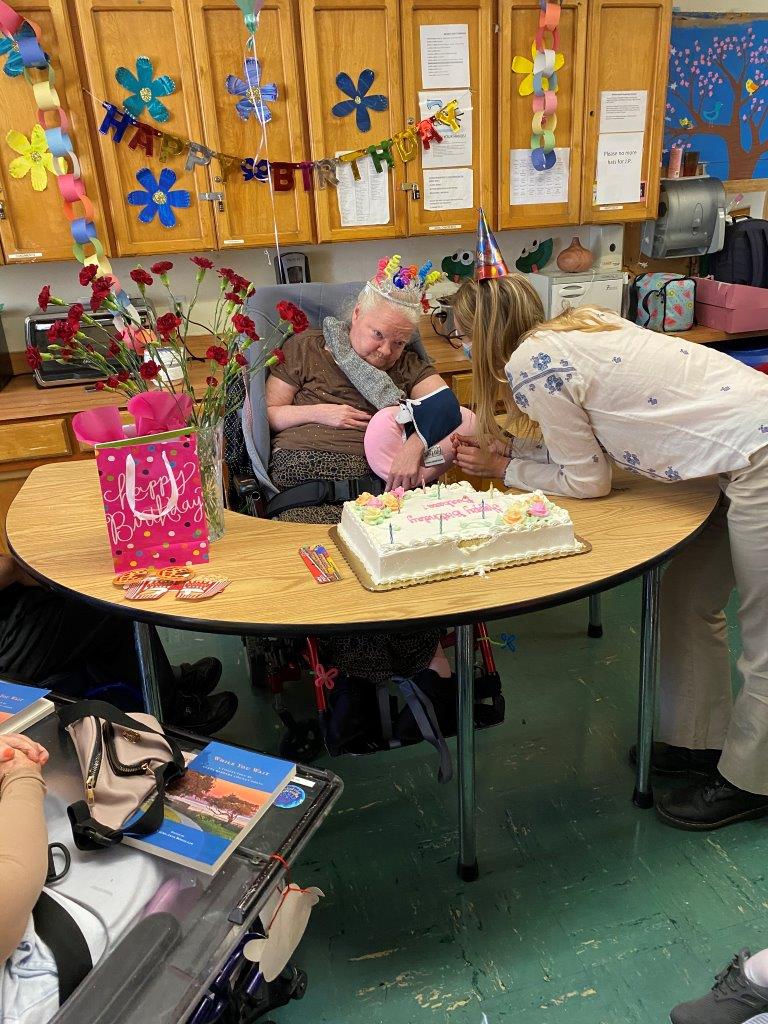 Stressing the challenges of the pandemic, Padden-Rubin explained that "essentially we were just shelter-in-place. There were no visitors. The residents couldn't have their families come. The majority of the residents, they would leave Hillside to go to their day programs in and around Santa Barbara. The residents would leave at 9 am and then they would return after 3 pm in the afternoon to Hillside. They were gone most of the day, and for many of them, it was very challenging. Some of them are very high-functioning and very aware of what's going on — for one resident, Morgan, this was extremely tough for him. Even as I say this, I get choked up. He would say to me, 'I want my life! I want to see friends! I want to go out!' It was very challenging. We kept saying, 'We're trying to keep you safe, we're hoping things will get better soon,'" said Padden-Rubin.
Because of these challenges, Hillside went all out for Barbara's birthday. Many of the residents and staff were in attendance, as well as Barbara's friends from the Assistance League of Santa Barbara, a local philanthropic organization. They sang Happy Birthday and prepared a birthday cake and presents.
"Barbara was opening presents for weeks after the party," Lucero said, laughing. "It took some time for all of them to arrive in the mail."
Barbara leaves her mark on most of the staff — she's known to be talkative, outgoing, and caring for others. Lucero describes Barbara as highly empathetic and selfless, with a deep love of psychology.
"When I first started working there, which was about six years ago, Barbara was one of the first residents I could talk to because she was verbally able to. Barbara knew a lot of things. She loved talking about psychology, and I'm a psychology major," Lucero said. "She really loved talking about therapy. She really loved talking to people and about how they're feeling. She reassures you that everything is going to be okay. She loves communicating about the other residents and their needs. Sometimes she will say, 'Oh, he uses a straw to drink his drink' if it's a new staff member and they don't know. Or, 'She likes her juice this way in the evening.' She gives us little tips. Even though it's getting harder for her to speak, physically, she loves to help others and talk about their needs."
For Lucero, it was fitting that Barbara's birthday should be the first big celebration at Hillside after the worst of the pandemic restrictions lifted.
"We lost a lot of connection between each other during the pandemic — seeing each other every day, seeing that person smile every day — whatever it was. We had a routine going on, and the pandemic made it so people couldn't see their parents, their families, their loved ones. With Barbara celebrating her 77th birthday, it was a way to bring up that feeling [of connection] again," said Lucero.
Barbara was herself a major source of support for Lucero at Hillside during the pandemic.
"We had some hard, hard days. How do you explain to someone who can't necessarily cognitively understand that they can't leave their room? It was our job to keep them safe. We worked really hard to get through the pandemic," said Lucero. "During the whole pandemic Barbara was the most encouraging person I talked to. I loved walking down to her room five or six times a day and just talking to her and her roommates. When I'd take her outside for a walk she would comment on how much she loved the trees, the flowers — she's just always positive."
Barbara's impact stretches all the way to the top of the organization, with Michael Rassler, the president and CEO, indicating that Hillside is truly home.
"Hillside has and always will be here for Barbara and her fellow residents. Hillside is their forever home, and it is (unfortunately and unintentionally) one of our community's best kept secrets," Rassler said.
Now that they are able, Padden-Rubin says the key to keeping things going is simple.
"The best thing people can do to help residents at Hillside is to visit them."
Hillside is celebrating its 75th Anniversary with a special Sunset Soirée on September 25, 2021. For more information, visit hillsidesb.org.
You might also be interested in...