Thank you, Montecito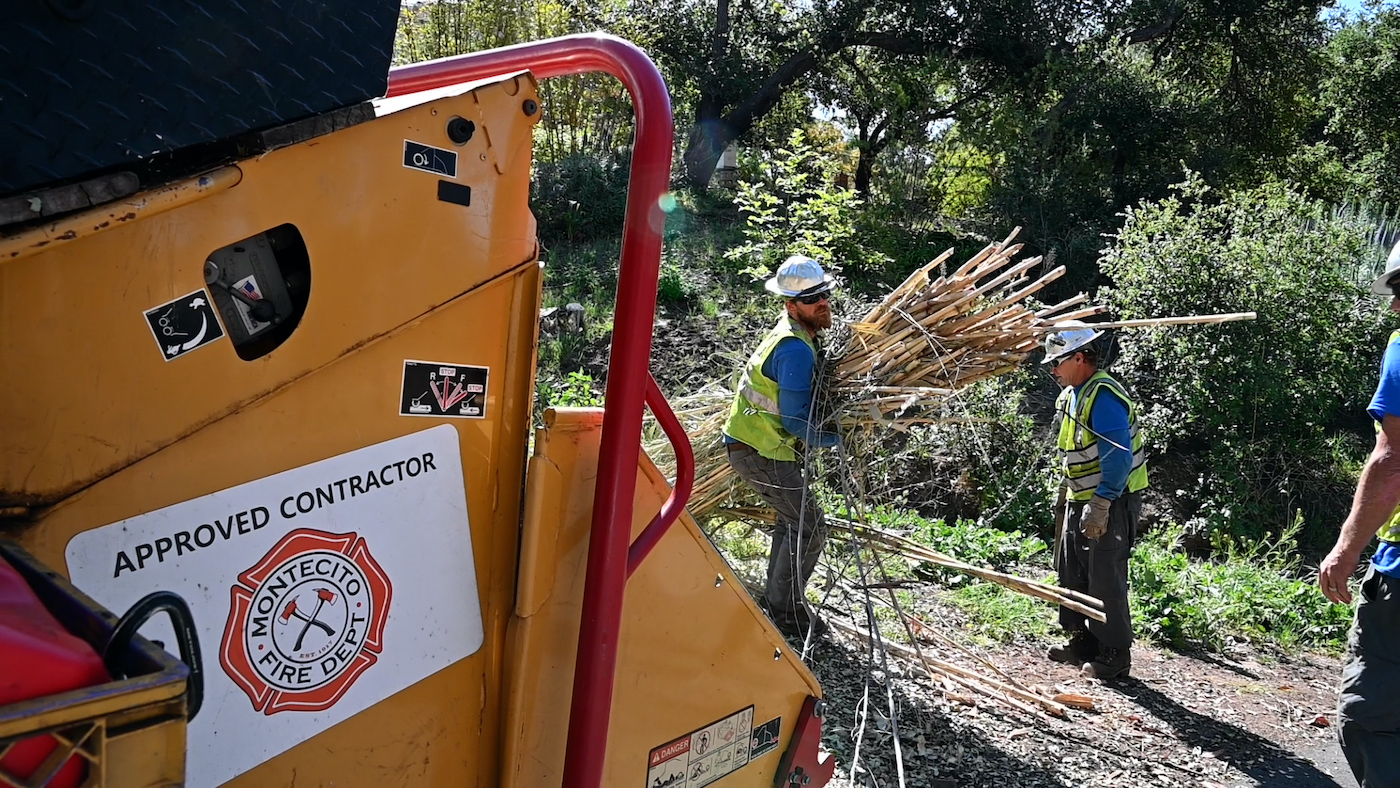 Thank you to everyone who cut back overgrown vegetation to make your community safer from future wildfires.
Thank you for hauling your branches and brush to the curb, for welcoming our chipping crews to your neighborhood and for taking initiative to protect your home ahead of fire season.
Now in its 22nd year, Montecito Fire's Neighborhood Fire Prevention Program was another success and a significant step toward community resiliency in the face of wildfire.
Our community's participation in this simple yet highly effective program, year after year, has put Montecito on the map as a leader nationwide in community wildfire protection.
The Montecito Fire Department, and specifically our Prevention Bureau, is grateful to every resident who set aside time from their busy lives to prioritize defensible space. Our department's two Wildland Fire Specialists, Maeve Juarez and Nic Elmquist, organize, facilitate, and oversee the program each year but say it would not be a success without the community's involvement and support.
"This program doesn't happen overnight, and it isn't something we could do ourselves," Elmquist said. "It's truly a communitywide effort by our residents."
"We are so thankful to the community for participating and being the model for the rest of the residents in their neighborhood," said Maeve Juarez.
The effort is commonly referred to as the Neighborhood Chipping Program. Over the past few months, you perhaps noticed roll-off dumpsters filled to the brim with yard clippings and piles of brush at the end of driveways or heard our chipping crew shredding tree limbs into wood chips.
The Neighborhood Chipping Program is a fire prevention project focused on strategically reducing vegetation along roadways and around private properties most at risk of severe wildfire impacts.
Our goal is to assist community members in establishing defensible space around their home to decrease the odds of suffering property damage during a wildfire. Additionally, a buffer of defensible space facilitates safer evacuation corridors for everyone in an emergency. It also allows better ingress for firefighting equipment to access and protect homes.
The Chipping Program is a free service for residents, funded by the Montecito Fire Department's annual Wildland Fire Prevention budget and the California Climate Investments Fire Prevention Grant Program.
Last summer, Montecito Fire was selected to receive three years of funding through the state grant, aimed at investing in projects that reduce risk of wildland fires to communities, while maximizing carbon sequestration in healthy wildland habitats. The department was successful in receiving the grant funding due in large part to the tremendous community support for the Neighborhood Chipping Program.
We also appreciate the sweat-equity many of our residents put in to make this program a success! Our motto is: You cut it. We chip it.
With consistent hot and dry weather, the 2021 Neighborhood Chipping Program has concluded for the season. Through the program, excess vegetation was cleared, and defensible space was created at over 100 more homes in the community this year than last year!
The 10-week program began in late February, running every other week through the end of June.
We added another neighborhood to the program in 2021. Elmquist said the residents of the School House Road neighborhood took initiative to make their slice of Montecito safer.
"We are always looking for areas to expand our program and the School House neighborhood expressed interest in chipping," Elmquist said. "We were excited to provide them with our chipping service this year and will continue to going forward."
Across the 10 neighborhoods where we conducted the program, a total of 260 properties participated in chipping.
Doug Large and his wife, Laurie, knew their Pepper Lane residence needed some serious grooming in order to survive a future wildfire.
"Our home is ringed by trees and there was basically a jungle in the backyard which gave us very little defensible space," Large said.
He wasn't sure where or how to begin with the daunting task of trimming back his overgrown yard when he saw a sign, literally.
"The beauty was, we were walking and we happened to see the Chipping Program sign so I called Maeve at the Fire Department and she told me all about this amazing program," Large said. "They came out, took care of the defensible space for us, rented a dumpster for us so we would have a place to put all the debris and it was just fantastic. We're very happy with the work."
On a personal note, the Chipping Program is an outstanding opportunity for us to get to know wonderful people like Doug and Laurie and connect with our community.
"I love this program so much because we get the chance to meet everyone and build meaningful relationships with our community members," Juarez said. "My hope is, they always feel comfortable calling the fire department for help or to report something."
Juarez said many of her interactions with residents turn into opportunities to provide other recommendations for the homeowners to further protect and harden their home against wildfire.
We want to thank our chipping contractor Eco Tree Works for devoting 50 days of hard work to chip 240 tons of vegetation and haul away 70 tons to the local chip recycling center. Also, we are very thankful to Marborg for partnering with Montecito Fire again this year. Marborg provided roll-off dumpsters at designated locations throughout the community for residents to dispose of vegetation unsuited for the chipper such as palm fronds, succulents, vines, grasses, and leaves.
Once again, Montecito Fire would like to extend our gratitude to all participants who made the 2021 Neighborhood Fire Prevention Project a great success! This community collaboration is helping to create a more fire adaptive Montecito while continuing to increase the resiliency of our adjacent wildfire landscapes.
If you wish to have a chipping day for your neighborhood in 2022, please contact one of the Wildland Fire Specialists, Elmquist or Juarez, at 805-969-7762.
2021 Chipping by the Numbers
Chipping program participants: 260 residences 
Service areas: 10 neighborhoods, all within the Very High Fire Severity Zone
Passes through the community: Chipping crews spent approximately 5 days in each neighborhood 
Project duration: 10 weeks from Feb. 22 to June 30
Fuels reduction: 240 tons of woody biomass were chipped and 70 tons of vegetation were hauled away in roll-off dumpsters
You might also be interested in...