Return to Miraflores: A Site to be Seen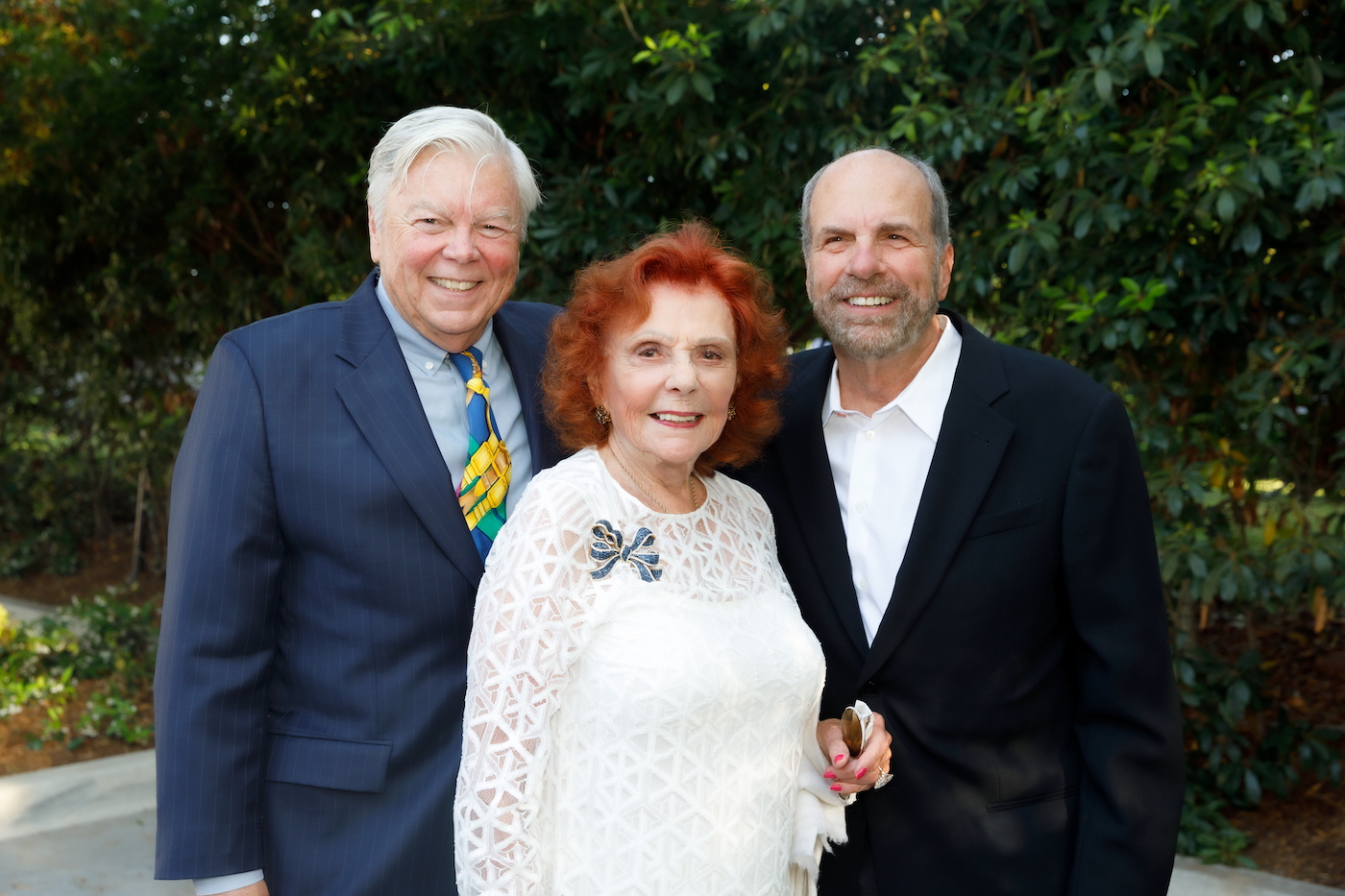 Miraflores, the charming 10-acre estate that has been the Montecito home of the Music Academy of the West since 1951, was the site of major social gridlock when it hosted its annual gala with a sell-out crowd of more than 300, raising nearly $450,000 for funding and scholarships.
The boffo bash, "Return to Miraflores," was co-chaired by former board member Michele Brustin, board member Stephanie Shuman, and Fred Shuman, and dedicated, along with the summer festival, to Mary Lynn and Warren Staley, in recognition of their philanthropic and volunteer leadership on behalf of the MAW.
"This is almost surreal," declared Jonathan Bishop, the popular institution's chief advancement officer. "Many of the ladies here say they're having problems getting used to their high heels again after a season of virtual performances and social distancing!"
Faculty piano artists Jeremy Denk and Conor Hanick performed together for the first time with "Hallelujah Junction" by John Adams, while international tenor Ben Bliss, accompanied by Nino Sanikidze on keyboard, performed Lensky's "Aria" from Tchaikovsky's Eugene Onegin and "Dalla sua pace" from Mozart's Don Giovanni, as well as a more modern take on "Maria" from Steven Spielberg's much anticipated remake of West Side Story.
Completing the entertaining program was the Tákacs Quartet with Brahms' string quartet "No. 3 in B-flat major" and Samuel Coleridge-Taylor's "5 Fantasiestücke," which featured three-time international Grammy nominee Richard O'Neill, former principal violist for Adrian Spence's Camerata Pacifica, who joined the talented group last year.
Richard, who attended MAW in 1998 and 1999 and was awarded a Grammy last year for Best Classical Instrumental Solo, received the Distinguished Alumni Award. Among the impressive list of locales, he has performed at are New York's Carnegie Hall, the Disney Hall in Los Angeles, London's Wigmore Hall, and the Kennedy Center in Washington.
Among the tony throng turning out for the bountiful beano were Al and Toni Amorteguy, Peter and Linda Beuret, MAW president Scott Reed, Richard and Annette Caleel, Janet Garufis, Leslie Ridley-Tree and David Lacy, Mary Dorra, Robert and Robin Fell, Margo Feinberg, Brooks and Kate Firestone, Anne Towbes, Brian and Patti Herman, Luke and Stacey Swetland, Robert Weinman, Richard and Marilyn Mazess, Frank and Nancy McGinity, Seymour and Shirley Lehrer, and Alan and Elissa Stepansky.
Well, That Was Awkward
It was to be hoped Prince Harry might reconcile with his older brother, Prince William, when they both unveiled a statue of their late mother Princess Diana on what would have been her 60th birthday at Kensington Palace in London.
But the obvious froideur between the two was, sadly, glaringly obvious as the Duke of Sussex, 36, arrived just 28 minutes before the ceremony in the Sunken Garden and left just 20 minutes after the unveiling after quaffing a glass of champagne.
The ceremony, which included Diana's brother, Charles Earl Spencer, and her sisters, Lady Sarah McCorquodale and Lady Jane Fellowes, whose husband was Queen Elizabeth's private secretary, was only broadcast after it was over and Harry was leaving, having spent barely ten minutes with the Duke of Cambridge, 39.
There were no speeches and Harry, who flew back to our rarefied enclave over the weekend, appeared to be the more relaxed of the dynamic royal duo.
He is not expected to wing to London again for at least a year with his wife, Meghan Markle, to celebrate the Queen Elizabeth's Platinum Jubilee, marking an astonishing 70 years on the British throne.
I have no doubt Diana would have been absolutely horrified at the current situation with her sons.
Get a Room!
Montecito actress Julia Louis-Dreyfus is celebrating a milestone in her marriage.
The 60-year-old Seinfeld star, who fought a valiant battle with breast cancer, has posted a tribute to her husband, actor and writer Brad Hall, 63, after 34 years of wedded bliss.
"Thirty-four years in, keeping our heads above water," says the Veep star. "Love and love to the love of my life."
The tony twosome met while both studying at Northwestern University in Evanston, Illinois, working in a comedy troupe together on campus.
They went on together to star on Saturday Night Live from 1982 to 1984 and guest starred alongside each other on two episodes of Curb Your Enthusiasm.
The duo also shares two sons together, Henry, 28, and Charles, 24.
That's a Wrap!
Carpinteria TV talk show host Conan O'Brien is going to pot!
The 58-year-old Harvard graduate puffed on a joint with comedian-filmmaker guest Seth Rogen, 39, who suggested he should "Get high!" when his TBS late night show ended after nearly 30 years.
"I would suggest — this is going to be hilariously on-brand — try sucking a lot of weed for a long time," Rogen laughed when O'Brien asked him how he should spend his free time.
Last year, O'Brien, who owns a beach house on Padaro Lane near Oscar winner Kevin Costner and Star Wars mogul George Lucas, announced he was wrapping his popular show and moving on to other projects.
You might also be interested in...