Let the Shows Begin!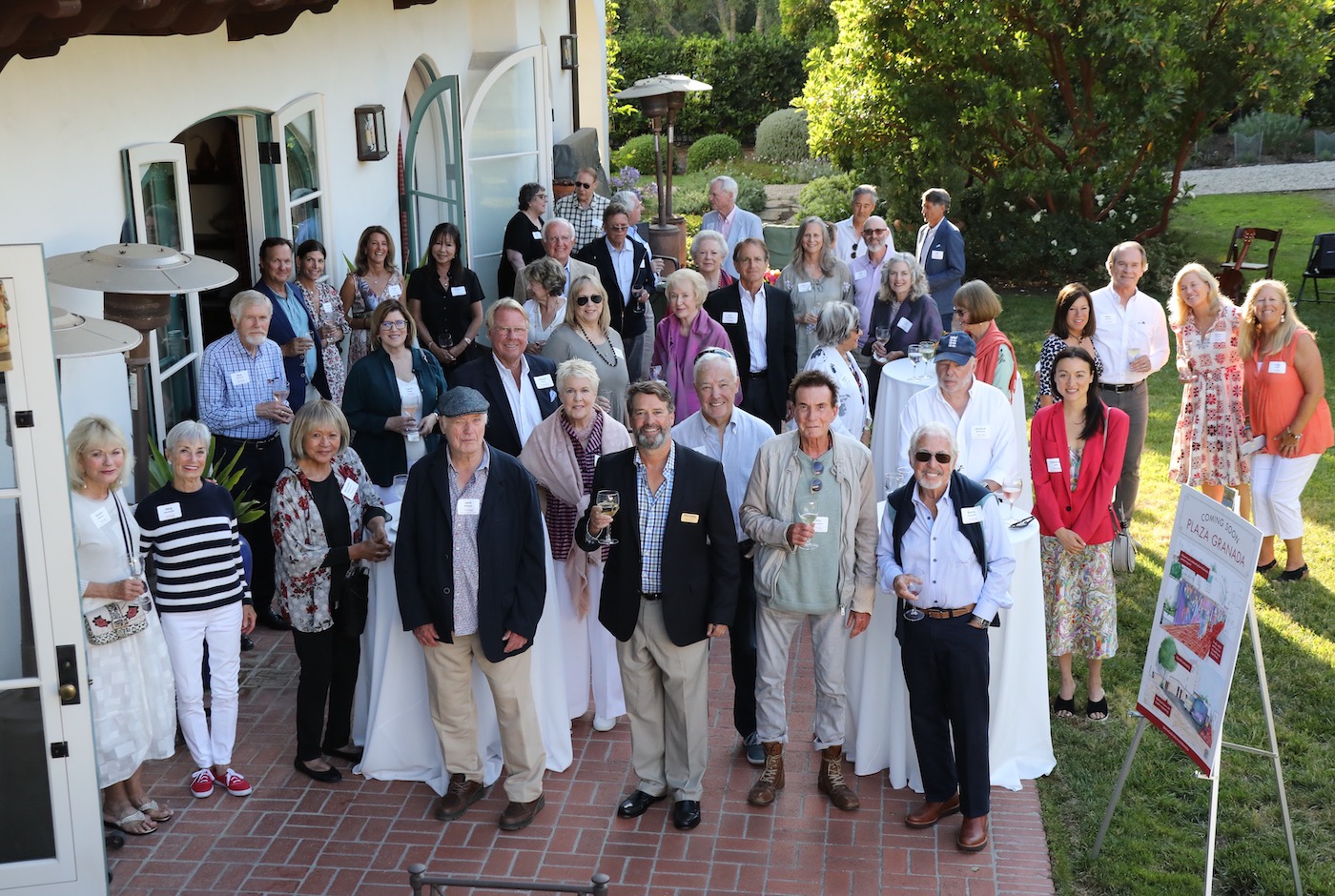 Santa Barbara's venerable Granada Theatre is back in business!
The eight-story icon that towers over State Street, originally built in 1873 and rebuilt in 1924, has been eerily silent for the past 15 months, other than intermittent audience-free video filming by the Santa Barbara Symphony under maestro Nir Kabaretti.
But it will finally be all systems go when the 1,500-capacity venue, which underwent a $60 million renovation and re-opened in 2008, launches the Music Academy of the West's annual summer festival, which runs through August 14.
To mark the occasion after the downtime forced by the pandemic restrictions Palmer Jackson, chairman of the Granada board, and his wife, Susan, hosted a Premiere Patrons Party at their charming Montecito Valley Ranch estate.
The bustling beano was like old home week with many supporters seeing each other for the first time in more than a year.
"It's just so nice to see everybody again and be able to talk and touch. It has been an interesting time," said Palmer. "Even with the downturn fundraising has been good, with $1.5 million in government assistance. Now it's full speed ahead!"
As classical guitarist Gilberto Gonzalez, a regular at the Stonehouse at the San Ysidro Ranch, entertained and the 50 guests noshed on comestibles from the Catering Connection, it couldn't have been a nicer return to normality.
Among the supporters turning out were Wayne and Sharol Siemens, Joan Rutkowki, Mercedes Millington, Caren Rager, Arlene Rosen, Christopher Lancashire and Catherine Gee, Peter and Kathryn Martin, Mary Collier, Dan and Meg Burnham, Ed and Sue Birch, Gretchen Lieff and Miles Hartfeld, and Gary and Susan Gulbransen.
Anyone Have $74 Million Lying Around?
Billionaire Peter Sperling, 61, and his wife, Stephanie, are selling a third Montecito home, a century-old estate that underwent a 15-year restoration, for a hefty $74 million.
If it sells for close to that price, it would be the most expensive ever sold in Our Eden by the Beach, according to property records.
The current record was set last fall when one of the largest residential properties in our rarefied enclave, Rancho San Carlos, a 237-acre, 24,483-square-foot estate with 12 bedrooms, 10 bathrooms, and 10 guest cottages built in 1931, sold for $63.25 million.
Known as Far Afield, the Sperlings' roughly 20,000-square-foot home boasts seven bedrooms, including a guest house, with spectacular views of the Pacific and Santa Ynez Mountains.
It was originally built for Hobart Chatfield-Taylor and his wife, Rose Farwell, daughter of a U.S. Senator, around 1917. It sits on 10.5 acres with gardens, citrus groves and hiking paths. There is also a peacock aviary.
Sperling, son of John Sperling, founder of the University of Phoenix, and Stephanie, who have a passion for restoring architecturally and historically important homes, bought the property in 2002. The massive restoration included lifting the home off its foundations to fortify the structure and replacing all systems.
Refined interiors with reclaimed materials from 18th and 19th century properties, including Italian and Spanish tiles, and parquet floors cut from French oak were used in the restoration process.
A year ago, the tony twosome sold their historic Holmby Hills estate, formerly the home of English horror actor Vincent Price, for $16.5 million. They paid $15 million for the one-and-a-half acre 1920s eight-bedroom, 14-bathroom, 11,600-square-foot property in 2004.
They also divested themselves of another two Montecito homes, Gloria, seven bedrooms and eight bathrooms in 6,394 square feet on 5.5 acres on Garden Lane for $15.5 million and another, Owenshire, 17,000 square feet with seven bedrooms for $19.1 million on Picacho Lane, formerly the home of actor Rob Lowe — a total of nearly $35 million for both.
Sightings
Dallas Cowboys owner Jerry Jones at the Rosewood Miramar with hostelry owner Rick Caruso… TV titan Oprah Winfrey's beau Stedman Graham picking up his Financial Times at Pierre Lafond… Actor Billy Baldwin noshing at Oliver's.
Pip! Pip! Be safe and get vaccinated.
You might also be interested in...