Celebrating a Different Red, White & Blue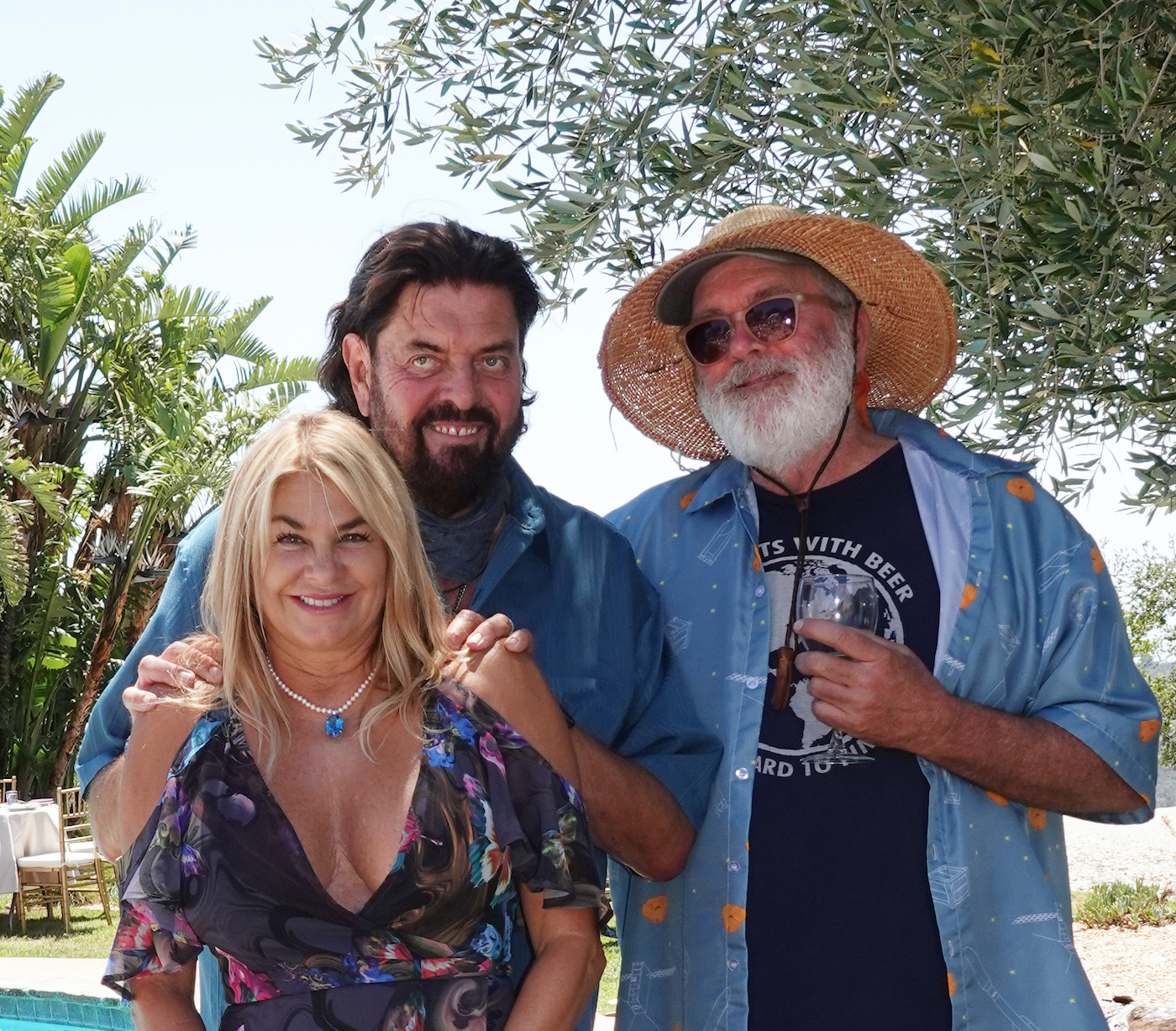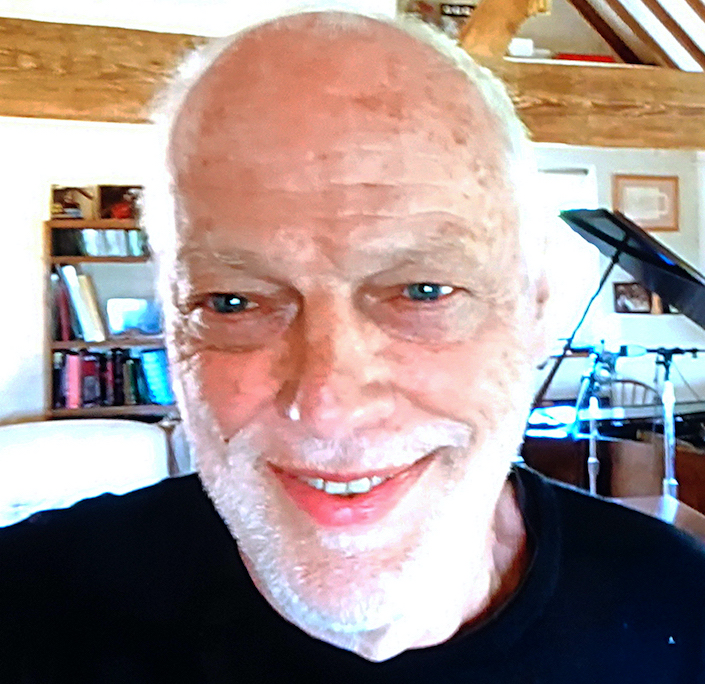 Santa Barbara music man Alan Parsons' organic avocado ranch in the Goleta foothills turned into a colorful outpost of his native England when 150 guests turned out to celebrate his newly awarded OBE — Order of the British Empire — from Queen Elizabeth in her birthday honors list.
The red, white, and blue of the UK's Union Jack flag festooned the property and even the main gate was decked out as the British flag as famous friends from far and wide paid tribute to Alan, 72, for his phenomenal musical successes over the decades as a sound engineer and performer with the Alan Parsons Project, including Pink Floyd's David Gilmour, Sir Elton John's lyricist Bernie Taupin, and Montecito political pundit Dennis Miller.
In due course Alan and his wife, Lisa, will wing to London, pandemic restrictions allowing, to formally collect the award for contributions to arts and sciences at historic Buckingham Palace from the Queen, Prince Charles, Princess Anne, or Prince William. It was established in 1917 by King George V, the current monarch's grandfather.
Among those quaffing the champagne and noshing on curry and shepherd's pie, an English culinary classic of ground meat topped with mashed potato, were Leslie Ridley-Tree, David Lacy, Richard Weston-Smith, Sheriff Bill Brown and his wife, Donna, Ralph and Diana MacFarlane, restaurateur/chef Dario and Jackie Furlati, KEYT's John Palminteri and Tara Zanecki, Maitland Ward, Arlene Larsen, radio host Catherine Remak, former mayor Helene Schneider, and Wendy McCaw and Arthur von Wiesenberger.
The Usual Suspects, a band made up of Alan's friends, entertained at the extremely hot occasion.
Mending Fences?
Another busy week at Maison Mineards Montecito with TV appearances on CNN, Fox News, and German TV on the Royal Family.
As Prince Harry, 36, winged to London last week to be at the side of his brother, Prince William, 39, for the much-anticipated unveiling of a bronze statue of their late mother, Princess Diana, on Thursday at their childhood home, Kensington Palace, on what would have been her 60th birthday, it is to be hoped the dynamic duo can finally reconcile, particularly after the incendiary interview with fellow Montecito resident Oprah Winfrey.
An old friend, Robert Lacey — who is married to the 8th Marquess of Londonderry's daughter, a maid of honor at Queen Elizabeth's coronation in 1953 — who has just published Battle of Brothers says it will be nothing more than "a superficial gesture" if they don't have serious talks to mend their ever-growing rift.
The sons of Prince Charles are scheduled to make separate speeches at the dedication of the statue by sculptor Ian Rank-Broadley, whose portrait of the Queen appears on all UK coinage, in the palace's Sunken Garden, attended by most of Diana's Spencer relatives, including her brother, Charles, and sisters, Sarah and Jane, but few others because of pandemic restrictions.
Harry has been staying at Frogmore Cottage, his former Windsor home which is now the official residence of Prince Andrew's daughter, Princess Eugenie, her husband, Jack Brooksbank, and their first child, August, born in February, and is scheduled to meet his grandmother, Queen Elizabeth, after the ceremony at Windsor Castle, 26 miles away.
My fingers are tightly crossed!
Welcome to our Galaxy?
Actor Chris Pratt and wife, Katherine Schwarzenegger, daughter of former California governor Arnold Schwarzenegger, are shopping for a home in our rarefied enclave.
The 42-year-old Guardians of the Galaxy star and his 31-year-old wife, who tied the knot at the San Ysidro Ranch in 2019, were spotted touring a $8.45 million Mediterranean-style mansion last month, just a week before the property went into escrow.
The home near the Upper Village is larger than 5,000 square feet and offers four bedrooms, four bathrooms and two powder rooms, according to the New York Post.
The one-acre lot, with views of the Pacific and Santa Ynez Mountains, also has a three-car garage, a saltwater swimming pool, landscaped gardens, and modern sculptures.
The polo playing seller purchased the estate in January and made extensive renovations, but decided she needed a more "equestrian property" and placed it for sale in June at a $2.38 million markup, according to real estate broker Luke Ebbin of Compass.
A Furious Finish
The late Santa Barbara actor Paul Walker's iconic orange Toyota Supra from the 2001 film The Fast and The Furious has sold for $550,000.
The 1994 auto, built by the legendary Eddie Paul and his Shark Shop in El Segundo, was sold at a Las Vegas auction.
It has a stock 2JZ-GTE engine and was prominently used for the film's stunt work.
Walker, who died a tragic car accident aged 40 in Valencia in 2013, also drove the orange auto in the 2003 sequel 2 Fast 2 Furious.
Feting Innovation
Eight organizations and individuals received South Coast Business & Technology Awards during a virtual ceremony.
Now in their 27th year, the awards celebrate innovation, leadership, and success in the area's business and technology sectors.
Proceeds from the event benefitted the Scholarship Foundation of Santa Barbara.
"As a direct result of sponsorship this year and last, we were able to award $325,000 in scholarships to area students," says Barbara Robertson, president and CEO of the foundation.
Since 2001 the event has generated almost $2.5 million in scholarships for students countywide.
Janet Garufis, chairman of Montecito Bank & Trust, and Kirsten McLaughlin, market vice president of Cox Communications, were co-chairs, with honorees including Direct Relief, James Rogers of Appeal Sciences, Patricia Bragg Holdings, Sherry Villanueva of Acme Hospitality, William Parrish of Seek Thermal, and Nomas and Well Health.
To be Frank . . .
Farmers and Merchants Bank executive Frank Tabar is the new board president of the Breast Cancer Resource Center of Santa Barbara.
Tabar, who joined the board two years ago, succeeds Rose Hodge, who has been with the organization for more than a decade and will continue to serve as a board member and in an executive advisory capacity.
He has been with the Long Beach-based bank for nine years and is currently senior vice president and strategic risk and operating officer, with more than 35 years of experience in financial services, including positions with Santa Barbara Bank & Trust, and the Bank of the West.
Sightings
Kourtney Kardashian and drummer beau Travis Barker at the Rosewood Miramar… Oscar winner Gwyneth Paltrow and TV producer husband Brad Falchuk sipping smoothies at Pierre LaFond… 'Sixties singer Peter Noone and wife, Mireille, noshing at the Belmond El Encanto.
Pip! Pip!
Be safe and get vaccinated.
You might also be interested in...