Montecito Best Buys: The $20s… Million, That Is
In addition to more than double normal sales volume for the past 15 months, there have been more sales over $20 million in the past year or so than at any other time in history. Sales in the $20s have happened in the past, and a very few have sold at more than $20,000,000 in previous years (Oprah's spread; a home on East Mountain around 2006 at the height of that market; a few on East Mountain Drive from time to time; Padaro Lane nearby, etc.) but this year you needed a tally sheet (Google it, young readers), to keep track of the highest end sales in Montecito. 
Many of the sales in the past year have been "off market," meaning not in the Multiple Listing Service (MLS) which lets all agents (and Realtor.com, Zillow, others) see the listings. Off-market sales can result from a variety of actions, including: an agent contacting an owner on behalf of a buyer for any reason, even an earnest buyer driving by a home and saying to their agent, "I want that one, call the owner, see if they want to sell," or an agent finds a buyer for an expired listing and puts a deal together. In recent times, it can be parties that know each other (the Celeb Circle in Montecito, for instance).
Stats in the overall market through June 18, 2021, show that closed escrows are still high in numbers, new listings are few and far between, and often selling with multiple offers. An interesting statistic popping up the past few weeks is that pending properties (those going under contract) are down from previous months. This may speak toward a slowing of closings going into July and August unless off-market sales make up for the slowing in pending listings.
One thing is certain, if there were more homes on the market in the 93108, there would be more sales, as many homes still see multiple offers, leaving anxious and often frustrated buyers still looking for their piece of paradise.
So, if you are in the market for a truly spectacular estate and have the coin (bitcoin or other), to pull it off, here are five of the only six homes on the market in the $20 million to $30 million range. The other was featured in my last article, located at 560 Toro Canyon Park Road.
A side note, all properties featured here are within the Montecito Union School District.
813 Romero Canyon Road – $20,250,000
This modern masterpiece by esteemed architect Jan Hochhauser and NYC interior designer Barbara Hauben Ross affords a lifestyle of relaxed sophistication, with privacy and panoramic ocean and mountain views from nearly every room. The estate commands 5.51 acres hosting an impressive five-bedroom, five-and-a-half-bathroom residence, boasting custom details throughout.
There is a library, a second-floor work studio, and private rooftop patio. The lower level hosts the billiard room, wine cellar, and laundry. The grounds include an AstroTurf tennis court, infinity pool, serene spa, fruit orchards, multiple patios, koi pond, and a well.
1395 Oak Creek Canyon Road – $21,500,000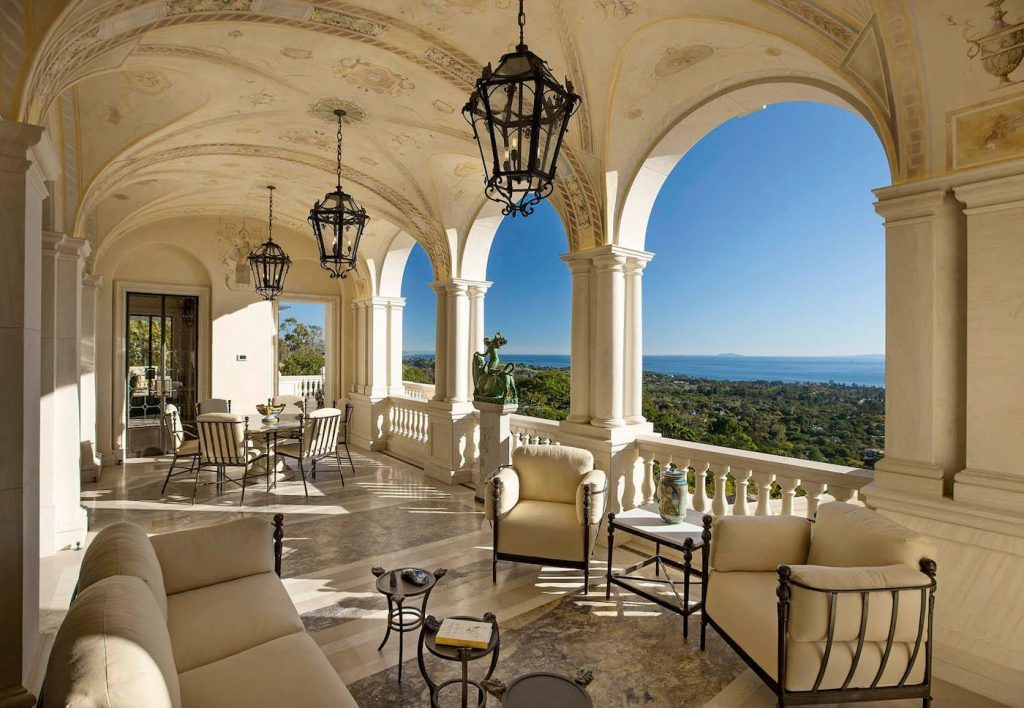 Sweeping ocean views define the horizon at one of Montecito's finest estates. Created over the course of five years by renowned architect Peter Becker, international designer Rosie Feinberg, and the incredible build team at Giffin and Crane, this residence captures the authentic spirit of an Italian Villa and combines the work of old-world artisans with the conveniences of modern technology in an A-plus location, resting above the Golden Quadrangle of Montecito.
The mostly one-level floor plan features gracious formal rooms, an elegant kitchen and lounge, library, wine room, and the ethereal primary suite. Walls of glass and steel doors open to a south-facing loggia, pool terrace, and guest house, all overlooking beautiful ocean and island panoramas.
1086 Channel Drive – $23,500,000
Nestled behind a gated entry, resting above Montecito's renowned Butterfly Beach, here is a breathtaking representation of mid-century modern architecture. The home was influenced by the works of renowned modernist architect Richard Neutra. The three-bedroom, two-and-a-half-bathroom residence features floor-to-ceiling windows and additional clerestory windows above, capitalizing on the coastal views visible from every room and making the views the focal point "as art" from within the home. A wraparound balcony promotes indoor/outdoor living.
This home is situated on an approximately .49-acre lot, with low-maintenance grounds. Set amongst other significant estates, homes on Channel Drive are near to the Four Seasons Biltmore Hotel and close to the restaurants and shopping on Coast Village Road.
848 Hot Springs Road – $24,850,000 
Pushing the boundaries of high style and luxury living, this estate is a bold vision and a study on flair and architectural detail. Villa Tragara rests on a 2.45-acre site in one of Montecito's best locations at East Mountain Drive and Hot Springs Road near many other significant estates.
Every space within the nearly 12,000-square-foot home has been designed and executed with intention, delivering a true experience in residential design. Outside, gardens overflow with exotic plants and lush lawns leading past a babbling stream into a swimming pond, overlooking a bocce court, pickle-ball court, fire pit, lush lawns, and olive orchard.
296 Las Entradas Drive – $26,500,000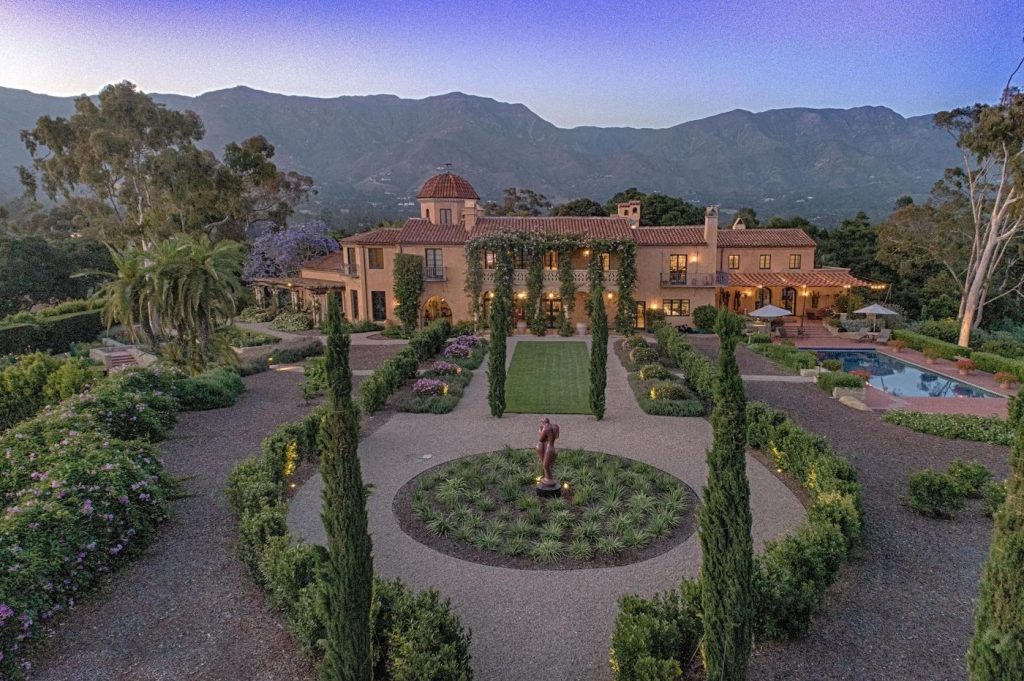 Drawing inspiration from around the globe, this architectural and spiritual estate is a display of international influences and has a storied history. The home named Villa de la Vista went through an extensive renovation in 2012 and with the focus and architectural ingenuity of Thomas Bollay, the prominent residence was brought back to life.
The nearly 15,000-square-foot compound sits on a mostly level, 2.9-acre promontory within the exclusive Ennisbrook community, offering a 360-degree bird's eye view out to the Pacific Ocean, coastline, and mountains. Complete with a pool, one-bedroom guest house, tennis pavilion, office building, rose gardens, and thoughtful garden spaces, this estate embraces visitors on a grand scale. The six-bedroom main residence features a meditation room, home theater, wine cellar, bar, recording room, private gym, and sauna.
You might also be interested in...