Aquatic Jewels Opens in Upper Village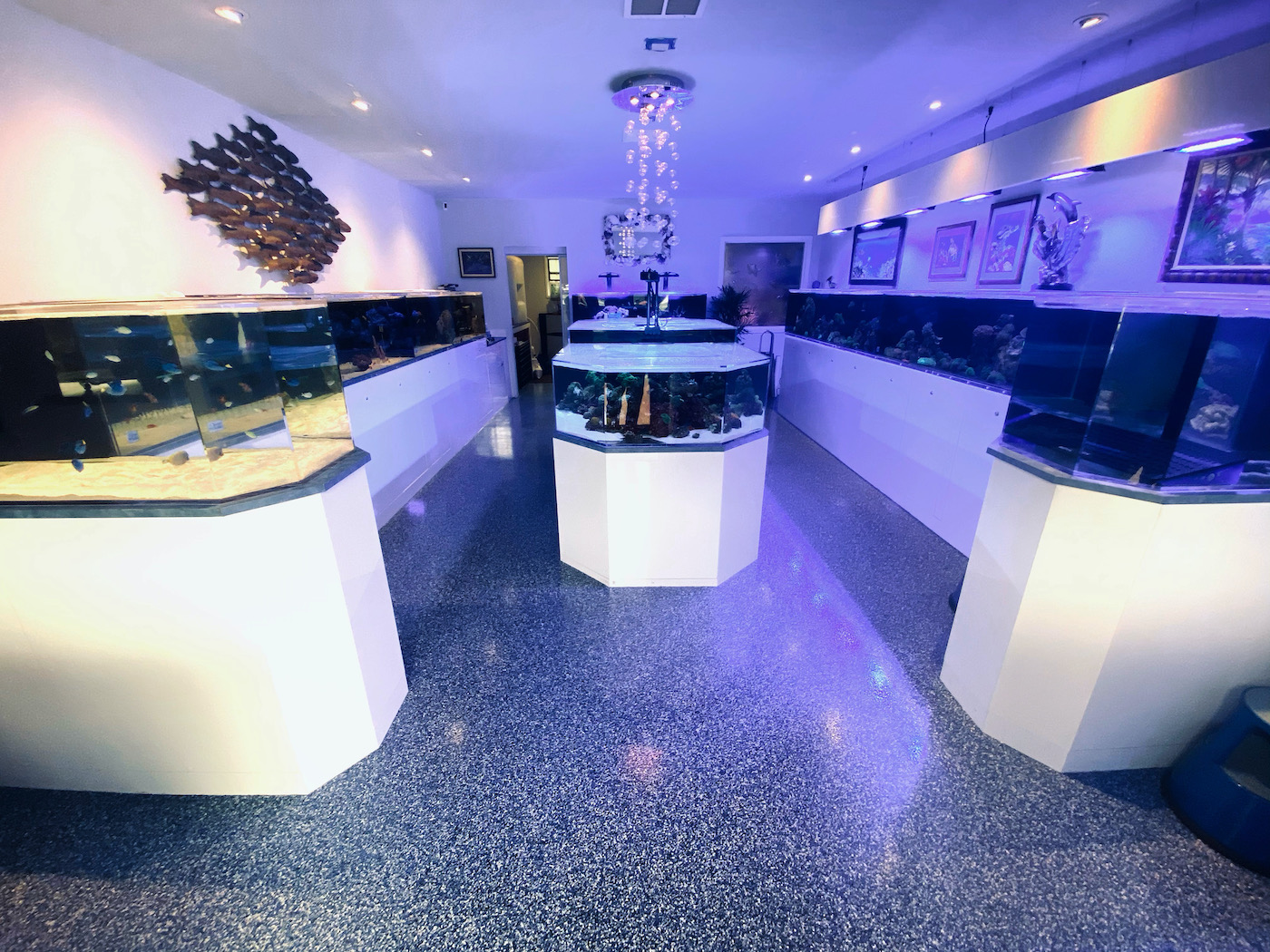 A new aquarium store has opened in the Upper Village, in the space formerly occupied by Stationery Collection. Aquatic Jewels is owned by longtime aquarium enthusiast Dottie Allen and her business partner Mark Amescua, who opened the shop in late April.
"We've always wanted to open a shop here in Montecito, and when this space became available, we felt it would be an ideal location," Amescua told us earlier this week during a visit to the tranquil shop, which is bathed in special blue light to keep the fish and coral thriving. 
Amescua and Allen worked together for 13 years before going into business together at Aquatic Jewels.
"Basically, I spent all my money in her store, and then came to work for her," Amescua said about Allen, who has owned several aquarium stores in the past, including one in Ventura (Aquatic Reef Designs) and one on De La Vina Street in Santa Barbara (Aquatic Gardens) that she owned from 1991-2002.
The duo explained that many such shops have gone out of business in recent years, due in part to a ban on the sale of fish and coral from Indonesia, which has since been lifted.
"A lot of the stores just couldn't make it through the ban, as they had very little for customers to choose from. A lot of them switched from a brick and mortar to offering tank service only," Amescua said.
Without a store in the immediate area, the business partners felt it was a particularly good time to open up shop.
"People who have ever had saltwater tanks often cannot go without them," Allen said, saying that the hobby is addicting to many people, thanks to the tranquility of keeping a tank as well as the relationships formed with the fish. "They can live 15 to 20 years, easily. People often form relationships with their fish, much like a pet," she said.
Tanks are popular in both residential homes and offices, including waiting rooms for doctors and dentists — "It's really relaxing for people to watch a fish tank while they wait. It's better than watching a TV!" Amescua said.
The shop is full service, offering corals, fish, foods, tanks, and various supplies, as well as assistance for tank building and a full maintenance service.
"Anything that has to do with your aquarium, we can take care of it," Amescua said, saying that customers often come in and want to build a tank from scratch.
"That's what we love to do," he said.
"With the technology today, anybody can keep a tank and keep corals and fish alive," Allen said about the hobby, adding that people should not be intimidated to start a tank thanks to new innovations in water testing, lighting, wave makers, fans, and more.
"It's a really special and rewarding thing," she said.
Much of the product offered in the store is sourced from wholesalers, many of whom offer fish that are aqua-cultured or born and raised in aquariums rather than being sourced from the sea.
"It's a sustainable way to source the fish, so the oceans are not being depleted," Amescua said. The store boasts 13 display tanks, ranging from five gallons to 500 gallons. The majority of the contents of the tanks are for sale and can be taken home immediately.
"People love to browse and see what they are buying, and make sure it's healthy and beautiful," said Allen.
Those that frequent the Upper Village may recognize Allen from her nearby business, Reflections, which opened right before the pandemic started. Reflections is owned by Allen and her business partner Carole Shafran, who sell their handmade seashell art in the quaint store located between Wells Fargo and Montecito Village Grocery. The shop also carries a plethora of shells and corals, some of which is over 300 years old and extremely rare.
Aquatic Jewels is located at 1470 East Valley Road Unit K, next to Glamour House and Bissell Clinic. The showroom is open Mondays, Wednesdays, and Fridays through Sundays from 11 am to 5 pm. On Tuesdays and Thursdays, Allen and Amescua are out in the field servicing tanks in Montecito, Santa Barbara, and beyond. For more information, visit www.aquaticjewelssb.com.
You might also be interested in...