A New Attraction, and Return of Some Popular Ones at the Santa Barbara Zoo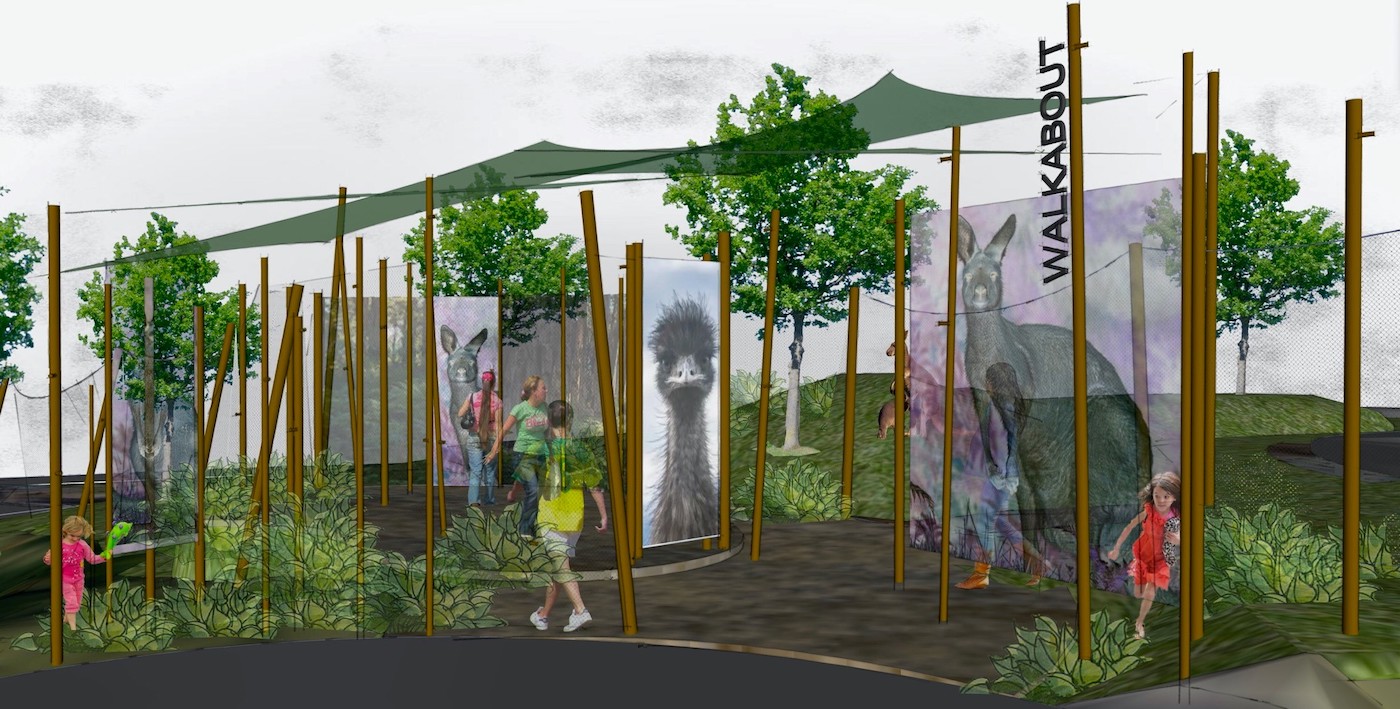 It's not too big of a stretch to suggest that a lot of people probably felt like they might never get out from under the "new reality," what with several surges and multiple levels of lockdown over the past 15 months. But the folks over at the Santa Barbara Zoo are emerging from the COVID crisis only to head directly Down Under — via the autumn opening of its new exhibit, Australian Walkabout.
The multi-million-dollar Aussie adventure reimagines the space previously occupied by the Zoo's two elephants, Sujatha and Little Mac, who passed away in 2018 and 2019, respectively. The exhibit will provide visitors with a chance to walk among kangaroos, wallabies and emus, animals not previously seen at the zoo's by-the-beach site. Visitors will find themselves in the middle of the action as they explore Australian Walkabout's open pathways and sculptured landscapes meant to provide a glimpse at the continent's breathtakingly beautiful and biodiverse ecosystem.
Australian Walkabout was chosen from more than 35 proposals put together by the facility's animal care staff, said Rich Block, the Zoo's president and CEO.
"We wanted to have animals that were appropriate not only to the climate, but ones where we have some expertise and could provide good care for them. It quickly became clear that we'd be able to not only provide a really great space for the animals but also an incredible experience for our guests," he explained. "I just went out there today to check on the progress, and I am totally blown away. We definitely made the right choice."
Block said he was excited about the intimacy with which people will be able to experience the kangaroos, wallabies and emus, a polar opposite experience from our socially-distance, mask-wearing past 15 months.
"Essentially there is no barrier between the people and the animals," he enthused. "When you walk through the exhibit — and you really do need to stay on the paths — the animals will have the choice of where they want to be, the freedom to go wherever they want."
Australian Walkabout doesn't open until October so that the animals, who arrive in August, and zoo staff members can have a two-month period to acclimate to each other and the environs.
"Hopefully they don't totally trash all the landscaping we've been planting," Block said. "We're going to be watching them for feedback about all the things that we did to their liking or the mistakes that we made."
But you don't have to wait until fall to fall back in love with the zoo again, or even experience some new opportunities as the zoo resumes normal operations. After Hours at the Zoo, which launches this week, is a new program taking place every Wednesday from 4-7 pm in July to expose guests to the quieter side of the zoo. While some animals will be tucked in for the night, visitors can take in the more peaceful vibe, settle in for a sunset train ride, partake in lawn games, and dine on optional picnic dinners.
"We wanted to make the zoo accessible for more people who might not be able to make it during regular hours during the week," Block said. "It's a chance to do something after work or visit as a family a little later in the day."
Block also pointed to something a little less public but vital to the zoo's mission: its field conservation work that includes surveys for Southern sea otters, roundups and tagging of California condors, and on-site medical treatment for Channel Island foxes. The CEO also pointed to the placing of a pair of Western snowy plovers back on their perch at Coal Oil Point a day earlier.
"The pandemic kept us from being very active in 2020, but we're back full bore," he said. "That was just two birds, but we have over a dozen that we're going to release in another two to three weeks."
The fact that the zoo was able to both fully fund Australian Walkabout's $3 million capital campaign and be ready to ramp up its operations quickly is a testament to the generosity of philanthropists in town, Block said.
"It's incredible that we were able to be so successful in that campaign in the midst of a pandemic. All across our community, people stepped up to help nonprofit organizations in a big way. They outdid themselves in making sure that all of our nonprofits had resources to get them through that really challenging time."
But while it's too late to get your name on the Walkabout's donor wall with a minimum $1,000 donation, there are still lots of ways to support the Santa Barbara Zoo and keep the animals active and healthy and visible to visitors, from cash donations that earn a certificate for as little as a $50 contribution to attending events on site.
Old Spanish Days' primo party known as Dignatarios at the Zoo is back, slated for Thursday, August 5. Tickets are already on sale for Zoofari Ball on August 28, and are going fast, Block said.
"People are really excited about seeing a comeback, and it's going to be great to have people be able to get out and socialize and enjoy a beautiful August night under the stars."
Booking a pandemic-postponed wedding or a personal post-pandemic party at the zoo's bluff overlooking the Pacific also provides much-needed funds for the facility, and Block said the zoo is largely re-staffed to handle all accommodations.
"And if you get inspired by our conservation programs you can support those animals directly or become a foster feeder and basically adopt any animal," Block said. "The kangaroos and wallabies count, too."
FYI
Location: 500 Ninos Way, Santa Barbara
Contact: 805-962-5339
Website: www.sbzoo.org
You might also be interested in...