A Birthday Bonanza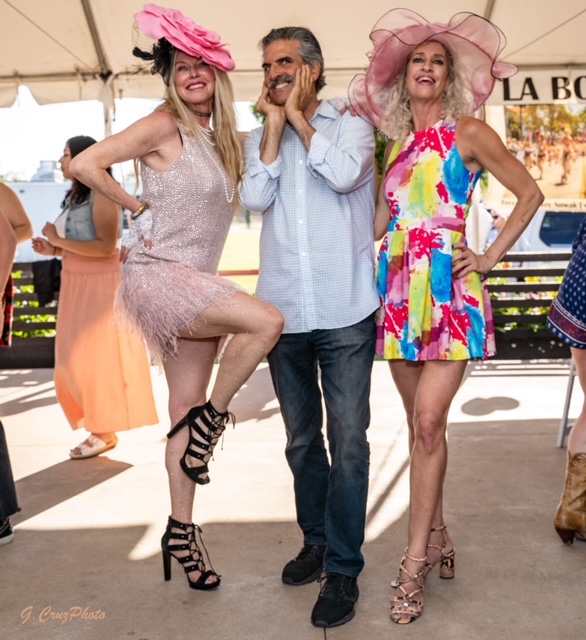 Teresa Kuskey Nowak's deliciously decadent La Boheme Dance Company, who were attired in Versailles 18th century Marie Antoinette costumes at the Santa Barbara Polo Club earlier this month, were back at the picturesque locale for the birthdays of ubiquitous KEYT-TV reporter John Palminteri and former Cottage Hospital orthopedic nurse Rochelle Mirabello.
As guests feasted on cake and champagne, the colorful entertainers performed a DecaDance with club member Mary Stark providing decorations and eats.
It was a very in-tents occasion.
At the Gallop!
The Santa Barbara Polo & Racquet Club is back, with the 110-year-old Carpinteria equestrian paradise opening its gates for the first time in more than a year in May to members only, with the general public now welcome with the lifting of pandemic restrictions by Governor Gavin Newsom.
"It has been quite a year and we want to thank our amazing community in Santa Barbara for all the support," says club manager David Sigman.
The total reopening couldn't come at a more opportune time with the highlight of the season, the Pacific Coast Open, the biggest event on the Left Coast, starting in August and the high goal season launching next month.
The 16-goal season launches July 9-18 — the 18th anniversary of my half century — with the Robert Skene Trophy followed by the Farmers & Merchants Bank USPA Silver Cup from July 23 through August 8.
The club's new Fieldside Grill, which will be closed between June 27 and July 6, will be open Wednesday through Saturday 11 am to 9 pm, as well as Sunday by reservation only.
Let's Make More Deals
Prince Harry, 36, and wife, Meghan Markle, 39, are reportedly planning to hire American singer-songwriter Nicole Scherzinger's consultant to land them more lucrative deals.
Ollie Ayling, 30, who worked with Scherzinger, 42, for seven years and helped the X Factor judge land several high-priced contracts, including a Muller yogurt campaign thought to be worth $14 million.
As well as exclusive contracts, Ayling helped her land roles in the Disney films Moana and Ralph Breaks the Internet.
The Duke and Duchess of Sussex already have multi-million-dollar deals with Netflix and Spotify.
Stay tuned…
Pink Drops Some Serious Green
Grammy-winning singer Pink, 41, has splashed out $13.7 million for a four-bedroom oceanfront Malibu property formerly owned by crooner Barry Manilow, paying $200,000 more than the asking price.
Manilow sold the home in the Malibu Colony gated community in 2012 for $5.5 million and it has since had a number of owners and undergone extensive renovations.
The house also has a two-car garage with guest accommodations above.
Pink and husband, Carey Hart, also own a $12.5 million ranch in the Santa Ynez Valley, with about 18 acres of vineyard, which they bought in 2013.
Take That, Bad Reviewers
Meghan Markle's new children's book, The Bench, received bad reviews on both sides of the Atlantic when it debuted, barely ranking on Amazon's Top 40.
But now the book, which explores "the special bond between father and son," is No. 1 on The New York Times bestseller list for children's picture books.
The Duchess of Sussex, 39, says the book shows "another side of masculinity" in a message to her readers after it became a New York Times hit.
"I'm encouraged to see that its universal themes of love, representation, and inclusivity are resonating with communities everywhere," says Meghan on the Archewell website.
"In many ways, pursuing a more compassionate and equitable world begins with these core values."
No, Mom, I Won't Watch Your Movie
Montecito actress Gwyneth Paltrow has revealed that, rather surprisingly, her daughter Apple, 17, has never seen any of her films.
The 48-year-old Oscar winner told TV host Jill Martin when asked her kids favorite movies of hers: "My kids have never seen me in a movie!
"I mean, I think my 15-year-old son Moses may have seen the Iron Man series, but I don't think my daughter has seen me in a movie.
"She says she likes me here like how she knows me and it's weird when I'm on screen."
Sightings
Comedian Steve Martin noshing at Ca'Dario on Coast Village Road… TV talk show host Ellen DeGeneres shopping at Montecito Country Mart… Warbler Katy Perry, actor fiancé Orlando Bloom, and daughter Daisy Dove frolicking around Venice, Italy.
My trusty shutterbug, Priscilla, mislaid her camera bag at the Santa Barbara Polo Club. If found, please return to the Montecito Journal office on Coast Village Circle.
Pip! Pip!
Be safe and get vaccinated.
You might also be interested in...