Our Town's 19th Annual Graduation Issue: Part II
The total local student graduates for this week are 120 — with 74 at Cate School, 11 at Laguna Blanca Lower School, and 35 at Crane Country Day School. For the year, there were 246 graduates at all Montecito schools. We at the Montecito Journal wish all the 2021 graduates success going forward and congratulations to our local schools, faculty, and parents!
Cate School Graduation 2021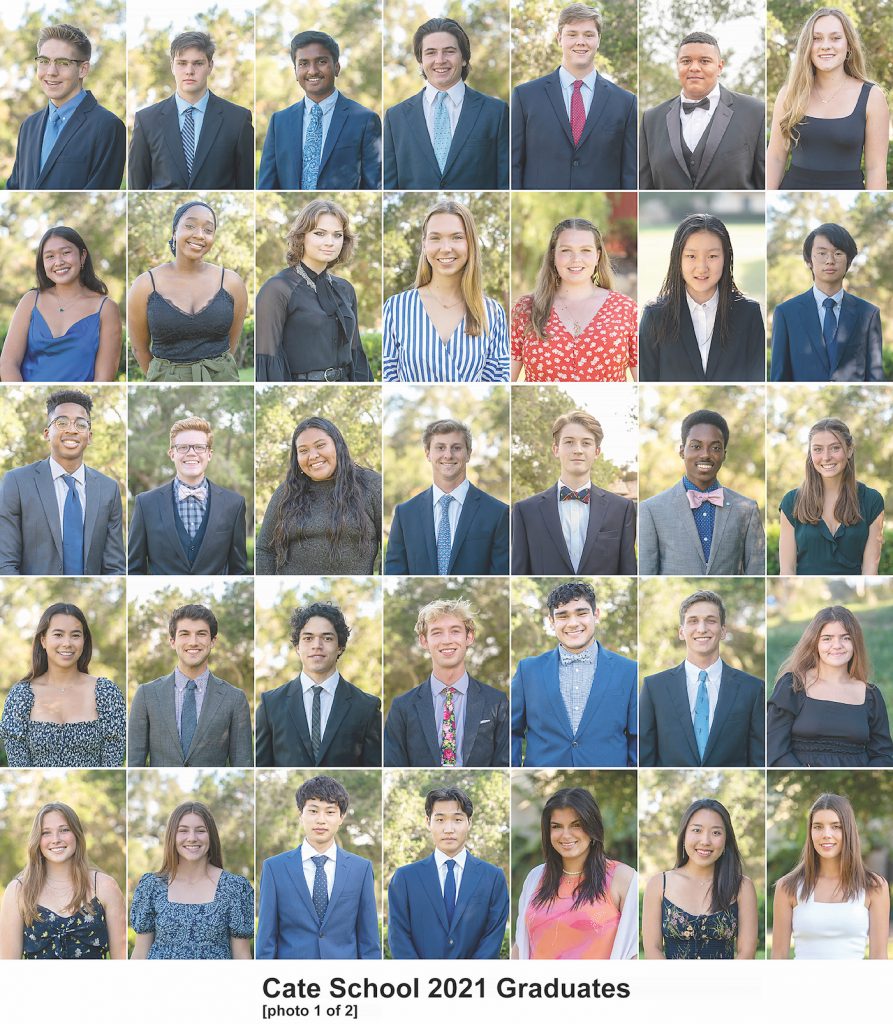 The Cate School graduation — "Go Rams!" — was held on June 6 at 10 am, outside at the school campus, limited to faculty and family, and guests by live link request to the school. The 2-½ hour ceremony started with the graduates processing to their grandstand in dress whites holding a flower. At the podium were Headmaster Ben D. Williams IV, Faculty Board Member Karl Weis, and Director of Studies Lisa Holmes, as well as other faculty and board members.
Williams brought the graduation to order and introduced the first speaker, Weis, followed by Asa Sam for the student address. Sam posited their graduating class had experiences like no other before them, citing the challenges of the freshman year camping trip, the Thomas Fire, the mudslides, virtual learning, quarantine, racist memes, misogynistic remarks, and other issues saying, "We've been through it all, we can overcome anything, we got this."
Williams' Commencement Speech summed with, "My own sense of the year we just shared is that we did our best. Analicia Sotelo called her poems independent and undetermined. They are distinct and unique, and perpetually more than their creator imagined, their richness evoked and revealed by those who encounter them. We are no different, I hope, as fortunate to be ourselves, as we are to be undetermined: ever on the way, ever inspiring, ever the beneficiaries of those who invest the time to truly understand us. That more than anything else is what the Cate journey or any journey should be all about. Congratulations, my friends. And thank you."
He then presented the Cate School 2021 Senior Awards: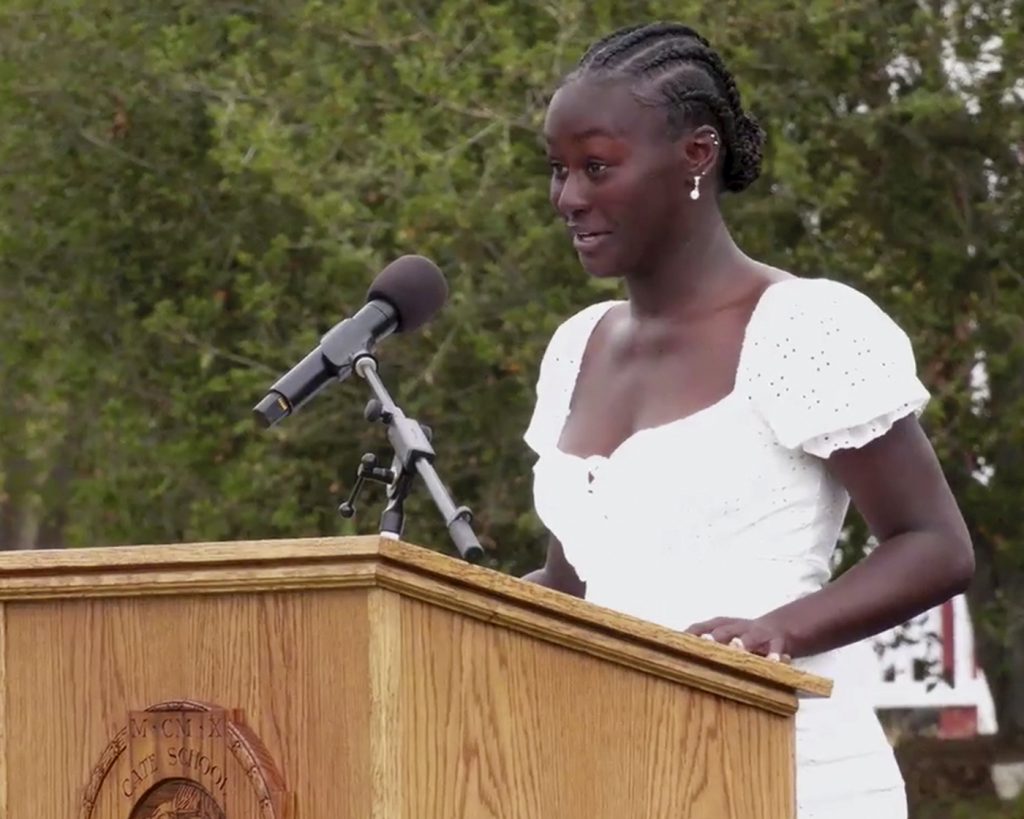 • Jeffrey Sumner Pallette '99 Award: Nkemka Chukwumerije
• Santa Barbara Scholarship Cup: Yuki Kobayashi
• Ellis Cup: Jay Hernandez and Frank Nieman
• Morgan Gwynne Temby '69 Award: Almira Bowo
• The Miramar Award: Alexander Albrecht
• Dohrman Pischel '14 Medal: Nkemka Chukwumerije
• Nelson Jones '48 Medal: Esteban Paulino
• Santa Barbara School Medal: Asa Sam
• Headmaster's Award: Peter Coors and Lily Zanze
• William Shepard Biddle '18 Cup: Annabella Lucente
Following the awards, Holmes gave a poignant speech, citing literature. Her wish for the graduates is the last stanza of the poem she recited, "Kindness" by Naomi Shihab Nye:
"…only kindness that raises its head
from the crowd of the world to say
It is I you have been looking for,
and then goes with you everywhere
like a shadow or a friend."
Presenting the diplomas were Jay Dorian, assistant head of school, with Williams, who read a brief for each student's attributes and contributions. The graduation was followed by a receiving line with the faculty, and reception at the school.
Laguna Blanca Lower School Graduation 2021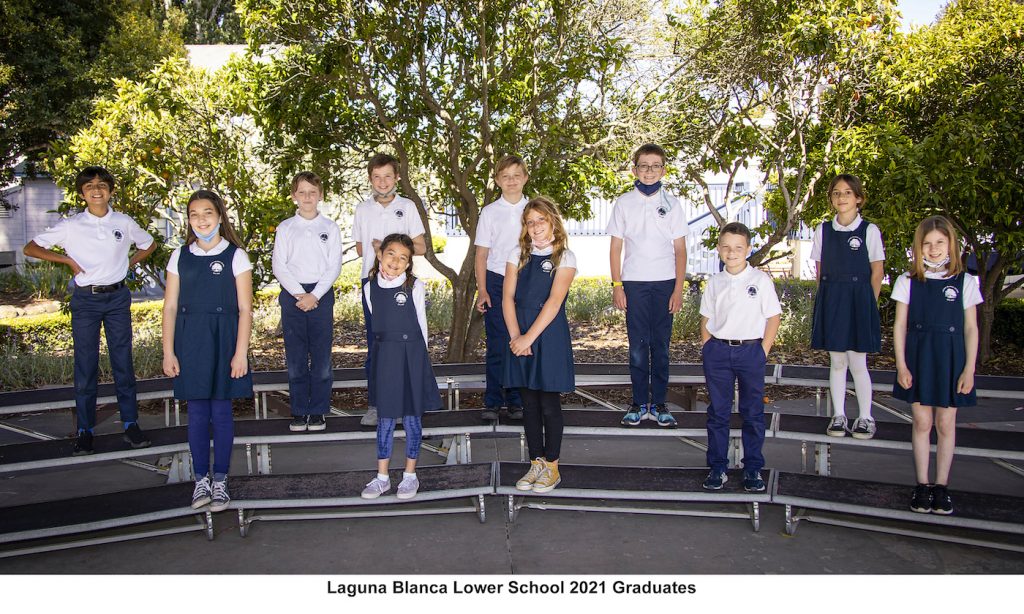 The Laguna Blanca Lower School 2021 Graduation — "Go Owls!" — was held on June 10 at 9 am, at the school outside field area, limited to family, masked and socially distant. A live Zoom stream link was provided by request to the school.
The program started with the graduates' procession to the front stage bleachers, socially distanced and masked. The welcome remarks were given by the Head of Laguna School Rob Hereford, the Head of Laguna Blanca Middle School Shane Lopes, and the Head of the Laguna Blanca Lower Andy Surber who said, "The Laguna Blanca fourth grade class made history this year by learning and growing together through a pandemic. This group of Owls is made up of students who possess intellectual curiosity, unlimited creativity, and a strong sense of fairness toward others. They demonstrated resiliency and perseverance through mask wearing, social distancing, staying safe, and continuing to have fun on our charming campus. I am so proud of this group, and I wish much success to all of our fourth graders as they move on to middle school on our Hope Ranch campus! Once an Owl, always an Owl."
The grads sang their class song, "Count On Me."
Surber and Hereford presented the certificates, and students received a gift bag with their owl necklace, treats, and flower. In closing, the grads performed the traditional parachute dance to the "Waka Waka" song and posed for a group photo.
Crane Country Day School Graduation 2021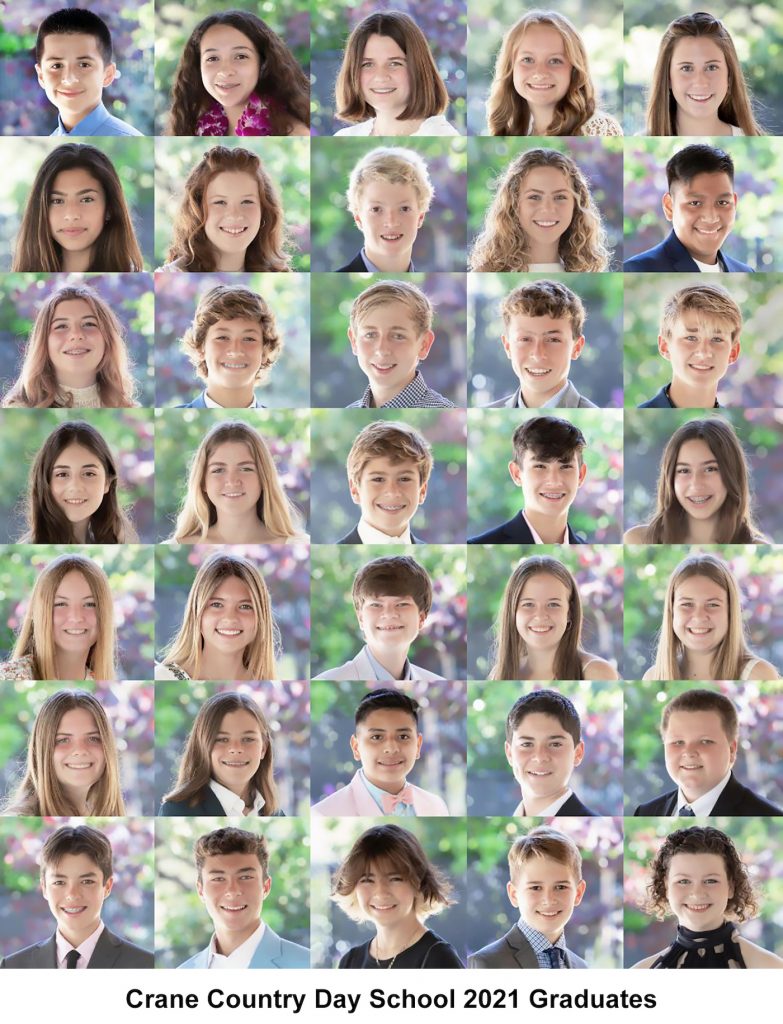 The Crane Country Day School 2021 Eighth Grade Graduation — "Go Coyotes!" — was held on June 11 at 10 am, outside on the school grassy area, strictly limited to family members socially distanced and seated with masks, and live Zoom for guests.
The two-hour, bilingual ceremony began with graduates processing in pairs, masked, followed in by Headmaster Joel Weiss. He instructed the students to join their families seated at tables in the school field.
"Welcome everyone to Crane's eighth grade graduation ceremony, after what seemed like the longest school year. I am so happy to see all of you here on campus," Weiss said. "The heart of the ceremony remains the same. You have had your very own and unique eighth grade year, and while I would not have wished it upon you, I believe these experiences combined with your positive attitudes has made you strong and capable and it has given you a greater appreciation for the things we value most in life.
"It has taught you to always seek solutions and to never give up, to redefine what it means to succeed and most importantly to enjoy the journey along the way. I want to acknowledge the parents of the students, you have been great partners with us, and the Crane teachers who have provided these young people with quite an exceptional educational experience. Students, you are on your way to becoming wise and capable adults. I couldn't be prouder of your accomplishments."
He presented the Graduate Awards as follows:
• Rose Bowl Award: Matt Stoney
• Tower Achievement Award: Isabel Rochel
• Amiability Award: Kiy Barry
• Talia S. Klein Award: Kylee Greene and Natalie Schweitzer
• Headmaster's Prize: Linn Wallmark
And noted the awards presented prior to graduation, listed in the program: Julia Brown English Cup: Natalie Schweitzer; Writing Cup: Milla Hirsch; Music Cup: Eli Meisel and Nate Newlove; Drama Cup: Ruby Campbell and Kylee Greene; Technical Theater Award: Fafi Guerrand-Hermes and Silvie Marsetti; Science Cup: Serena de Ponce; Nagle Community Service Award: Alexandra Calderon; David Echols Math Cup: Kiy Barry and Henry Bouma; Library Award: Pierce Dowlilng; Art Cup: Porter Murray; Dan McCaslin History Prize: Kiy Barry and Serena de Ponce; Sports Cup: Vivi Klentner and Sam Narva; Sheila Davidson Inspirational Athlete Cup: Ruby Campbell and Jacob Gabbay; Lejeune Language Award: Kylee Greene and Milton Lopez; and Design & Engineering Award: Pierce Dowling.
Weiss began the presentation of diplomas by recapping the safety precautions for the ceremony. Teachers read vignettes about each student while the masked graduate stood up front and was presented with their diploma by Weiss. Due to safety protocols, the Crane School Silver Pin was in a gift box at their family table. To close, the grads assembled in a line across the front area to "The Crane Song" by Norman Gimbel, played by music teacher Konrad Kono on electric piano.
"Graduates look out at the field of your family and friends, so you can recall this moment. I am so excited for you and the amazing things you will do," Weiss said.
You might also be interested in...