Can Summerland's Sweet Wheel Farm & Flowers Raise Enough Cash to Purchase Plot From School District?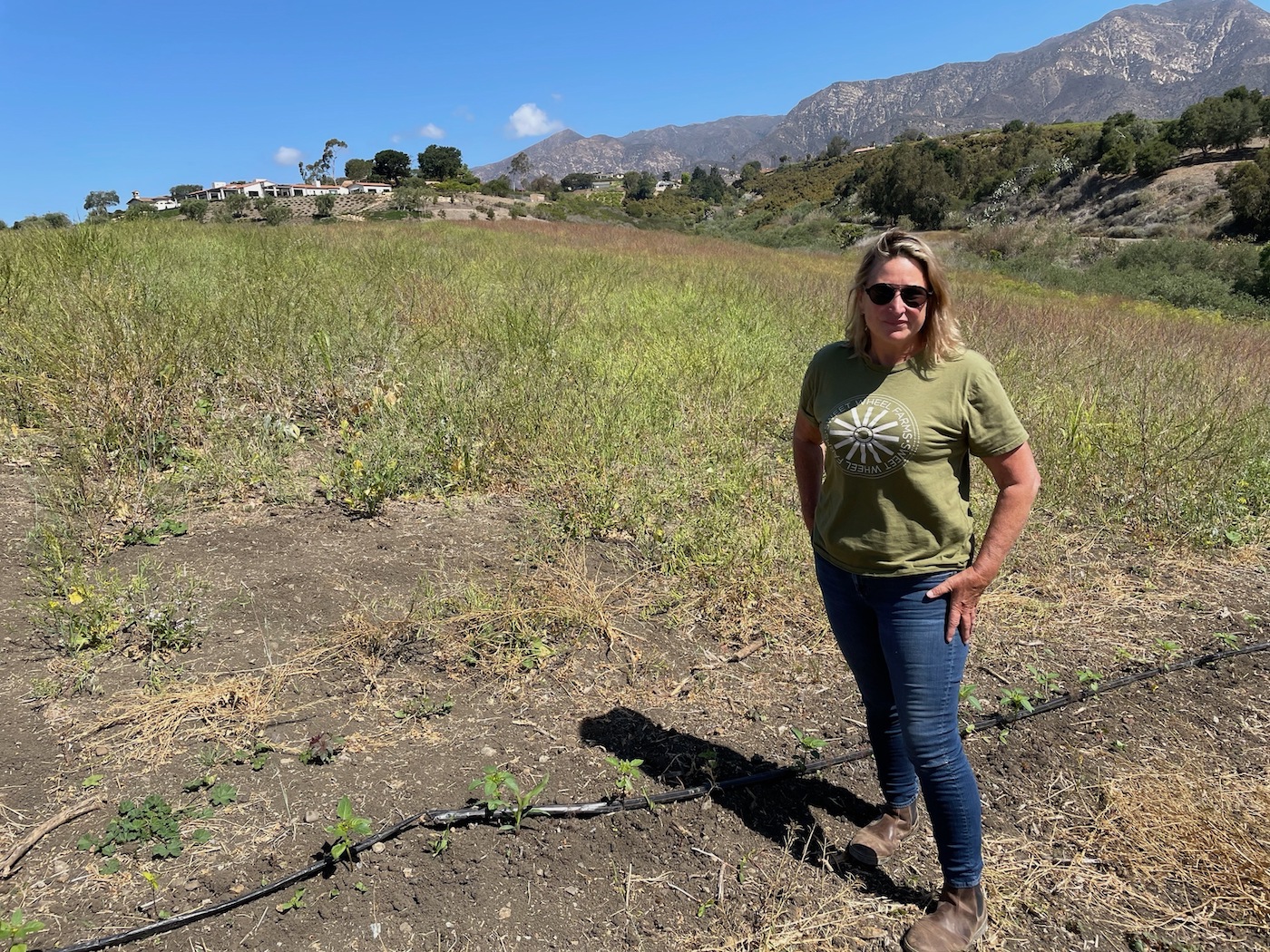 For the past year, Leslie Person Ryan has been leasing a six-acre plot of land in Summerland from the Carpinteria Unified School District (CUSD). At her nascent farm located on a grassy hilltop with stunning mountain and ocean views, Ryan, the owner of Sweet Wheel Farm & Flowers, who owns additional agricultural acreage in Orcutt, grows everything from heirloom tomatoes, wild radish, lettuce, melons, and Oaxacan aguachile peppers to pineapple, cucumbers, cumin, tomatillos, and corn.
Because of the farm's downward sloping angle, Ryan has been able to irrigate her crops with water trucked to the location in 500-gallon plastic tanks; a gas-fueled water pump and some jury-rigged PVC piping and hoses — and gravity — does the rest.
But time is running short on Ryan's dream of creating a sustainable, low-water-usage farm that will allow local school kids and aspiring professional agriculturalists to gain crop-growing experience in Summerland, which she describes as a "food desert" thanks to the town's lack of an actual grocery store. In just a few months, once the 2021-2022 academic year begins, CUSD plans to put the parcel on the real estate market.
Several years ago, CUSD attempted to win approval to build a new campus on the land, but the proposal fell through under the weight of a sustained opposition campaign by local residents. According to CUSD Superintendent Diana Rigby, the school district finally decided in April of this year to sell the property to the highest bidder, in accordance with state law, which also requires the district to notify a plethora of local government agencies and nonprofits who might have an interest in acquiring it.
To meet that obligation, the district ran public notices in Coastal View News over three successive weeks; meanwhile CUSD also executed a listing agreement with Berkshire Hathaway HomeServices to enable the district to sell the property.
"We have to follow the process required by state law as spelled out in the education code," Rigby explained. "It's a sealed bidding process and we have to take the highest bidder."
According to Ryan, local residents, especially people who owned property directly adjacent to the land, were at first skeptical about her plans to create a farm there amid concerns that it would create unwanted truck traffic. But as it became clear the district planned to sell the property, and possibly allow developers to create additional housing there, they gradually warmed up to her.
"At first the neighbors were wondering what I was going to do and how much water I was going to use," said Ryan. "But now all of them are ready to fight anyone who tries to develop it for new homes."
Indeed, during a tour of the farm last week, one neighbor walking her dog approached Ryan to say hello, and upon learning that a Montecito Journal reporter was doing a story about her fundraising effort, expressed her support for the project. "Oh, I'm glad you're writing about this," she said.
On March 21, Sweet Wheel Farms won a strong letter of support from the Summerland Citizens Association (SCA).
"The SCA believes there is substantial community interest in maintaining this acreage," the group stated. "Sweet Wheel Farms provides generous support to our community through food donations and deliveries to some of our most vulnerable residents." In its open letter, the group noted that in 1955, the property was originally sold to the now-defunct Summerland School District for a grand total of $10. "We believe it should be an asset to Summerland residents."
Longtime MJ contributor Lou Cannon is another neighbor who supports Ryan's attempt to keep the property from being turned into a homebuilding opportunity for real estate developers. Having followed CUSD's efforts over the years to develop the property for profit, he said that he doesn't trust the school district to do what's best for Summerland.
"You have the school board asking to put more homes in there and I just think it's insane in this kind of climate environment which is just going to get worse," said Cannon. "I don't think a farm is wonderful either, but the land is going to be used for something, so if the choice is between a farm and other residences, I'd go with a farm any day of the week."
For her part, CUSD's Rigby says she'd be delighted if Ryan can raise the necessary cash and keep the property as a community farm.
"We hope she'll be the highest bidder," said Rigby. "We'd be thrilled."
You might also be interested in...