It's My Cake, I'll Eat it if I Want To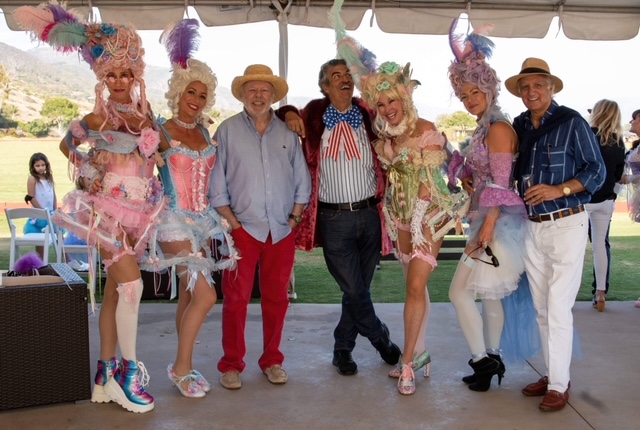 Even the pricey horseflesh got upstaged at the Santa Barbara Polo Club when the La Boheme Dance company, colorfully dressed as courtesans from 18th century Versailles, held its cast and crew wrap party.
The talented dancers, founded by director Teresa Kuskey Nowak, have participated in the Summer Solstice Parade for the past seven years, but given the pandemic restrictions, this year's entry will be a music video filmed at Montecito's Pink Palace with a Marie Antoinette "Eat the Bloomin' Cake" theme.
"I believe life is short, so eat the cake!" says Teresa. "COVID was a time of reflection and inner growth. And now it's time to bust out like Marie Antoinette! Be fearless and go after your passions. Spread joy, kindness. and a helping hand!"
As the bewigged performers went through their choreographed paces to the throbbing music of ubiquitous DJ Darla Bea, decked out in a fetching all-pink ensemble and matching coiffure, a video crew filmed the action, which was shown on the local ABC affiliate, KEYT-TV, and will be re-broadcast regularly on TV Santa Barbara.
A truly hair raising and deliciously decadent affair.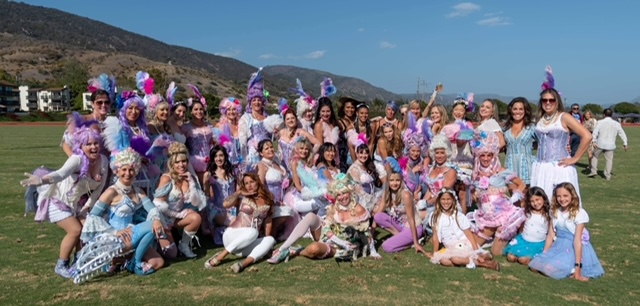 Home Makeover, Caruso Edition
Rosewood Miramar owner Rick Caruso has expanded his two-property waterfront estate in Newport Beach, adding seven bedrooms and nine bathrooms on .37 acres, splashing out $18.6 million.
The internal living space measures 8,526 square feet, including a staff apartment with a private terrace and a four-bay garage.
The idyllic spot effectively connects Caruso's waterfront retreat into a three-residence compound, including another home he paid $15.3 million for in 2017, which was subsequently razed.
Unfortunately, the new home's 75-foot boat dock is not big enough to accommodate Caruso's $100 million 216-foot super yacht Invictus.
His net worth, according to Forbes, is more than $4 billion.
And the Survey Says . . .
Montecito's Rob Lowe and his wife, Sheryl Berkoff, will soon celebrate 30 years of married bliss.
And the 911: Lone Star actor proved he was able to keep a secret as he surprised with her "dream" chance to compete on the TV show Celebrity Family Feud.
Rob, 57, told Sheryl he set up an elaborate gift for friends and family to record video messages on a production stage, only for her to be taken totally off guard walking on to the contest set.
"Rob made it happen," host Steve Harvey told a shocked Sheryl.
Rest in Peace, Gavin MacLeod
On a personal note, I mark the move to more heavenly pastures of veteran actor Gavin MacLeod at his Palm Desert home aged 90.
An old friend, the late veteran publicist Gloria Luchenbill, who worked for the powerhouse PR firm Rogers & Cowan in Beverly Hills, worked on the popular Aaron Spelling TV show The Love Boat and would invite me to the set at Fox in Century City often.
MacLeod, who also worked on The Mary Tyler Moore Show from 1970 to 1977, was delightful company, and The Love Boat had different guest stars each week, so you never knew who you'd meet.
In all he appeared in 250 episodes between 1977 and 1986, as well as three made-for-TV movies.
Great memories…
Sightings
Prince Harry and Meghan Markle checking out the Honor Bar… Montecito rocker Adam Levine enjoying the sun and surf in Maui… Carol Burnett noshing at Lucky's.
Pip! Pip! Be safe, wear a mask, and get vaccinated. •MJ
You might also be interested in...