Fourth of July Parade is Happening!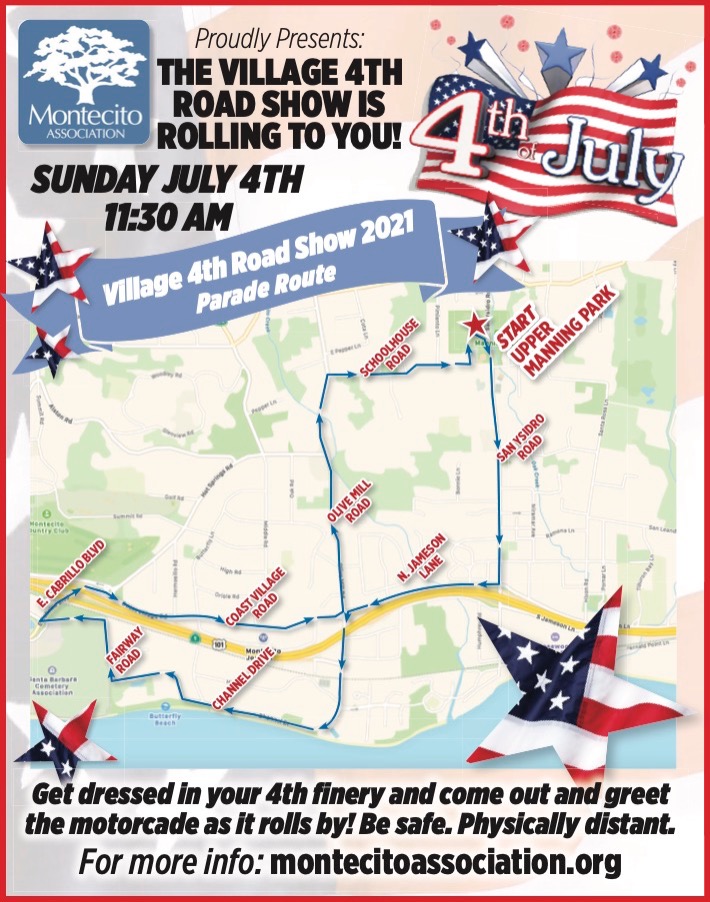 You asked, and we're delivering. A crew of dedicated Montecitans is busily pulling together a Fourth of July Parade. We're sensitive to our emerging-from-the-pandemic status, and to the President's pledge that all Americans will be able to celebrate with your families. 
We plan to keep everyone safe, welcoming you to be with your family at home, while delivering a full-on community July 4th parade that comes to you. All you have to do is trot down to your driveway's edge or a nearby corner to be part of it, in full 4th regalia, if you can.
We are limited to 30 entries, due to public safety restrictions. CHP is the lead agency guiding us and we do not anticipate street closures.
If you want to enter, do it now, because these slots tend to fill up fast! Vehicles only.
Would You Like to Sponsor the Parade?
We'd love to have your support. We have to place ads in the Montecito Journal and pay a few other expenses. Your support is so appreciated! We've got 10 T-shirts with a special design, signed by Katy Perry, that we'll give away in a lottery for sponsors. We'll thank you publicly, pretty much until you tell us to stop. You've always made this parade happen! And we're working on a flyover, like that stellar one last year, to kick it off — provided by one of our great members.
Let's make it a Fourth of July Parade to remember!
To register or sponsor the parade, go to montecitoassociation.org.
You might also be interested in...