A Royals Record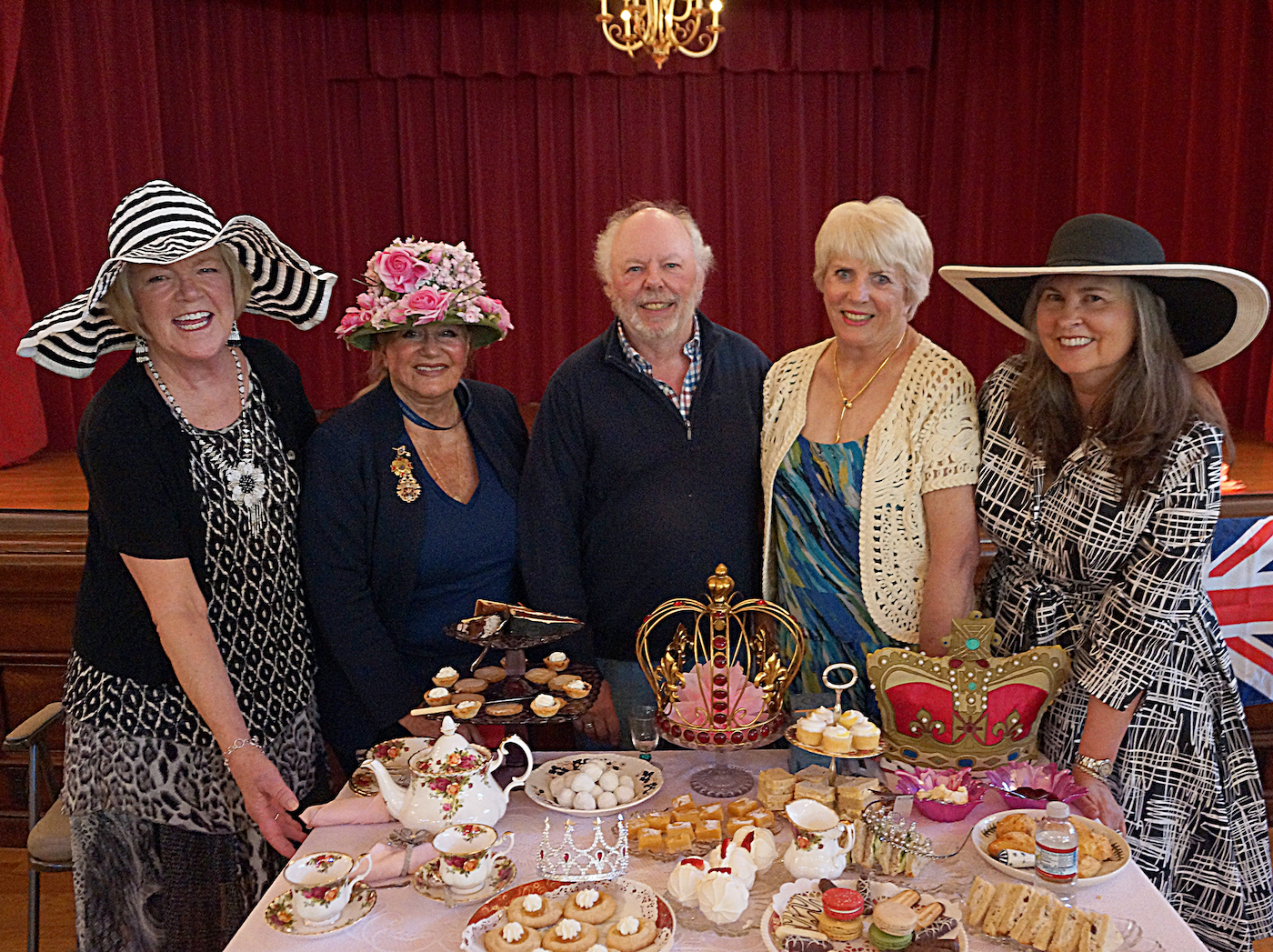 I went to the historic Rockwood Woman's Club to speak to a record turnout of 80 guests for a Royal Tea.
After British-born Janet Bullock, who served finger sandwiches and clotted cream scones on her Royal Crown Derby china, alongside dainty cups of Earl Grey tea, I regaled the club members — many wearing colorful hats and one, realtor Brenda Blalock, even wearing a tiara — of my 45-year history covering the Windsors on TV and in newspapers. This was inclusive of my last year in the U.K. in 1977, which coincided with Queen Elizabeth's Silver Jubilee, when I followed Her Majesty and husband Prince Philip around the country as she toured her realm.
As well as touching on the 1,000-year-plus history of royalty following the Norman invasion of Britain in 1066, I noted that Queen Victoria, who gave her name to an age, came to the throne in 1837 at the tender age of 18 with a 24-inch waistline and when she died in 1901 at Osborne House on the Isle of Wight it had expanded to a hefty 54 inches. which obviously made quite an impression given she was only 4-foot-11 tall.
After my lecture, I was peppered with numerous questions, many about the future of the Royal Family after the death of the Queen, who celebrated her 95th birthday in April and next year marks her Platinum Jubilee after 70 years on the throne, easily eclipsing Victoria's record. We also discussed the death of Princess Diana, which was an extraordinary time for me, appearing on nearly 90 TV shows within a period of six weeks after her tragic death in Paris in 1997.
Google This: Montecitan Buying All the Beautiful Properties
It was only last year that former Google honcho Eric Schmidt splashed out $30.8 million for the impressive 11.2-acre Montecito estate, Solana, owned by former Amway executive Bill Nicholson and wife, Sandi, with a 22,000-square-foot five-bedroom, nine-and-a-half-bathroom mansion with 360-degree views of the Pacific and Santa Ynez Mountains.
It was the former home of Frederick Forrest Peabody, manufacturer of Arrow shirts, and cost $50,000 to build in 1914, a precedent setting price for its day.
Now Schmidt, 66, who is reportedly worth $25 billion, has acquired the 13-bedroom, 17-bathroom Holmby Hills home of the late hotel magnate Barron Hilton, who died in 2019 at 91, for $61.5 million.
When the estate came on the market in December, 14 months after Hilton's move to more heavenly pastures, the asking price for the 2.55-acre 15,000-square-foot Los Angeles property was $75 million.
Built in 1936 and designed by architect Paul Williams, who also worked on homes for singer Frank Sinatra and actress Lucille Ball, the home features a famous zodiac pool with horoscope signs represented in colorful hand painted tiling.
Schmidt has quite a collection of homes including a $15 million Manhattan penthouse, a Maui waterfront villa, a Nantucket mansion, not to mention a Gulfstream V jet, and a 107-foot super yacht named Gladiator.
Welcome, Lilibet
The phone at Maison Mineards Montecito was red hot at the weekend fielding calls about the birth of Prince Harry and Meghan Markle's baby daughter, Lilibet Diana Mountbatten-Windsor at Santa Barbara's Cottage Hospital, weighing seven pounds, 11 ounces.
Lilibet is in honor of the child's great grandmother, Queen Elizabeth, who couldn't pronounce her name properly as a child, and Diana after her grandmother.
In due course, on the death of the monarch who was 95 in April, Archie, 2, and Lilibet will have royal titles of prince and princess, when their grandfather Prince Charles becomes King.
Commitments included a Zoom interview with KCBS in Los Angeles, another spot on KEYT, and an interview with CNN reporter Paul Vercammen in front of Cottage Hospital.
Quite a week…
The Stage Keeps Getting Bigger
Montecito tony twosome Bill and Sandi Nicholson are no doubt elated that the Nurse Heroes Choir they helped to establish in partnership with a group of motivated philanthropists and celebrities has become a hit on the popular NBC TV show, America's Got Talent.
The goal of Nurse Heroes is to raise awareness and provide funding for scholarships to train the next generations of nurses.
The choir, featuring the nurses of Northwell Health on the East Coast, performed alongside celebrities including Andrea Bocelli, Celine Dion, Gloria Estefan, David Foster, Stevie Wonder, and many more on Thanksgiving Day last year, in an event hosted by Oprah Winfrey and Whoopi Goldberg.
The producers of America's Got Talent saw the concert, which has been viewed by more than 10 million people to date, and invited them to compete in a New York audition, when they sang "Lean on Me" and "Stand by Me," with judge Simon Cowell enthusing: "We need you, the world needs you" on the latest season premiere.
Fellow judge Howie Mandell added this own accolade: "You stand by people you don't know… I thought I just wanted to stand by you," before pressing the Golden Buzzer which sent the 18 singers straight to live shows later on in Hollywood.
Bravo!
Monopoly, in Real Life
Montecito TV talk show host Ellen DeGeneres has bought another home in our rarefied enclave.
This time it's a more modest acquisition — a 1954 bungalow a tiara's toss from Butterfly Beach for $2.9 million.
The two-bedroom, two-bath single story is a 1,689-square-foot property on 0.4 acres.
There is no pool, but certainly enough room to build one.
You might also be interested in...