History in Motion: The Roots of La Primavera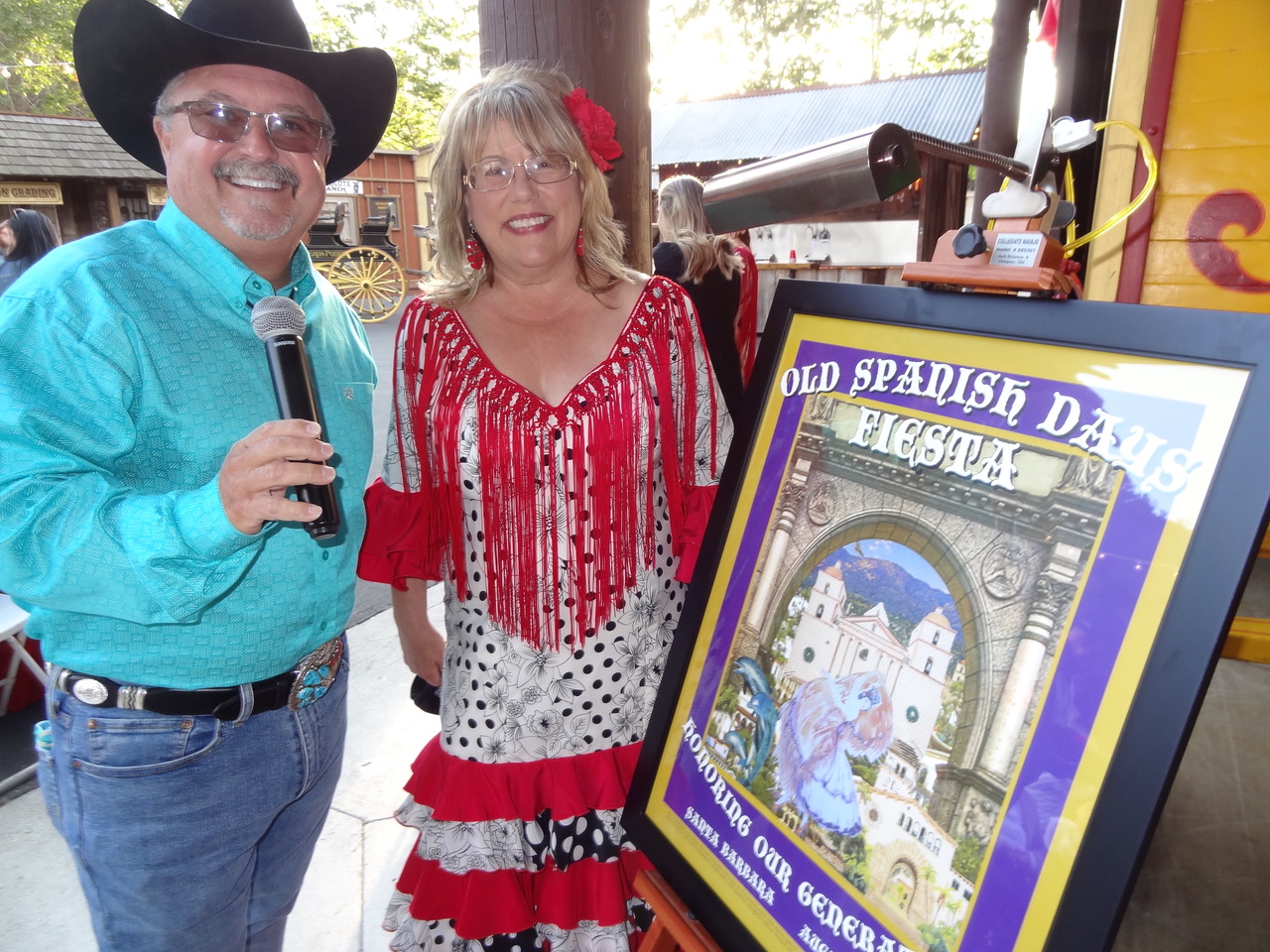 "La Primavera" means springtime and came from the annual season when hides and tallow trade ships arrived to do business in Santa Barbara — a big industry for many decades. The rancheros would join together for the cattle round-up and get together for a meal and a party with dancing and entertainment during those old Spanish Days in the 1800s.
In 1919, a group of prominent citizens met and organized La Primavera Association to begin a spring carnival. It was to be historically correct as to the early period of California's customs and that day to be known as La Primavera de California.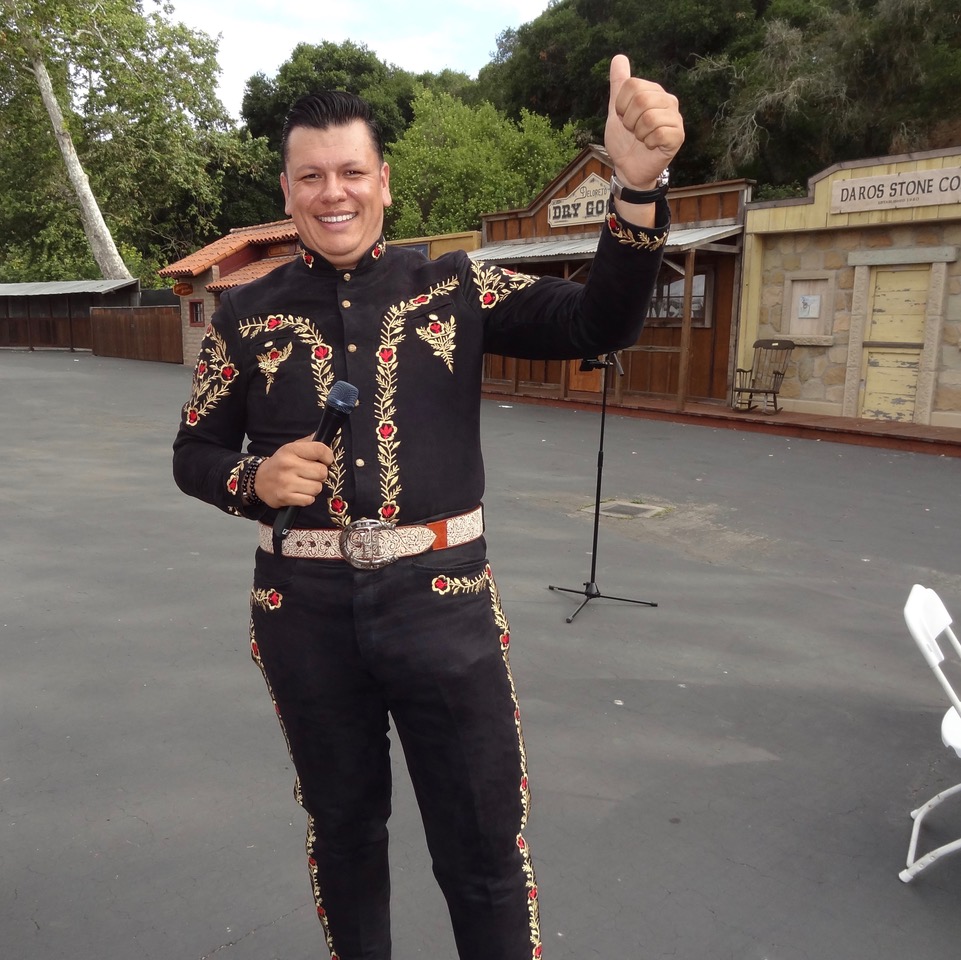 It was to be the last Thursday of April with a floral and costume parade, a play, a dance, and a costume ball. It turned out to be a bit longer as the festivities had not ended Thursday night. The next day there were horseback sports at Athletic Park. In the afternoon, horsemen in colorful outfits led a parade of school children dressed in white with long green garlands and bright streamers.
The flag which flies during Old Spanish Days (OSD) fiestas has its origin in that festival. The banner is red, white, and yellow with Saint Barbara's tower in the corner. According to the local paper on June 3, 1923, it was officially adopted as the city festival flag.
The celebration was a great success, but the organization was deeply in debt because of the music, large staff, and costumes. They never held another.
The current La Primavera event (dinner and dance) which takes place today began more than 30 years ago as a means of raising money before fiesta. It was held in May at Earl Warren Showgrounds. Mrs. Bill Luton, whose husband was El Presidente in 1970, and her friends cooked some 800 filets for the guests who paid a whole $2 for the meal! Since then, La Primavera has been held at many venues around town including Casa de la Guerra, El Paseo and, my most memorable of all time, at Dos Pueblos beach complete with canoes and horses. This year's location was the Carriage and Western Art Museum.
Fiesta 2021 will be held August 4-8, but various festivities go on throughout the year. Because of the pandemic there will be no parade or mercados, but still going are La Fiesta Pequeña, Las Noches de Ronda, Arts and Craft Show, and Rodeo. Between now and August more events will be announced.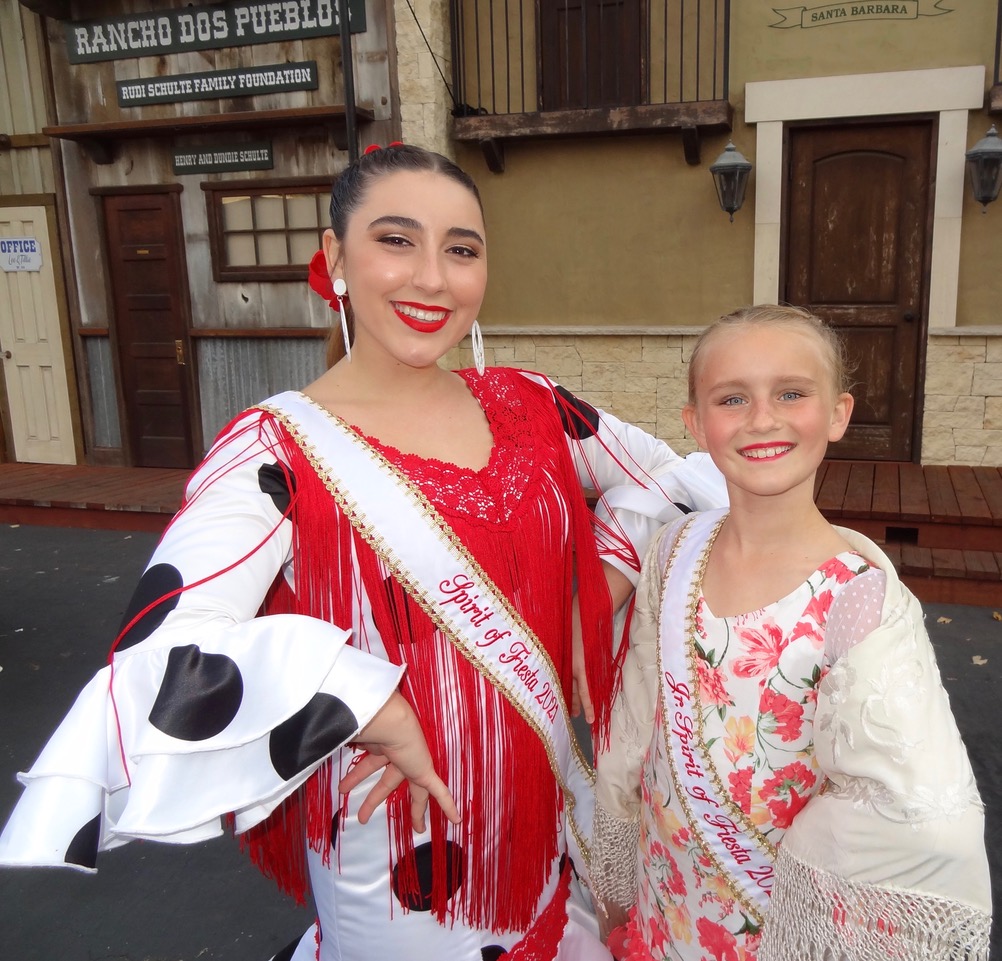 La Presidenta Stephanie Petlow said, "This is a great moment for Fiesta as we continue to move out of the recent restrictions. For months, and even a full year, so many have worked so hard and in a creative way, to bring as much Fiesta to our community this year as possible. My theme is 'Honoring Our Generations.' We are all where we are because of those who came before us and the paths they paved. It is our duty to make sure we pave positive paths for future generations."
Fiesta is run by a volunteer board of directors and as such is unique among festivals. With only one staff member, the OSD supervises operations, fundraising, and planning. Working with La Presidenta are Primero Vice Presidente Alex Castellanos, Segundo Vice Presidente and El Secretario David Bolton, Treasurer Casie Killgore, Division Chiefs Janice Howell (celebrations), Maria Cabrera (dance and entertainment), Gary MacDonald (pageantry), and the rest of the volunteer directors.
The mission of OSD, which started in 1924, is to honor and preserve Santa Barbara's history, spirit, culture, heritage, and traditions of the OSD era through continuous education of the community; enhance community pride through public involvement; continue to be a vehicle that supports nonprofit participation in Fiesta activities. And, of course, economic goals for the city because of all the tourists it attracts.
In the early 1920s, there were three separate groups that came together: the arts community because of the newly reconstructed Lobero Theatre; the locals to preserve history; and the business community to draw visitors. Ninety years later there are 19 official OSD events and activities in 14 venues citywide.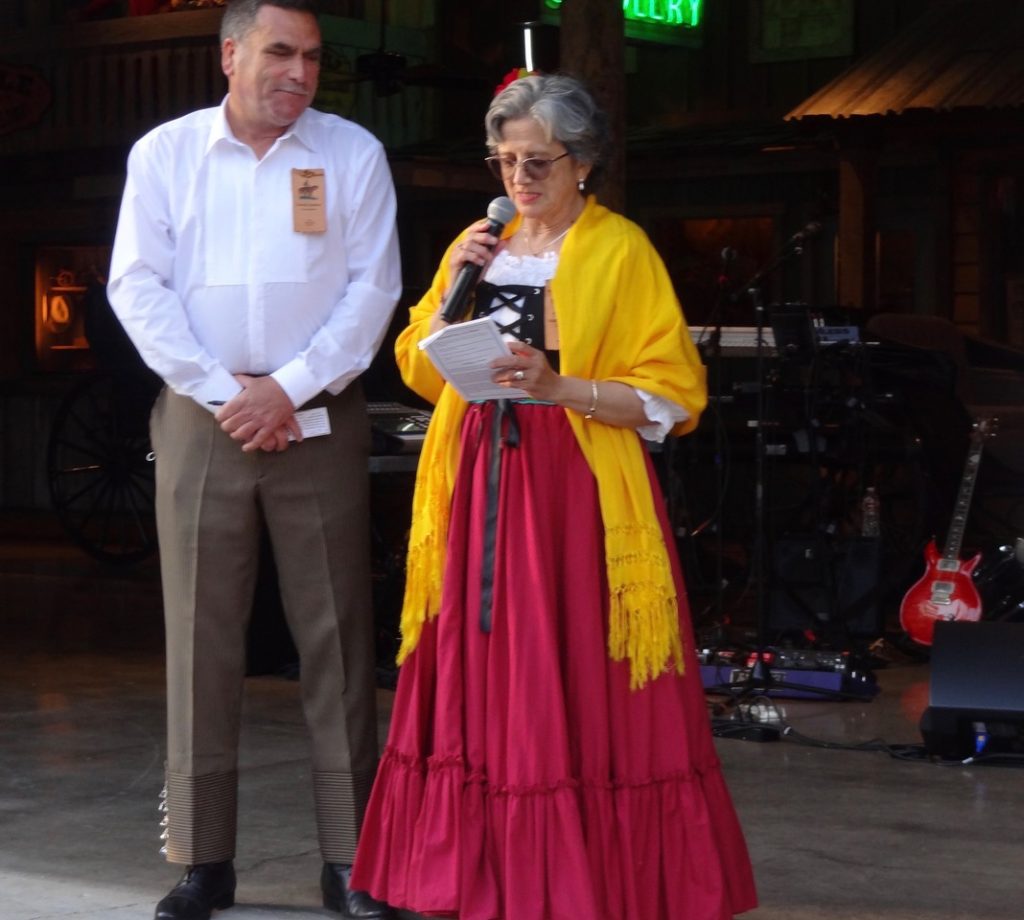 As 100 costumed guests gathered in the courtyard of the Carriage Museum for La Primavera, Petlow unveiled this year's poster and explained its conception.
"My inspiration began with a watercolor my mother, Sylvianna Johns, a New Mexico fine artist, painted many years ago of a Spanish dancer. My granddaughter, Nadia Mason, added colored pencil drawings of iconic Santa Barbara landmarks for the poster including the Santa Barbara County Courthouse, the Old Mission Santa Barbara and local artist Bud Bottoms' Dolphin Family sculpture known as the Bicentennial Friendship Fountain at State Street and Cabrillo. Additional artwork from El Pueblo Viejo was generously provided by local architect Steve Hausz. Graphic design was completed by Mateo Dovgin, a senior at Santa Barbara High and son of the 1998 Spirit of Fiesta, Adriana Rey Dovgin. A culmination of generations."
Petlow's choice of the Fiesta pin was inspired by El Presidente Mike Harling's 1996 pin.
"The iconic silhouette of two dancers has always been one of the images of Fiesta that I have always loved."
A special shout out went to Steve Lipman of Pincrafters for his many years of producing the Fiesta pin.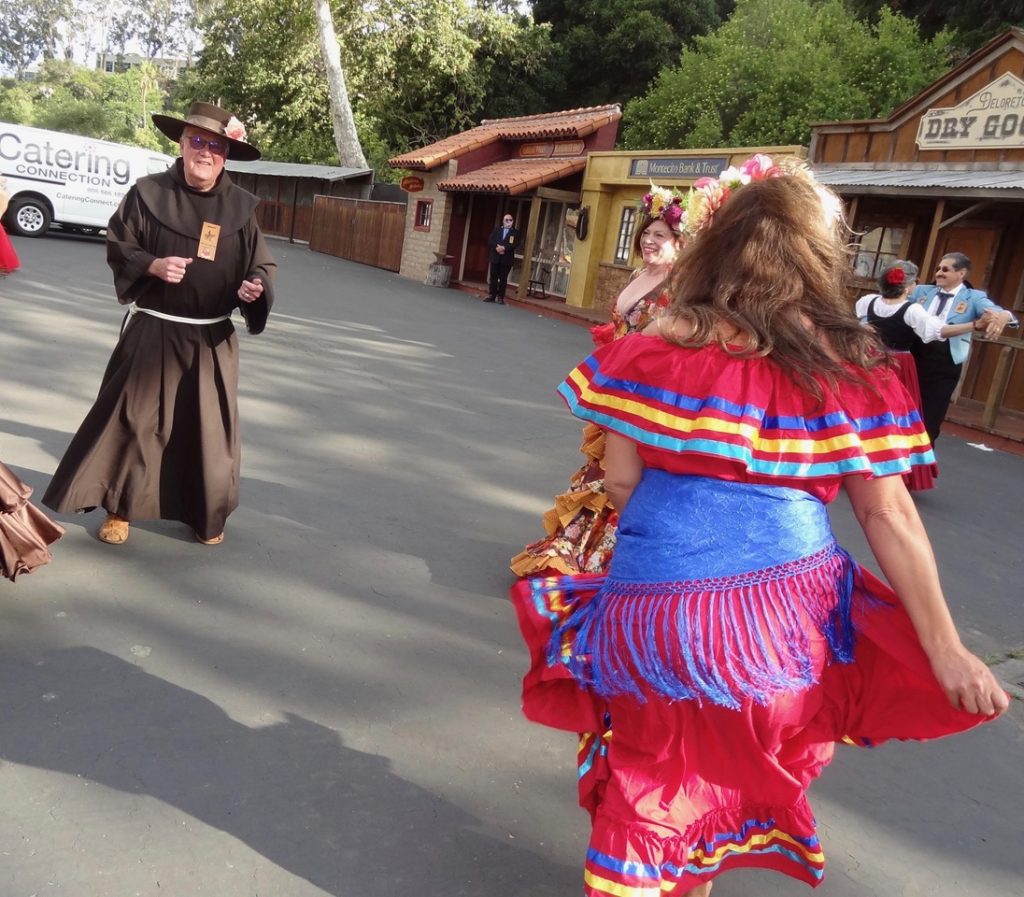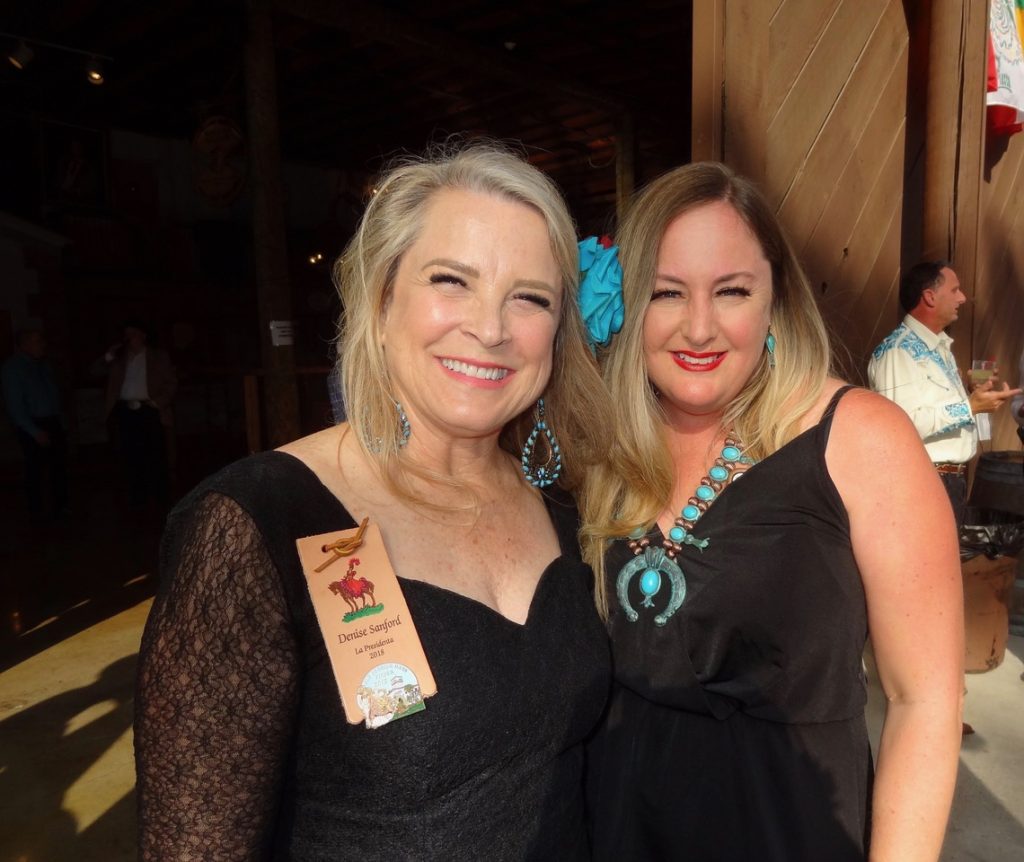 The party was attended by many past Presidentes, all in costumes from Spain, Mexico or the wild west. Father Larry not only gave the blessing but danced with some of the señoras and señoritas. With his booming voice, Josue Hernandez kept the energy going. And what would a Fiesta party be without Junior Spirit of Fiesta Savannah Hoover and Spirit of Fiesta Ysabella Grace Yturralde dancing? Ysabella is 16 and has been with Linda Vega for 11 years and is now studying with Maria Bermudelz. Ysabella was Junior Spirit in 2015. Savannah is now nine but began dancing when she was only three. At five she told her dance director, "next year I want to do a solo with a fan." And she did.
2021 Saint Barbara Patricia Orena appears at all the festivities. Bolton and Cabrera thanked the sponsors and Drew Wakefield ran the live auction while guests chowed down on a delicious Mexican buffet of chili rellenos with all the trimmings.
As La Presidenta reminded, "As the celebrations begin, let's remember our past generations and continue to honor their legacy. I look forward to you and your family joining me in 'Honoring Our Generations' past, present, and future, through the spirit of dance, music, and our community traditions. Viva La Fiesta!"
You might also be interested in...