Buying into Forever: Campaign to Preserve San Marcos Foothills Sets New Fundraising Standard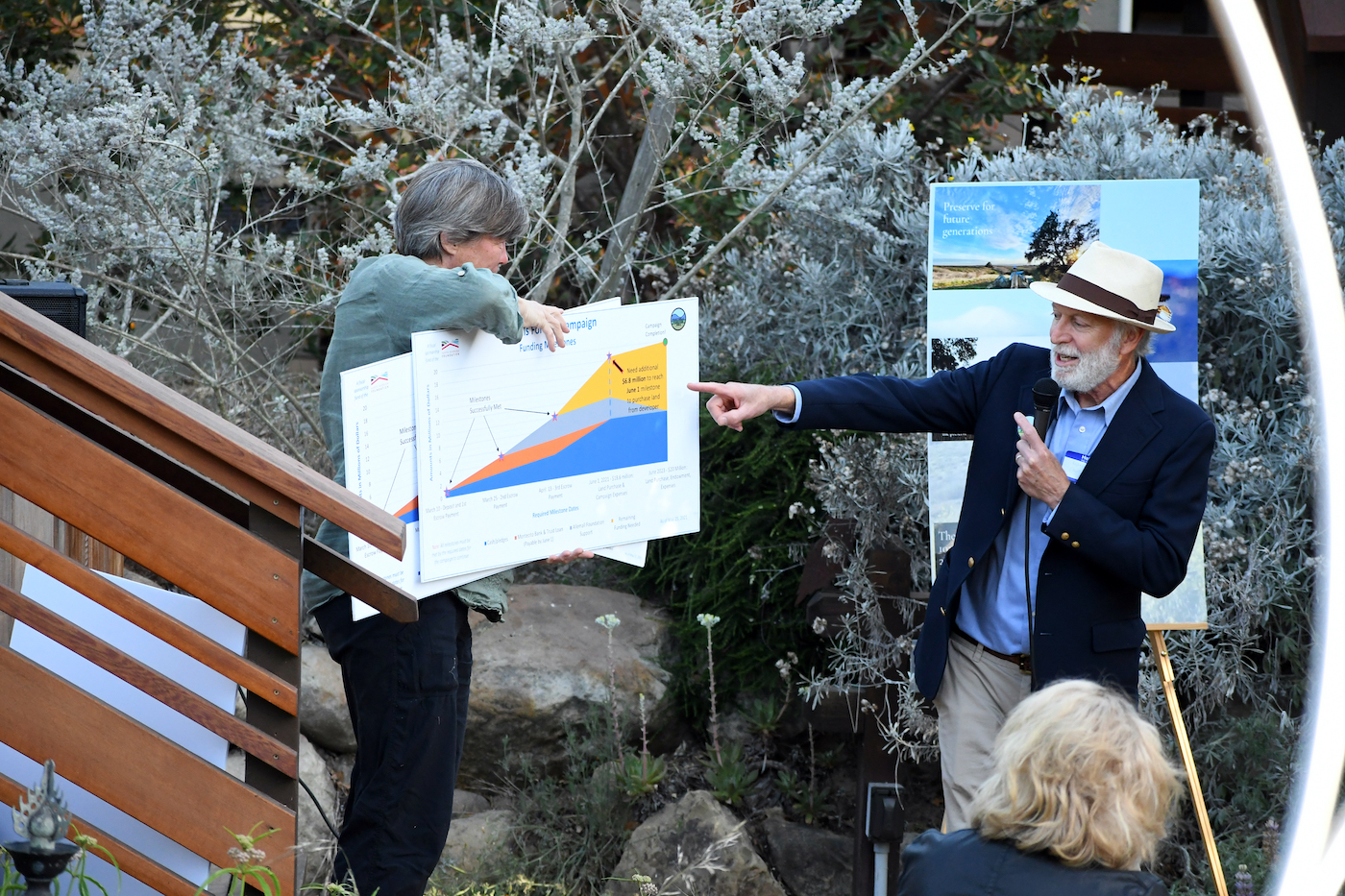 It isn't supposed to work this way. Raising just under $18 million in 83 days is foolhardy, a pseudo pipe dream.
And Bob Bason would know a thing or two about lofty fundraising goals, having worked as a capital campaign consultant to charities and nonprofits all over the United States — including yeoman's work at UCSB.
But the Montecito resident has never seen something like the Foothills Forever campaign, one that's looking to preserve 101 acres on the San Marcos West Mesa.
Even he admits that raising $18.6 million in just 1,992 hours, or 119,520 minutes, or 7,171,200 seconds is something that shouldn't work on paper.
That's $9,337 per hour; $155.62 per minute; $2.59 per second.
That's why the heart of a community isn't measured on paper.
"We've done a great job of protecting our front yard on the coast, now it's time to take care of our backyard and preserve these wonderful spots," Bason said.
"This campaign is now the gold standard for how to get things done."
On May 25, a couple dozen donors and advocates for the project gathered at a private residence to rally the troops once more — the campaign had eclipsed $12 million, but $6.6 million was still needed, with a June 1 deadline looming to appease the current landowner.
A day later, an angel donor made a $5 million donation, giving the anonymous "longtime businesswoman" the naming rights to the land.
Over Memorial Day Weekend? Another $800,000-plus in donations.
On June 1, the Santa Barbara County Board of Supervisors unanimously voted to support the project with $2 million — essentially putting the campaign over the top, although there is a need to create an endowment fund for the needed upkeep of the area after the purchase.
"It was important for the County to show how important this project is," said Gregg Hart, the Second District Supervisor. "This effort has truly been inspirational, and we needed to do our part to support it."
The deadline for the final $700,000-plus is now June 9 at 10 am, with donations of up to a total of $150,000 being matched.
At last week's get-together, Marc Chytilo, on the Foothills Forever executive committee, addressed the gathering, raising his cap a couple of times — searching for another "rabbit to pull out of his hat."
"And I'll keep looking until we get there," Chytilo said.
A local since 1969, Bason has seen his fair share of preservation efforts, including the Douglas Family Preserve, Sterling Preserve at Ellwood, Veronica Meadows, and the Carpinteria Bluffs — all open spaces available to both wildlife and the community.
But, in his eyes, none of them faced the challenge that the Foothills Forever campaign has endured — not in timing, not in funds required, not in the stakes at hand.
Yet, more than 5,000 donations have been made to date.
"I would have never advised this approach before, but what other choice did we have?" Bason said.
"When you look back at the other projects, it's obvious that this community cares deeply. You can't ever underestimate that, because the second you think you've done all you can, this community will surprise you and go a step further."
Donations are still needed in order to get to the original $20 million goal, and you can make a tax-deductible contribution via foothillsforever.org.
You might also be interested in...