Rick Caruso Accepting Bitcoin for Retail, Rentals, and Resorts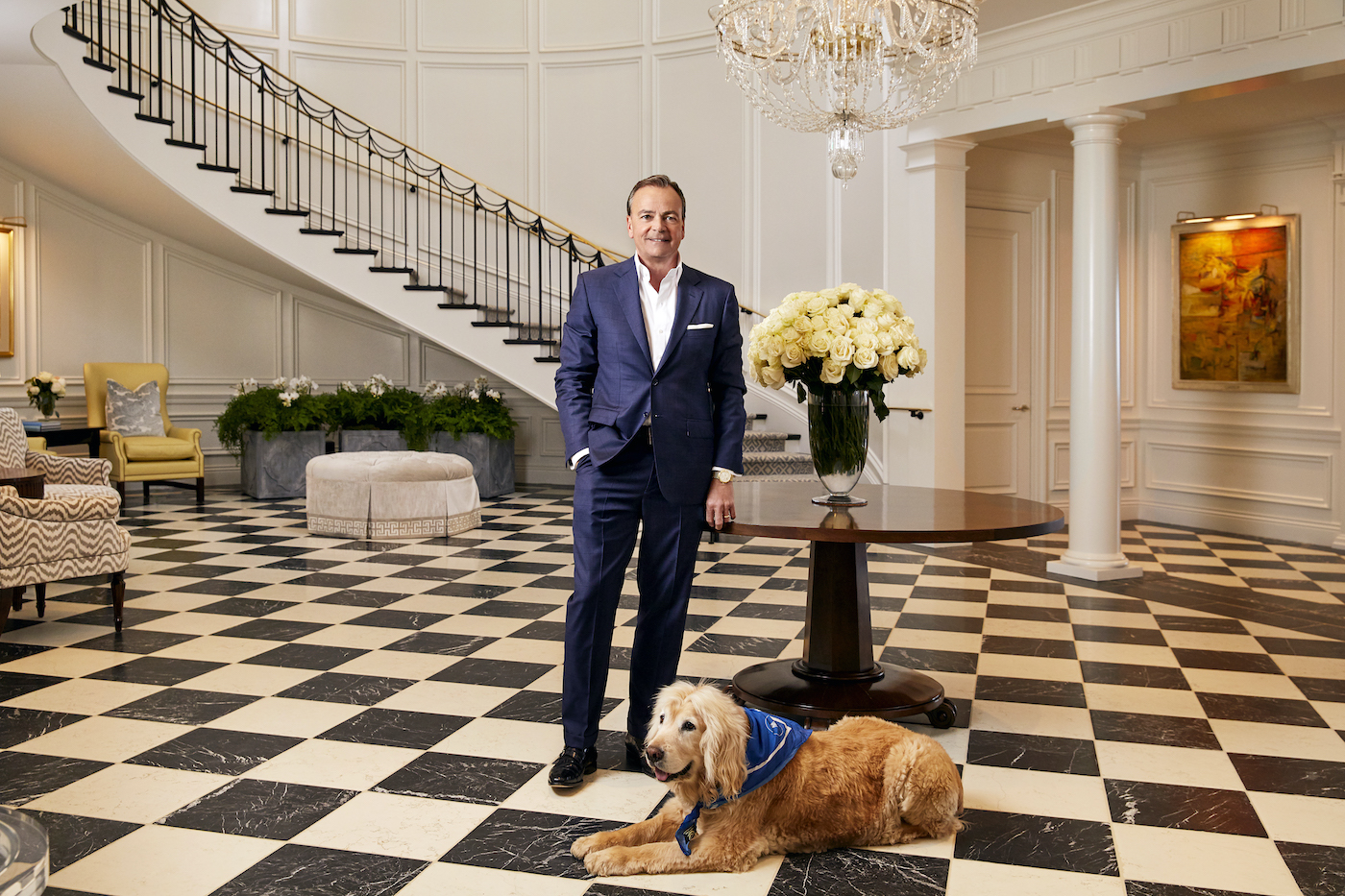 Rick Caruso — founder and chief executive officer at Caruso, the owner/developer of Montecito's luxury resort The Rosewood Miramar Beach, philanthropist, and USC Board Chair — is now taking on cryptocurrency in what is being listed as a real estate industry first, with the exception of ManageGo, a cloud-based real estate company in New York that purportedly took on crypto in 2017-2018. Making financial headlines in April with a spot on CNBC Power Lunch, alongside Gemini co-owner Tyler Winklevoss (with his twin Cameron, who sued Harvard classmate Mark Zuckerberg for allegedly stealing their idea for a social network that became Facebook), Caruso shared the news of accepting Bitcoin at all his retail shops, rentals, and resorts, with the additional caveat of using blockchain technology in a rewards program for shoppers redeemable for hotel bookings and NFTs (non-fungible tokens). 
Bitcoin is a decentralized cryptocurrency whose funds are 100% owned by the owner, and acts as an effective payment alternative to "fiat" currencies, such as a government-issued currency, i.e., USD. The volatility of Bitcoin suggests that companies who accept it for payment need to act quickly to convert the currency into fiat. Further, since Bitcoin's price against the dollar varies, the amount of Bitcoin you'd pay per month for rent can vary. After interviewing Rick Caruso, we understand his company intends on making the experience seamless for the payor and they have developed strategies to mitigate current volatility. Caruso has a long-term bullish outlook on crypto and believes in the eventual macro-stability of the asset class.
Going into more detail, here is my Q&A with Rick:
Q. Let's talk about your interest in cryptocurrency.
A. Caruso has made a significant initial investment in Bitcoin as part of its treasury management strategy making us the first to adopt the technology in the real estate industry, continuing to pioneer new technology and experiences for our guests throughout our retail ecosystem. We understand that innovation is both a technological process as well as a social construct. And because our mindsets are made to think differently, we are looking at the retail landscape for 10-20 years from now, not just today or tomorrow. We are constantly studying what is happening technologically and culturally and assessing if those advances can apply to the work we do – which is enriching the lives of those within our communities.
And your decision to adopt the technology and join in a partnership with Gemini?
Even though Bitcoin and cryptocurrency are still in its nascent stages, we know this technology is here to stay. We've allocated a total of 1% of our investment portfolio because we believe in a balanced investment strategy that aims to balance risk and return. We have a mix of traditional stocks, fixed income funds and believe investing across various indexes makes for a wonderful long-term diversification strategy.
We are also invested in Bitcoin for the long term, so its volatility in the near term does not scare us. Gemini is the most innovative company in cryptocurrency management and blockchain technology, they are re-inventing the way we do business for tomorrow and we are excited to be working with them on how to integrate these technologies throughout the Caruso ecosystem.
NFTs are an incredibly popular market right now. Do you have plans to integrate them across Caruso Properties?
The excitement surrounding NFTs is definitely shared by Caruso. We see a huge opportunity to enhance the guest experience using NFTs and have many ideas about how we can re-imagine the retail and hospitality landscape. Regardless of how digital our lives become, physical, human connection can never be replicated or replaced. This year has especially proven that to be true. So many of us are eager to get out of the house and interact with people and things in physical spaces. Even with Zoom and online shopping available to us – it's just not the same experience. At the same time, these digital platforms are now a customary part of our everyday lives. Being based in real estate and investing in cutting edge technology, like blockchain, Caruso is at the intersection of these two worlds. We are excited to be the ones bridging the online and offline experiences to create a truly seamless experience. Our guests travel from all over the world to visit us. NFTs can offer our guests the possibility of taking a piece of Caruso home with them.
Bitcoin value fluctuates daily, how will Gemini ensure Caruso the value received is the expected revenue?
Our finance and operational teams are working through the process now with our partners at Gemini. Rent collection will flow through the Gemini platform for our tenants. Tenants will be required to set up a Bitcoin Wallet with Gemini and fund this before making payments to Caruso.
Do you predict cryptocurrency being adopted as Paypal, Venmo, and ApplePay?
Technology is a process. Similar to the credit card, which was an innovation in the 1950s and ApplePay in the 2010s — people are slow to adopt until they find that innovation's convenience allows them to become more autonomous and mobile which is what I think cryptocurrency and blockchain technology will do. Then it quickly becomes ubiquitous and second nature. We are prepared for our guests when that inevitably happens. How quickly that happens all depends on adoption and how easily tech companies like Gemini can make it easy for cryptocurrency holders to use their money in real time and in real ways. Gemini Pay, powered by Flexa, will most likely revolutionize cryptocurrency by allowing in-person purchases with crypto — this will be a game-changer.
Talk about the Caruso blockchain-enabled rewards.
We believe cryptocurrency is here to stay and will continue to grow and integrate into not only future retail experiences, but also our entire Caruso ecosystem. We're also working on integrating guest-facing touchpoints, like our loyalty and rewards program. There is an extraordinary economy of unused loyalty 'points' — why not earn Bitcoin at our retail properties following purchases, that you can then use to check into our resort or pay rent at our residences? Using blockchain technology is unique, totally secure, and transactions are more cost efficient (close to zero transaction fees). This is just one example of how we intend to utilize cryptocurrency and blockchain technology. That's the future.
Do you advise businesses, particularly in Montecito, to follow Caruso's lead?
Every business has different goals and objectives, so I cannot make recommendations to add Bitcoin or any other cryptocurrency to anyone's portfolio especially because of its volatility. That being said, this technology is much more than an economic choice. It's about participating in a collective culture and understanding the way we engage with one another. What I do encourage every business to do is to consider the future and what technologies will inevitably be a part of the everyday human experience.
How is Rosewood Miramar Resort being managed since the lockdown?
Rosewood Miramar Beach has been open, we only closed for a brief period of time at the very early stages of the pandemic in an abundance of caution. Our property is unique in that it's set on over 16 acres of sprawling gardens and completely outdoors. We have seen great success throughout the pandemic, and I believe our guests have been encouraged by the layout of the resort and also our first-class health and safety protocols. We've been able to maintain impeccable health and safety protocol practices while exceeding our guest expectations and as a result have really felt the support of the community. Consumers have over $2 trillion in excess savings, and we are finally seeing signs that we are nearing the end of the pandemic. We know people are ready to get back out and experience life again — forward bookings at Rosewood Miramar Beach have been phenomenal.
Other news Caruso has on the books for 2021- 2022?
We just unveiled a new restaurant at Rosewood Miramar Beach called The Revere Room. Its name is in tribute to my favorite architect Paul Revere Williams, whose work served as a great inspiration for many of our properties. The fare focuses on seasonal California ingredients – some of them sourced from our own on-site garden. The décor is equally as impressive with a gorgeous hand-painted wallpaper. Our greatest focus for the future, as it has been since the beginning, is our guests. Hospitality is in our DNA and something we have always been steadfast in providing. We were the first company to introduce a concierge service to our retail properties. Cryptocurrency, Bitcoin, and blockchain are the next frontier for once again changing and enhancing the guest experience. It is not just an investment for our company's future, but for our guests.
411: www.rosewoodhotels.com/en/miramar-beach-montecito
www.caruso.com
You might also be interested in...