'Fabulous Feeling': Music Academy of the West Finally Enjoys a Sunset Soirée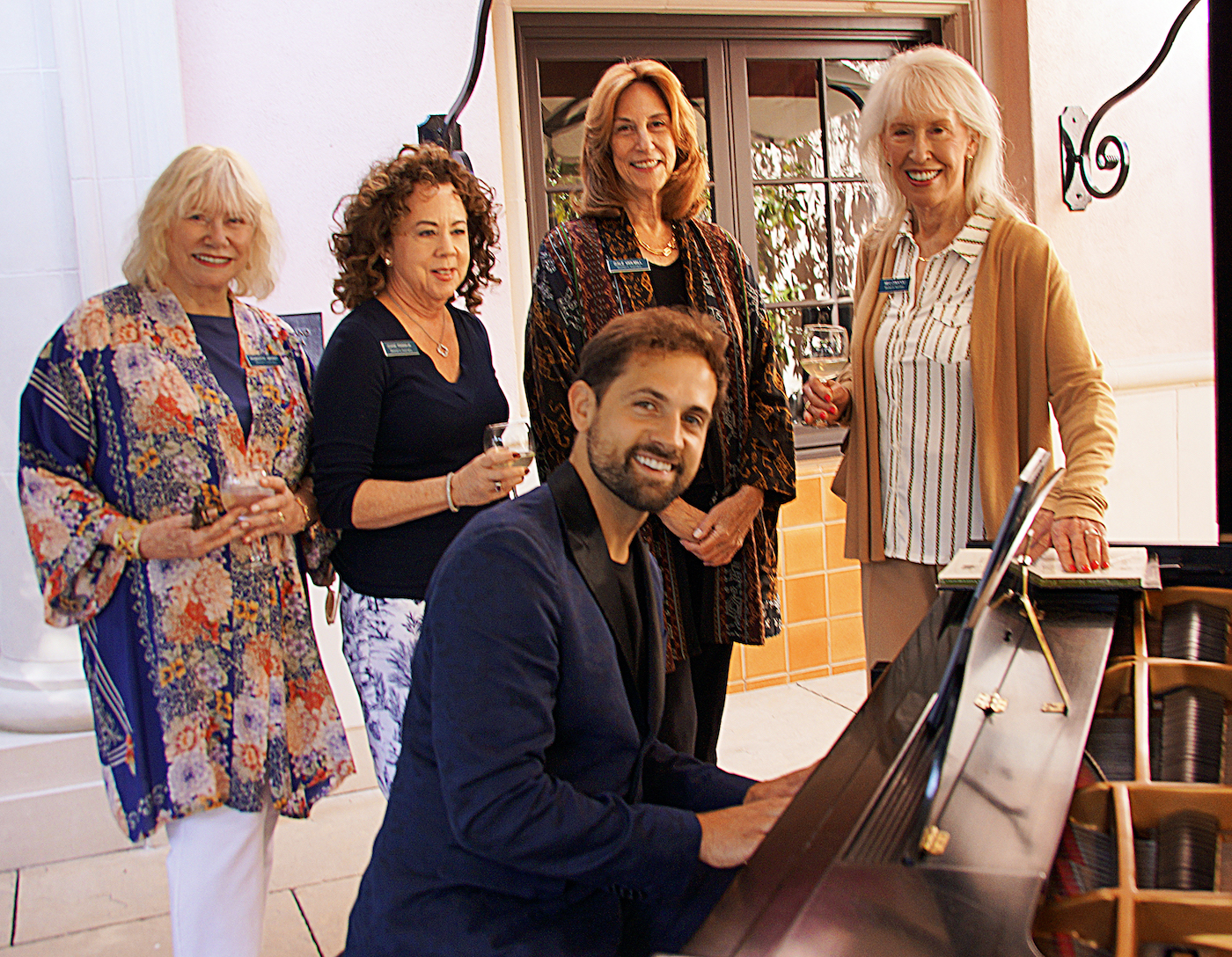 The Amazons of the Music Academy of the West were positively unleashed after more than a year of monthly meetings via Zoom for a "Sip n' Stroll" sunset soirée on the picturesque terrace of Hahn Hall on the Miraflores campus.
"It is an absolutely fabulous feeling," exclaimed event chair Roberta Grant. "Everybody has been absolutely stir crazy stuck at home."
"How nice to get back to wearing real clothes strolling around the grounds with a favorite drink instead of sweatpants all the while!"
Keeping the Women's Auxiliary members entertained was former MAW fellow Jacopo Giacopuzzi on a Steinway grand that had been brought out for the occasion.
In due course Jacopo, who studied at the USC Thornton School of Music, jets off to see his family in Verona, Italy, and friends in Maui, Hawaii, before participating in a music festival in Southampton, Long Island.
"It is so nice to be back traveling again as this pandemic abates," enthused Jacopo, who also works as a successful realtor at Berkshire Hathaway in Montecito.
Among the 50 suitably vaccinated and gloriously attired guests were Heidi August, Ana Papakhian, President Scott Reed, Judy Astbury, Jennifer Zacharias, Beverly Zukor, Debbie Geremia, Heather Abed, Margi Mainquist, Virginia Farthing, Helga Morris, Liz Rosedale, Judy Weirick, and Clare Johnson.
Making Every Moment Count
Santa Barbara's 27-year-old Dream Foundation has just added to its impressive total of more than 32,000 dreams fulfilled for terminally ill adults.
Nathaniel Medrano, 20, from Okatie, South Carolina, wants to become an artist and reached out to the foundation for the necessary equipment, including a drafting table, ergonomic chair, assorted canvases, sketch and charcoal pads, and a portfolio to display his finished works of portraits and trees, animals and birds.
"Nathaniel's dream is a touching reminder that life does not end with a terminal diagnosis," says the foundation's chief executive, Kisa Heyer. "Rather, the end of life is when so many people experience a heightened need for the inspiration, comfort, and closure that a dream can bring."
The organization also arranged for Nathaniel to speak to UCSB art professor Jane Callister via Zoom for expert coaching.
You might also be interested in...