Concerto Cream Rises to the Top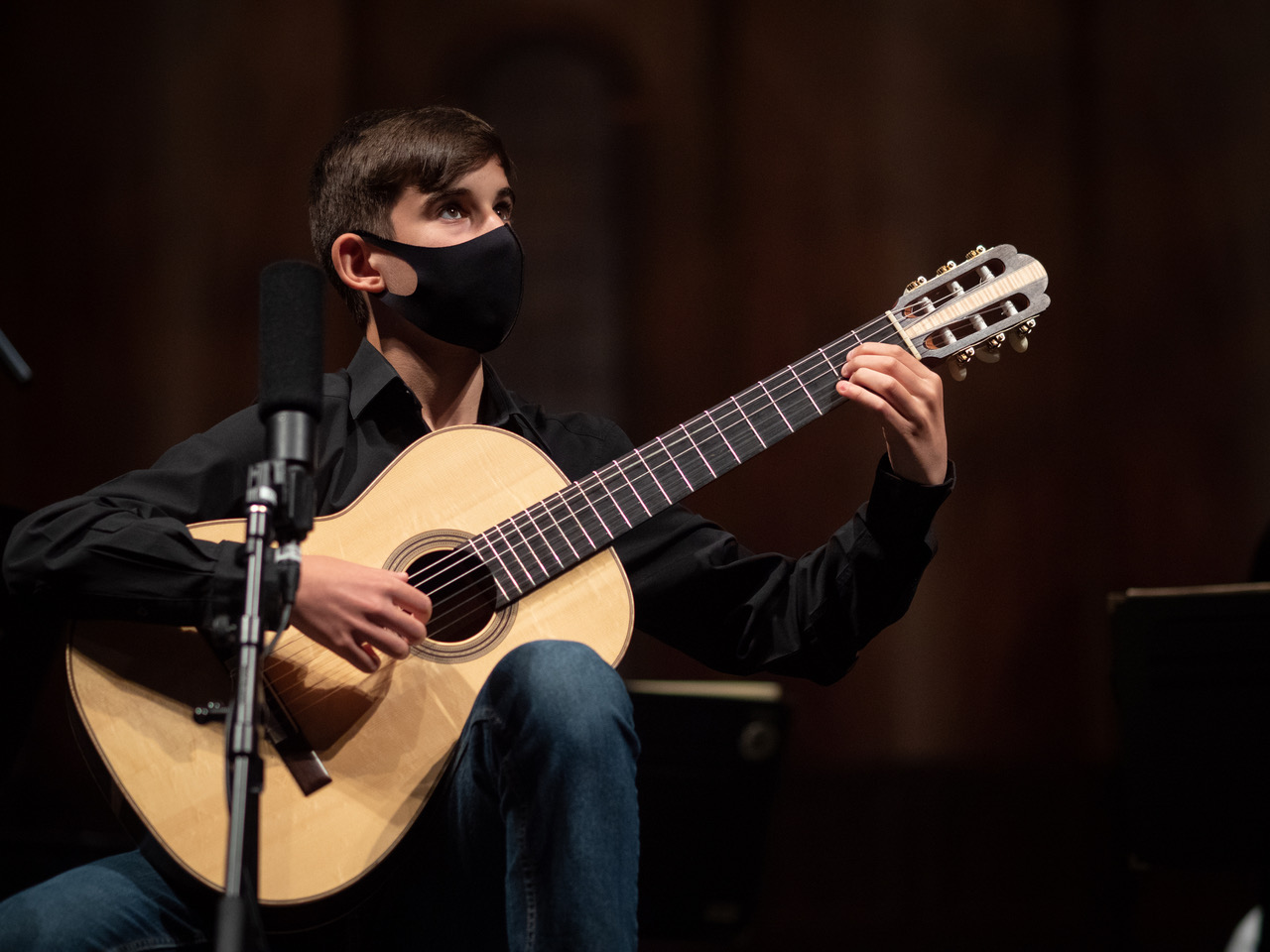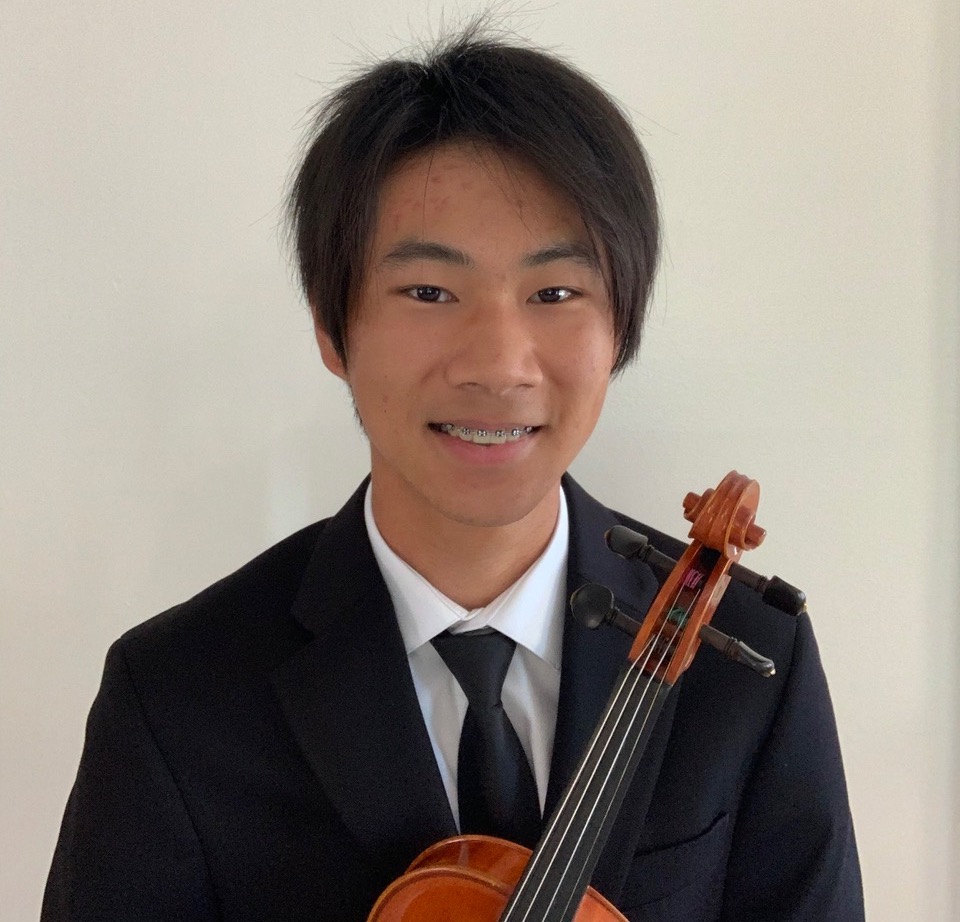 During a year when the performing arts faced challenges beyond measure, the Santa Barbara Youth Symphony held its Concerto Competition virtually, featuring some of the county's finest young musicians.
Participation allows students to showcase their best efforts and hard work in performances scheduled for next season, with one lucky musician winning the opportunity to perform as a soloist in the Santa Barbara Symphony's season finale.
For the first time ever, the Concerto Competition was open to any student up to age 18 living in the county studying an instrument outside of the typical orchestral realm. To participate students submitted a pre-recorded audition video for consideration.
The winners were Kevin He, 15, with "Violin Concerto No.1 in A minor" by Jean-Baptiste Accolay; Joseph Malvinni, 13, "Concerto No. 1 for Guitar and Orchestra in D major" by Mario Castelnuovo-Tedesco; Martie Pecht, 16, "Bassoon Concerto in A minor" by Antonio Vivaldi; and Ryan and Zeyn Schweyk, 15 and 16, with "Concerto for two harpsichords-piano in C minor" by Johann Sebastian Bach.
Judges included Nir Kabaretti (maestro), Yvette Devereaux (Santa Barbara Youth Symphony conductor), Michael Shasberger (Westmont College), and Trevor Handy (SBYS principal cellist).
Much Ado About the Royals
Another barrage of invective at the Royal Family from Prince Harry led to another extremely busy week of TV broadcasts trying to make sense of it all!
After fielding calls from CNN in New York and CBS in Los Angeles in the growing royal rift, not to mention the continuing controversy over Martin Bashir's infamous 1995 BBC interview with Princess Diana when she famously talked about "three in the marriage being a bit crowded," alluding to Camilla Parker-Bowles, now the Duchess of Cornwall, there was certainly a great deal to talk about.
Lord Dyson's 127-page, six-month report criticized the BBC over its "deceitful" interview and the use of faked documents to obtain the revelatory sit-down with the Princess of Wales. Both William and Harry condemned the British TV network saying it contributed to her fears and was part of a "culture of exploitation and unethical practices that ultimately took her life."
They blamed "woeful incompetence" and were saddened the corporation had not properly investigated complaints regarding deception earlier.
I took time out from my frenetic schedule to sit down with the Fox News Channel's Trace Gallagher at the CBTV studio downtown to talk about the latest chapter in the royal soap opera, which I have dubbed The Windsors at War.
Stay tuned…
On Second Thought . . .
TV talk show host Ellen DeGeneres has paid $14.3 million to buy back Montecito's historic Rancho San Leandro.
Ellen owned the three-bedroom, four-bath 6,764-square-foot property on six acres in 2017, a hacienda-style property next to her good friend Oprah Winfrey's ever-expanding, 70-plus acre "Promised Land" estate.
Back then Ellen and her actress wife Portia de Rossi paid $7.2 million for Rancho San Leandro. After a quick renovation the tony twosome flipped it for hefty profit less than a year later in an $11 million deal with Tinder co-founder Sean Rad, who subsequently married his longtime partner Lizzie Grover in a low-key ceremony there.
Rad first put up the estate for sale in spring 2019, asking $12.7 million, but with no takers it was delisted early last year, shortly before the pandemic.
Since then, our rarefied enclave's real estate prices have skyrocketed, with Rad reselling the property to Ellen and Portia for $14.3 million — almost exactly double what they spent for the very same estate less than four years ago.
The history of the ranch began in 1850 when California granted a large swatch of land to the Dominguez family, who built the original house and developed the surrounding land into what became a series of polo fields.
Listen to the Lama
His Holiness the 14th, Dalai Lama, 85, spoke from his home in Dharamsala, India, at a keynote UCSB Arts & Lectures event via Zoom with his friend and author Pico Iyer, 63, who splits his time between his homes in Japan and our Eden by the Beach.
Pico, who was educated at Eton College (the same school as princes William and Harry), Oxford University, and Harvard, talked about Creating Hope, a new programming initiative that was also attended by UCSB chancellor Henry Yang and Celesta Billeci, Miller McCune executive director of the popular arts program.
"Optimism, resilience, courage and vision. Who better to spark these in us?" asked Celesta.
The hour-long talk, in which the spiritual leader extolled the virtues of "love, kindness and compassion," was freely available to anyone with internet access.
"Hope is long-sighted, not short-sighted. Having kindness gives us hope."
The Dalai Lama first visited Santa Barbara in 1984 and was welcomed by Pico's father, Raghavan Iyer. UCSB was the first college in the U.S. to establish a chair in his name for the teaching of Tibetan studies.
It Smells Like What?!
Montecito actress Gwyneth Paltrow's lifestyle company Goop is being sued for more than $5 million in damages by a Texas consumer who claims the Oscar winner's This Smells Like My Vagina candle "exploded" in his home just hours after being first lit.
Colby Watson has filed a class action suit against the 48-year-old wife of TV producer Brad Falchuk in California alleging the candle he purchased on the Goop website in January suddenly became "engulfed in high flames" before "exploding" leaving his room "filled with smoke."
His lawsuit comes just four months after a London-based woman hit out at Goop alleging a similar candle "exploded" in her living room sparking "an inferno."
A spokesperson for Goop hit back at Watson's claims, insisting his lawsuit is nothing but "a frivolous attempt to secure an outsized payout."
Rest in Peace, Charles
On a personal note, I mark the move to more heavenly pastures of actor Charles Grodin, 86, at his home in Wilton, Connecticut.
Grodin, best known for his 1988 film Midnight Run with Robert De Niro, used to have an eponymous TV talk show on CNBC from 1995 to 1998, on which I appeared talking about the Royal Family.
The studio in Fort Lee, New Jersey, was just a short limo ride from my Manhattan apartment across the impressive George Washington Bridge.
I particularly remember the last time I was on, given Nancy Sinatra, daughter of the late crooner Frank Sinatra, was appearing via satellite from the Big Orange, gushing about her new centerspread for Hugh Hefner's Playboy magazine at the age of 54, wearing only lavender boots and a strategically placed pillow!
Sightings: Oscar winner Kevin Costner noshing at the Nugget in Summerland… Former Dallas Cowboys quarterback Troy Aikman strolling at the Rosewood Miramar… Terry Pillow, former CEO of Tommy Bahama, getting his Java jolt at Pierre Lafond.
Pip! Pip! Be safe, wear a mask, and get vaccinated.
You might also be interested in...