From Cured Meats to Savory Soups, Local Deli Owners Stack it Up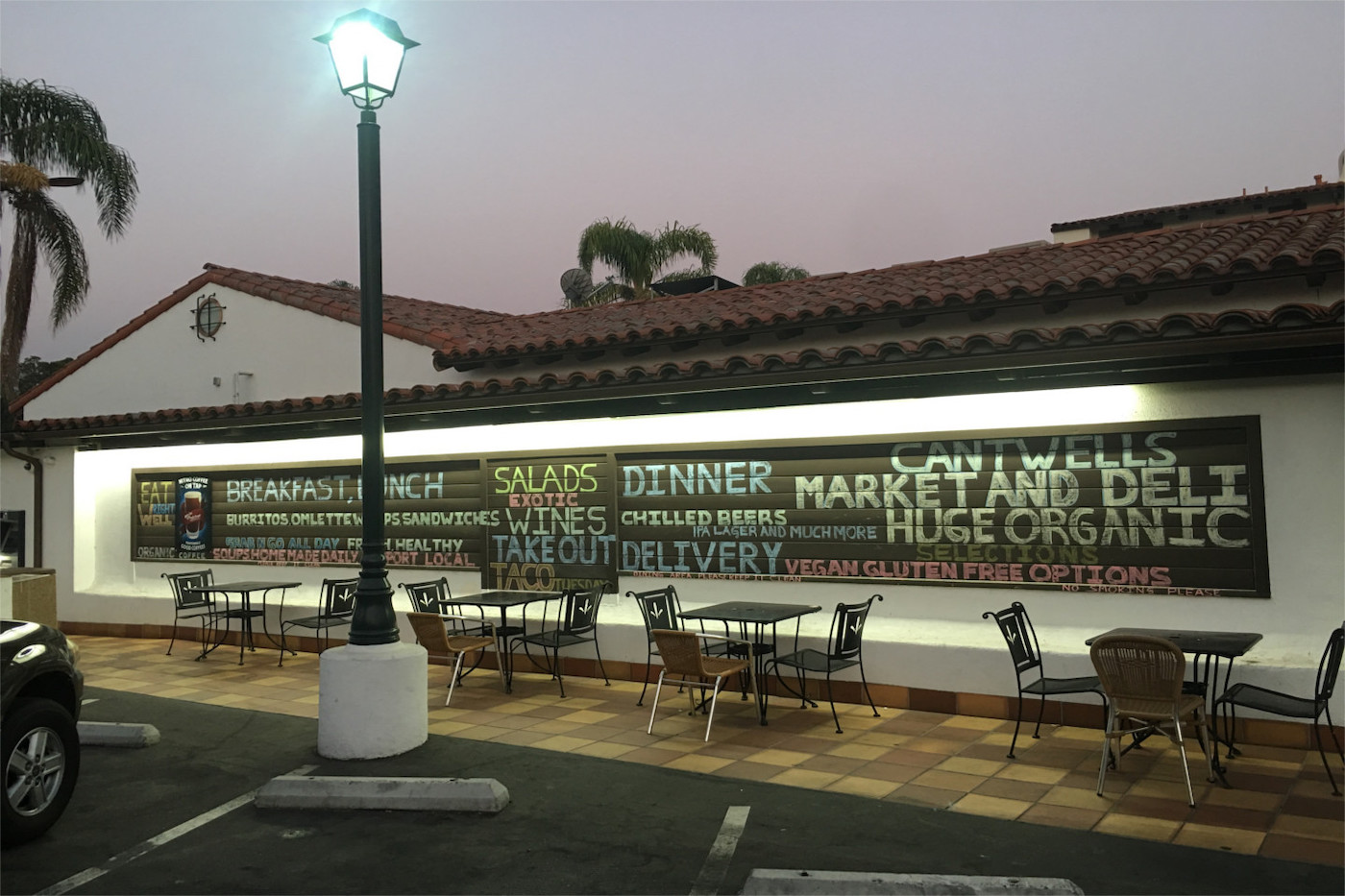 Some of Santa Barbara's finest takeout options aren't coming from established restaurants. The best gourmet grocers, delis, and bodegas are sprinkled throughout Santa Barbara's diverse culinary neighborhoods. From classic sammies, subs, grinders, heroes, and hoagies (the subs' Italian cousins), local deli owners continued to serve beleaguered foodies during the pandemic, combining the traditional art of sandwich making with locally sourced meats and produce and savory sauces. Because of their size or limited seating capacities, their focus has been to provide food lovers with a new take on takeout.
Pierre Lafond Market & Deli
Deli and bakery with produce, cheese, wine, pantry items, and a nice selection of cookbooks. Traditional deli sandwiches come with your choice of cold cuts, tuna, chicken salad, or egg salad on freshly baked bread. Popular specialty sandwiches include The Torpedo, with ham, salami, provolone, pepperoncini, tomato, lettuce, and vinaigrette on a baguette; and the Black Bean Torta with jack cheese, avocado, roasted poblanos, red bell peppers, and mayo on a lightly toasted French roll. Prices: $7.50-$11.95. Enjoy patio seating or find a spot on the spacious lawn adjacent to the market.
Open: 6 am-7 pm daily. 516 San Ysidro Road. Montecitoshopping.com.
Montecito Deli
This no-frills delicatessen offers a straightforward selection of tasty subs, sandwiches, wraps, piadinas (made with a thick tortilla-shaped flat bread popular in the Emilia-Romagna region of Italy), savory soups, and chopped salads made fresh daily. For the ultimate deli breakfast, try the bagel sandwich served hot from the broiler, slathered in mayo and topped with a fried egg, deli meat or vegetarian, red onion, lettuce, and tomato. Patio seating is available for breakfast and lunch. Prices range from $8-$12.
Open: 7:30 am-2 pm, Monday- Friday; 9 am-2 pm, Saturday. 1150 Coast Village Road, #B. Montecitodeli.us.
Olio Bottega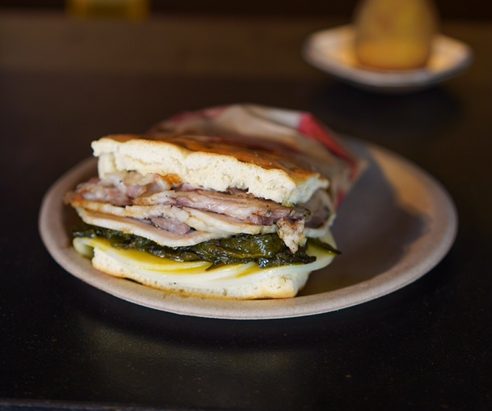 Located in the spot previously known as Olio Crudo Bar, owners Alberto and Elaine Morello pivoted during the pandemic with a new concept, Olio Bottega, now downtown Santa Barbara's newest Italian breakfast, lunch, and retail spot. Olio Bottega serves up house-made, oven-baked olive oil focaccia bread paninis, cured meats such as prosciutto, coppa, and bresaola, small bites, and pantry items. Priced from $11 -$14, paninis abound here such as pork belly with sweet onion roulade, provolone, roasted peppers and lemon Dijon; mortadella with pistachio cream stracciatella cheese; and cured Italian beef, provolone, arugula and artichoke spread. The breakfast menu consists mostly of buttery and delectable pastries and egg dishes. There is also a nice selection of juices, espresso drinks, and cocktails.
"Delis and bottegas provide a cultural and culinary home to food lovers looking for familiar and traditional meals, as well as provide cuisine inspired by the immigrant experience," said Morello.
Open: 9:30 am-3 pm, Tuesday-Sunday. 11 West Victoria Street, Suite 18. Oliobottega.com.
Norton's Pastrami & Deli
Established in 2004, Norton's Deli is known for its towering old-school, East Coast-style sandwiches. A few years back the deli's famous pastrami sandwich was featured by Guy Fieri on the Food Network's Diners, Drive-Ins and Dives. Other popular sandwich selections include Philly steak, tuna melt, corned beef, and all-beef franks. Each order comes with sour pickles. Customers can order sides like fries, onion rings, and potato salad à la carte. Prices range from $11-$13 and around $17 for sandwich, side, and a drink.
"As soon as the pandemic started and the takeout-only ordinance was out, I set up an online order platform," explained owner Filippo Giordano. "It's easy to use and it speeds up the checkout process to avoid crowding outside the deli."
Open: 10 am-4 pm, Monday-Saturday. 18 West Figueroa Street. Nortonsdeli.com.
Metropulos Fine Foods Merchant
Nicknamed the Funk Zone's "little food mecca," this friendly, open spot facing Yanonali Street offers a tasty selection of gourmet sandwiches, charcuterie, cheeses, artisanal salads, specialty wines and beers, and imported pantry items. The gourmet shop sells taramasalata, a pinkish Greek spread made from salted and cured fish roe mixed with olive oil, lemon juice, and almonds or a starch such as bread or potatoes. Made with cod or salmon roe (depending on the season), the spread is salty and delightfully fishy – giving caviar a whole new dimension.
Craveable sandwiches include Harissa Bomb with smoked turkey, homemade harissa olive oil spread, chipotle aioli, thinly sliced red onions, mixed greens, tomatoes, pepperoncinis and melted jack cheese, served hot and melty on toasted baguette; and The Rooster with roast beef, sriracha aioli, jalapenos, grilled onions, tomatoes, mixed greens and provolone cheese, served on toasted ciabatta. Here's Okeydokey Artichokey with artichoke hearts, lemony-artichoke aioli, roasted turkey breast, garlic aioli, mixed greens, goat cheese, and roasted red peppers on lightly toasted ciabatta bread. Prices range from $5.50 for a half sandwich to $11.95 for a whole sandwich.
"During the initial hard-close, we started selling MREs, our take on the military term for Meals Ready to Eat. Every day we prepared dinners that people could take home and reheat," explained Ann Addis, co-owner. "We made Indonesian skewers, roast chicken, baked zitis, grilled chicken and mash potatoes, ratatouille with polenta, khalua pork, spaghetti and meatballs, meatloaf, mac and cheese. Our chef David Jimenez is very talented and can cook anything. Between the two of us, we kept it interesting and brainstormed for ideas and complementary side dishes that would reheat well. It was fun to create new things, and our customers were so grateful to have hot food to eat at home."
Open: 9 am-4 pm, Monday-Saturday. 216 East Yanonali Street, Santa Barbara. Metrofinefoods.com.
South Coast Deli
Founded in 1991, South Coast Deli is known for its towering Cali-style sammies and veggie-packed salads. Local favorites include When in Rome with roasted chicken breast, toasted almond and sage pesto, lemon mayo, pecorino cheese and arugula on a toasted Italian roll; Viet Nom Nom made with house marinated and roasted pork shoulder, sriracha mayo, cilantro, cucumber, mirin vinaigrette, and pickled veggies on a toasted Italian roll; Eggplant Sammie with fried eggplant, melted provolone, mayo, mustard, lettuce, tomato, pepperoncinis, red onion, and Italian vinaigrette; MMMM Balls made with all-natural beef and sausage meatballs and provolone, smothered in a zesty tomato sauce (the deli recommends pesto as an alternative sauce); and Tall, Dark, and Vegan with seasoned and grilled Hungry Planet Chicken (premium plant-based meat), vegan cheese, vegan mayo, caramelized onions, and sundried tomatoes served on sourdough or wheat.
Keep Calm, Kale On, is a popular salad with chopped kale, hearts of palm, sundried tomato, toasted pine nuts, red onion, parmesan, and pecorino tossed in garlic dressing. Prices range from $6.95-$13.95.
"We were predominantly a takeout restaurant before the pandemic," said owner Jim St. John, adding that the eatery's approach to survival was to reduce hours and eliminate menu items that were not selling. "It was always our goal to stay true to who we were; we didn't feel it was necessary to pivot to a new model. We allowed customers to order in-store from the start, which felt almost normal."
Open: Monday- Saturday. Four locations in Santa Barbara and Goleta. Hours vary per location. Southcoastdeli.com.
Cantwell's Grocery Market Deli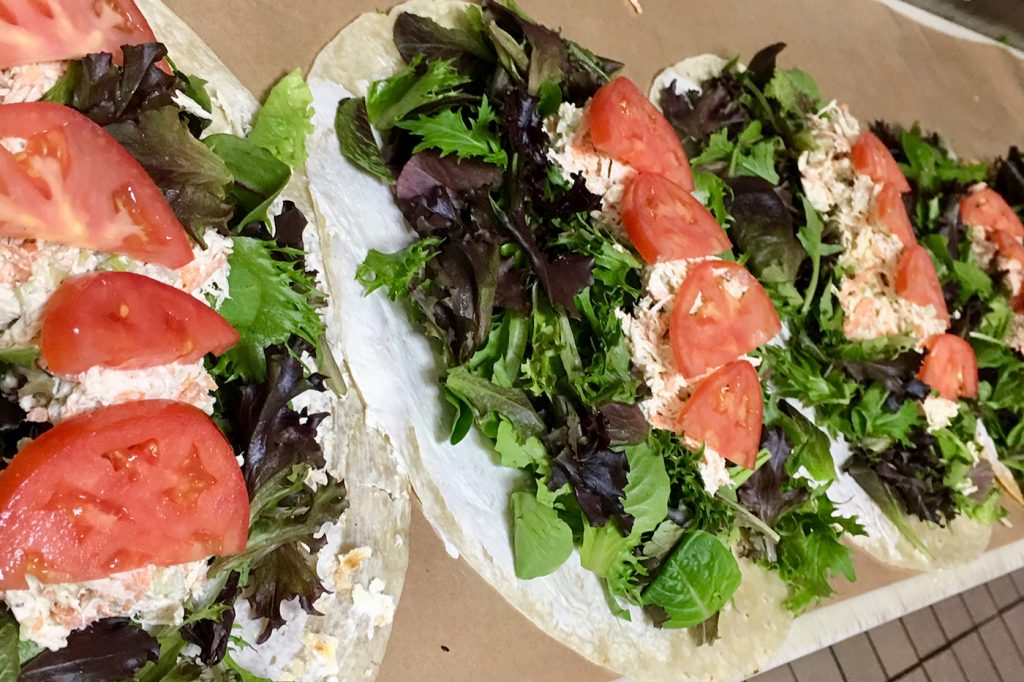 Cantwell's sells specialty grocery goods plus deli items like roasted chickens, fresh-batch soups, pizzas, and hot and cold sandwiches — all made to order. The New Yorker, made with Angus hot pastrami, spicy mustard, sauerkraut, and melted Swiss cheese served on grilled rye or your choice of bread; and the Tandoori Chicken Salad made with mixed greens, carrots, cucumber, tomato, cilantro, tandoori-seasoned chicken breast, lime and tamarind are two house favorites. There's fresh brewed coffee and morning baked goods, burgers, ribs, and fresh salads. And, of course, there's Cantwell's excellent pasta, including its lasagna. You can eat at the outdoor seating areas, or anything can be packed to take out. Prices range from $7.50-$10.
Open: 6 am-9 pm, Monday-Friday; 7 am-9 pm, Saturday; 7 am-8 pm, Sunday. 1533 State Street. Cantwellsmarket.com.
You might also be interested in...