'Fiesta Has Definitely Returned': La Primavera Kicks Off Summer-Long Party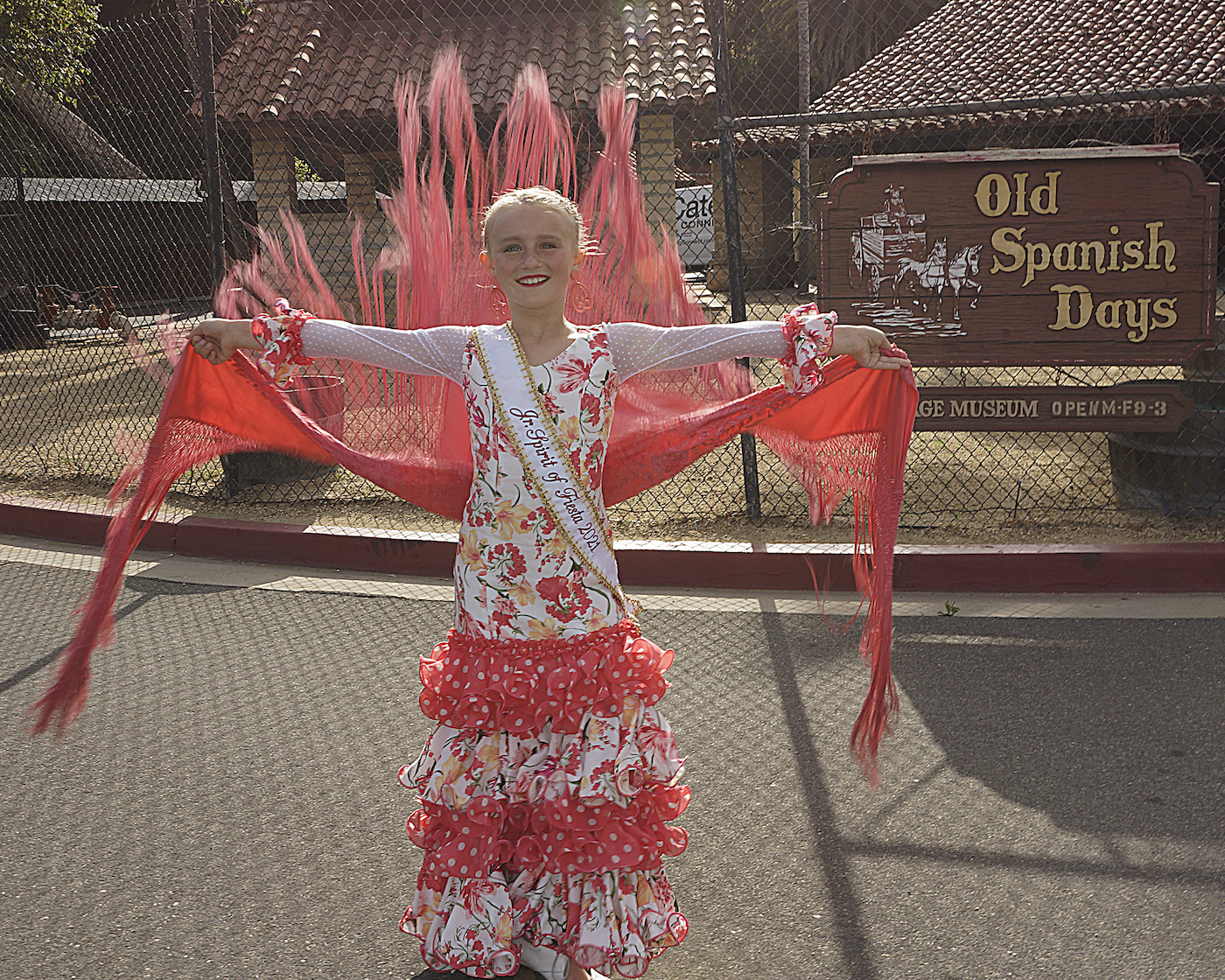 After Old Spanish Days was all but cancelled last year because of the pandemic, Fiesta fever was palpable at the Carriage and Western Art Museum with La Primavera, as the unveiling of the colorful festival's new poster and pin helped kicked off the festivities in front of nearly 100 guests, led by gloriously attired La Presidenta Stephanie Petlow.
"Make no mistake, Fiesta has definitely returned," declared Stephanie. "So many people have worked so hard in a creative way to bring as much of this year's 97th anniversary event to our community as possible. The light is definitely at the end of the tunnel!"
In keeping with this year's theme, "Honoring Our Generations," the impressive new poster was worked on originally years back by Stephanie's artist mother, Sylvia Johns, and completed by her Texas-based granddaughter, Nadia, 14.
Santa Barbara High senior Mateo Dougin, 18, completed the graphic art. His mother, Adriana Rey Dougin, was Spirit of Fiesta in 1998.
Even the band entertaining, The Elements, was connected with the group leader's daughter, Melissa Ornelas, having been a Junior Spirit and Spirit at the fun fest.
Fittingly, this year's Spirit of Fiesta, Ysabella Grace Yturralde, 16, a junior at San Marcos High and daughter of Kelly and Yolanda Yturralde, and Junior Spirit, Savannah Hoover, 9, a third grader at Hollister School and daughter of Tim and Kelly Hoover, also gave their first public performance, as the ubiquitous Drew Wakefield emceed.
Among those delighted to welcome in a whole new vaccinated and maskless era were Riley and Dacia Harwood, Fritz and Gretchen Olenberger, Tino and Barbara Munoz, Scott and Lisa Burns, Rebecca Brand, David Bolton, fun-loving Franciscan friar Larry Gosselin, and mayor Cathy Murillo.
Although there are no parades or mercados scheduled this year, the rodeo, La Fiesta Pequeña, Las Noches de Ronda, and a handful of traditional parties are expected to go ahead.
Viva La Fiesta!
Welcome to the Neighborhood
Powerhouse video game executive John Riccitiello, 63, has bought the 11.9-acre, 1927 Italian-Renaissance inspired George Washington Smith estate Sotto Il Monte for $32.3 million. The property was formerly owned by venture capitalist Frank Caufield and auto entrepreneur Andy Granatelli.
The Sycamore Canyon Road property was originally listed for $39.75 million after Caufield, a co-founder of Silicon Valley's Kleiner Perkins, died last year. It has several different structures, with an 18,000-square-foot main house, including eight bedrooms and 12 bathrooms.
There's also a three-bedroom guest house, and a separate six-bedroom staff building for full-time gardeners, housekeepers, and security personnel.
And there's more: A two-story pool house, garaging for 24 cars, including a climate-controlled 3,400-square-foot garage that's bigger than many American homes. There are also three wine cellars — one for white, one for red, and one for aging.
The estate gained some unwelcome notoriety as the setting for the televised wedding of Kim Kardashian, 38, to basketball star Kris Humphries, 34, which I covered for CNN in August 2011, which lasted all of 72 days.
Nancy Kogevinas of Berkshire Hathaway represented Riccitiello, who was an early investor in Oculus VR, which was sold to Facebook in 2014 for $2.3 billion.
Mystery Millionaire . . .
A 3,200-acre parcel of land in the foothills of Carpinteria is hitting the market for $75 million, with the listing agents saying it's primed for the construction of a significant single-family compound.
While currently home to only a couple of airstream trailers, the site comes with plans to build a roughly 8,000-square-foot mansion by California architect Paul McClean, as well as permits to build additional guest houses throughout the property, says the agents Branden and Ryan Williams of Beverly Hills Estates.
The property, which overlooks the Santa Barbara Polo & Racquet Club, includes natural creeks, waterfalls, private hiking and horse trails, avocado groves and a yoga center.
The seller, according to the Wall Street Journal, is a company led by Mark Osgood, president of real estate investment firm MDO Capital, whose original plans included developing the land into 16 separate homes.
He says he changed tack after receiving several unsolicited queries about the property from high-net-worth individuals who had designs on building a large private estate.
Records show Osgood's company bought the land for just $11.52 million in 2019, but the agents note the organization has invested tens of millions of dollars into getting the property entitled and graded for construction.
Stay tuned…
Honeymoon Avenue is Next for Ariana
Grammy winner Ariana Grande secretly married her beau Dalton Gomez at her Montecito home over the weekend.
The 27-year-old singer, who bought the 5,000-square-foot, Tudor-style property, The Porter House, for $6.75 million from TV talk show host Ellen DeGeneres last summer, tied the knot with luxury home realtor Gomez, 25, in an intimate ceremony with just a few invited guests, according to TMZ.
The tony twosome got engaged just before Christmas and have been sharing their romance on social media.
Grande had a number of highly publicized romances, including a relationship with Saturday Night Live star Pete Davidson, after first spending time together in 2018.
They got engaged just weeks after getting together but split just months later.
Plenty of Challenges Ahead
Montecito TV talk host Ellen DeGeneres may be leaving her Burbank-based show next year after 19 seasons and more than 3,000 episodes, but she still has a bright financial future.
Despite losing a reported $50 million annually for hosting 174 episodes a year, Ellen, 63, has built up a lucrative business over the years as a serial real estate flipper, host of NBC's Games of Games since 2017 and has also had a lifestyle brand ED by Ellen for six years.
She also has a dog collection at PetSmart since 2017 and added a cat collection recently.
Ellen's all-important Nielsen rating plummeted after it was alleged that she fostered a toxic work environment, with a 40% drop in viewership in New York and Chicago, 50% in San Francisco, and 59% in the Big Orange.
She told the Hollywood Reporter: "You certainly need to be challenged. And, as great as the show is and the fun that it is, it's just not a challenge anymore."
Ellen, who has hosted the Oscars, Grammys, Primetime Emmys, as well as winning an impressive 30 Emmys and a Presidential Medal of Freedom in 2016, is expected to be replaced by Eritrean American comedienne and actress Tiffany Haddish, 41, who has been a guest host a number of times.
Kneading the Dough
An online baking class led by Meichelle Arntz, founder of Angels Foster Care and Recipes Bakery, raised funds for infants and toddlers and the Angels Lionheart Legacy Fund.
The fund, established in memory of Ezra Lionheart Fernandez, provides intensive medical, educational, and behavioral services for Angels Foster Care children.
In addition to Sunday's virtual baking class, participants also received a package with all the non-perishable ingredients for baking along with Meichelle as she prepared her famous Monkey Bread, a recipe card, a foil Bundt cake pan, and a raffle ticket.
Those purchasing higher-priced tickets also received a bottle of wine, a designer apron, five raffle tickets, and a copy of Baking with Kim-Joy.
Motivated by her conviction that "every baby deserves a safe, stable, loving family on their very own," she launched Angels Foster Care in 2006.
Hopefully the event made a lot of dough.
Taking the Gamble
Prince Harry and Meghan Markle's Archewell Foundation is now in a multi-year global partnership with U.S. consumer giant Procter & Gamble, makers of Crest, Oral B, Gillette, and Pampers, whose annual sales in 2019 were $67.7 billion.
The affiliation will focus on gender equality, more inclusive online spaces and resilience, and impact through sports.
The Montecito tony twosome say they will be working to "build more compassionate communities" as the Duke and Duchess of Sussex are on a mission "to bring a more just future for women and girls."
But the new alliance has raised eyebrows given the company's checkered history, with links to child and forced labor, animal testing, and price fixing.
A Return to Oz?
Former Montecito resident and Australian actor Paul Hogan, 81, says he is "desperate" to return to the antipodes.
The Crocodile Dundee star says he and his son, Chance, 23, are trapped in "a living nightmare" in the once elite Los Angeles suburb of Venice, where a vast increase in homelessness has seen hundreds of tents line the beach's famous boardwalk and resulted in a sharp increase in crime.
Hogan, who used to live on Parra Grande Lane, is now reportedly holed up inside his "fortress-like" $4.5 million mansion with his musician son, eagerly awaiting a return to Oz.
He moved to the U.S. permanently in 2005 after growing up in a Sydney suburb. But now he says: "I feel like a kangaroo in a Russian zoo. I don't belong here!"
Hogan shares Chance with Crocodile Dundee co-star Linda Kozlowski, whom he married in 1991 before divorcing in 2014.
"I'm here out of paternal duty because my kid is American," he says. "He's a Yaussie, a yank Aussie. He went to school here, his friends are here, his band is here."
Violent crime in the area is up a staggering 177 percent since last year.
She's Bustered
Montecito actress Gwyneth Paltrow indulged in "multiple drinks seven nights a week" during the last year as she quarantined with her family.
The Oscar winner turned Goop entrepreneur, 48, dubbed her tipple of choice a "Buster Paltrow," which is named after her grandfather and contains "great quinoa whiskey."
"I drank alcohol during quarantine," she admits.
"I was drinking seven nights a week and making pasta and eating bread. I went totally off the rails. I mean, who drinks multiple drinks a week? Like that's not healthy.
"I love whiskey and I make this fantastic drink called the Buster Paltrow, which I named after my grandfather, who loved whiskey sours. It's this great quinoa whiskey from a distillery in Tennessee with maple syrup and lemon juice. It's just heaven.
"I would have two of these every night of quarantine."
If You Have a Few Bucks Laying Around . . .
The palatial Manhattan triplex penthouse that was home to the legendary comedienne Joan Rivers for more than a quarter of a century is up for grabs for $38 million.
The impressive pad, which Joan always joked Marie Antoinette would have bought "if she'd had money," is just a tiara's toss from The Pierre Hotel with panoramic views of Central Park.
The pricey home, where Joan entertained the late Princess Diana as well as yours truly when I was gossip for many years on her syndicated TV talk show, is perched atop a 42-foot-wide limestone sheathed mansion and designed by noted architect Horace Trumbauer in the Neo-French Classic style.
It was sold after Joan's tragic death in 2014 for $28 million to an unnamed member of a Middle Eastern royal family.
The 11-room apartment, which features four bedrooms and four and a half bathrooms, encompasses 5,200 square feet, with two terraces offering another 430 square feet.
The reception rooms have soaring 23-foot ceilings and elegant parquet, Versailles style flooring.
Fond memories…
Off the Market
Santa Barbara warbler Katy Perry has sold her Beverly Hills Post Office home, which she bought in 2018 for a breakeven $7.5 million.
The 1960-built, 4,410-square-foot property was put on the market in the fall of last year for $8 million but underwent a price snip or two.
The one-acre estate has four bedrooms and five bathrooms.
The former Dos Pueblos High student's residency at Resorts World Las Vegas, dubbed Katy Perry: Play, kicks off December 29.
Getting its Piece
Ensemble Theatre Company has been awarded a $10,000 Grants for Arts Projects to support The Young Playwrights' Festival, which is now in its fourth year.
The popular program introduces middle and high school students to the art of playwriting and has been developed to fill a gap in quality playwriting programs in the region for this age group.
Unlike other literary genres, dramatic writing has unique language and stylistic characteristics. A good script draws on a playwright's passions, history, cultural connections and views about life, while requiring a mastery of language, character, and performance.
The Young Playwrights' Festival project is among more than 1,100 projects across the U.S., totaling nearly $27 million, that were selected.
This year's festival of new 10-minute plays will be held on May 22 at The New Vic for a limited invited audience and viewable online via YouTube LIVE.
Sightings
Actor Christopher Lloyd picking up his New York Times at Pierre Lafond… Antonio Banderas noshing at Olio e Limone…. Modern Family actor Jesse Tyler Ferguson checking out the Honor Bar
Pip! Pip! Be safe, wear a mask, and get vaccinated.
You might also be interested in...