Toasting a Visionary: Dozens Celebrate Kostis Protopapas' 50th Birthday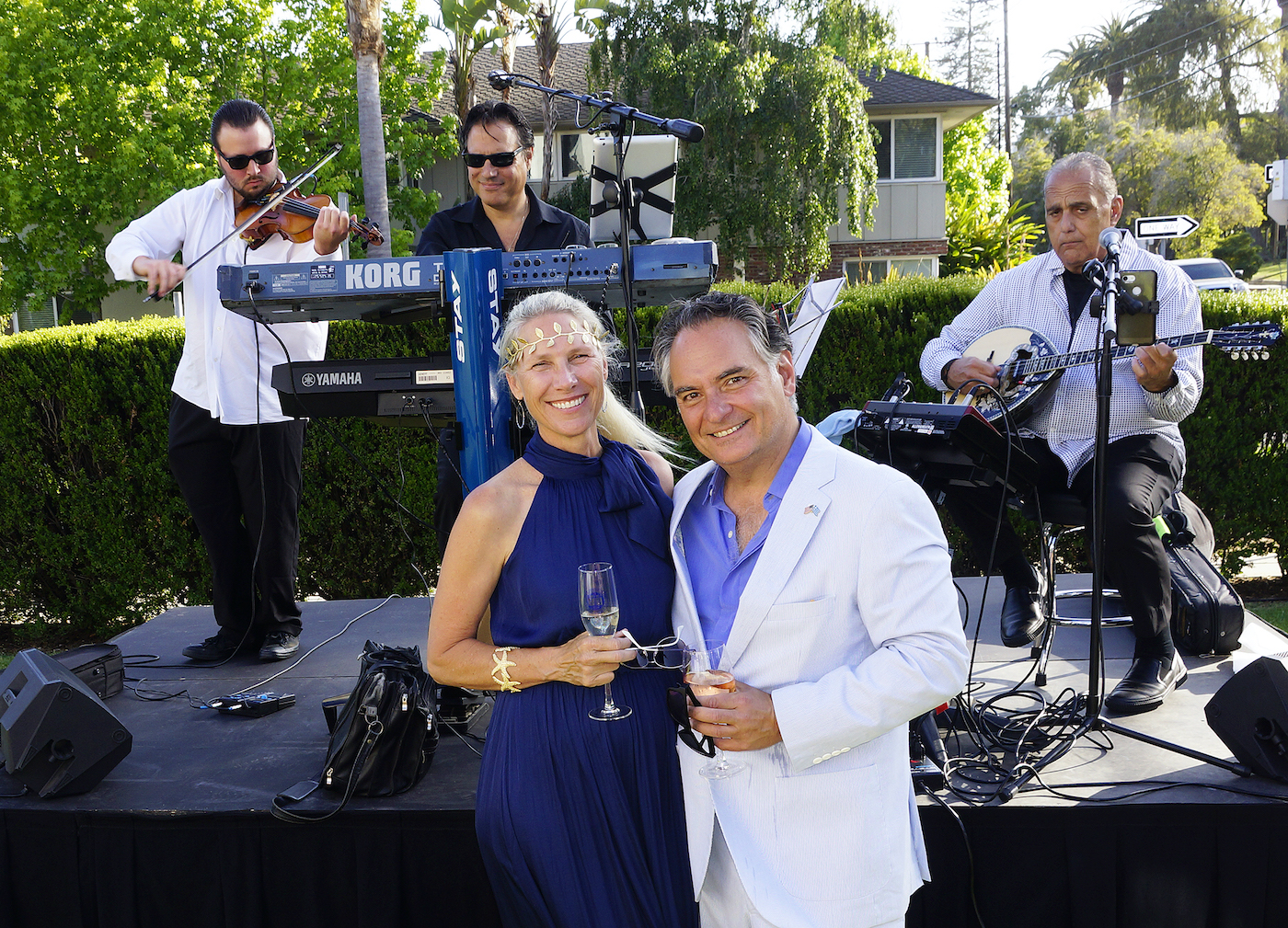 It was all Greek to many when Kostis Protopapas, general director of Opera Santa Barbara, celebrated his half-century with a delightful evening of music and song at the University Club.
Kostis, who was born in Athens and moved to the U.S. in 1993 on an Onassis scholarship to study piano at The Boston Conservatory and conducting at Boston University, joined OSB in 2015 as artistic director — a job for which 150 people applied — and two years later added the title of general director to his impressive resumé.
In honor of the occasion, the historic club was festooned with blue and white flags and many of the 92 guests wore coordinating outfits for the fun bash co-chaired by Karen Knight and Joann Younger, as the trio of Synthesi entertained on a keyboard, violin, and balalaika.
Not wanting to miss his moment in the spotlight, Kostis had his Zorba the Greek dance at the ready, as local writer Erin Graffy sang a version of Puccini's delightful aria "O mio babbino caro" in his honor.
"We've certainly gone through some tough times," said Kostis, reflecting on the last year and restrictions of the pandemic. "But I'm stubborn!"
His optimism was mirrored with speeches from current chairwoman Joan Rutkowski, and former chairs Nancy Golden and Sandy Urquhart.
The ubiquitous Palmer Jackson, Jr., chairman of the Santa Barbara Center for the Performing Arts, raised a champagne toast commending Kostis' "vision and courage" as a three-tier, blue-and-white birthday cake was paraded before the diners, with Marilyn Gilbert, co-founder of the opera, making the closing remarks.
Among those clearly in the right aria were Dan and Meg Burnham, Eve Bernstein, Marylove Thralls, Nina Dunbar, Dan and Donna Hone, Dick and Marilyn Mazess, Jack Mithun and Mercedes Millington, Duncan and Suzanne Mellichamp, Robert Weinman, Simon Williams, Mary Collier, Mary Dorra, Nir and Gaia Kabaretti, Kimi Matar, Miles Hartfeld and Gretchen Lieff, and Rick and Kathy Abbott.
Ready for Primetime
Prince Harry's mental health documentary series with Oprah Winfrey will air late this month on Apple after "stalling" due to several delays, according to Oprah.
The Duke of Sussex, 36, announced he'd been working on the series for "several months" with the media mogul, 66, in April 2019.
The documentary was due to be released last autumn, but was delayed because of COVID restrictions, Harry's exit from the British Royal Family, and his move to the U.S. with wife, Meghan Markle, 39.
The multi-part documentary series will focus on both mental illness and mental wellness, aiming to inspire viewers to have an honest conversation about the challenges they face.
Filming schedules were changed considerably by the pandemic upheaval.
What are Friends For
Now they've sold their Beverly Hills home for $47 million, Montecito TV talk show host Ellen DeGeneres and her actress wife, Portia de Rossi, are staying with Friends actress Courtney Cox.
Ellen, 63, a serial real estate flipper, had Cox, 63, on her Burbank-based show and joked she was her new "landlord."
"I'm not having marital troubles," she reassured viewers. "I'm not living with Courtney Cox because I'm kicked out of my house."
The dynamic duo made a multi-million-dollar profit on the sale of the Beverly Hills mansion, but not nearly as much as they wanted.
The 10,000-square-foot, five-bedroom, nine-bathroom home was originally listed for $53 million after being purchased from Maroon Five rocker Adam Levine for $45 million.
Levine, 41, and his Namibian supermodel wife bought a nine-bedroom, 12,500-square-foot George Washington Smith estate, El Miraval, on 5.2 acres for $22.7 million in March, just a tiara's toss from the sprawling new Montecito home of Santa Barbara warbler Katy Perry and her British actor fiancé, Orlando Bloom.
All Hands on Deck
Once the world's richest man, billionaire Bill Gates, 65, has hired the law firm started by fellow billionaire Montecito's Charlie Munger, Warren Buffett'sright-hand man since 1978, to help head his $130 billion divorce from wife Melinda, 56.
Munger, Tolles & Olson is listed as one of three firms representing the Microsoft co-founder after Gates's wife of 27 years filed for divorce, according to documents shared by TMZ.
The law firm was founded in 1962 by Munger, 97, who had been on the board of Berkshire Hathaway, Buffett's investment company, until last year as vice chairman.
Munger, who developed the gated community of Sea meadow — a 22-acre site of 31 homes, some costing up to $17 million – dubbed Mungerville by neighbors, donated $65 million to UCSB, the largest donation in its history, in 2014, and four years later gave his 1,800-acre Las Varas Ranch on the Gaviota Coast, including two miles of shoreline, to the university.
Munger reportedly paid $70 million for the property.
Wheeling and Dealing
Netflix co-CEO Ted Sarandos, who paid $34.2 million for his Montecito 17-acre Wallace Frost estate three years ago, put his remaining Malibu home up for sale for $14.9 million and sold it for $14.73 million just days after putting it on the market.
The house, with four bedrooms and four baths on 3,736 square feet, sits on a 60-foot wide La Costa beach lot. It was formerly owned by actor David Spade.
This is the second Malibu property Sarandos, 56, has sold. Three years ago, he disposed of an Italianate village on a bluff top above the beach for $21.3 million.
You might also be interested in...