Getting High Notes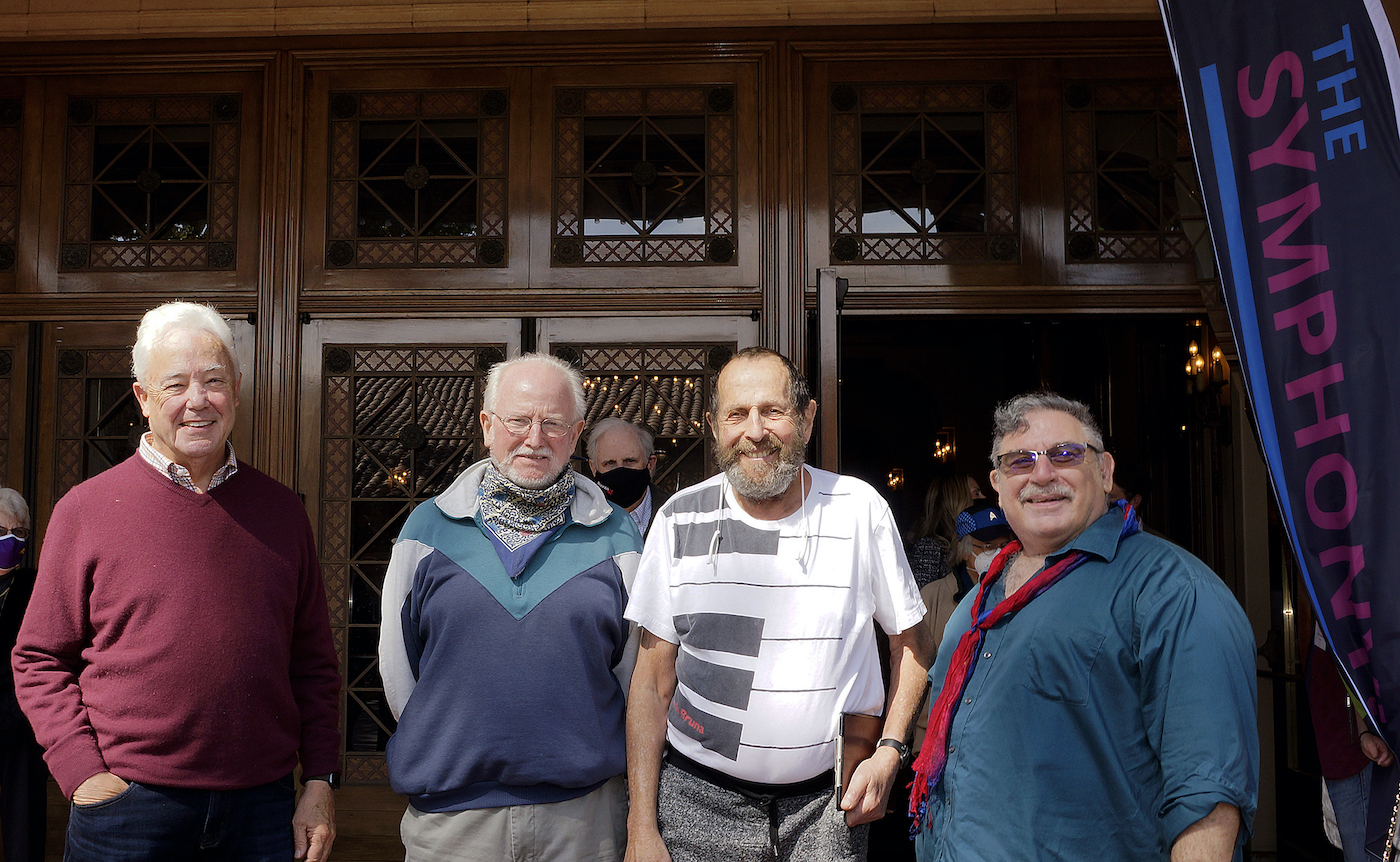 The light truly is at the end of the tunnel!
As an example, Santa Barbara Symphony, under longtime maestro Nir Kabaretti, invited 100 suitably vaccinated VIP supporters to the Granada, to watch the talented musicians perform Beethoven's "Symphony No.7," part of the season's Triumph finale, which honors strength, perseverance, hope, creativity, and community.
All of this season's seven concerts have been filmed with multiple cameras, state-of-the-art technology, and digitally broadcast live into living rooms, including behind-the-scenes interviews.
Saturday's concert features guest pianist Awadagin Pratt performing Mozart's "Piano Concerto No. 12," Beethoven and Britten's "Fanfare for St. Edmundsbury."
The program also stars guitarist Joseph Malvinni, 13, winner of the 2021 SB Youth Symphony concerto competition, performing Italian composer Castelnuovo-Tedesco's "Concerto in D Major."
Among those getting a taste of musical freedom, suitably masked and socially separated, were Dan and Meg Burnham, Janet Garufis, Joan Rutkowski, Robert Weinman, Barbara Burger, Dan Kepl, Eve Bernstein, Palmer Jackson, Jr., Mashey Bernstein, George Konstantinow, and Stefan and Christine Riesenfeld.
It was certainly an afternoon of high note.
Home Makeover, Montecito Edition
Montecito actress Gwyneth Paltrow, 48, and TV producer husband Brad Falchuk, 50, are completely overhauling their 14,000-square-foot mansion on Olive Mill Road.
When the dynamic duo bought their estate for nearly $5 million in 2016 it needed extensive work on the four-bedroom, four-bath property on more than two acres.
Now it has an Olympic-size swimming pool and an open-plan farmhouse with stunning ocean views.
The Oscar winner also owns homes in New York and London.
Standring Strong
Real estate developer John Standring is the new president of the Coastal Housing Coalition.
Standring, president of Beachside Partners — which focuses on acquisitions, development, and disposition of commercial and residential real estate through the South Coast — was recently board vice president and served as co-chair of the organization's annual Santa Barbara Housing Conference.
Prior to forming Beachside Partners in 2015, he began his real estate career in 2008 after graduating from UCSB.
He is also serving as president of the Santa Barbara Young Professionals Club Foundation.
"It's very exciting to be in this role during a time when housing is on the forefront of everyone's mind," says Standring, who lives in our Eden by the Beach with his wife and two children.
"I look forward to working with the public and private sector to continue the conversation on workforce housing and how we in the community can move forward in the correct way."
He's Maxed Out
TV talk show host Conan O'Brien, who has a beach house on Padaro Lane a tiara's toss from Star Wars mogul George Lucas and Oscar winner Kevin Costner, has announced the impending final episode of his TBS show Conan.
The comedian and host, 58, says his new show will be on HBO Max in the near future, the fourth iteration of the program.
The Harvard graduate started his late-night career in 1993 when he hosted Late Night with Conan O'Brien on NBC.
That show ran for almost 20 years. Early in February 2009, he replaced Jay Leno on The Tonight Show and then in November 2010, his late-night TBS show that Conan launched.
His last show on TBS will be June 24 before this weekly show premieres on HBO Max.
Sightings
TV talk show host Ellen DeGeneres in her new $181,950 Porsche 950 Targa 4S Heritage Design Edition driving on Coast Village Road… TV talk show host James Corden, resplendent in his $800 Gucci bathing suit, with his wife, Julia, and daughter, Carey, catching some rays on Miramar Beach… Actor Harrison Ford sashaying on Coast Village Road
Pip! Pip! Be safe, wear a mask, and get vaccinated.
You might also be interested in...