Dwindling Inventory and High Demand
This is it, a run-up in the market the likes we have never seen. I'm not talking about Wall Street or the stock market, which is also up, so maybe that's what is funding and fueling this buying craze here in Montecito, where we are seeing a phenomenon, of sorts. 
I am talking again about the Montecito real estate market. A few weeks back I mentioned in my article that at this pace, we may run out of homes on the market. At that point, there were 47+/- homes and condos on the market in the Multiple Listing Service (MLS) in Montecito's 93108 zip code.
As of May 9, there were only 33 homes and condos on the market to choose from in the MLS (down to 32 just an hour ago, as a home on Park Lane went into escrow). Priced from $899,000 for a one-bedroom condo just a block from Butterfly Beach, to a nearly 14,000-square-foot estate on 28 very private acres listed at $72,000,000, there really are just a few homes to choose from in each price range. With fewer homes coming on the market than are selling each week, we see fewer homes available for buyers to choose from.
This market goes well beyond the extreme. Homes are going 10% or more over asking price in some instances, when the asking price was already 20% over what it might have been just a year ago. If you bought a home in Montecito for $1.9 million three years ago you would have easily doubled your money by now. Hopefully, some of those buying now will live here and become part of the community.
That said, if I stood to earn a retirement worthy amount of money on a single home sale, I would certainly consider it. For others, we see people buying up in price or size, and others downsizing in price and size, so a lot of folks are staying in town. While Montecito sales are up about three times volume over the past five-year average (for April), other areas around SB and Goleta, Carpinteria, Summerland, and the Santa Ynez Valley are all up a healthy amount, but nothing like what we are seeing in Montecito.
Add in the staggering number of home sales over $10 million in the past 12 months and it's clear that the wealthiest Americans have finally figured out the value here in so many terms — land, privacy, views, amenities, location, climate, ease of living, the arts, the beach, etc…
For the first time in my 10-year history of writing this article, I have included every home on the market to be on my Best Buys picks list. Usually, I pull anywhere from 30% to 60% of the homes on the market and consider them as being well-priced and suited for a buyer. My picks make up about 90% of what sells in most markets over the past eight years or so that I have been tracking it, so I do know value. But in this market, with available inventory shrinking each week, demand essentially dictates that all homes for sale are good opportunities and good chances to share what everyone else just realized — that you got to have some Montecito if you can afford it.
Why would you not buy here? What logical reason could one have to not buy a home here if one has the wallet for it?
The most astonishing statistic I found in my curiosities today: There have been 30 homes sold in the past 12 months over $10 million. That is four to five times the average number of sales per year in that price range. We are selling as many homes over $10 million per month recently as we do in a normal year.
So, if you are still looking for a home in Montecito, here is a snapshot featuring four homes, that makes up about 15% of all available homes at this time on the market in the MLS — truly!
722 Knapp Drive – 3,395,000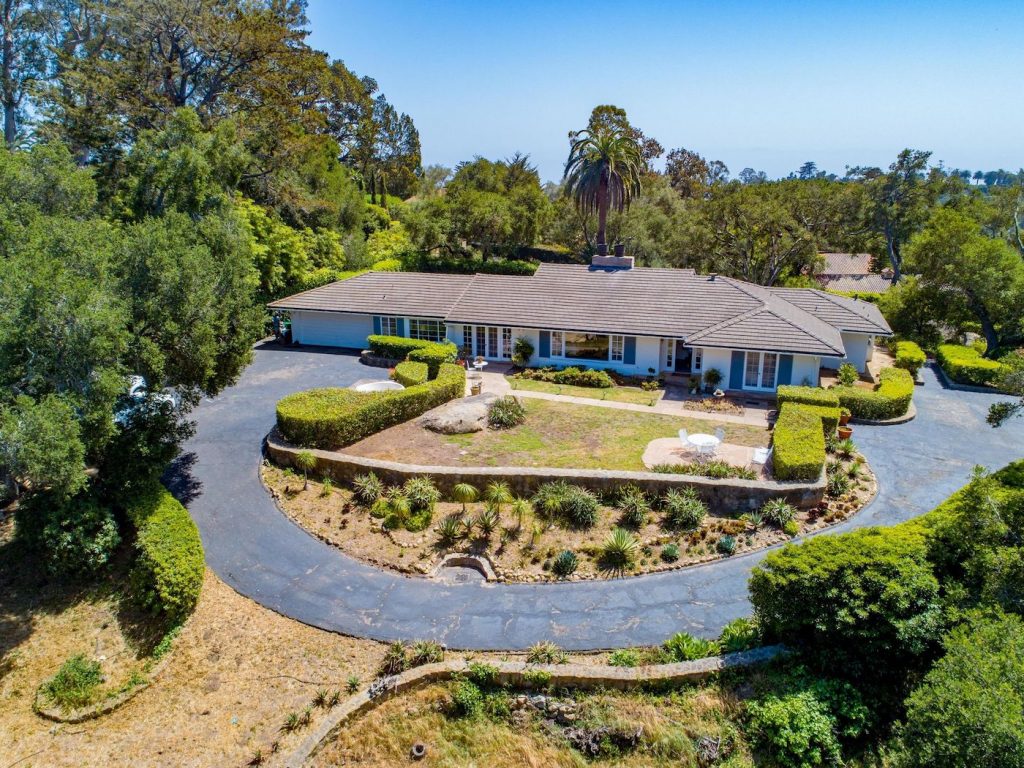 This listing is nestled away off a private road in the Arcady Estates and features a 1.1-acre parcel which is part of the original 70-acre estate purchased by George Knapp in 1911. As advertised, there is great potential for an ADU (Accessory Dwelling Unit), as the lot spans between Knapp Drive and Arcady Road.
Enjoy mountain views from this 2,750-square-foot, single-level ranch style home that rests on a very private knoll top, with ocean views as well. A spacious family room features beamed ceilings and walls of glass. The primary suite bathroom features a jacuzzi tub and separate shower, four closets, and ocean and garden views. Two additional bedrooms are en-suite.
The property offers pathways on park-like grounds, while also located in the desirable Cold Spring School District.
1100 Mesa Road – $4,995,000
Enchanting gardens and oak trees provide the backdrop for this classic Montecito hacienda. Designed with charm and style, Casita De Mariposa opens the door to the Montecito lifestyle in the highly desirable Middle Road and Lower Village area, where sales have been brisk and soaring to say the least.
Originally part of a much larger estate, this Spanish bungalow will ignite your imagination. The rooms flow from the interiors to the outdoor patios and grounds featuring mature landscaping, privacy and a resort-style pool.
Anchored by a dramatic living room with wood beams and arched windows, the three-bedroom, two-and-a-half-bathroom residence is ready for a new beginning. The good-sized lot (.63 acres), and the proximity to the beaches and Lower Village are certainly top selling points for this listing.
1770 Jelinda Drive – $5,300,000
This single-level Mediterranean home is nestled near the Hedgerows within the private and guard-gated Ennisbrook Community. Set on 1.71 acres, 100-year-old olive trees, mature oaks, and stone walls line the home's approach. The living room features wood beams, which highlight the soaring ceilings.
The kitchen enjoys quartz countertops and a sunny breakfast area. The primary bedroom suite has a cozy fireplace, an opulent bathroom and an enviable walk-in closet. Three additional bedrooms open to a courtyard.
A commanding office, laundry room, and three-car garage complete the floor plan. Sunny patios, sprawling lawn, vegetable beds, and oaks grace the backyard which looks out to the Ennisbrook open space & trail. Amenities include a clubhouse, pool and spa, tennis, pickle ball and a community park.
1086 Channel Drive – $23,500,000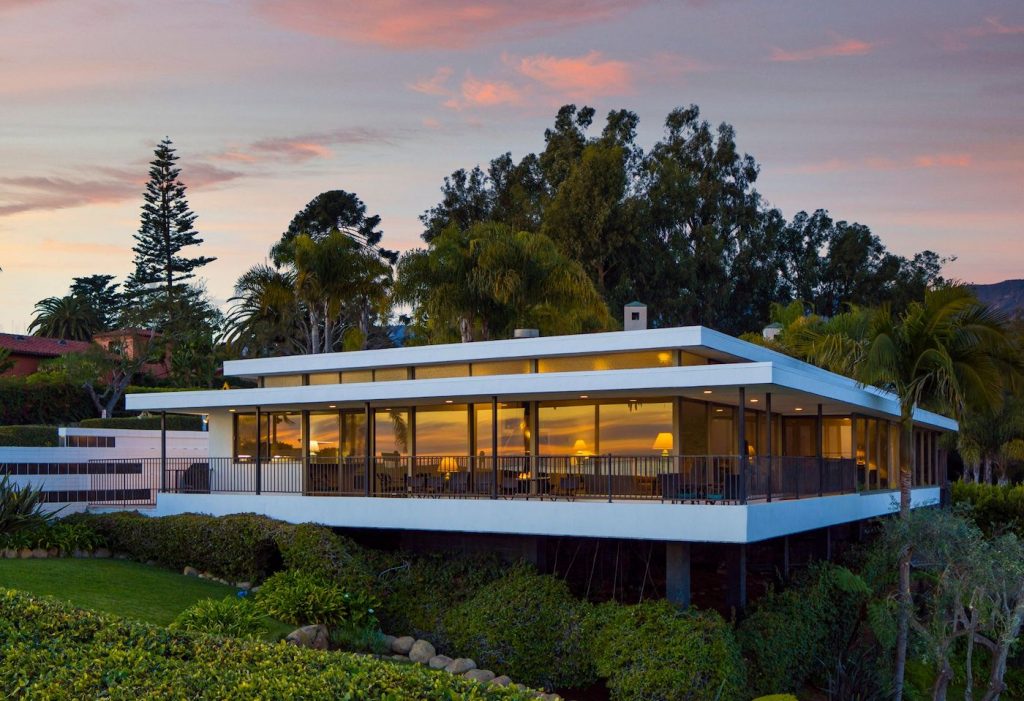 Nestled quietly beyond a gated entry above Montecito's renowned Butterfly Beach, this breathtaking example of mid-century architecture awaits. Destined to impress, this one-of-a-kind home was influenced by the works of renowned modernist architect, Richard Neutra, who emphasized the flexibility and adaptability of space.
The three-bed, two-and-a-half-bath residence offers floor-to-ceiling windows with additional clerestory windows above that grace the majority of the home, capitalizing on the coastal views and making them not only visible from every room, but the focal point as well.
A spacious balcony wraps around the southern and eastern sides of the property. Designed with privacy in mind, the residence features tinted privacy glass windows and sliding glass doors, allowing one to see clearly from the inside out, but restricts one from seeing in from the outside. Tall hedges also flank the perimeter for additional privacy.
A rare find, this distinctive home is situated on approximately 0.49 acres, with low-maintenance grounds and commands a premier location, situated near the Four Seasons Biltmore, Coral Casino, and Coast Village Road. •MJ
You might also be interested in...