Pop the Cork, Hold the Booze: Local Winemaker Launches Alcohol-Free Wine-Inspired Drinks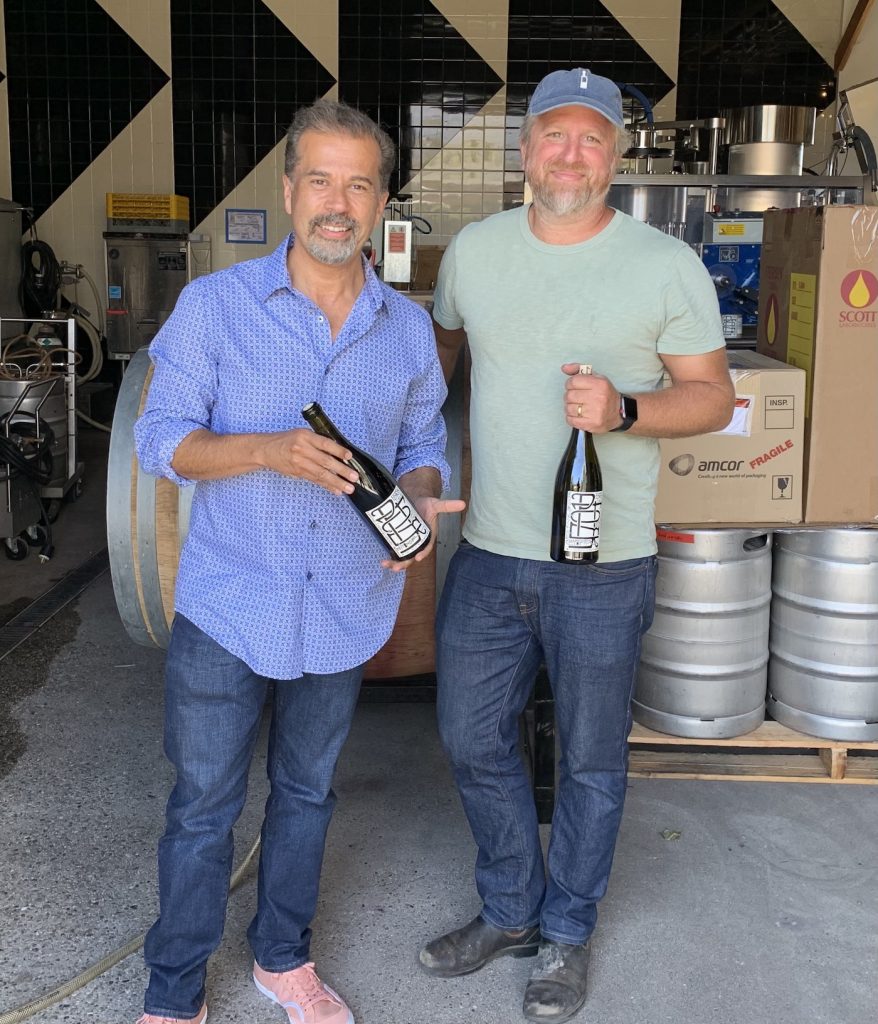 As we begin to push out of this pandemic, and as the light at the end of the tunnel grows brighter, many Americans are taking stock of how their drinking habits have changed over the last year.
As one would guess, the angst and anxiety wrought by many months of lockdowns, restrictions, and Zoom calls means many of us are pouring heavier, sipping longer, and gulping bigger. Here are some intriguing numbers:
•The National Survey on Drug Use and Health reported that, in the first few weeks of the pandemic, alcohol sales jumped 54% over the previous year;
•The American Psychological Association led a study in February that found nearly one in four Americans coped with pandemic stress by drinking more;
•An analysis published in December by the International Journal of Environmental Research and Public Health reported that 60% of Americans they surveyed were drinking more now than before COVID.
Wine drinking delivers many pleasures, but none are worth it if they put your health, relationships, and life at risk. Drinking responsibly should always prevail. Suffice it to say, if you or someone you know needs help, the National Institute on Alcohol Abuse and Alcoholism provides myriad resources at niaaa.nih.gov.
When winemaker Dave Potter and his wife discussed recalibrating their consumption recently, they decided that "we wanted to cut back some on our drinking," he says, "but we still wanted the ceremony."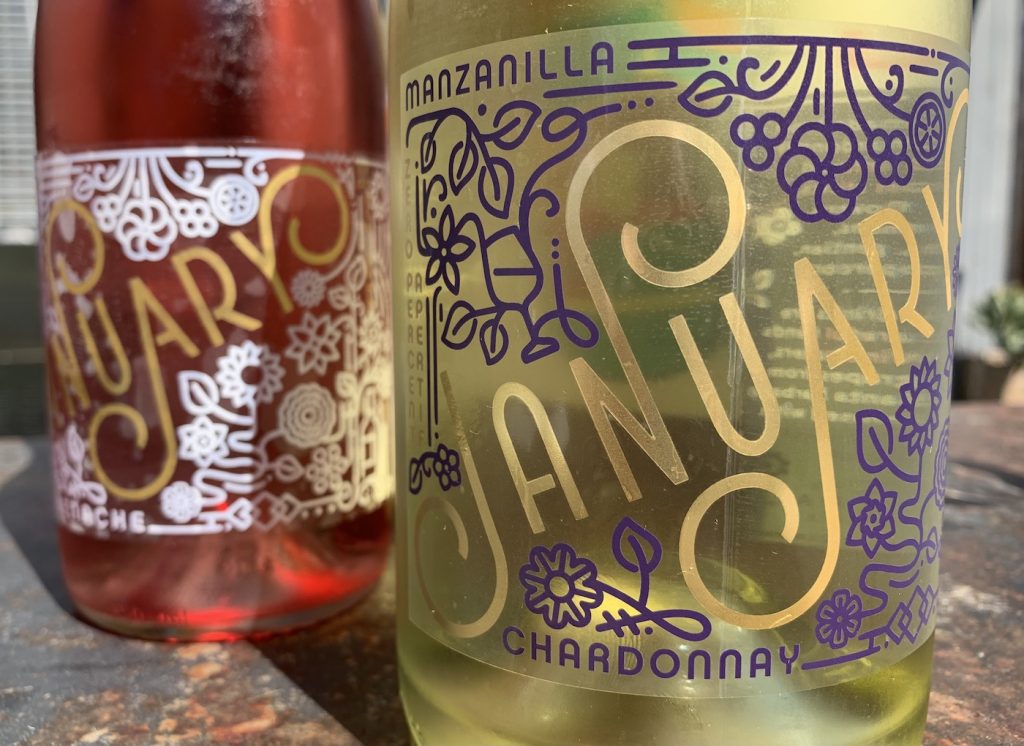 They were not looking to give up the bottle but, rather, to expand their options and broaden their imbibing horizons to better match their refreshed lifestyle approach.
This heart-to-heart gave birth to January Drinks, which plays on the public health campaign that encourages no drinking during the first month. The pair of beverages, which launched this week, feature zero alcohol. But they are clearly wine-inspired – terroir-driven, in fact – and made by a guy who's most famous for making wine. Think of them as teas made from wine grapes that are infused with botanicals and natural aromatics, steeped, then filtered. Presented in familiar 750-ml bottles, they also offer a delicious alternative for any discerning wine aficionado.
The Manzanilla Chardonnay ($17) is a super unique aperitif – reminiscent of vermouth, actually, with a refreshing acerbic quality and lip-smacking finish. Made with chard grapes from La Rinconada Vineyard in the Sta. Rita Hills growing region just west of Buellton – coveted fruit. Potter adds chamomile flowers, Meyer lemons, cinnamon sticks and red peppercorns, while elecampane, a sunflower also known as horse-heal, and gentian, a pretty blue flower also called bitter root, are also infused into the chardonnay juice. The bracing bitterness on the tongue makes this drink refreshing – quenching on its own and an ideal candidate for a spritz.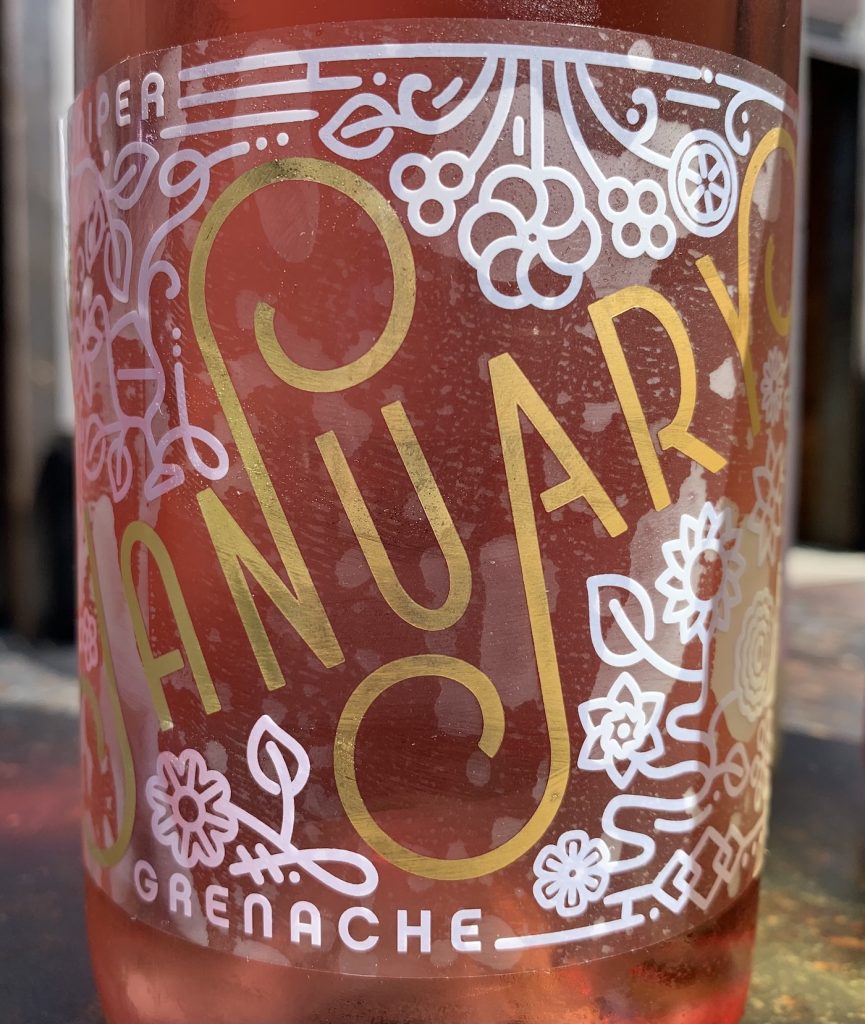 The Juniper Grenache ($17) is a showstopper. I love that the character of the grenache grapes, which comes from the Estelle Vineyard in the Santa Ynez Valley, prevails – red fruit, flowers, herbs. Then, like a painter dabbing multiple colors, Potter adds juniper berries and bay laurel leaves to create a wonderfully exotic nose; black tea elevates the grape juice tannins; sumac and angelica root deliver subtle bitterness; and dashes of black peppercorns and smoked sea salt deliver a savory finish. Ok to serve on ice? Sure. A splash of tonic? Yes. Orange slices and sprigs of rosemary? Great idea. A shot of gin or vodka? Even though the irony escapes no one, a fantastic idea!
The pervasive freshness of the January Drinks comes, in part, from the fact that the grape juice, after being gently pressed, is immediately cold-soaked – kept inside a fridge at under 32 degrees. That prevents natural fermentation to begin its sugar-to-alcohol transformation, but also elevates flavor, color, and acidity. That makes these beverages fun yet sophisticated, approachable yet intriguing. They stand out, in fact, in a marketplace of booze-free drinks for grownups that is definitely growing, but that is marked mainly by brands that are far less interesting, creative, or enjoyable.
This new label joins Potter's three other very high-profile projects: Municipal Winemakers (or Muni), with its hip and affordable Santa Barbara County wines, and with a very popular dive shop-turned-tasting room that's celebrating 10 years in the Funk Zone; Potek, located at The Mill on East Haley Street, which is a vehicle for Potter's more refined, elegant, upscale versions of pinot noir, chardonnay, and syrah; and Nowadays, a line of natural wines, where unfiltered, cloudy, and chemical-free are synonymous with interesting, funky, and yummy.
Aside from the Potek and Muni tasting stops in Santa Barbara, Potter also pours at a third sipping spot in downtown Los Alamos. Find all his wines at municipalwinemakers.com.
Cheers!
You might also be interested in...