Extraordinary Moment: SB Polo & Racquet Club Makes Welcomed Return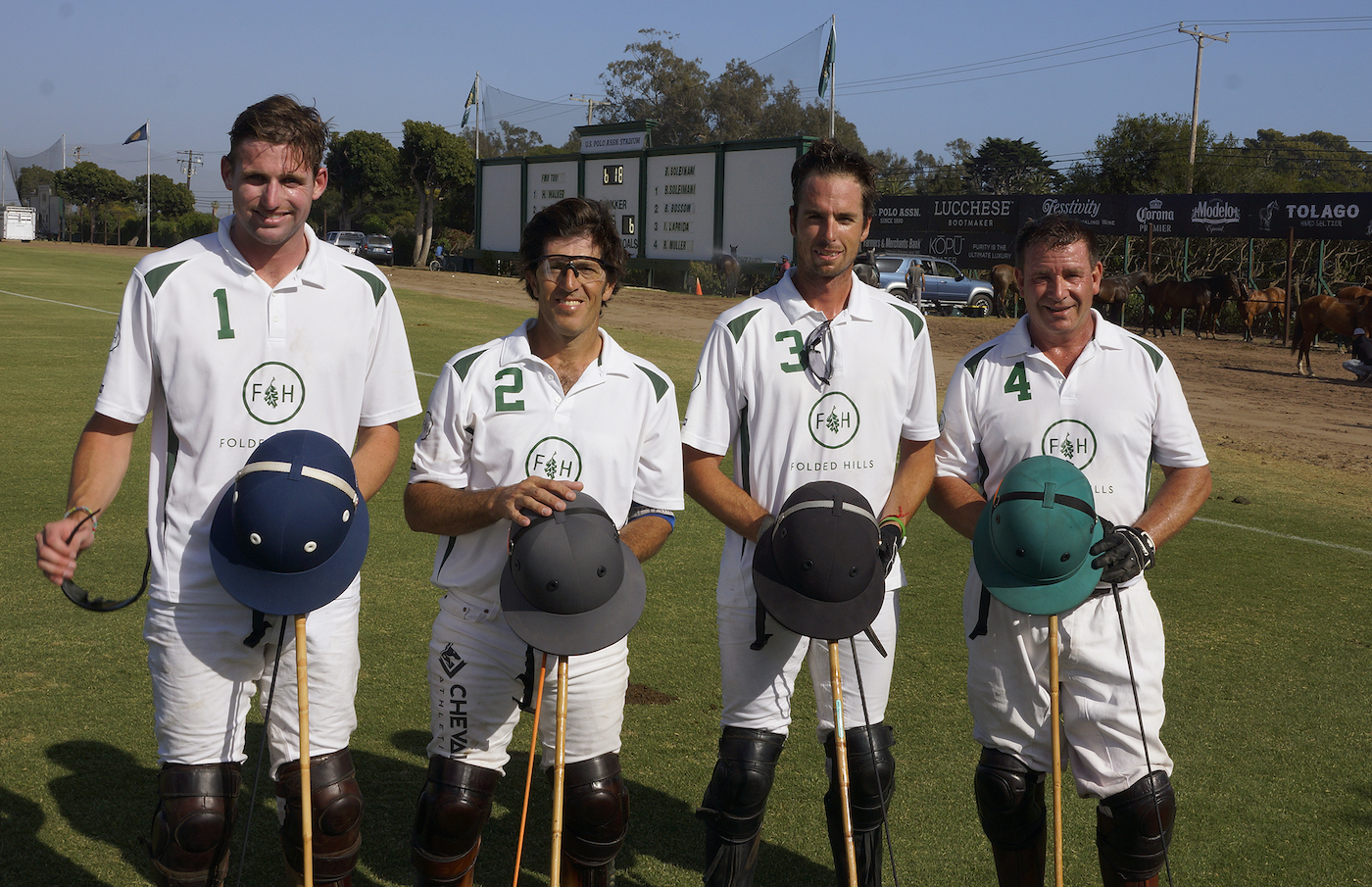 Crowds of members packed the clubhouse and tiered seating at the Santa Barbara Polo and Racquet Club when the Carpinteria equestrian facility opened its doors for the first time in more than a year after the pandemic restrictions were eased.
"This really is an extraordinary moment," said club manager David Sigman. "It couldn't have been a more perfect day weather-wise, and I think that people were truly pleased to see each other again after so long."
And the main game, a nail biter between FMB Too!-Folded Hills and Ben Soleimani in the Folded Hills Pope Challenge, added to the entertainment as team patron bankers Henry Walker of FMB and Andy Busch of Folded Hills hosted the hefty trophy after being victorious, 13-11. Andy's son, Will, scored five of the goals to launch the club's 110th season.
The team had been leading at halftime, 7-6, and continued that lead through the final tightly competitive sixth chukker.
Among the enthusiasts crowding the hallowed Holden Field and packing the cabanas were Robert, Robin and Harrison Fell, Kimi Matar, Glen Holden, Nigel Gallimore, Brian Fagan, Richard and Annette Caleel, Christopher and Mindy Denson, Jake and Luke Klentner, Jason Crowder, Andrew and Bayne Bossom, Paige Beard, Pat and Ursula Nesbitt, Wes and Victoria Ru, and Mike Uretz.
Normality beckons at the gallop!
The Sound of the Times
Legendary cellist Yo-Yo Ma and the equally comparable pianist Kathryn Stott worked their talented charms as part of the "Songs of Comfort and Hope Project," with a concert filmed in Taiwan.
The dynamic duo played works by Schumann and Rachmaninoff, as well as a number of traditional pieces including "Shenandoah," "The Last Rose of Summer," and "Londonderry Air."
The concert, part of the popular UCSB Arts & Lectures series, was an absolute joy in these gloomiest of times.
The Show Does Go On — and it Thrives
Despite the pandemic restrictions, the Breast Cancer Resource Center hosted its 13th annual Thrive Fashion Show virtually from the picturesque lily pond at the Belmond El Encanto.
Center clients modeled fashions from K. Frank of Montecito and guests heard their heartwarming stories of courage through their unique journeys facing breast cancer.
All the models in the show, which is normally held at the Biltmore, are breast cancer survivors, thrivers, and BCRC clients who have been supported and encouraged by the many programs and services the nonprofit provides.
Proceeds from the popular event fund essential support services and educational programs for women dealing with breast cancer.
Young Leaders' Efforts Pay Off
Four members of Girls Inc. of Carpinteria have been selected as 2021 scholarship recipients through the competitive Girls Inc. National Scholar Program. They will receive a total of $30,500.
The organization now boasts a total of 40 national scholarships awarded to 34 girls, with a total of $259,000 given to the local affiliate since 1995.
The program selects outstanding young women for exemplifying the Girls Inc. mission of inspiring all girls to be strong, smart, and bold.
The fab four are Isa Alarcon, Laura Flores, and Briana Rodriguez, all students at Carpinteria High; and Dulce Perez, who studies at Our Lady of Mt. Carmel.
"We are thrilled that all of our 2021 National Scholar applicants received this well-deserved recognition," says Jamie Collins, executive director. "These young girls are incredible young leaders and role models in their own right."
Suite Digs, Ty
Beanie Baby billionaire and San Ysidro Ranch owner Ty Warner must be smiling given his Four Seasons eponymously named penthouse in Manhattan is ranked one of the world's top 100 hotel suites, according to the private jet lifestyle magazine, Elite Traveler.
Poised atop the tallest all-hotel building in New York, the $50,000-per-night, 52nd-story accommodations are a seven-year collaboration between the late international architect I.M. Pei, interior designer Peter Marino, and Ty.
The $50 million, 4,300-square-foot, nine-room suite boasts four cantilevered glass balconies, a 600-square-foot master bedroom with a canopy bed of Thai silk with 22 carat gold thread under a 25-foot cathedral ceiling, with 25-foot bay windows featuring stunning views of Central Park and a rare Chinese onyx bathroom.
There are also three private elevators that whisk guests directly to the stunning aerie. The nightly rate also includes use of a Rolls Royce Phantom or a Mercedes Maybach.
Goopin' Around at Sea
Montecito actress Gwyneth Paltrow is now adding cruise ship wellness guru to her Goop resumé.
The Oscar winner, 48, has teamed up with Celebrity Cruises to work on a project to be unveiled with the new $900 million, 3,260-passenger ship, Celebrity Beyond, next year.
"My team at Goop is curating programming and fitness regimens to add to Celebrity's wellness experience," she reveals on Instagram.
I can't wait.
Perfect Tin!
I can't believe it is 10 years — traditionally celebrated by the giving of tin — since Prince William plighted his troth to Kate Middleton, who was a fellow student at St. Andrews University in Scotland, at London's Westminster Abbey.
I was hired by NBC in Los Angeles to cover the glamorous ceremony and spent three days at the network affiliate's Burbank studio doing commentary on the colorful occasion with anchors Chuck Henry and Colleen Williams.
Princess Diana, William's mother, who would have been 60 on July 1, would have heartily approved of the relationship.
A Royal Problem?
The latest issue of the Conde Nast celebrity glossy, Vanity Fair, has an interesting article on the schism between Prince William and Prince Harry by Michelle Ruiz, an award-winning broadcast journalist.
Titled Continental Divide, the eight-page piece postulates whether the brothers, one a future king, and their father, Prince Charles, will ever reconcile as a family.
The July 1 unveiling of their late mother Princess Diana's statue in Kensington Gardens, just a tiara's toss from Kensington Palace where they were brought up as children, on what would have been her 60th birthday will be most telling, say many royal observers, with one commenting: "It could amount to walking back into the viper pit." He also wondered whether Meghan would ever set foot on British soil again.
We will see.
Rest in Peace, Anne
On a personal note, I mark the move of Anne Douglas, the widow of acting legend Kirk Douglas, to more heavenly pastures just five days after celebrating her 102nd birthday at her Beverly Hills home.
She joins Kirk, who died last year at the age of 103, over the rainbow.
I remember fondly attending dinners at their art-filled Montecito home with the late society doyenne Beverley Jackson and the likes of actress Bo Derek and her beau John Corbett.
"She will always be in our hearts," says her stepson Oscar winner Michael Douglas, another former resident of our rarefied enclave.
Sightings
Prince Harry peddling his bike in Riven Rock… Basketball legend Magic Johnson posing for selfies with fans in the Montecito Country Mart… TV talk show host James Corden getting his java jolt at Pierre Lafond
Pip! Pip! Be safe, wear a mask, and get vaccinated.
You might also be interested in...