Celebrate Mother's Day with Brunch, Dinner and Takeout at These Local Restaurants
Celebrate your favorite moms this Mother's Day by treating them to a special lunch at home or taking them out for a meal at one of these SB-area restaurants on May 9. Our roundup has something for everyone, including brunch and bubbly, multiple-course menus and delectable pastries for takeout. Reservations are strongly encouraged at most restaurants.
Scarlett Begonia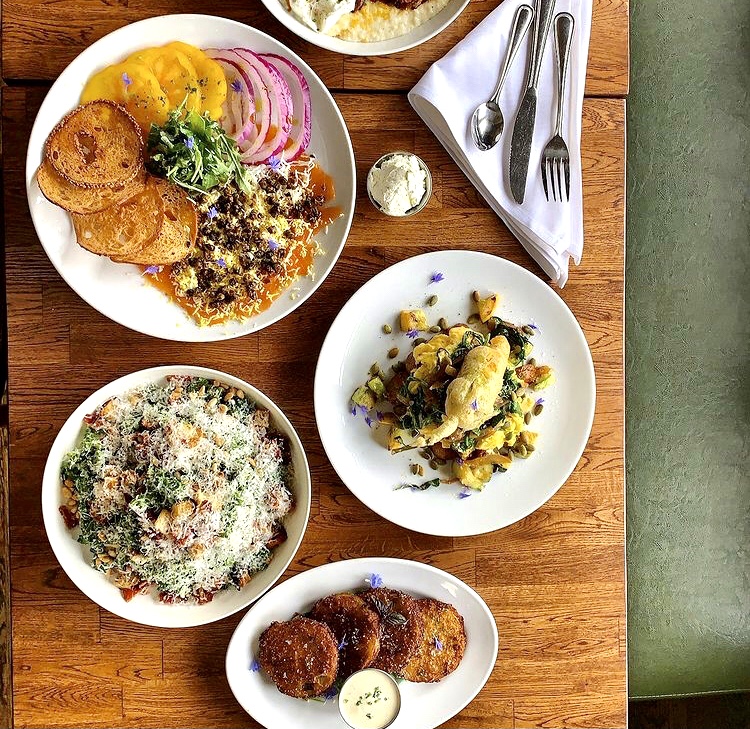 Proprietor Crista Fleming has built a devoted brunch following – with options consisting of organic and sustainable Cal-American classics – at her casual eatery in downtown. Fleming's parents run the wildly popular Deux Bakery on Milpas Street; her eatery's baked items are made fresh by mom and dad. As an homage to moms, Fleming devised two menus: Sunday Brunch and Afternoon Supper Menu, both featuring a three-course prix fixe menu.
Menu Highlights
Brioche French Toast served with Beeler bacon, strawberries, black pepper, honey, mascarpone, and shaved almonds; and shrimp and grits, served with two organic poached eggs, andouille sausage, caramelized onions, roasted red peppers, and mustard seed chow chow are just a couple standout items on Scarlett Begonia's Mother's Day brunch menu.
Brunch is $80 per person, exclusive of tax and gratuity. Afternoon Supper is $45 per person, pre-paid and reservations required. For more information, visit http://scarlettbegonia.net.
Angel Oak at Ritz-Carlton Bacara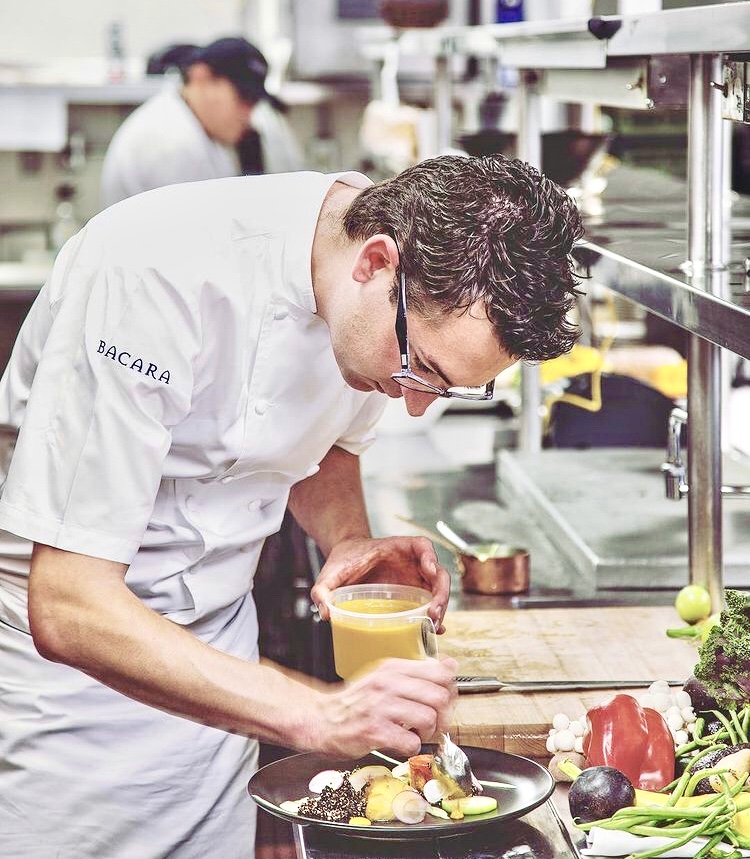 Angel Oak, with its Channel Islands vistas, is a steakhouse that also offers a rotating seasonal menu of ingredients like A5 Japanese Wagyu, local abalone, and farmers' market salads. Chef Umit Kaygusuz and his culinary team are preparing a decadent prix fixe and à la carte menu options for Mother's Day brunch.
Menu Highlights
Asparagus and sheep's milk ricotta tart alongside blue crab and shrimp stuffed fluke; eggs benedict; croque madame; steak and eggs; tuna tartare; avocado toast; and a signature Dungeness crab salad. Round out the celebration with a decadent tiramisu, hazelnut, and chocolate semifreddo and a raspberry kalamansi mousse.
Brunch is served from 9:30 am to 1:30 pm; $100, exclusive of tax and gratuity; à la carte items not included. Diners can participate in hat decorating and creating floral arrangements for mom. For more information or to make a reservation, call 805-571-4220.
Stonehouse Restaurant at San Ysidro Ranch
Take your mother on a stroll around San Ysidro Ranch's fanciful and well-manicured gardens before treating her to an extravagant brunch of house-made baked items prepared by the pastry chef, her choice of Champagne, mimosa, Ty Bellini, or fresh juice.
Menu Highlights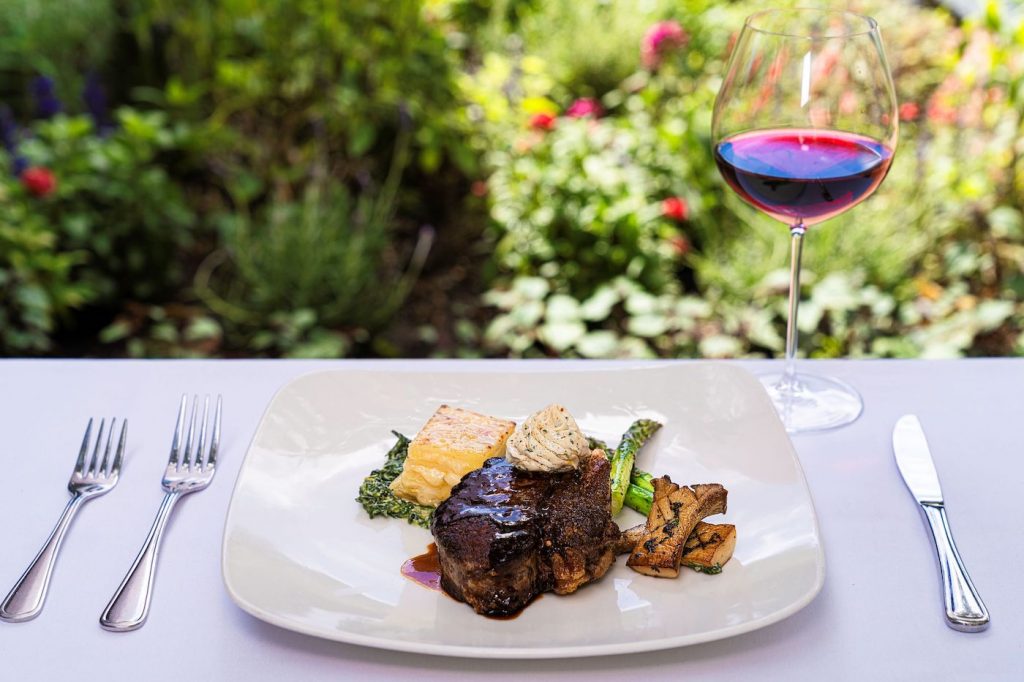 Chilled spring pea soup with confit ocean trout, shaved breakfast radish, salmon roe, dill crème fraiche served with fennel dusted baguette; smoked salmon benedict served with potato latke, petite greens, crispy capers, Meyer lemon hollandaise sauce; pan roasted diver scallops served with snap peas, thumbelina carrots, Tokyo turnips, asparagus, apricot, and curry butter; Colorado lamb loin and braised lamb shoulder served with house-made gnocchetti, fava beans, leek soubise (an old-school French sauce made mostly from onions), morel mushrooms and red wine lamb jus; grilled prime New York strip loin served with heirloom tomato risotto, garden rainbow chard, carrot top salsa verde or a roasted garden vegetable shakshuka made with patty pan summer squash, baby kale, poached eggs, grilled ciabatta, sweet paprika and San Marzano tomato sauce. Dessert lovers will enjoy hazelnut profiteroles; praline gelato, candied hazelnuts with warm Valrhona chocolate sauce; Tahitian vanilla crème brulée; orange marmalade, fresh berries, and angel food cake; buttermilk ice cream, and honey (from the chef's garden) served with puffed amaranth.
Price: $190 per person excludes tax and gratuity. A luxury gift for mom to celebrate her special day and the soon-to-be-opened SYR Salon & Spa is included with a brunch reservation. If mom is a wine lover, be sure to reserve a post-brunch private wine cellar. For more information or make a reservation, call 805-565-1720.
Lucky's Steakhouse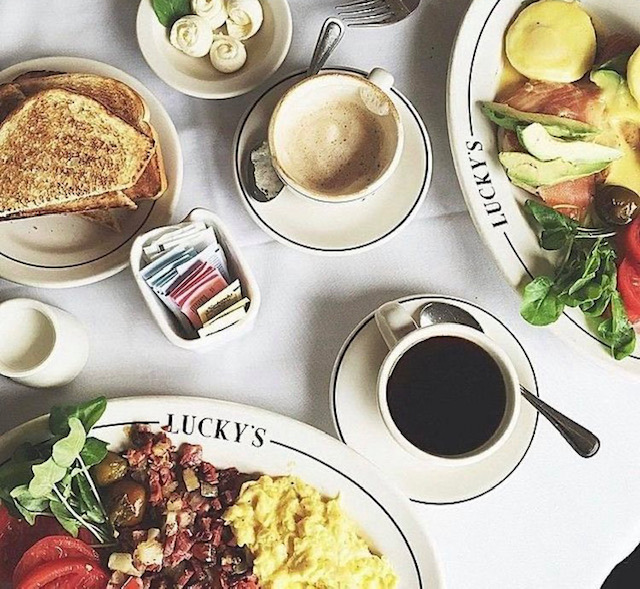 Lucky's Steakhouse on Coast Village Road creates savory dishes for any holiday and this one is no different. The eatery will celebrate Mother's Day brunch with a tantalizing medley of savory dishes for brunch and dinner for dine-in or to-go.  
Menu Highlights
For brunch: Wild mushroom and gruyère omelet; Spanish chorizo omelet with avocado; and waffles and French toast with assorted berries. For dinner: roasted chicken with thyme au jus; filet mignon pepper steak with cognac; and petite filet and half lobster and Delmonico Flannery dry aged beef. À la carte sides include hashed brown potatoes with gruyère, creamed spinach, sautéed mushrooms and jumbo asparagus with hollandaise sauce. For sweet tooths: Molten triple chocolate cake and Grand Marnier soufflés are elegantly baked from scratch.
Brunch is served from 9 am to 2:30 pm. For more information, visit luckys-steakhouse.com or call 805-565-7540.
Tre Lune
Mother's Day at Tre Lune begins with a thirst-quenching fresh squeezed orange juice or a mimosa and then continues to deeply satisfy with savory dishes. 
Menu Highlights
Italian benedict featuring prosciutto on rye topped with two poached eggs smothered in hollandaise; baked eggs with parmesan, garlic and parsley; farmers' market vegetable frittatas; smoked salmon benedicts; Bananas Foster French toast. For dinner, Tre Lune is serving three classic meals: a rack of lamb grilled with rosemary and garlic; a half chicken roasted with rosemary, garlic and served with portobello mushroom sauce and a sautéed salmon with lemon and capers, along with entrees such as king salmon, dover sole and sautéed sand dabs.
Breakfast is served from 8 to 11:30 am and lunch and dinner is served noon to 9 pm. Available for dine-in or pick up. For more information or to make a reservation, call 805-969-2646.
D'Angelo Bakery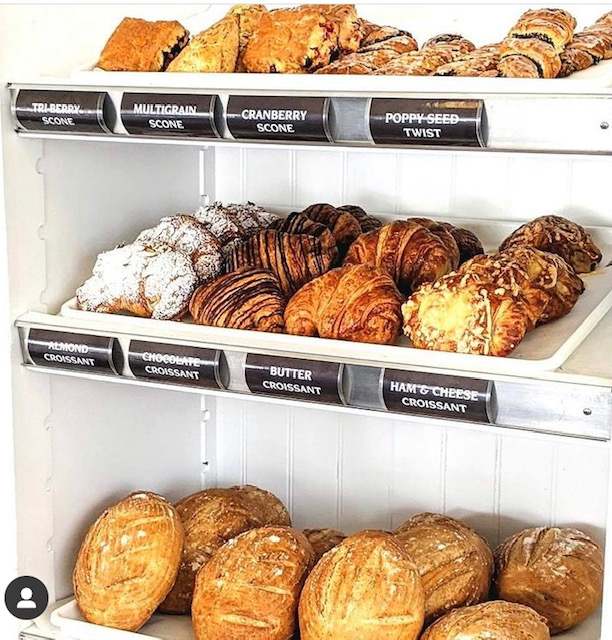 Treat mom to breakfast in bed with D'Angelo Bakery pastries, coffee, and a tall mimosa! Moist, buttery pastries made with fresh fruit and preserves are a specialty here. Grab and go for your own home celebration. 
Menu Highlights
Plain, chocolate, or almond croissants, baguettes, muffins, scones, rosemary focaccia, white and whole wheat Pullman loaves, kalamata olive bread, pumpernickel rye, as well as bagels, brioche, and D'Angelo Bakery's famed cinnamon buns.
For more information or to place an order call 805-962-5466.
Caruso's and Revere Room at Rosewood Miramar
It's well known that Rosewood Miramar Executive Chef Massimo Falsini gets his culinary talent from his mother and grandmother. He has always credited them as the inspiration behind his well-crafted Italian dishes. Mother's Day is a culmination of his love and affection for these women with two unforgettable brunch experiences.  
Caruso's Menu Highlights
Oysters and Stephanie's Sea Urchins with genoise sauce, apple mignonette, cocktail sauce and horseradish; house-made charcuterie foie gras torchon, with fruit mostarda and pickles; berries gazpacho with minted crème fraiche, croutons, balsamico di Modena extravecchio; spinach pasta with ragù and Parmigiano Reggiano; crispy Monterey Wild Salmon served with peas soubise, heirloom carrots and fennel relish; Mt. Tam cheese omelette with mornay sauce and garden greens; soft scramble with Passmore Ranch Caviar served with toasted brioche; buffalo ricotta and lemon pancakes with blueberry syrup and Chantilly; and Dungeness crab benedict. For dessert, moms will delight in Crostata Di Fragole, a strawberry tart served with crème fraîche; and Bar Del Cioccolato, "candy shop" style high French and Italian mini pastries with a shot of Nonna Lucia's Limoncello.
Revere Room Menu Highlights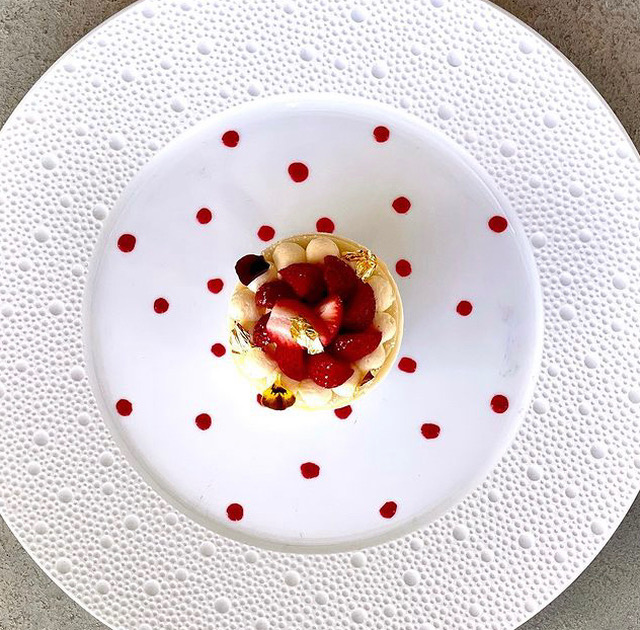 Southern-style deviled eggs with duck rillettes and garden pickles; cherries and blueberries bowl served with yogurt and granola, steel cut oats and honey; avocado toast with poached eggs, manchamanteles mole, hemp seeds, cabbage slaw on sourdough; crab cakes with pickled apple, bitter greens and Old Bay aioli; veggie chop made with butter lettuce, red gem, cherry tomato, roasted carrots, asparagus, peas, radishes, cucumber toasted almonds, and Champagne vinaigrette; grilled butterflied chicken served with sugar snap salad, feta, Frisée, pickles and sumac-tahini dressing and wagyu skirt steak served with garden kale salad, cashews, pickled blueberries and honey-lavender vinaigrette. Round out brunch with Fragole and Panna, strawberries and whipped cream; cheesecake with cherries and berries; devil's food cake with vanilla gelato; or lemon pie with toasted poppy seeds and berry sorbet.
Caruso's Brunch runs 11 am to 2:30 pm, $185 per adult, $65 per child ages 4 to 12, complimentary for children three and younger. The Revere Room Brunch is 11 am to 3 p.m., $145 per adult, $45 per child ages 4 to 12, complimentary for children three and younger. For reservations, call 805-900-8388.
Loquita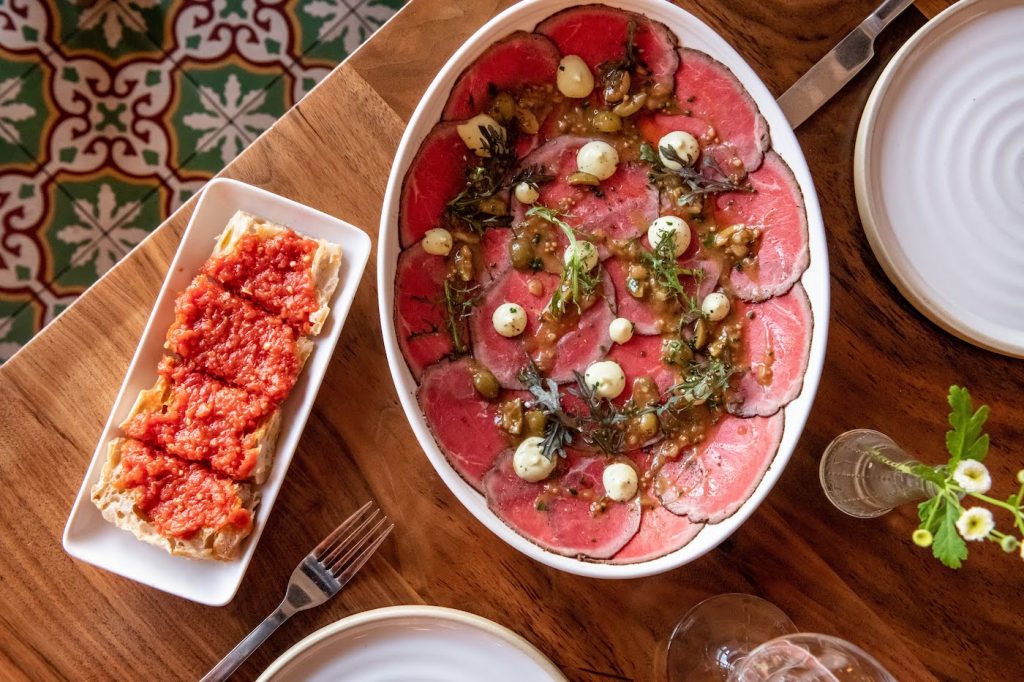 Known for its authentic hot and cold tapas, Loquita is offering Spanish delicacies for mom on her special day.
Menu Highlights
Mar y Tierra Paella made with black tiger prawns, grass fed short rib, manzanilla olives, confit garlic, parsley and piparra pepper aioli ($45); Carpaccio de Carne with grass fed beef, manzanilla olives, pickled mustard seed, 12-year sherry vinegar and arbequina olive oil ($21). Executive Chef Nik Ramirez introduces a new menu item: jamón ibérico de bellota – the finest aged ham in the world, sold by the half ounce. If mamá is thirsty, order her a rosé sangria ($13 glass/$55 pitcher).
For more information, visit www.loquitasb.com.
Stella Mare's Bistro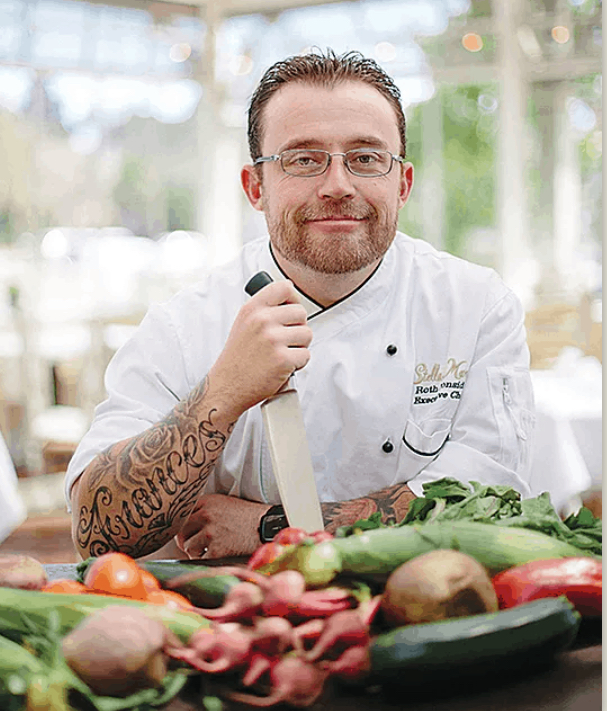 If mom loves French cuisine, this is her spot. Executive Chef Roth Ironside has mastered the art of tartines, a hot open-faced sandwich with savory toppings and fragrant French cheeses. 
Menu Highlights
Oak grilled sourdough topped with oven roasted cremini mushrooms, melted brie, parmesan cheese scrambled eggs, sherry vinegar, toasted garlic, parsley ($17.95); and toasted sourdough topped with chicken salad, red apples, celery, golden raisins, chopped pecans and arugula ($16.95) are two popular menu choices. Brioche French toast stuffed with blueberry compote, whipped cream and lemon zest ($14.25); gruyère omelette with asparagus, dressed in a creamy béchamel sauce; homemade biscuit, soft poached eggs, creamed spinach, Canadian bacon and Béarnaise sauce (18.95) are a few other house favorites.
Brunch is served à la carte from 10 am to 2 pm on Sundays. For more information, visit www.stellamares.com.
You might also be interested in...