Tasting Notes: Daniel Fish, Rosewood Miramar Director of Wine
Spring has ushered in some unique wine selections and tasting opportunities from local wine experts. We checked in with a few for some fresh ideas on what to pour. 
Before we dive headfirst into summer, and while many of us are at home preparing spring meals with family and close friends, I wanted to take the time to highlight the wines of Littorai – and more specifically the 2019 Littorai Pinot Noir "Les Larmes" Anderson Valley. 
Ted Lemon crafts some of the most beautiful examples of California Pinot Noir and Chardonnay. Ted was one of the first Americans allowed to make wine in Burgundy in the mid '80s, when he made wine for one of Meursault's most highly regarded producers, Domaine Roulot. It's no wonder that Ted's wines possess a lighter overall style and a purity of balance between all of the components of the wine.
Upon a first swirl, the wine lifts from the glass with notes of fresh red cherry, wild alpine strawberries, rhubarb, and crushed violets. On the palate, the wine is supple, while simultaneously light. The purity of the fruit is perfectly complemented by the subtle earth tones and vibrant minerality.
The wines of Littorai are incredibly sought-after by both long-time fans, sommeliers, and the fortunate who are newly introduced. For the perfect pairing, enjoy these wines with wild king salmon or seared duck breast prepared at home, or enjoy a glass with Chef Massimo's Pan Roasted Steelhead Trout accompanied by fresh spring peas, pickled fennel salad and wild mustard seeds while dining at Caruso's restaurant on Miramar Beach. One great opportunity to get exposed to these wines, and others like them, is to join the Miramar Wine Collective, curated by yours truly!
Tristan Pitre, Stonehouse Restaurant Sommelier
Trousseau is a grape brought to California on the backs of European immigrants traveling to California in hopes of striking gold. The grapevines were brought to keep the culture of their home alive in this far off destination, not to make wine for any commercial pursuit but simply for the family to drink.
Trousseau never caught on as a household name, but a new generation of open-minded and experimental winemakers have put a new focus on this old grape. The 2019 Arnot-Roberts Trousseau hailing from Sonoma County is a gorgeous pale ruby in the glass, lighter than even the lightest California Pinot Noir. The nose is lifted and full of fresh red fruit – pomegranate, strawberry and raspberry accented with floral aromatics; the perfect wine to enjoy with an old friend over a long meal. It is light, bright, and fun, with its effortless nature setting the stage for engaging conversations.
It is the perfect complement to the fresh spring produce on our Stonehouse menu. Our new duck entree served with morels, asparagus and fava beans is an ideal pairing. Diners may arrange a private wine cellar tour and tasting pre- or post-dinner reservation. If serving this selection at home, pick up some fresh vegetables from the farmers' market and sauté them lightly in butter with foraged spring mushrooms, and serve alongside a roasted chicken. With spring in full swing, enjoy this delicious meal outdoors with loved ones.
Jordan DeVille, El Encanto Sommelier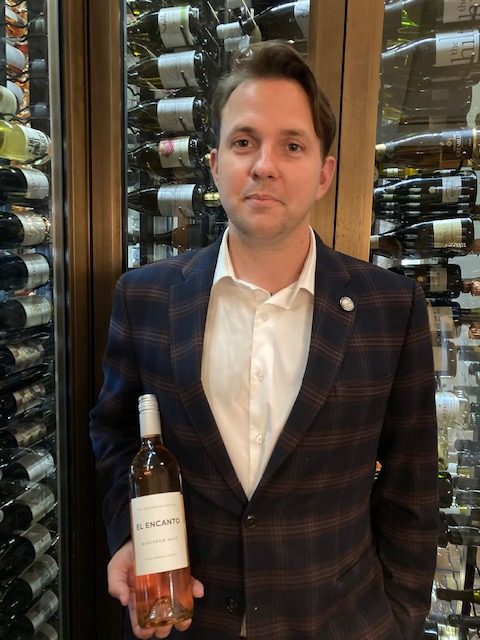 At El Encanto we are extremely proud to partner with Margerum Wine Company to produce a unique and flavorful rosé. Most of us in Santa Barbara have heard of or even met Doug Margerum; he is a real presence in town. He's also a good example of a self-made success story.  
Doug started in wine on my side of things running wine programs locally and transitioned into growing grapes and of course making his own wines. As a somm, I can really get behind what Doug has done, not only his commitment to our community but also to the wines he produces. He likes to harvest grapes just before they are fully ripe, which makes for a more Old World style of wine.
What is really special about this wine is its complex flavor. I was lucky enough to visit and tour the winery with Doug, followed by days just tasting different cuvées blended in different combinations until we both agreed on a perfect mix. I can't take credit for grape growing, that's out of my wheelhouse, but it is a really special thing to be able to say that you helped design the blueprint for a wine. I feel like it gives you such a unique perspective into the wine, and a lot of fun aspects to talk about when I'm interacting with our guests on the floor.
Our rosé is a noticeably light style. If you are familiar with the style of wine made in Provence, France, I think you will find it emulates that very well. It's crisp and refreshing, with notes of red berries and tropical fruit. Underripe raspberry and strawberry come through at first and are met with melon and guava, finished with ripe red and white rose petals. It's also extremely versatile from a pairing perspective; anything from our Asian style glass noodles to California avocado toast. At home you can enjoy this wine selection with mild smoked meats and charcuterie and olive tapenade, or pita bread and pepper hummus.
You might also be interested in...