Gardens Inspire Chefs' Spring Menus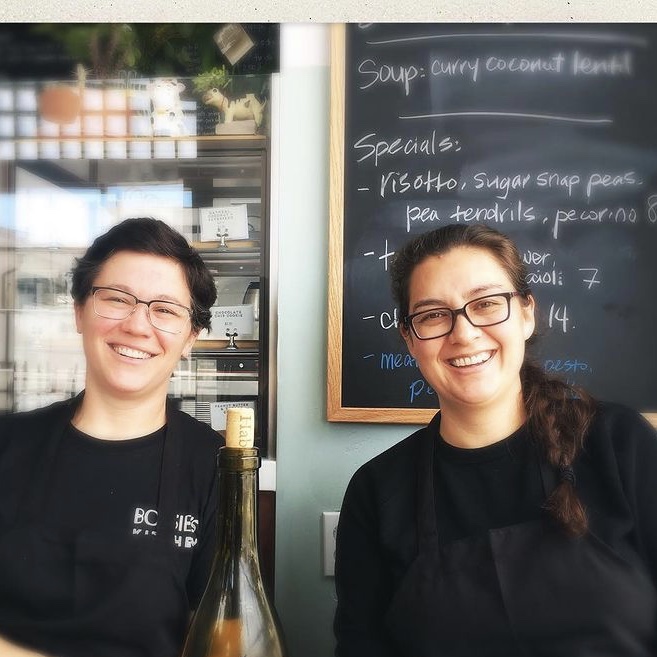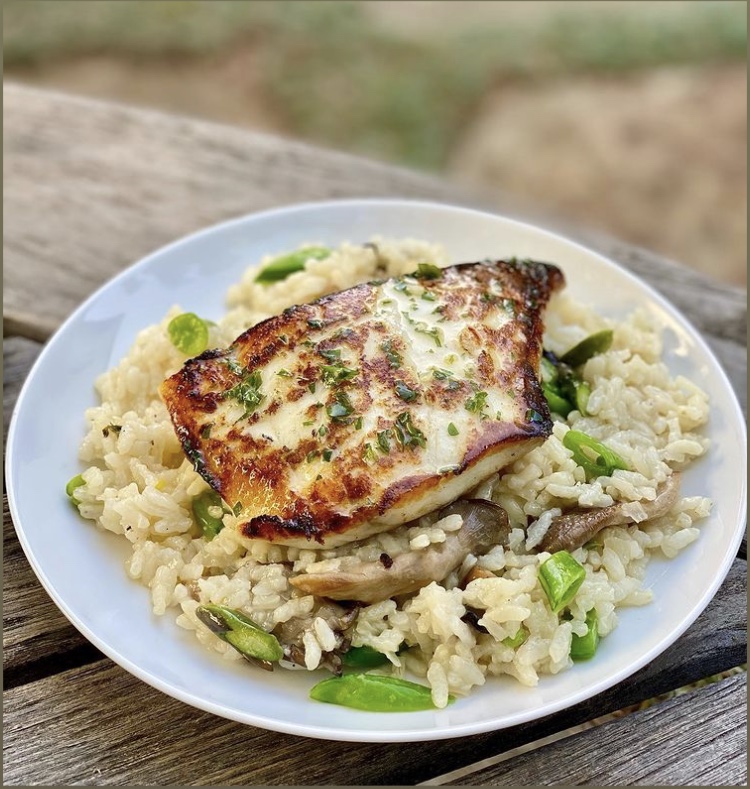 After a long winter, spring is a welcome renewal. Chefs reinvigorate their menus with vibrant green peas, bright red tomatoes, wild herbs, and a variety of citrus. Inspired by local bounty and the natural beauty of our locale, restaurants are rolling out some of their best spring dishes yet. Some chefs utilize fresh herbs and vegetables from their personal gardens. Here are a few of our favorites.
Halibut takes center stage here. Chef Lauren Herman lightly brines and pan sears the fish to retain its mild and slightly sweet flavor, then serves it over spring vegetable risotto ($25). The risotto is prepared with seasonal spring vegetables locally sourced from the Santa Barbara Farmers' Market: sugar snap peas, asparagus, and a variety of mushrooms that may include shiitake, oyster, or trumpet. As a finishing touch, the fish is garnished with gremolata butter made of lemon zest, garlic, and chopped parsley. This dish is served only on Thursday evenings from 5 to 8:30 pm.
Stonehouse Restaurant at San Ysidro Ranch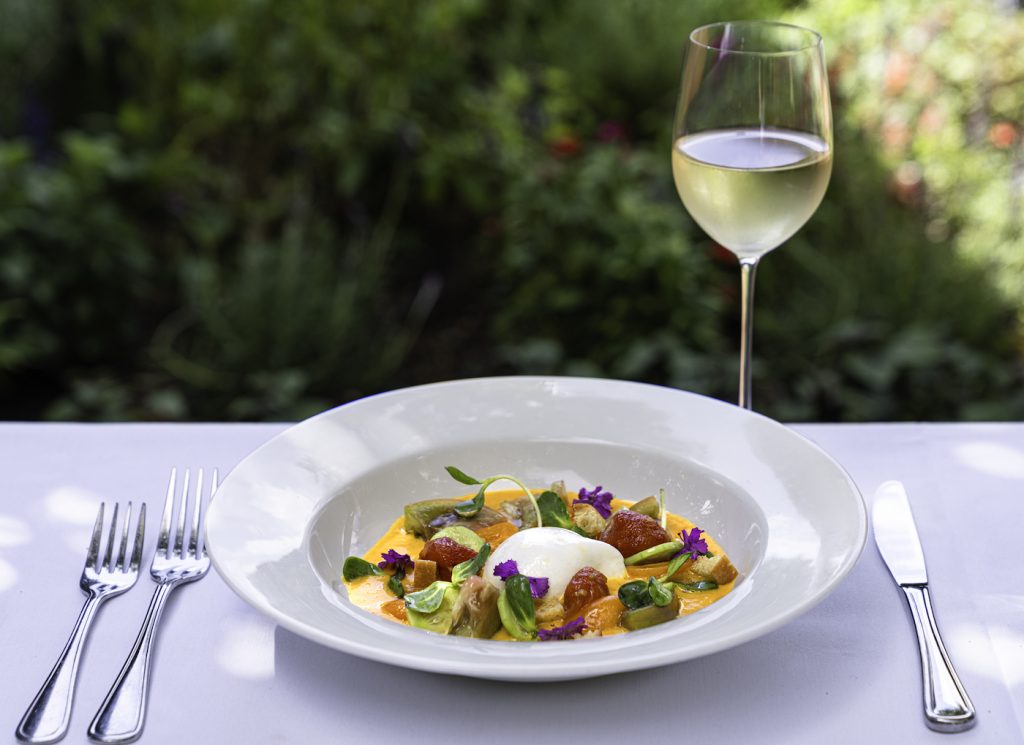 For Chef Matthew Johnson, the pandemic has presented an opportunity to introduce diners to new farm-to-table concepts. Johnson selects fresh herbs and lettuces from the Ranch's Chef's Garden to create a variety of new dishes for spring, including a basil marinated heirloom tomato and burrata salad. The dish is assembled with confit teardrop tomatoes, Persian cucumbers, Ojai Valley sunflower sprouts, ciabatta, and a charred Sungold tomato vinaigrette ($27).
To prepare the dish, Johnson flash roasts the tomatoes and then marinates them in olive oil. The sunflower sprouts and petite basil are tossed with extra virgin olive oil, sea salt, and Meyer lemons from his garden. He then assembles the salad with heirloom tomato confit on top of a vinaigrette made with Sungold tomatoes, golden balsamic vinegar, tarragon, fennel pollen, shallots, garlic, and Dijon mustard. He seasons the dish with espelette, a red pepper from the Basque region in France, before adding crispy ciabatta croutons and borage blossoms with hints of cucumber and citrus.
Ca'Dario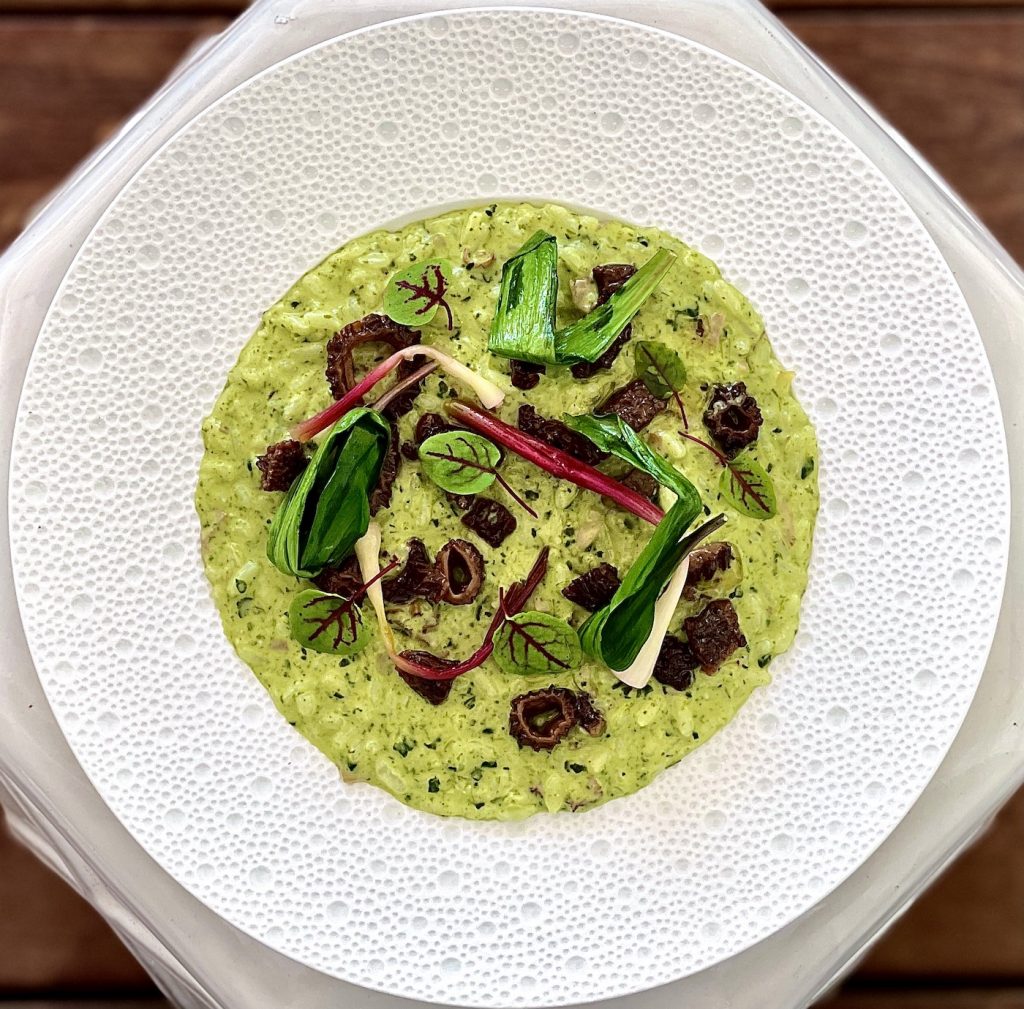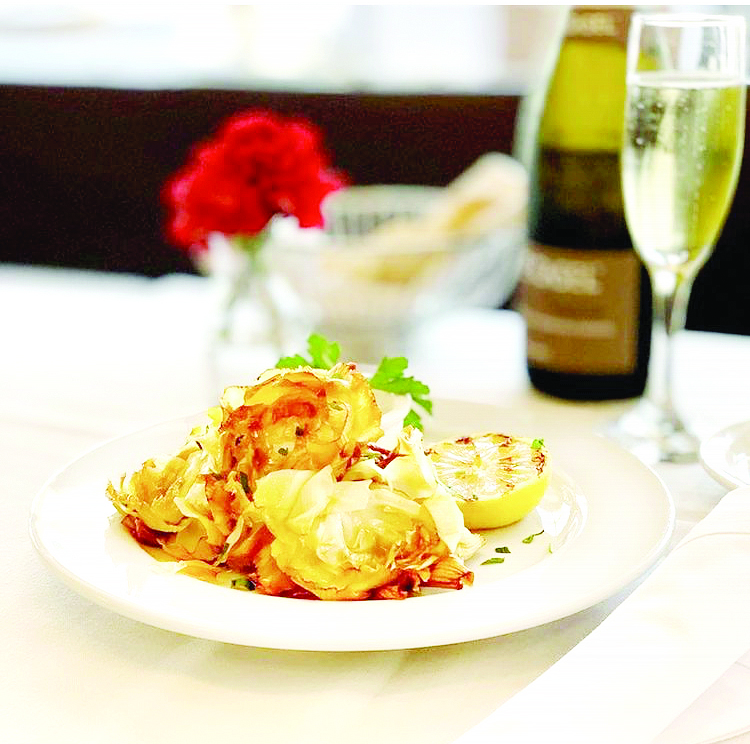 Ca'Dario chef-owner Dario Furlati makes artichokes the centerpiece of his seasonal dishes. Baby chokes are marinated in lemon juice and then deep fried in olive oil. The flower shaped veggies are served with garlic aioli ($18).
Caruso's
Chef Massimo Falsini uses bright, seasonal ingredients for his spring menu. A new risotto dish that uses Acquerello risotto, nettles, and morel mushrooms showcases a bouquet of wild herbs. "If you take an aerial photo of the farmers' market, you will identify a color pattern; well these colors should be the same as your dishes in the menu," Falsini says.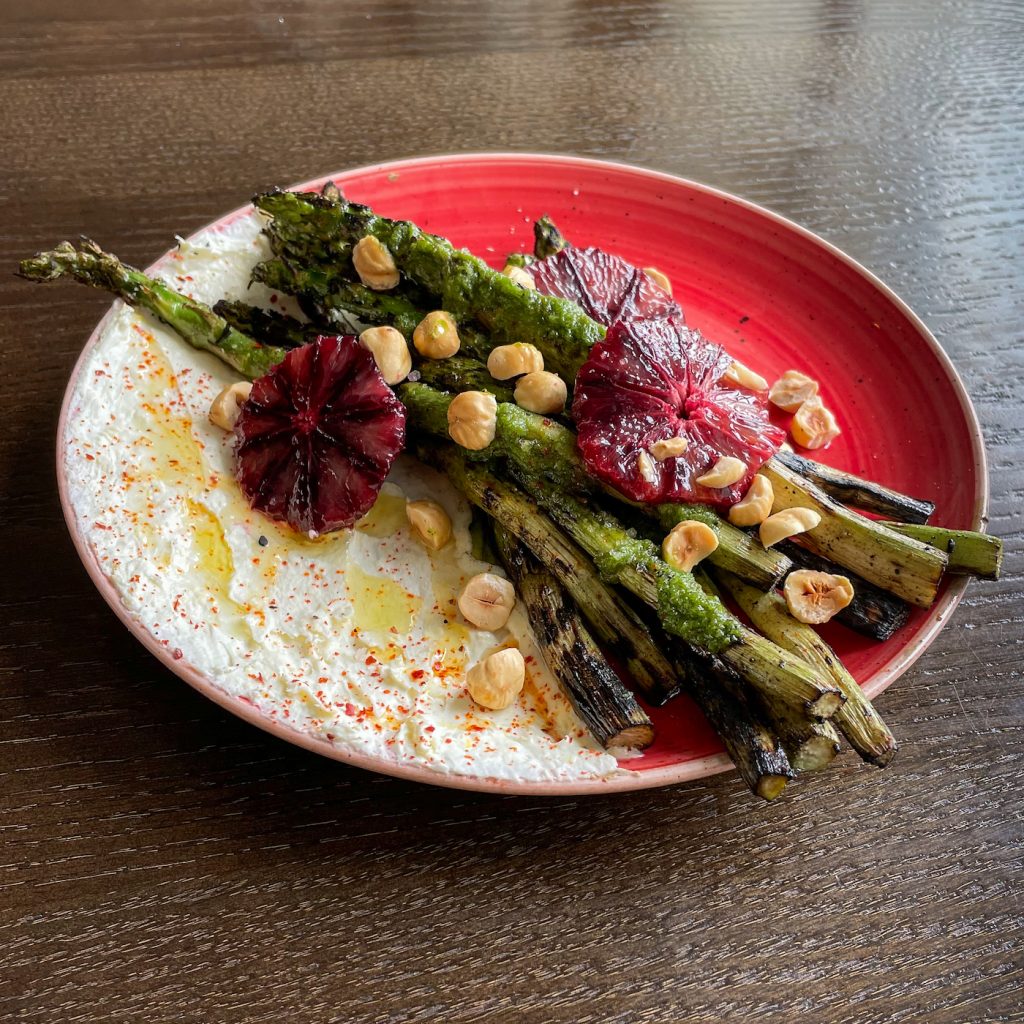 He prepares risotto the traditional way with butter, shallots, and dry white wine. He sautés morels and wild onion and then folds them into the rice. Falsini creates an emulsion with nettle leaf – an herbaceous perennial flowering plant – Eureka lemon juice, and crème fraiche from Cowgirl Creamery. The dish is finished with morels and pickled ramps. The risotto dish is featured as a primi on a tasting menu composed of four courses for $130.
Convivo
Convio Chef Peter McNee is known for his unconventional and delicious approach to recipes that present a world of flavor in a single dish. He calls his cuisine nomadic – a melting pot of Middle Eastern, Mediterranean, and Asian culinary styles. The spring asparagus is no exception. The smoky oak-grilled asparagus spears are dressed in chimichurri sauce, garnished with hazelnuts and blood orange slices and laid to rest on a delightful and refreshing lemon mascarpone ($16). You'll savor the bold, rich flavors in this heavenly spring mix.
You might also be interested in...