Market Mayhem: 'Migration Movement' to Our Paradise Continues
At this point I am unsure of whether we will see enough new listings hit the market in Montecito before the last house goes up for sale and is sold. That won't happen — will it? — but if you follow the numbers, it's not impossible. 
As of right now we only have about 47 homes and condos on the market in the Multiple Listing Service (MLS), across all price ranges in the 93108 zip code. This is a historic low. Normally, in any recent April, there would be roughly 125 homes and condos for a buyer to consider.
To further illustrate this phenomenon of what can only be called a "migration movement" for the well-to-do, we saw 45 closed escrows in the past month (March 16 to April 16, 2021), when roughly 20 would be a normal April — and there were only 22 new listings that hit the market in that same time frame.
At this rate — selling 23 more homes per month than come on the market — we would be out of homes and condos for sale in Montecito in just two months. Also noteworthy is that of the 45 sales recorded in the MLS in the past month, seven were for more than $10 million. This is about the average number of homes that sell for more than $10 million in a full year in Montecito, according to the MLS.
On top of the volume and prices of sales we are seeing, there is one question that everyone is asking: "Who are all these folks buying homes in Montecito?" New neighbors make up a mix as I understand, but a huge migration up from Los Angeles is certain, as are second homes for buyers from Chicago, the East Coast, and Bay Area.
New residents are paying 10% to 30% more to secure a spot here than they would have paid just a year ago and are often grateful to win a bidding war on a property that would have perhaps sat idle for weeks in a slower market. That said, prices are still in line with, or lower than, top neighborhoods in Los Angeles and San Francisco and other cities, so it's all relative. $7 million here, or $7 million there, and in Montecito you likely get more land.
Yes, indeed, Montecito has been discovered. The boom is seen everywhere. Homeowners are undertaking rebuilds and remodels on nearly every block — there are three construction projects around me now that have workers eating on a corner of our property in the shade, the angry sounding splitting of boulders and other machines pounding all day long. Add this to the ongoing weeklong landscape maintenance these estates and their owners require, and it can really break the peace. However, with all that, it is still a paradise, and I would not want my family living anywhere else.
My wife says the noise is fine, even a positive sound — someone building their dream home, the kitchen they always wanted, a bocce court (OK, now you have my attention), or just finally getting to the remodel after the effects of the devastating debris flow — and she is right. Relax, Mark. In a big city, it would be louder, ruder, smellier, and you would have traffic. And you would not have the crew at Pierre Lafond — thanks for the coffee, yummies and constant smiles. Enough said.
Indeed, elsewhere there are no mornings at Butterfly Beach, where I often stand stupefied at the fact that my family and I get to live here like my dad, grandma, and great-grandma. None of us had it easy, but we've had it, nonetheless.
So those of you who are new to Montecito, welcome. Please know this is a place where many people come to slow down a bit, smile more, exercise, eat, interact, explore talents and interests, celebrate life, relax, and leave the tensions of the big city behind as much as possible. Not to be preachy, but please don't honk, cut people off, litter, or be rude to the employees of Montecito's businesses. They work hard to make our paradise a high-functioning reality. Rejoice in the fact that you can run five errands in 47 minutes except on weekends and in summer when our population doubles and triples with tourism.
New residents, you will become locals quickly enough (we require a minimum of five years before you can say you live here! Just kidding!) and with time you will wonder who all these people are that show up in town on weekends and in summer. Then you'll remember, that was you before you had the vision to move here. The tourist you meet today and advise on a great restaurant, might be your neighbor in five years — if they can find a home for sale then, that is.
We are blessed. Let's maximize the potential for everyone here; it's a small town. Enjoy. Go Mustangs.
Here are a few homes still active on the market in the MLS as of April 16, 2021:
1121 Cima Linda Lane – $3,295,000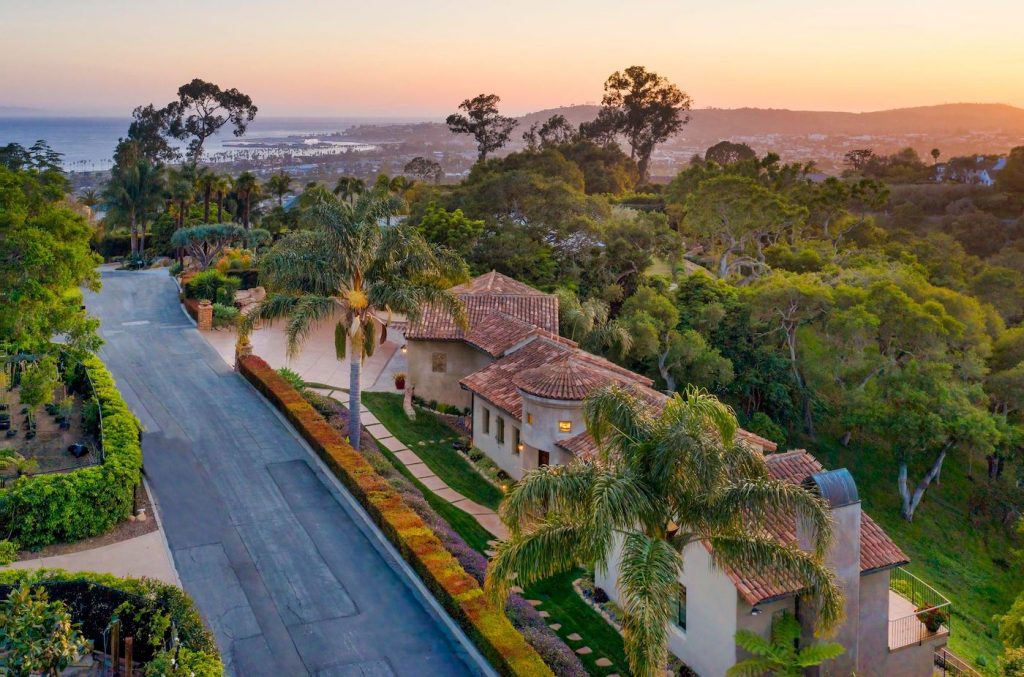 Wrap yourself in mountain and valley views from this Mediterranean-style villa in a central location, surrounded by mostly equal and more expensive homes. Built in 2006, the four-bedroom, three-and-a-half-bathroom home was crafted to make everyday life feel special. As you step through the entrance, rooms draw you outside to multiple sun-drenched decks. 
The living room, formal dining room, and kitchen include custom finishes, while the primary bedroom suite offers a mountain-view terrace. There are two additional guest bedrooms and a large bedroom suite with its own entrance and kitchenette all occupying the lower level and leading to the exterior grounds.
Surrounded by garden spaces, walking paths, and a great location in west Montecito, you are just a short distance to the Upper and Lower Villages, as well as being convenient to Santa Barbara and the beaches.
595 Freehaven Drive – $3,950,000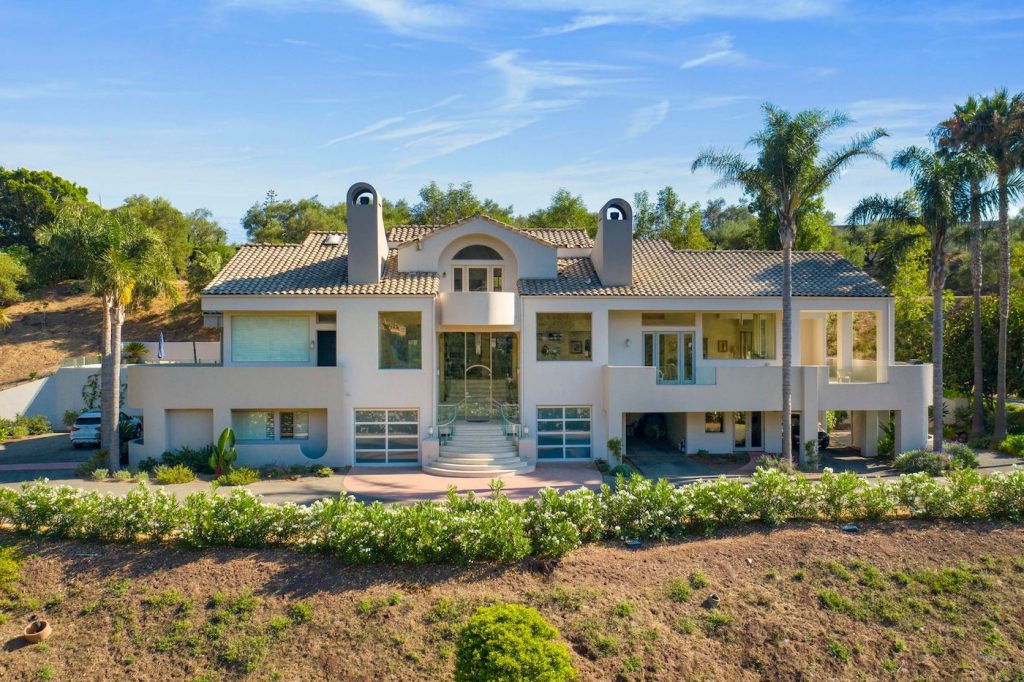 On what feels like a country lane, just minutes from shops and beaches, you will enter the gates of this more than three-acre property and approach the nearly 6,000-plus-square-foot home. The high ceilings and panoramic mountain views are the focus when you step inside this contemporary residence with outdoor entertaining areas and several ''flex rooms'' for a variety of live/work options. Also, there is parking for many cars on site, two main entrance options to the home and separate entry for the guest quarters. 
Located in the foothills of east Montecito with north-facing views that bring in the light, the home provides a backdrop for life with five bedrooms and five bathrooms, offering picture windows with mountain views, privacy, and room for many to find their own space to pursue their work interests and hobbies.
The home offers a primary suite, spacious open kitchen, living room, dining room, two family rooms, as well as an office and wrap-around patios with spectacular views. The price per square foot should not be overlooked with this listing.
1188 Summit Road – $7,250,000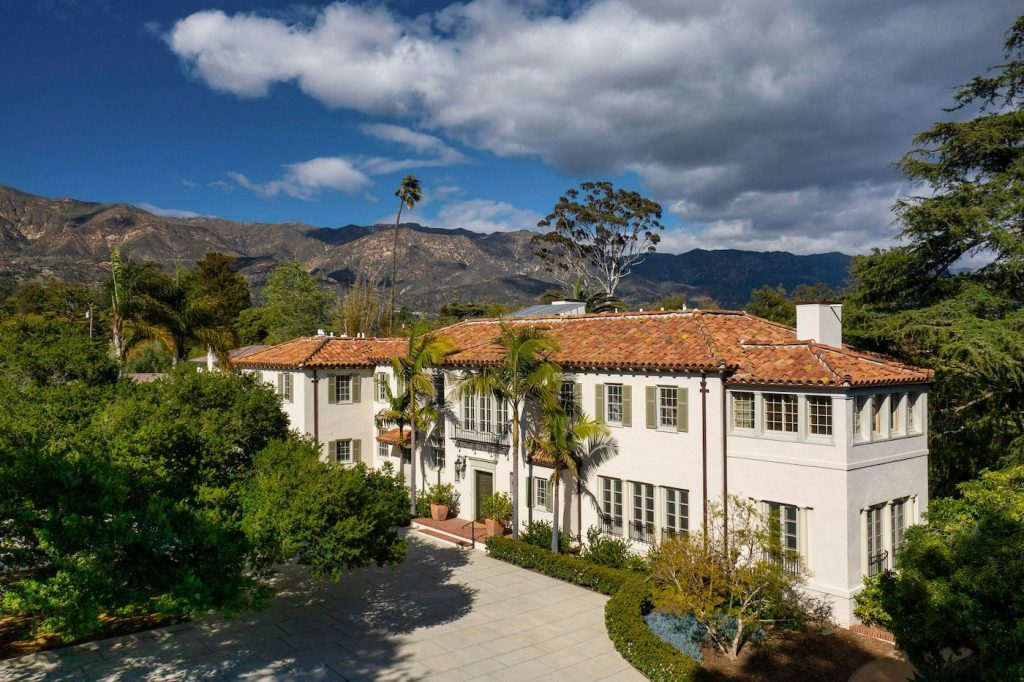 Approaching this one-of-a-kind property, you are greeted by a more than 100-year-old oak tree that is full of stories to tell. Constructed in 1917 and designed by noted architect Winsor Soule, this home rests on almost an acre in a prime off Middle Road location. The home was originally named ''Monte Bello" and is mentioned in David Myrick's book, Montecito and Santa Barbara: From Farms to Estates.
Upon entering the residence, you are welcomed by a grand staircase, wide hallways, and tall ceilings with crown moldings. The floor plan takes full advantage of over 7,700 square feet of living space and offers six bedrooms and eight bathrooms. The ground floor includes a formal living room surrounded by French doors filling the room with natural light. Tucked off this gracious room is a sun-filled office with disappearing doors to allow the outside in.
With too many desirable features and amenities to list — butler's pantry, separate bedroom wing, basement, mature grounds with citrus, fig and apricot trees, to name a few — I will leave it at that and point out that this rare gem is just a short distance to Coast Village Road and is within the Montecito Union School District.
1143 Hill Road – $7,295,000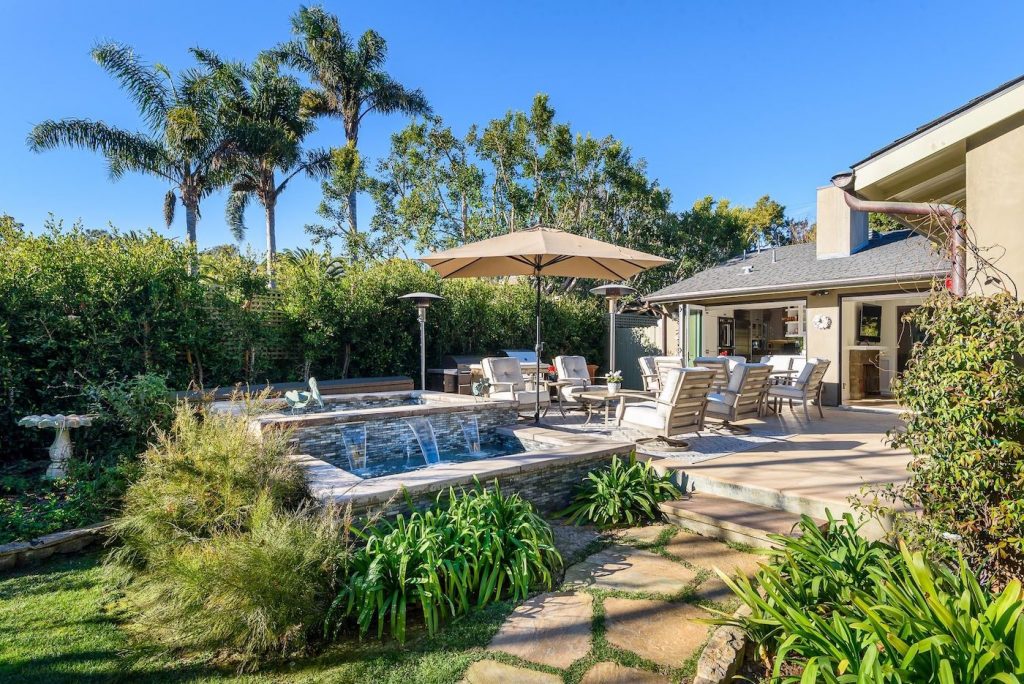 Hear the waves crash from this beach cottage and studio with gated access to Butterfly Beach. The gated entry leads into a lushly landscaped courtyard with fountain and to this lovely single-level home. Inside find copper-clad windows and glass doors that invite the grounds into the home. The chef's kitchen features three Viking ovens, a Viking range and microwave. Cozy up to the fireplace in the living room or open the fold away doors and experience the coastal feel of indoor/outdoor living. 
The primary suite with adjacent office features a fireplace, dual closets with built-ins, dual vanities, and heated floors. Additionally, there is a laundry room and luggage room that provides storage that could be converted back to a third bedroom, if desired.
There is a two-car garage with storage, a private backyard, and a custom-built plunge pool and spa with waterfall. The bocce court is a great addition, and the detached studio is ideal as an office or gym. This home is within the Montecito Union School District and is near the beach, area hotels, shopping, and dining along Coast Village Road.
You might also be interested in...