A Royal Farewell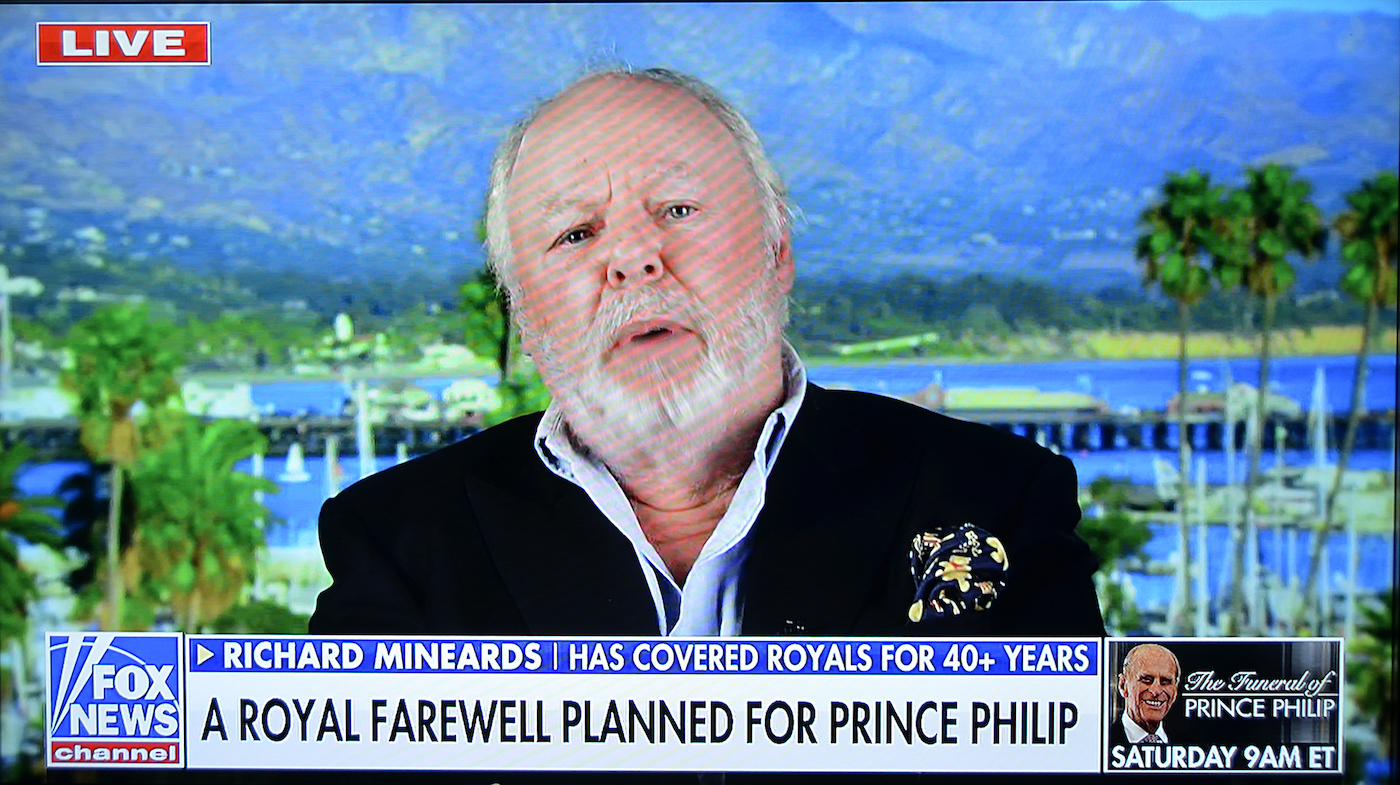 As expected, I was much in demand over the weekend for the somber and muted funeral for Prince Philip at St. George's Chapel, Windsor, built in the 14th century by King Edward III.
Most of it was spent on Fox News where I sat for three hours at the CBTV studio downtown with New York host Martha MacCallum, watching 30 members of the Royal Family dressed in black tailcoats and mourning dress pay homage to the Duke of Edinburgh, who was married to Queen Elizabeth for 73 years and died just two months before his 100th birthday.
The 50-minute service, which celebrated his colorful life, particularly in the British Royal Navy, was masked and lacking the ceremonial it would have normally included had Britain not been under a pandemic lockdown. However, the outdoor activities — with guns being fired by the Kings Troop of the Royal Artillery and the Grenadier Guards in their striking red and gold uniforms and towering bearskin hats parading — started with a one-minute nationwide silence and was eminently viewable.
The chapel in the lower ward of Windsor Castle, where I covered the 1999 wedding of Prince Edward to Sophie Rhys-Jones for MSNBC, could not have been a more appropriate locale given Philip's love of the 1,000-year-old castle where his mother, Princess Alice of Greece, a great granddaughter of Queen Victoria, was born.
It was the regular weekend escape from Buckingham Palace in London, a 22-mile drive away, where Philip and the long reigning monarch, who celebrates her 95th birthday this week, could really relax. The Queen enjoyed walking her dogs at Frogmore House nearby and Philip reading and painting watercolors, a hobby that has successfully been followed by his son Prince Charles, 72.
Philip's grandsons, princes William and Harry, notably did not walk together, separated by their cousin, Peter Phillips, son of Princess Anne, although they were spotted briefly chatting after the funeral ended.
Philip was lowered 16 feet into the royal vault, where he will repose until Elizabeth joins him some years hence at the end of her historic reign, and they will be buried together in the King George VI chapel, with her father and mother.
I was certainly in good company on screen with Patrick Jephson, Princess Diana's former private secretary; Dominic Green, an editor at The Spectator; and Gerard Baker of the Wall Street Journal, adding expert commentary and personal reminiscences.
Earlier in the week, I was interviewed by Armelle Vincent, the Los Angeles correspondent for Le Figaro, the top French daily newspaper that was founded in 1826. After our tête-à-tête at Pierre Lafond, she stayed in our rarefied enclave for a couple of days to get a feeling for the neighborhood.
So Flippin' Good
Montecito TV talk show host and serial real estate flipper Ellen DeGeneres and actress wife, Portia de Rossi, made a multi-million-dollar profit on the sale of their Beverly Hills mansion, but not as much as hoped.
Ellen, 63, and Portia, 48, sold the 10,000-square-foot property for "roughly $47 million," according to the Wall Street Journal.
Last month the tony twosome listed it for considerably more, $53.5 million, two years after purchasing it from Maroon Five rocker Adam Levine, a judge on The Voice, for $45 million.
The house, with five bedrooms, nine bathrooms, a gourmet kitchen, and 50-foot living room, was completely renovated last year.
The master suite alone is bigger than many single-family homes at 2,000 square feet with an attached sitting room and en suite bathroom.
Levine, 41, and his Namibian supermodel wife, Behati Prinsloo, bought a nine-bedroom, 12,000-square-foot George Washington Smith estate, El Miraval, on 5.2 acres for $22.7 million last month, just a tiara's toss from the new home of Orlando Bloom and fiancée Katy Perry on Park Lane.
An Ode to Philip
Santa Barbara Polo Club patriarch Glen Holden, 94, has been reminiscing about his relationship with the late Prince Philip, who he knew well during his polo playing career.
Glen, who shuttles between his homes at the Carpinteria club and Oregon, knew Queen Elizabeth'shusband of 73 years well and played in many tournaments against the Duke of Edinburgh in England.
The former U.S. ambassador to Jamaica particularly remembers when the Duke accompanied the U.K. equestrian team to Los Angeles in 1984 for the Olympic Games and got in touch, with Glen acting as tour guide around the Big Orange.
"Philip was a real man's man," says Glen, who recently sold his Bel Air estate. "He was fun to be with and really charmed both men and ladies.
"He told you upfront how he felt on a subject often with a humorous twist. The Duke knew his mind and did his own thing during a very colorful life!"
While serving as a diplomat in the Caribbean, Glen raised sufficient funding to completely renovate the official residence of the island's Governor General, and one year after completing his ambassadorship was invited back to Jamaica with his late wife, Gloria, for a private lunch with Prince Philip and Queen Elizabeth in appreciation of his money raising efforts.
Wonderful memories…
Larry, What a Mighty Big Home You Have
Oracle's Larry Ellison, who owns a number of homes in our Eden by the Beach, has added to his burgeoning property empire buying a $80 million estate in North Palm Beach.
The seven-bedroom, 15-bath, 15,514-square-foot waterfront Tuscan-style home on 7.3 acres was built in 1998 and comes with a home theater, tennis court, wine room, and helipad.
Ellison, 77, who is ranked No. 9 in the latest Forbes rich list with $89.3 billion, lives on a Hawaiian private island, Lana'i, and says he has no plans to move to Florida in an e-mail to his 135,000 employees.
Even with its impressive 520 feet of ocean frontage in a gated community, Seminole Landing, which is considered the third largest oceanfront compound in Palm Beach County, Ellison is reportedly planning to demolish the property in due course.
Stay tuned…
RIP, 'Wonder Dog'
My condolences to Montecito's newest resident actor Michael J. Fox, who has just lost his pet dog, Gus.
The Back to the Future star posted a photo of his 12-year-old Great Dane-Labrador mix on Instagram to his one million followers, saying: "Gus — great dog and loyal friend. We'll miss you."
He also described his pet pooch as his "wonder dog" and constant companion throughout his battle with Parkinson's disease, which he was diagnosed with in 1998.
"You know that no matter your situation, no matter what you feel, this animal is with you and is connected to you. You feel it is a force multiplier."
True paws for thought…
Showing Heart
Having sealed a $100 million-plus deal with Netflix, one of Prince Harry's first projects is a documentary series about the Invictus Games, founded in 2014 to help wounded and injured veterans.
The project, Heart of Invictus, will follow competitors training for the pandemic-delayed games at The Hague in the Netherlands next year.
Harry and Meghan Markle's Archewell Productions are working with director Orlando von Einsiedel and producer Joanna Natasegara on the series, which will follow both athletes and organizers as they prepare for the event.
The Duke of Sussex, 36, will appear on camera and also be an executive producer.
#SocialMediaIsTrash
Santa Barbara warbler Katy Perry has declared social media is "the decline of human civilization."
Katy, 36, who boasts 115 million followers on Instagram and 109 million devotees on Twitter, admits she is not a fan of either platform.
"Social media is trash," the former Dos Pueblos High student declared on Twitter, and then added for good measure: "The decline of human civilization!"
Katy's Twitter account is the third-most followed in the world, with only former president Barack Obama and Canadian singer Justin Bieber having a higher count.
The California Gurls star's Instagram is currently ranked 21st in the world, with international soccer star Cristiano Ronaldo having the most with 276 million followers.
Sightings
Actor Orlando Bloom on his new $14,500 turbo electric bike and fiancée singer Katy Perry on a $3,250 version peddling away in our Eden by the Beach… Ellen DeGeneres and wife, Portia de Rossi, masticating on Coast Village Road… Former Dallas Cowboy quarterback Troy Aikman noshing at Lucky's.
Pip! Pip! Be safe, wear a mask, and get vaccinated.
You might also be interested in...