Read 'N Post Says Goodbye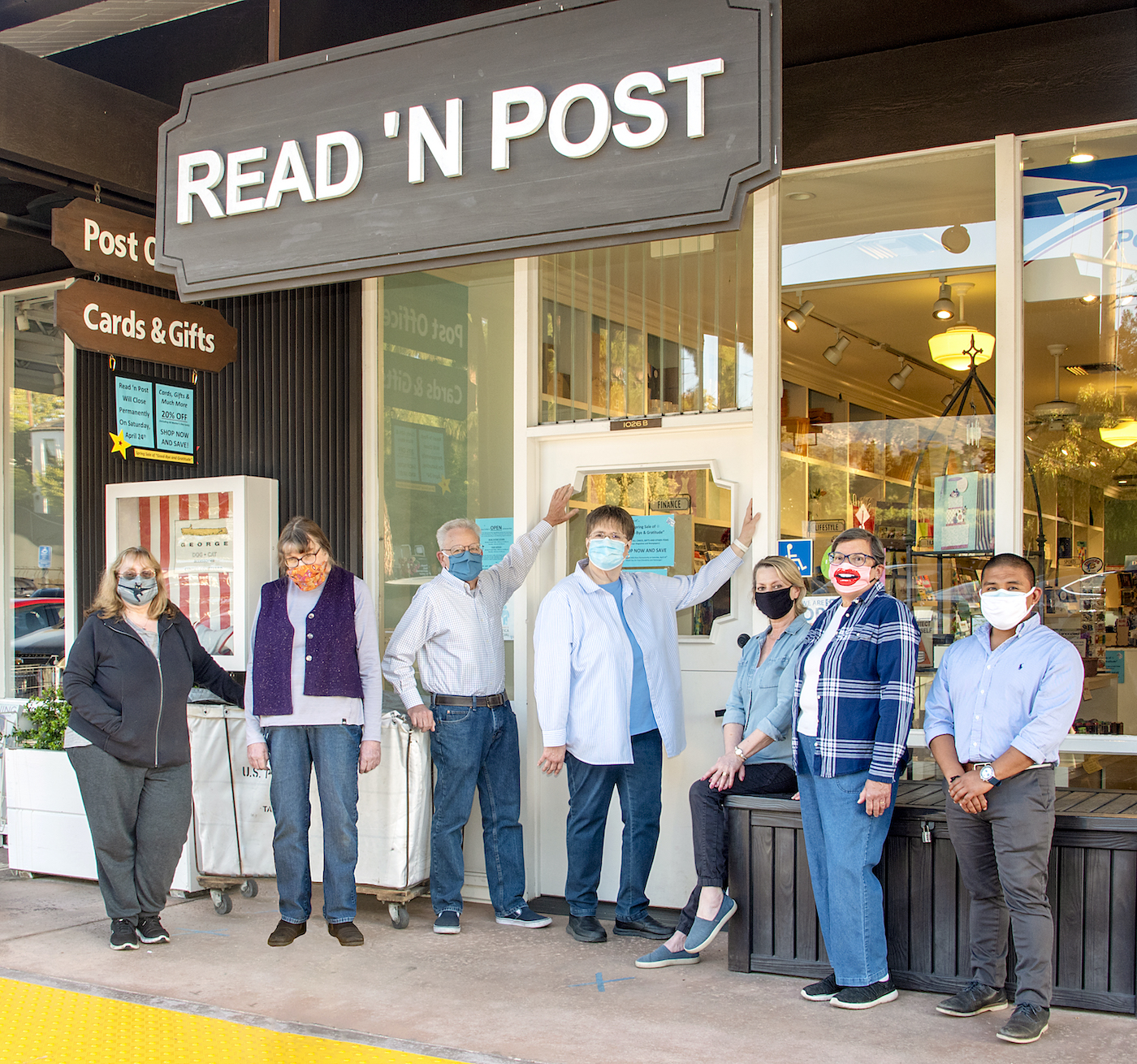 For 35 years, Read 'N Post (RnP) has been our town's local meeting spot for posting your mail and packages, finding the perfect card for any occasion, stationary supplies, and the largest ongoing racks of real glossy high-end magazines from around the world. Due to unforeseen expenses incurred from our over one-year lockdown and other disasters, principal owner-manager Jan Hendrickson and co-owner John Devereaux had to make the difficult decision to close. Their final business day is April 24 and the store is having an everything-must-go sale.
Jan has the longest history of working at the store, some 24 years to be precise, arriving in 1997 after its original store named "The Front Page" was remodeled, and reopened to be the Read 'N Post, still located next to Starbucks on Coast Village Road. As far as we were able to find out, the original owners were George and Betty Erhart; adding Kinko's founder Paul Orfalea later on, and then Robert Burns, and Kari and Andrew Martindale.
Jan bought out the partners, and took on John as part owner, moving the shop to the Montecito Country Mart in 2012. The post office was part of the original store before it was remodeled in 1997, and will carry on with the Montecito Mercantile shop that is coming into the space to serve the community.
To say our town is saddened the store and their long-time employees are leaving is an understatement. There are many COVID-safe distant hugs and long tales being told at Read 'N Post since Jan and John posted a goodbye sign on their front and back doors a week ago. And so, it is fitting and an honor to interview them to present their stories:
Jan says,"I first joined the staff at Read 'N Post after deciding to go back to school to get an additional degree. I thought that it would be the perfect school job, where I could clock in and out and leave it behind at the end of my shift. I soon found myself promoted to assistant manager, soon thereafter to manager. After a short time, I became a junior partner. I found the work pleasant, appealing, and more than just a job. Many will remember the store name as the Front Page. I remember being a customer when I was young. It was a homey store, and perhaps even a little bit dowdy. In early 1997, the store was remodeled and took on new partners and it became Read 'N Post. This is when I appeared on the scene.
"Through the years there have been many tremendous individuals who have worked at Read 'N Post. But this current team has been with the store longer than any other crew. They are loyal, dedicated, hardworking, and caring people and I am proud to be their co-worker. We are friends, but most of all we are family. We care about each other and we are saddened to be leaving. But we will keep in touch; in fact, we already have our first reunion planned for 30 days after we close the store. People have been kind and want to know what we will do. It is too soon to know, but some time off is well deserved.
"We have had many fascinating, creative, and high-powered people as customers. There have been many artists, authors, actors, comedians, musicians, producers, and neighbors who come with a story. Over the years, we have also met hundreds of little furry friends as well. Lizards, snakes, and birds have also paid us a visit. But perhaps the most unique visit was a miniature horse that came prancing into the store, with its human sidekick of course… so adorable! Robin thinks that it was a therapy horse, because it was used to being indoors and being around people. But neither one of us knows the name of owner. I don't know what year it was, but it was at the old store by Starbucks. And yes, the horse did come into the store.
"We have so enjoyed our customers. They are so much more than that to us. They are our friends and we will miss them. They brighten our days with stories, jokes, and weather reports. We have celebrated their happy moments and grieved their losses. We see the same customers come in, and then before you know it, you blink and suddenly the ones that were children are now grown and bringing in their children. And suddenly you realize just how many years have passed and all the moments we have shared together at a retail store called Read 'N Post. They have been good years!"
Robin Machado, also known privately as a Fairy Godmother, says, "I worked in the post office from 2001 until my 2017 retirement. I returned February 14, 2020, working Fridays as a store clerk. Costumes became my thing and people enjoyed them. Sometimes they would come in just to see what I was wearing. No season was ignored. It was all about the hats, wigs, and accessories. Cowboys, green faced witches, spiders, reindeer, pilgrims, and pirates. My 'Rock Chick' outfit with a big black Tina Turner-type wig and tattooed sleeves went over the wall. One customer saw me from afar and said, 'No wonder she always wears long sleeves.' Good Times! Besides our wonderful loyal customers, I will miss my Read 'N Post family. Terrific people to work for and with. Hardworking – but fun to be around. Jan is a dream boss – the type of caring person for whom you want to do your very best. She made Read 'N Post a happy place to work. I will retire again – but living in Montecito, I hope to see all my friends around."
Eva Barta, assistant manager, says, "I have worked at Read 'N Post for 13 years as assistant manager. I felt very lucky working in such a friendly environment. I enjoyed working for Jan. She is a wonderful person and great manager. I also liked decorating the store, changing it season to season, holidays to holidays. I will miss you all."
Wendy Hawksworth, Post Office Wizard! The gal who knows every way to mail any package for the best price. She shares, "I have been at Read 'N Post for 16 years working in the post office. Fondest memories: I remember funny things like customers rushing to get the latest Beanie Babies when they were just released at the original Read 'N Post next to Starbucks. Also my coworker Robin dressing up in bunny ears, reindeer antlers, and a giant Uncle Sam hat for Tax Day. These were entertaining but more important to me was having a manager/later owner of the store who said thank you to you at the end of your shift and took into account employees' lives. Jan Hendrickson has been concerned for both customers and staff during her many years with the business. Working in the post office, I have also enjoyed seeing people keep in touch with their families and friends, welcoming new babies and starting new businesses. I am glad that we stayed open during the Thomas Fire, mudslide, and pandemic because I think that post offices are 'essential' and I am glad that Read 'N Post has hosted a contract station for so many years."
Carol Finston,whoworked at the post office, says, "I have worked at Read 'N Post for four years. One of the sweetest memories I have is when a customer came in to buy stamps. While purchasing her stamps she noticed the letter advising we were closing, and she started to cry. She explained to me that she had met her husband here at the store three years ago and that they now have a six-month-old little girl. She said they had always agreed to buy their anniversary cards here to remind them where they met and how sad she was that we would not be here.
"I will definitely miss working with a great bunch of co-workers, and all the friendly customers I have come to know. I would also like to say that Jan has been awesome to work for and with. I want to thank her for hiring me and giving me the opportunity to work at Read 'N Post. I have had a lot of fun working here and I will miss everyone!"
Gerardo Marcos Ocampo, shares, "I started out working at Read 'N Post the last week of November, helping with the busy season and then I stayed on. Although I was only here for a couple of months, it was nice to see how close this community actually is. I grew up in a small town, population 10,000, and working at the Read 'N Post made it feel like I was working back home. I will miss making those connections with customers but I will always have a fond memory of the Montecito residents. Thank you for welcoming me.
"This was all abrupt, so I am not sure what exactly is next for me. I want to thank Jan and John for believing in me, a DACA individual, and for the opportunity to stay employed during these tough times. I hope to be able to use my accounting bachelor's degree more in my next opportunity."
John Devereaux requested his story be last in the line up. Speaking in his soft-spoken Tennessee accent, he says, "Twenty years ago, I was looking for a part-time job and saw an ad in the paper for work at a small post office in Montecito. It sounded like something I might enjoy. I went in for an interview with Jan Hendrickson, the manager. She proved herself to be a woman equally as wise as Chaucer. She hired me on the spot. As a boy, I remember riding the train to stay with my grandmother's sisters in the town of Cedar Hill, Tennessee. Cedar Hill had a Baptist Church, a smaller Methodist Church, and an even smaller post office, where we would walk every day to get the mail. Working at Read 'N Post brought back those small-town memories of friendly people buying stamps and mailing packages. The packages these days aren't wrapped with brown twine, but otherwise what happens at Read 'N Post is a lot like my memories of the Cedar Hill post office.
"In 2012, when Read 'N Post moved across two parking lots to its current location in the Montecito Country Mart, Jan became principal owner of the business and I bought a small part. It was perfect for me – owner of a small part of a small store and a small post office in a small town. I could close my eyes and imagine being in Cedar Hill again, but with no-lick stamps at the post office and indoor plumbing at home.
"As the faces of friendly customers at Read 'N Post have changed over the past twenty years, customer tastes have been changing too. More people are reading magazines and newspapers on computer screens, sending birthday and graduation greetings by email, and paying bills online. Read 'N Post began to have modest sales declines every year. Then came a series of more significant problems. Our magazine distributor went bankrupt and left us without new issues for several weeks. The terrible Thomas Fire in December 2017 and Montecito debris flow in 2018 combined to leave hundreds of empty homes in Montecito, homes where our friends and customers had lived. Their devastating losses were much, much worse than ours. But the financial damage to Read 'N Post's bottom line was serious. And then came COVID-19.
"When Jan – who long ago proved what a wise person she is – and I reviewed our options, closing Read 'N Post became the only feasible choice. Breaking the news to our loyal customers and to our staff has been the worst part. Eva, Wendy, Carol, Robin, Don, and Gerardo are all talented, experienced, and very dedicated employees for whom the closure of Read 'N Post is definitely not their fault. But the same qualities that have made them so appreciated by our customers will surely buoy them as they decide what to do next. As we prepare to close the store, we decided to have a 'Spring Sale of Good-Bye and Gratitude' because those words sum up the feelings we have for our staff, our customers, and our neighbors in Montecito Country Mart. We've had good years here! When Montecito Mercantile opens soon, we hope they will experience the same friendliness and warmth that has meant so much to us.
"When I think back over my years with Read 'N Post, many happy experiences come to mind. There's a no-nonsense lady who sometimes mails packages to her kinfolk in North Dakota. When I told her once that she probably has sent more mail to North Dakota than anybody else in Montecito, she immediately said: 'It's a heck of a lot better to mail things to North Dakota than to live there!" Except I don't think she said "heck."
"The phrase 'All good things must come to an end,' is attributed to 14th century English poet Geoffrey Chaucer. Chaucer was right, but his emphasis was wrong. Read 'N Post is coming to an end. Read 'N Post has been a very good thing."
You might also be interested in...