Pack 'em and Stack 'em Housing in Montecito? Act Now Before It's Too Late!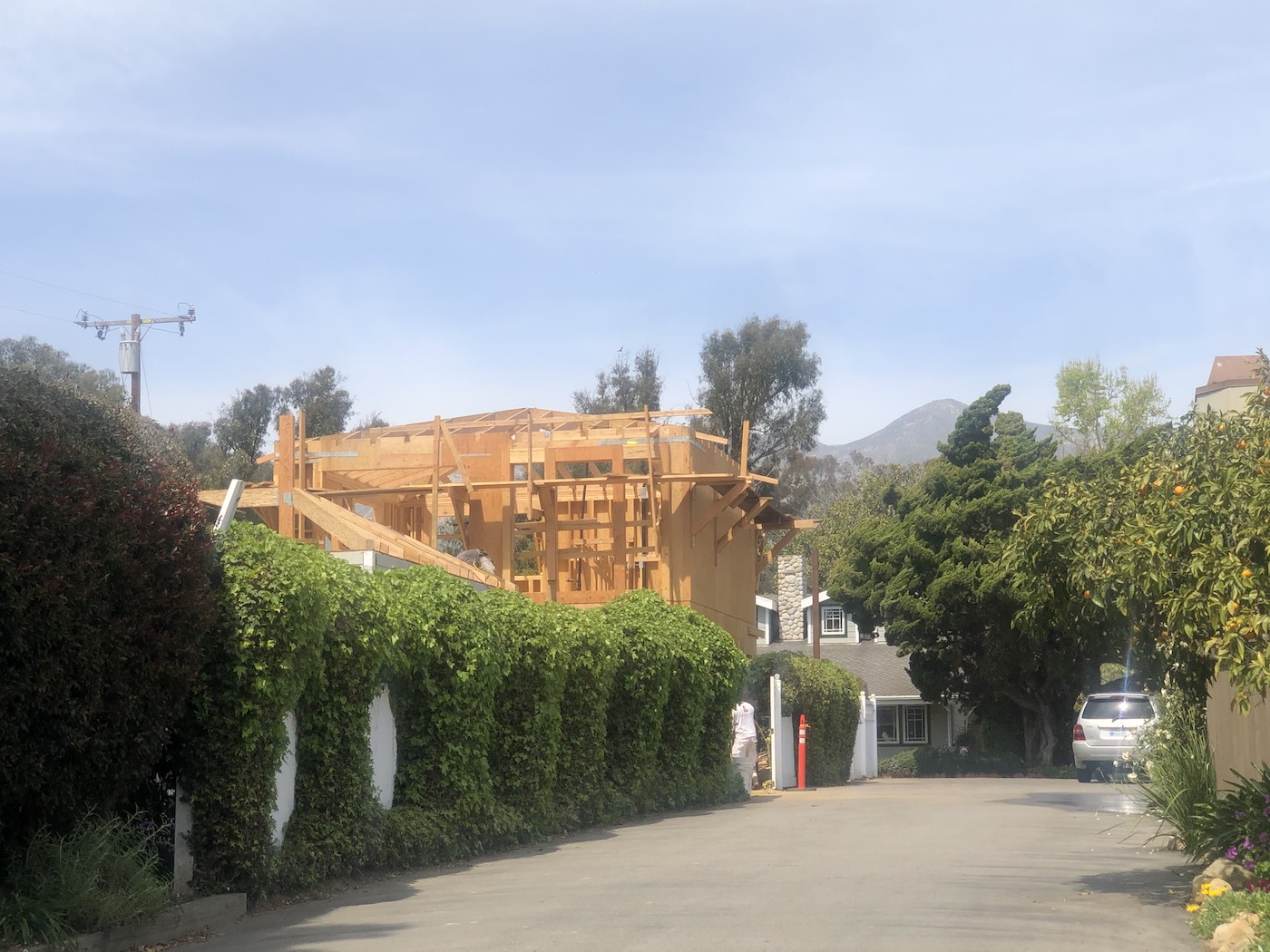 I visited a project on Hill Road this week after receiving complaints from neighbors. As soon as I saw it, my heart sank. This is a second story ADU (accessory dwelling unit) that will decimate views and is built right to the edge of the driveway easement. Neighbors report it was piecemealed in permitting, so neither the neighbors nor MBAR (Montecito Board of Architectural Review) got a full sense of what it was going to be… until construction started.
A state law passed two years ago allows ADUs like this to be built with no hearings. I feel very badly for these lovely neighbors, but there's no recourse via county planning. The state ADU law supersedes local controls, by design.
In March, I asked the Montecito Planning Commission for the ADU tally for Montecito. Can we count ADUs in the state-mandated Regional Housing Needs Allocation (RHNA)?
The answer from the County, relayed via our terrific MFPD Chief Kevin Taylor, who's monitoring from the public safety perspective:
• 162 ADU applications
•47 in Montecito, more than 25% of all ADU applications
•We have 0.02% of the county's population
We're certainly doing our part in Montecito on ADUs, but these can have consequences for our community, as our Hill Road neighbors sadly discovered.
And it's about to get a lot worse. Someone could divide their lot in two, and construct two units of housing per lot per Senate Bill 9, proposed by Senator Toni Atkins of San Diego. That's in addition to an ADU and Junior ADU already allowed per property. If you live near a "jobs-rich" area, such as Santa Barbara, 10-unit buildings would be allowed, thanks to Senate Bill 10 from Senator Scott Wiener of San Francisco.
You read that right: no hearings, no CEQA (California Environmental Quality Act), approvals just like ADUs. Just take out a building permit. Montecito is a target for 10-unit buildings on lots like the above because people commute through it to "jobs-rich" areas like Santa Barbara, Goleta, and Ventura.
Who would build a 10-unit building on your street? We're in a real estate boom. If an investor could acquire a $5 million Montecito property, divide it under SB9, throw up 10 units next door under SB10, and flip the original house (now on a smaller lot), why wouldn't they do that? The profit picture is quite compelling.
These bills rely on trickle-down economics in the hopes that a massive building boom will magically lead to affordability for someone, somewhere. They're likely to create a housing building boom that's speculative-investment-driven instead.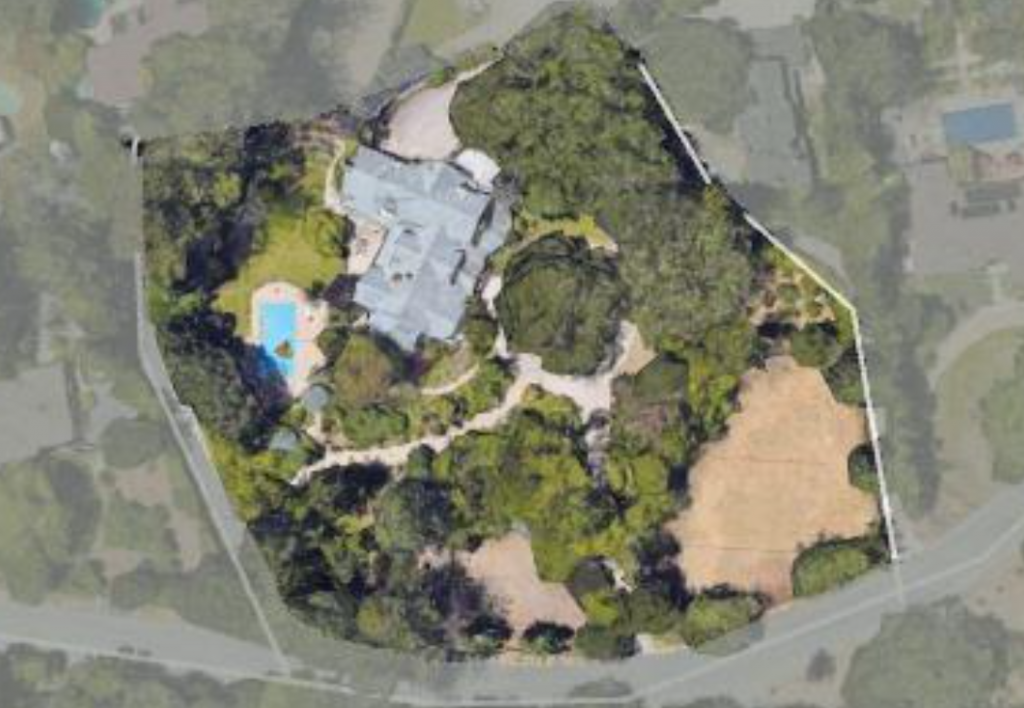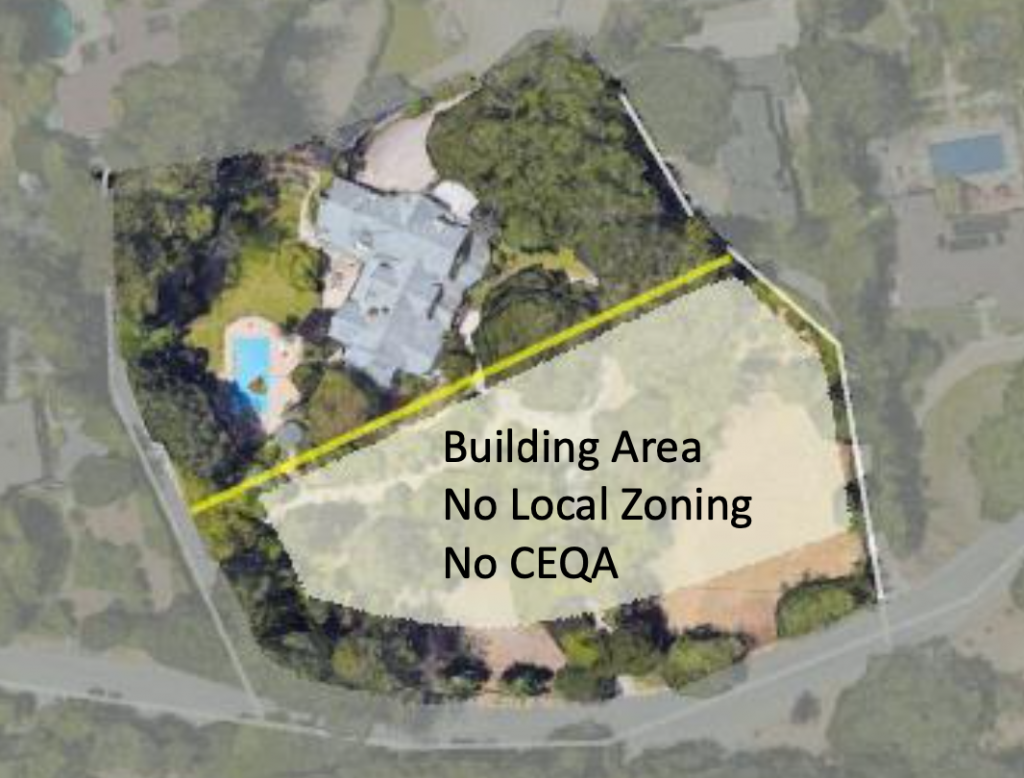 We hosted a Zoom Town Hall forum on this last week. Jeff and Maria Kalban of Thousand Oaks Neighborhood Association and United Neighbors presented. Jeff is a skilled architect, succinctly illustrating what your single-family residential street will look like after these bills pass. There's a cautionary tale from Long Beach. In the 1990s, they thought allowing apartment block buildings to be built on single-family residential streets would help their housing issue. Here's how that turned out:
United Neighbors is a statewide coalition that educates communities to get to their legislators. You can watch their presentation at our website. Montecito and Mesa neighbors attended, after reading our article in the Montecito Journal. This is the biggest land use fight to ever hit Montecito and thousands of communities at once. Senate leaders are determined to roll over NIMBY objections to more housing by removing local controls altogether.
We hired our former state senator, Hannah-Beth Jackson, to help Montecito. Here's why:
We opposed Senate Bill 10 in the Senate Housing Committee two weeks ago – 45 communities and every trade union spoke against it. This had zero effect. The committee voted to send it on.
Hannah-Beth explained it: trade unions opposed it because they don't have Project Labor Agreements yet, where all development contracts are required to hire members of their organizations. Sen. Wiener will fix that. Communities have no influence at the legislature. Unions, the Chamber, the California Realtors, California Public Safety orgs, and developers have influence, so you have to get to the powerful people at the State and make alliances with other legislators. Grassroots community-organizing, even across the state, won't get it done.
Is the housing problem of the pre-pandemic era still the problem? Through 2019, companies were moving out of state and not opening offices here because of housing issues. Then the pandemic hit, and a huge migration ensued, some out of state, 80% within the state. We don't know if that pattern is here to stay, or if it's even finished sorting itself out yet. Fresno now has the highest rent problem in California, not San Francisco. It's cheaper to rent an apartment in San Francisco than in Oakland as the tech companies allowed remote work in the pandemic – from anywhere. Condos are now downright affordable in San Francisco, though they're not here. Sen. Wiener clearly doesn't have the housing problem he did pre-pandemic. Which begs the question – should we pause, and look at these pandemic-induced shifts, before ramming this legislation through?
The real estate market is especially hot in Montecito. We get calls from people in Toronto, San Jose, and New York who no longer need to live near their job.
So, when you add in pandemic migration patterns and speculative investors, these bills will only drive land and housing prices higher in the short-term, destroy single-family neighborhoods as we know them, and plunk high-density next door to you. However, they won't provide for the real need, by those experiencing homelessness in particular: affordable housing. If you doubt that there's a major homelessness crisis going on, attend the next Hands Across Montecito meeting and take a drive along 101 to Goleta, and look at the exit ramps and railroad tracks. There are good solutions proposed by the legislature that we firmly support that address this need.
Get involved, before it's too late. We are learning just now how bad the ADU law can be when one is built next door, a painful lesson two years after the bill passed. The time to alter disastrous laws is before they pass, which is right now.
Join us at montecitoassociation.org/advocacy, and let's fight this together!
You might also be interested in...