Poof! The Magic Castle Cabaret is Gone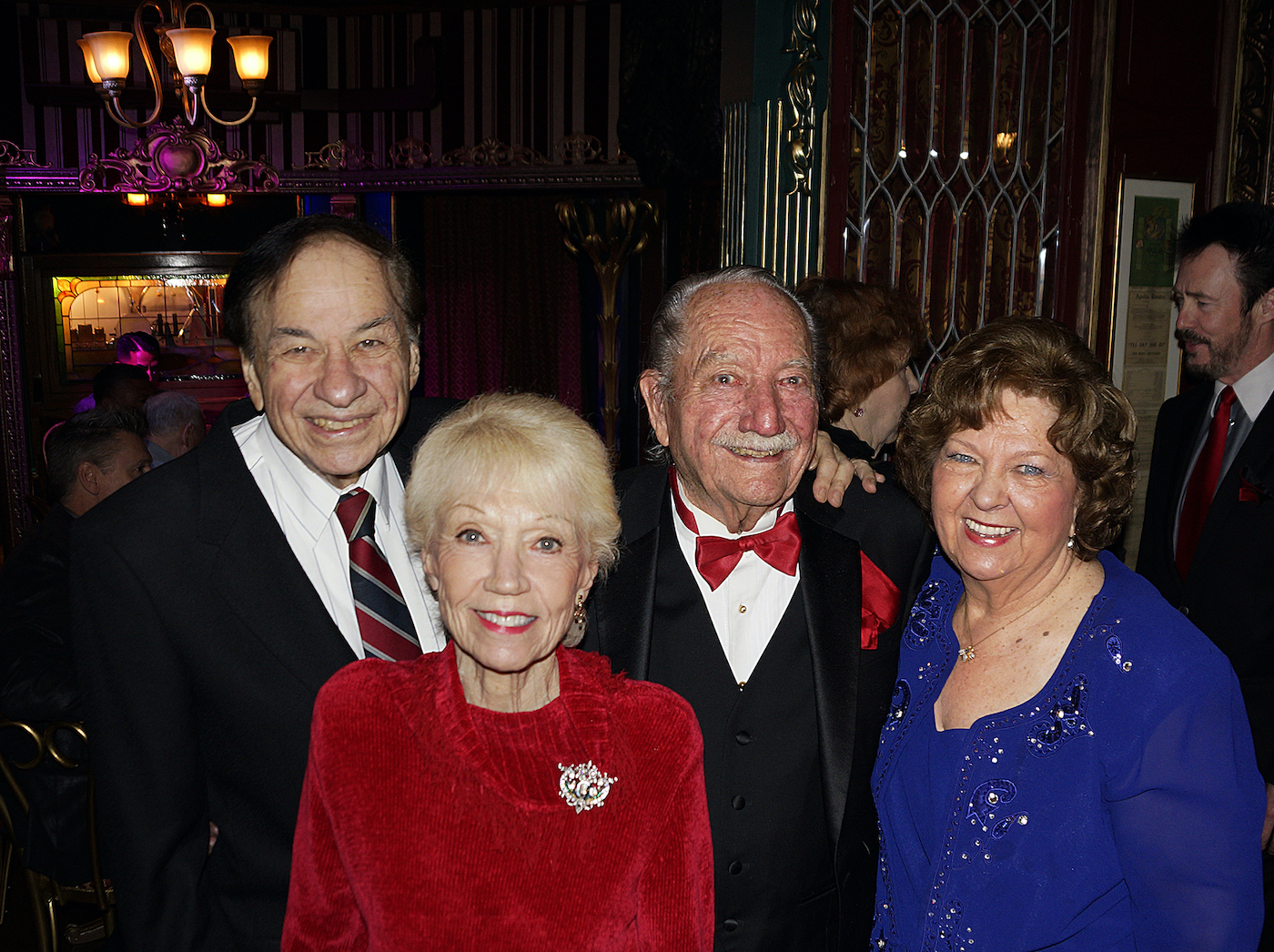 Two years after it opened, the owners of Montecito's Magic Castle Cabaret Milt and Arlene Larsen are moving on, I can exclusively reveal.
"The Cabaret has been closed for a long year and we are not getting any younger," laments Arlene. "When we started, we seemed a lot younger.
"After talking it over for many weeks we have come to the conclusion that we just don't have the energy to train a new crew, work all day and party all night like we did just a year ago. We have decided that we would look for someone younger that might wish to purchase the place and pick up where we have left off. After all, the Cabaret looks great and has proven to be a great place to entertain."
The dynamic duo also owns the legendary Magic Castle in Hollywood, founded in 1963, which has 5,000 members, half of them magicians, which I used to visit on occasion when I was a commentator of the KTLA-TV morning show and lived nearby in Hancock Park.
Members of the Montecito branch, which sits a tiara's toss from the Andree Clark Bird Refuge in the restaurant location formerly known as Cafe del Sol, include Steve Martin, Jeff Bridges, and Alan Parsons, with initiation fees and annual membership costing $1,500.
"Even with the arduous process of complying with all the rules and permits, we have had a fantastic time putting the cabaret and club together and, best of all, enjoying all the wonderful evenings with fantastic friends," adds Arlene. "What we did not anticipate was fires, floods, mudslides, and the current pandemic.
"In April, Milt will be celebrating his 90th birthday and I'm no longer a teenager, so it's time for the two of us to relax and smell the roses."
The 4,000-square-foot property is being marketed by realtor Joe Parker of Berkshire Hathaway in Montecito for around $4,250,000.
I wish Milt and Arlene, longtime friends, all the best in their well-deserved retirement.
Special Delivery
Meghan Markle's father, Thomas Markle, hand delivered a letter to Oprah Winfrey's Montecito estate asking her to interview him about his relationship with his estranged former actress daughter.
The former lighting designer, 76, traveled from his home in Mexico to the former TV talk show host's East Valley Road home and handed the letter to a masked security guard, according to a friend, James Beal, Los Angeles correspondent for Rupert Murdoch's London Sun.
"Thomas watched the interview and feels he deserves a chance to have his say," says a friend.
Whether Thomas, ex-husband of Doria Ragland, tried to also make contact with Meghan, 39, at her Riven Rock estate with Prince Harry just a five-minute drive from Oprah's sprawling property, is unknown.
Stay tuned…
The Road Frequently Followed
Montecito author Robert Eringer has just completed his latest novel, Book Drive, taking his readers on yet another road trip.
Robert, a former colleague when I was a columnist at the Santa Barbara News-Press, follows up on his other road books, Motional Blur in 2016 and Last Flight Out two years ago, using the device of a journey to tell a riveting tale about believable and appealing characters whose travails illustrate some larger truths concerning the human condition.
The trip in question is taken by an elderly once-famous writer as a promotional tour for his first novel in three decades. Using a scenic coastal route from the Big Orange to Seattle, a series of misfortunes overtake the writer providing insights into a dysfunctional legal system, a declining publishing industry, and the inanity of political correctness.
Robert has gone on myriad literary pilgrimages in his career, including a homage to Ernest Hemingway in Key West, Florida, and Sun Valley, Idaho, as well as Edgar Allan Poe in Baltimore and Boston. He says about his latest work: "It's a road novel. An author is being driven on a book tour. Along the way they encounter a real book drive."
He will be launching the tome with a bustling bash at Tecolote in the Upper Village in due course.
Olé, olé, olé! Gaucho Comes Home
Zappos shoe tycoon Nick Swinmurn is our latest billionaire resident.
The English-born American entrepreneur left the company in 2006 to look for fresh startup challenges. The company was sold to Amazon for $1.2 billion.
Since then, Swinmurn, 48, has founded or co-founded a whole host of companies with varying degrees of successes.
He studied film at UCSB and started Zappos in 1999.
Swinmurn paid $8.6 million for his 5,133-square-footer with five bedrooms, five and half bathrooms, on 1.82 acres in Montecito.
He also has a sumptuous estate in the prestigious Silicon Valley enclave of Hillsborough acquired in 2017 for $6.8 million.
A Battle Royale
As if her two-hour interview with Prince Harry and Meghan Markle wasn't incendiary enough, previously unseen footage taped by Oprah Winfrey may soon be shown in the U.K.
The interview with the Montecito couple, which got boffo ratings around the world, was initially three hours and 20 minutes trimmed down to 85 minutes when it was finally broadcast in 68 countries.
While a handful of extra clips were revealed on CBS This Morning, co-hosted by Oprah's good friend Gayle King, it still leaves 90 minutes of the interview not seen or heard, which is reportedly alarming Buckingham Palace.
Now ITV, which paid $1.5 million for the U.K. broadcast rights, is keen to air the rest of the footage after more than 12 million watched the initial TV special.
ITV is reportedly hoping to make a deal with Oprah's Harpo Productions, which supposedly earned between $7 and $9 million from CBS for the initial rights, for the unseen footage.
"Showing more of it will be a guaranteed ratings winner," says one source.
Buckingham Palace is undoubtedly battening down the hatches.
Stay tuned…
A Scare for Portia
My thoughts are with Portia de Rossi, wife of Montecito TV talk show host Ellen DeGeneres, who is recovering from emergency surgery for appendicitis.
The 48-year-old actress is "doing well" after being rushed to hospital by Ellen, 63, herself after complaining about being in a lot of pain."
"It was a scare at first, but all good now," a friend of the dynamic duo told People.
Simply Dreamy
Language of Dreams, a short documentary about Santa Barbara's Dream Foundation by award-winning director Peter Sasowsky, makes its world premiere at the Santa Barbara International Film Festival.
The film captures the spirit of humanity that is uniquely present as those who have end-of-life dreams and those who seek to fulfill them come together, says Kisa Heyer, the foundation's CEO, who was also a producer on the film.
"I hope to shed light on what these moments can offer," says Sasowsky. "Such moments aren't about death. Rather, they are about an appreciation for life from a perspective that eschews sympathy in favor of understanding."
The documentary features many voices, including those of Dream Foundation ambassador Rob Lowe and Broadway star Teal Wicks, along with heartfelt personal accounts from families of dream recipients and people who help make the dreams come true.
Since its founding in 1994 the organization has fulfilled more than 32,000 dreams across the nation.
Trip Down Memory Lane
My item last week on the proposed documentary on the scandal-ridden royal family of Monaco, the Grimaldis, brought back memories galore for Santa Barbara producer Rod Lathim, who received a Princess Grace Foundation award grant during a celebrity-filled Beverly Hills bash in 1985 celebrating its U.S. launch.
"It was a life- and career-changing experience for me with coverage of the multiple days of events from the fashion show with Pierre Cardin at the Beverly Hills Hotel, a rooftop concert with Liza Minnelli and Dudley Moore, culminating with the award ceremony at the Beverly Wilshire Hotel," says Rod, a leading supporter of the Marjorie Luke Theatre.
"I was given my award in front of just about everyone in the industry that loved and worked with Grace Kelly. Prince Albert, Princess Stephanie, and Frank Sinatra presented my award. I explained my work with Access Theatre in Santa Barbara. I had the great honor of meeting Lucille Ball, Gregory Peck, Johnny Carson, Cary Grant, Jimmy Stewart, and a host of others. As an award recipient I had VIP access to all events."
Rod says he stayed in touch with the foundation and Frank and Barbara Sinatra for years and visited the Princess Grace Foundation USA offices in Manhattan where he was delighted to see a large print of a photograph of him with the Sinatras and the late Prince Rainier in the lobby.
"The recognition definitely helped propel and legitimize the work of Access Theatre, which four years later created and produced the critically acclaimed STORM READING which was just launched earlier this month as part of the Luke Theatre Virtual Series," adds Rod. "In the first four days of its launch we have had over 20,000 views of the work."
The Future is Here
It's not so much back to the future for actor Michael J. Fox, but back to the past after becoming our rarefied enclave's latest celebrity resident with his actress wife, Tracy Pollan.
The tony twosome sold their 72-acre estate in the charming community of Sharon, Connecticut, where I used to weekend years back, for $4.25 million, as well as their six-bedroom Hampton's hideaway for $6.3 million in Quogue, to move to the Left Coast last fall.
Five-time Emmy winner Michael, 59, and Tracy, 60, who he married in 1988, have four children, Sam, 31, twins Schuyler and Aquinnah, 25, and Esme, 18, join his former Back to the Future co-star Christopher Lloyd in living in our Eden by the Beach, as well as Oscar winner Robert Zemeckis, 68, who directed all three films in the trilogy between 1985 and 1990.
Michael, a Canadian, retired from his successful acting career last year because of deteriorating health after being diagnosed with Parkinson's disease in 1991 at the age of 29. In 2000, he founded the Michael J. Fox Foundation and has advocated for research and finding a cure.
By coincidence I used to work with Tracy's mother, Corky Pollan, when she edited the Best Bets column on New York Magazine, while I toiled as an editor of the weekly's Intelligencer column in the '80s.
A small world…
A Shocking Turn
Santa Barbara warbler Katy Perry got the shock of her life when judging the latest episode of ABC's American Idol.
One of the talented hopefuls being judged by Katy, Lionel Richie, and Luke Bryan, Funke Lagoke, who was teamed up with Ronda Felton singing "Tell Him" by Celine Dion and Barbra Streisand, collapsed, landing face down on the stage with a sickening thud.
Katy gasped and clutched her face as TV crew members rushed to Lagoke's aid.
Medics took her away by stretcher and she was treated for dehydration, given stitches and released. She is scheduled to return for this week's Showstopper round, but it will be difficult to eclipse her real showstopper from last week.
Poetic Perspective
Pulitzer Prize-winning poet and former two-term U.S. Poet Laureate Tracy K. Smith has been appointed to the Music Academy of the West's national advisory council.
She joins current advisors Marcy Carsey, Jeremy Geffen, Gregg Gleasner, Ara Guzelimian, Mark Newbanks, and Chad Smith.
"Tracy's perspective as a writer and educator who collaborates with musicians will ignite creative thinking," says Scott Reed, president and CEO. "She will inspire and challenge our community to connect in meaningful ways, as well as to reach new heights in cross-disciplinary arts."
Her association with the Miraflores campus dates back to 2015 when MAW joined forces with the Town Hall Seattle to commission composer, cellist, and alumnus Joshua Roman to set poems from Tracy's Life on Mars in a song cycle for vocalist and chamber ensemble.
She is also chair of the Lewis Center for the Arts at Princeton University.
What's in the Box?
An extremely large cardboard package arrived at Maison Mineards Montecito bearing the coats of arms of both Queen Elizabeth and the Prince of Wales.
It contained a capacious wicker picnic basket full of goodies, including champagne truffles, fruit cake, Queen Anne tea, and clotted cream biscuits, from the royal grocers, Fortnum & Mason in London, founded in 1707, and based on Piccadilly, a tiara's toss from the esteemed Royal Academy, where I used to attend the annual summer ball, one of the highlights of the English social season.
A beautifully engraved card revealed the sender as Barbara McMahon, the Los Angeles correspondent of the London Daily Mail, where I used to work in the '70s on Nigel Dempster's Diary and covering the Royal Family, particularly in the Silver Jubilee year in 1977, for my help on stories on Prince Harry and Meghan Markle.
It's nice to be appreciated…
Rest in Peace, Emilie
On a personal note, I mark the passing of Emilie Sears, wife of Cafe del Sol owner, Jack Sears, who died in San Diego at 88.
Bubbly Emilie had a colorful eclectic career in retail fashion and management before morphing successfully into real estate in Santa Barbara and Montecito.
She married Jack, who left us in January 2019, in 1998. The couple sold their popular eatery next to the Andree Clark Bird Refuge in 2013.
A charming lady who always reminded me her first name was spelt with an "ie" rather than a "y."
How could I forget?
Sightings will return in due course now that Governor Gavin Newsom has lifted the total lockdown.
Pip! Pip! Be safe, wear a mask, and get vaccinated.
You might also be interested in...