Montecito Has Been Discovered
Something tells me that times they are a-changing in Montecito… Whether it's the 50-plus cars I saw at both the Hot Springs and San Ysidro Trailheads on the same day recently, or that I could not find a parking spot at sunset near Butterfly Beach on a weekday in March, or the fact that booking a reservation at local restaurants for a late breakfast is now a requirement not just an example of efficient planning, these are all signs telling me the one thing I have not accepted during the past year: Our little town of Montecito has indeed been discovered. 
Sure, she has had some big moments: Oprah moving here, then Ellen, the new Rosewood Miramar, and the reopening of the San Ysidro Ranch. But it seems to have taken a pandemic and a Royal family to ultimately highlight to those who weren't already here, what we have known all along: This is a very special place. And for those who can afford to move and work here now, why go anywhere else?
While Santa Barbara in general has been known as a city that conjures images of romantic beach vacations and visions of Spanish style streets and shopping, along with an Earth Day vibe, it is Montecito who finds herself the focus of attention these days.
People ask: Why is everyone with a household name, a tech company, or a hedge fund buying a home in Montecito? I know it's pretty, they say, but why did Harry and Meghan move there? Is it all Oprah? Or Ellen? The Rosewood Miramar? The hiking? Being close to Los Angeles? Or could it be the cultural aspects of a well-heeled and highly educated population with a commitment to the arts, both in Montecito and the larger population of Santa Barbara and the benefits of having a top university? Or is it just simply being near the coast in one of the most livable climates in the country?
Yup, it's all that, and more.
A special "hat tip" to our local resident community leaders and to our restaurants and services in the upper and lower villages and their amazing employees for making life here so special and making it easy to navigate our day-to-day needs as well.
If you have not already secured a piece of paradise, or if you live here and are thinking of selling your home, I can tell you that to date, the market is still quite hot and each week we see well beyond the average number of home sales for any given week compared to previous years. Additionally, more homes are selling over $5,000,000 these days than ever before, and the inventory below $3,000,000 allows only a couple of options at this point for Buyers.
If you want to find a home in Montecito right now, in nearly any price range, you will need all your support systems ready to go when the home you want becomes available. This list includes an agent who knows the market as well as the agents representing the very few listings you might be offering on. Your financing should be in place, your inspection strategy and timeframes should be thought through and your ability to close escrow in a matter of weeks not months in some cases should be considered as well.
Below are four properties worth considering, all in that prime Montecito range of $5 million to $8 million, all offering at least four bedrooms and a variety of other amenities and features and all newer to market.
789 Park Lane – $5,250,000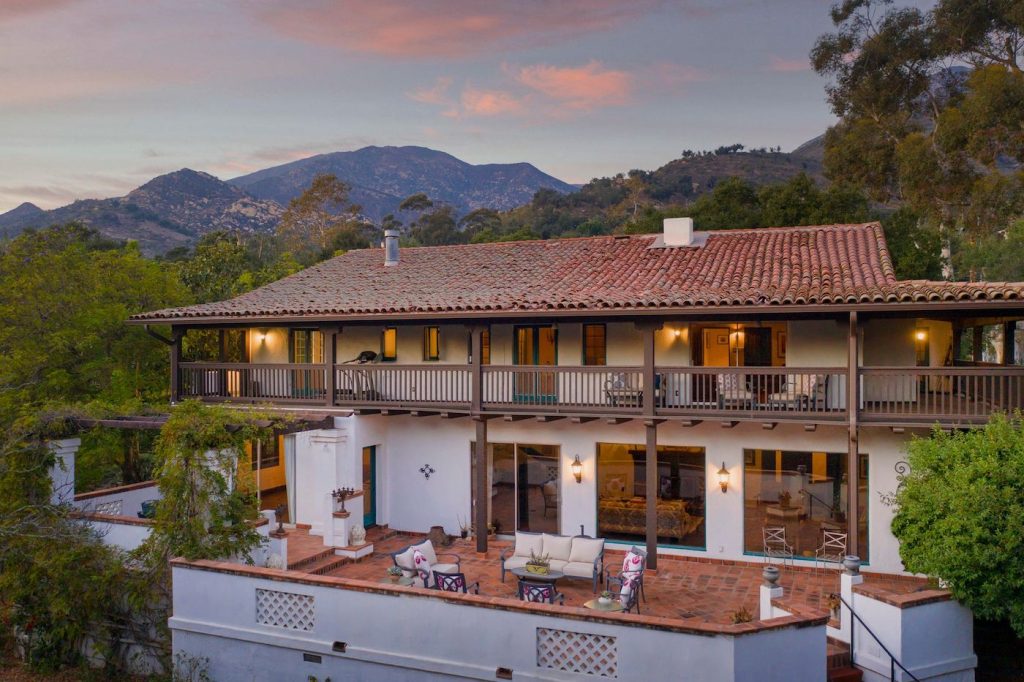 This is a great opportunity to own a property on a larger, 1.65-acre lot, near the intersection of prestigious Park Lane and East Mountain Drive, just a few short blocks from the San Ysidro Ranch and located within the Montecito Union School District. Sprawl out in the 7,000+/- square foot, two-story, 1937 Monterey Colonial style home that includes eight bedrooms and six and a half bathrooms. There is also a two-bedroom guest house, mature landscaping, oak and olive groves, and off-street parking with upside potential throughout. 
Move in as is, or take advantage of the perfect palette to create a spectacular estate property. Surrounded by many more expensive recent sales, this property offers generously proportioned living areas with an impressive great room, grand dining room, primary suite with his and hers baths, and a sitting area opening to a wraparound veranda. An entertainment terrace is located just off the great room and dining room, providing classic California style indoor/outdoor living.
920 Camino Viejo Road – $6,250,000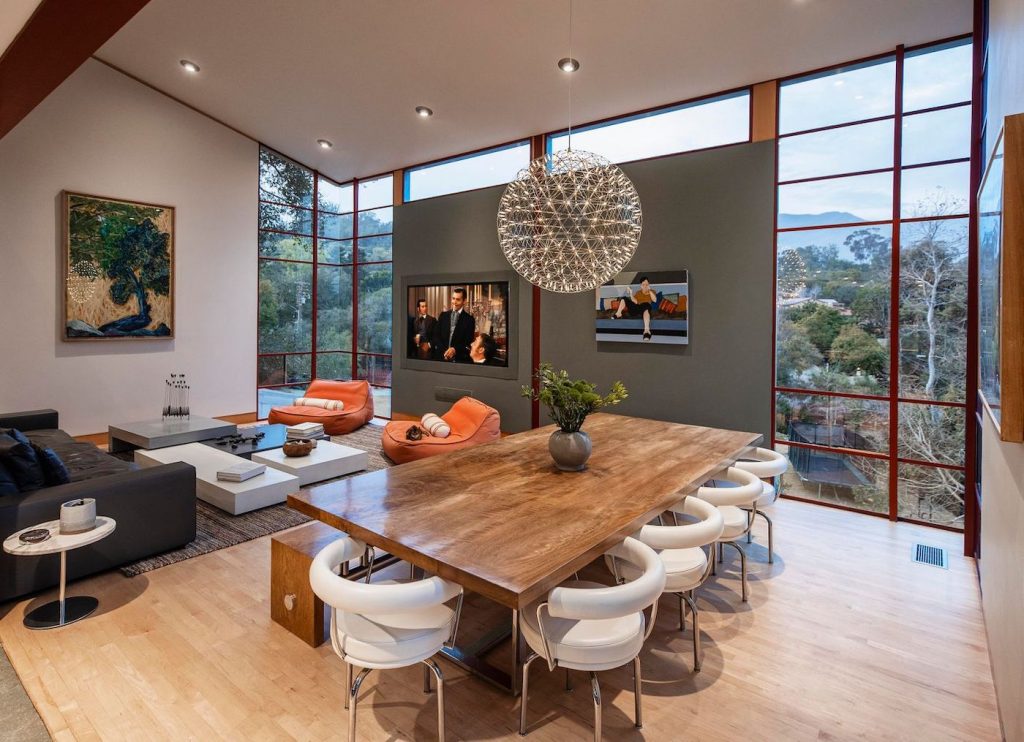 This AIA award-winning modernist house was designed by renowned Architect Rex Lotery for his personal residence in 1996. Design, functionality, architecture, and art all come together in this luxurious Montecito estate. This stunning four-bedroom, four-and-a-half-bathroom sculptural home boasts dreamy mountain views, soaring ceilings, and a stylish outdoor entertaining space. 
Natural light pours in through floor-to-ceiling windows, highlighting the quality finishes throughout, featuring top of the line stainless appliances, dual Viking ovens and warmer, a Wolf range, a Subzero fridge, slate flooring, a walk-in pantry, and a generous chef's island in the luxe kitchen. These amenities open to the dining and living room area, designed to cater to intimate gatherings or large house parties. All four bedrooms feature en-suite bathrooms, with the primary bedroom offering an office, fireplace, and vaulted ceilings. The house also features another office with fireplace, a glass-walled artist's studio, a 5,000-bottle wine cellar, and an impressive glass-roofed library.
Entertain against the majestic backdrop of the Santa Ynez Mountains in the outdoor living space that includes a pool, spa, fireplace, and ample seating, including radiant-heated concrete couches. Convenient to the shopping and dining of Montecito's Upper and Lower Villages in a great location and just over the hill into West Montecito and Santa Barbara.
1327 Green Meadow Road – $6,495,000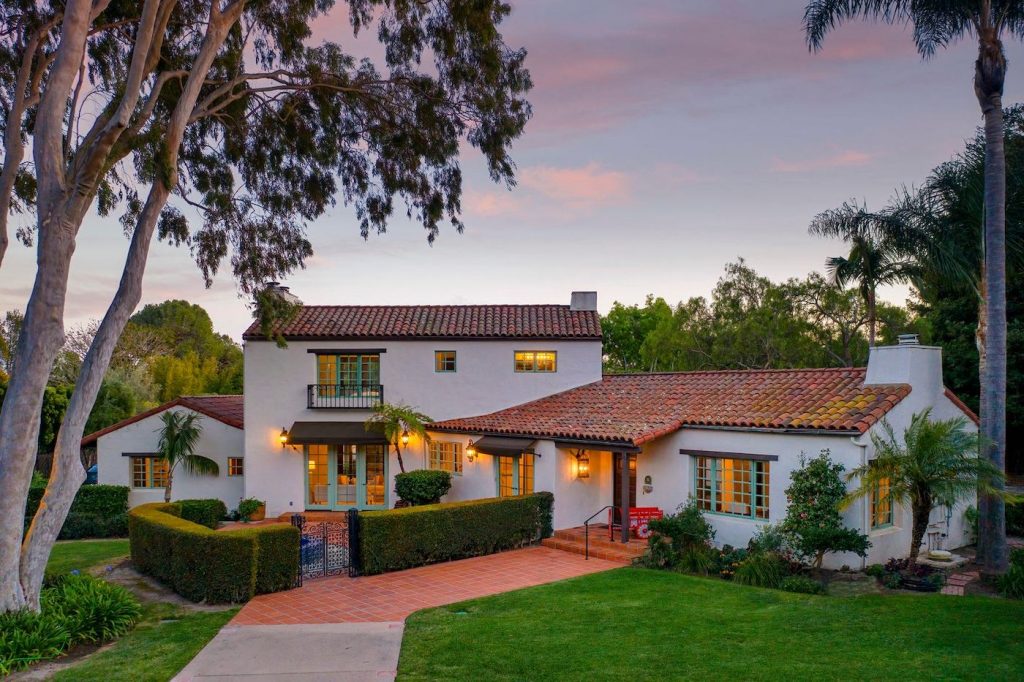 Resting on a quiet street off coveted Picacho Lane in the heart of Montecito and up the olive tree-lined driveway with gated entry is this unique, Spanish Colonial Revival Style estate. The home is framed by unobstructed mountain views and rests on 1.54 magical and very private acres within the Montecito Union School District, just a few blocks from school.
Architecture from the 1920s was the inspiration behind Andy Neumann and Scott Rowland's vision when designing this four-bedroom, three-and-a-half-bathroom home, that also includes a one-bedroom, one-bathroom attached casita. The golden light that bathes the home invites you to live with an indoor-outdoor flow.
Every design in this home has been meticulously thought out to capture the beauty of its glorious Sydney Baumgartner gardens, with a redwood forest, gorgeous oaks, mature fruit trees, and meandering paths, all built around the focal point, an interior courtyard with a lovely outdoor fireplace to enjoy starlit evenings.
210 Butterfly Lane – $7,500,000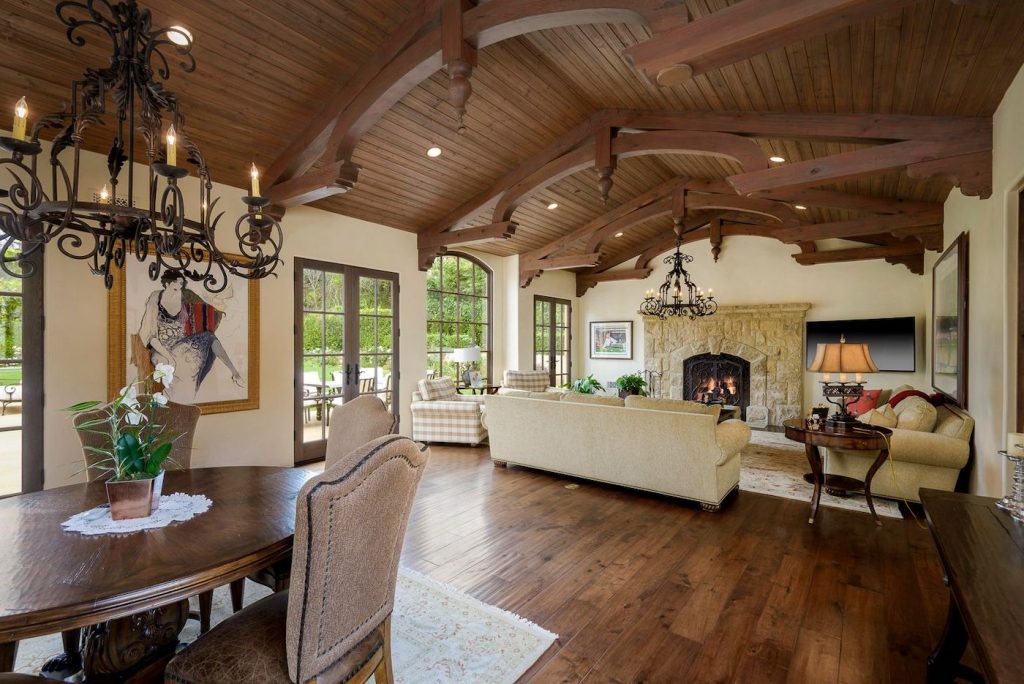 This is a perfect example of what many buyers are looking for these days, a home on a private lot with good parking, open grounds, lots of sunlight, a pool, guest/pool house, and many areas to enjoy living and working from home. The single-level Mediterranean home offers a floor plan that includes a state-of-the-art movie theater, five fireplaces, chef's kitchen, and pool cabana. 
The home is located within Montecito's coveted Lower Village, up a private drive leading to your sprawling home and grounds. Upon entering the elaborate wrought-iron front doors, the living room welcomes you with a large stone fireplace and French doors leading to the beautiful garden. A great home for entertaining, whether it's a summer party by the pool or a movie night in your private theater, this home's amenities do not disappoint.
Each of the five spacious bedrooms is en-suite. The primary bedroom, with dual luxurious baths, walk-in closets and a sitting area with fireplace, is an idyllic place to start and end each day. This home is convenient to shopping and dining on Coast Village Road, as well as world-class Butterfly Beach and the Montecito Club, and is within the Montecito Union School District.
You might also be interested in...