Montecito Heat
The Montecito Heat Index measures demand for Montecito single-family homes in five price sectors. By identifying demand, (contracts to purchase), rather than sales, (closed escrows) we create a forward-looking indicator of market strength. And since real estate activity fluctuates seasonally, today's Heat score is compared to this date last year. All data are from the Santa Barbara MLS and are uniformly deemed reliable.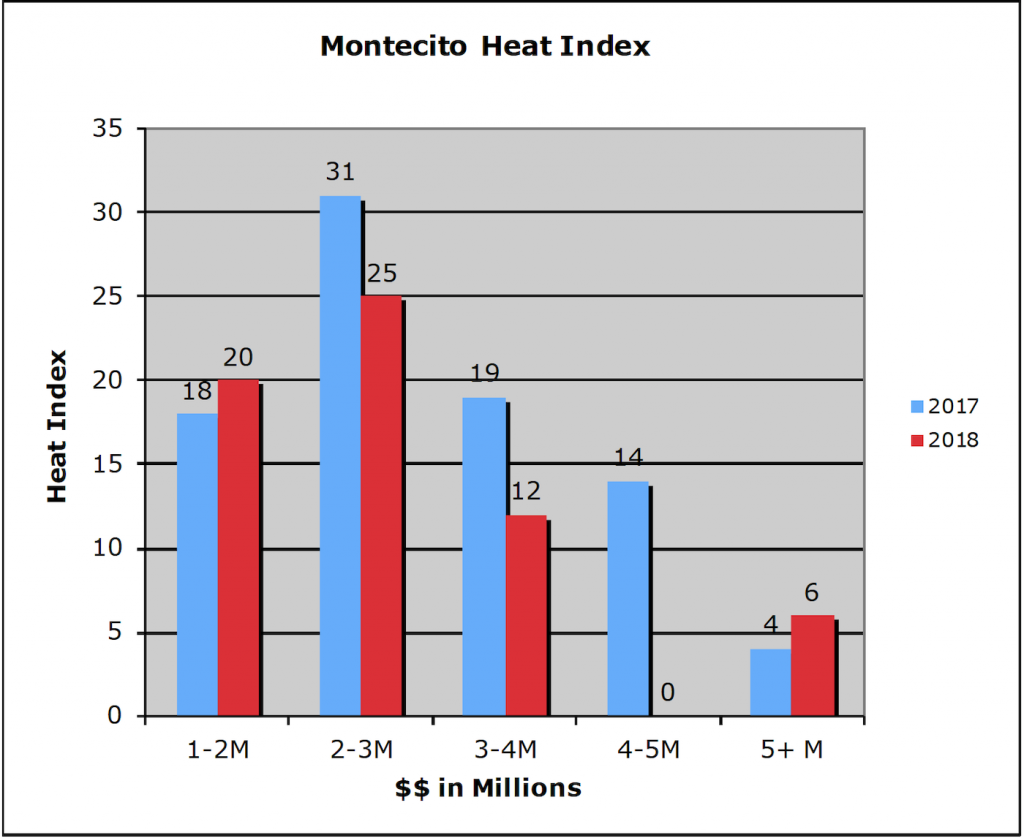 How "hot" is our market today? The total Heat score is 63, a decrease of 26.7% from last year; last month's score was 53. Looking at the adjacent chart of individual price sectors, the $1-2M and $5M-and-up groups outperformed last year while all the sectors in between underperformed. The $4-5M sector, which had been showing strong demand, saw a reduction of inventory of 63.6%, and yet found no buyers.
Overall, we are seeing the effect of the chaos the Thomas Fire and resulting mud/debris flow has brought. The data are telling. In addition to the number of homes under contract (pending) down by almost 37%, new listings are down 40%, sold properties are down 28%, and the median sale price is about the same as last year.
Compare the median sale price for Hope Ranch, up 25%, and east of State Street, up 12%, to our median price and Carpinteria's, also impacted by fire and mud, both down the same amount at 9%. Also striking is the recent drop in inventory. Last year, there were for this date 166 active listings; today we have 104. Most notable is the high-end. In addition to the $4-5M group down almost 64%, the $5M-and-up group typically includes 75 or so homes for sale; today it is 48.
Disasters such as we have experienced have an impact. This is always the case. And we can measure the effect of fire on other markets. Here we have had the largest fire in memory and something very different – mud, boulder, and debris flow. For where a fire will not repeat for many years for lack of fuel, mudflows, as we all know too well, are rain-driven. When we take a closer look at homes that were listed and have come off market in the last month, the picture becomes quite clear: those in or near impacted areas were more likely to withdraw awaiting recovery and normalization.
Those not immediately affected did not withdraw and are selling often at pre-event or greater prices – which is a majority of Montecito. Going forward, given the current scarcity of choices available, buyers will most likely not be seeing any great bargains for those homes that remain on the market. The best markets adjust and normalize. We are doing that.
You might also be interested in...