Bon Voyage: The Travel Comeback with AmaWaterways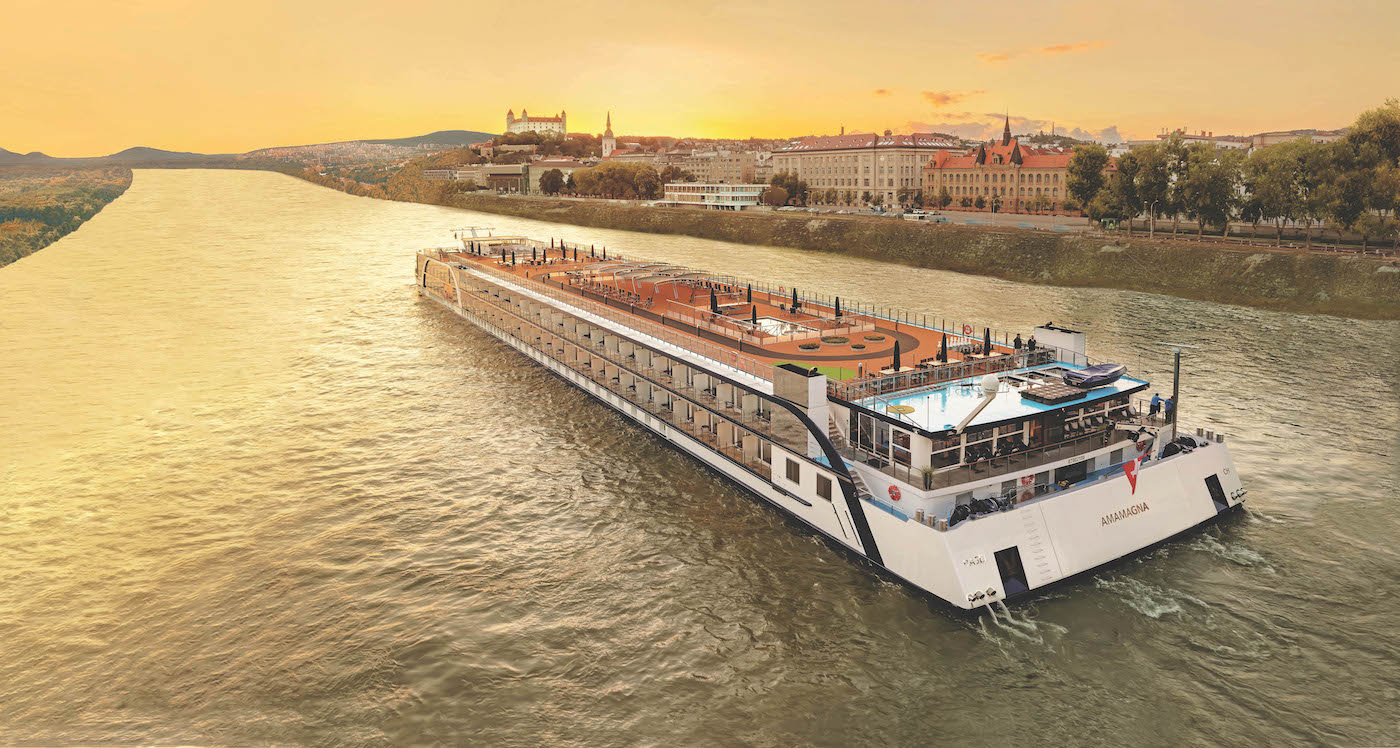 Two years – and a century (it seems) – ago, I had the pleasure of taking my wife, Helen, our son, Tim, his wife, Jacqueline, and their two boys, Deacon and Kessler (then five and seven years old) on a glorious seven-day Christmas Market cruise on AmaWaterways' 164-passenger river cruise ship, AmaCerto. We traveled down the Danube from Passau, Germany, through Austria, all the way to Bratislava, Slovakia, before turning around and spending time in Vienna prior to disembarking. During that time, we visited 12th-century villages and castles, quaint walled river towns, a medieval torture museum that the boys were particularly fond of, and scores of Christmas markets (40 of them in Vienna alone!) covered in twinkling fairy lights, overflowing with unique and delicious regional foods, and featuring one-of-a-kind handmade products.
The Founders Cruise
AmaWaterways cofounder Rudi Schreiner was aboard AmaCerto and co-owner Kristin Karst was on another AmaWaterways vessel; the two met up in Vienna on what was billed as an Owners' Cruise. It was an additional pleasure for us to join the couple for breakfast, drinks, dinner, and evening performances showcasing local talent who hopped on board at various ports along the river and sang everything from country music to opera – even Great American Songbook classics. All the various singers, guitarists, violinists, and pianists entertained us in the ship's intimate yet spacious lounge. (One of those nights, Deacon and Kessler – capped in berets and wearing other French finery – were "hired" by the entertainment director to be her assistants.)
Naturally, we had planned to join AmaWaterways for even more exotic trips in the near future, but in March 2020, COVID-19 forced most cruise lines around the world to suspend operations. It was a crushing blow to a vibrant travel category that no one could have foreseen or predicted.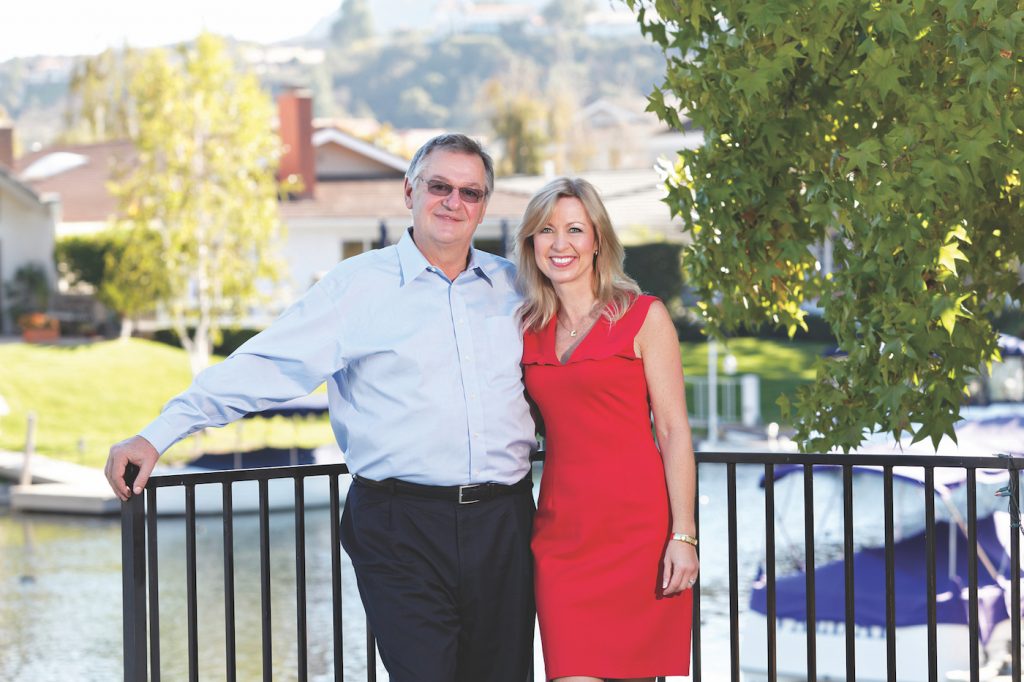 As this was being written, COVID-19 cases were finally coming down across the board in the United States and Asia. In Europe, there continued to be country-to-country differences in the numbers of cases and the speed of rolling out vaccines, but I stay in contact with friends in Paris, and their best guess is that things will be much improved this summer.
Future Travel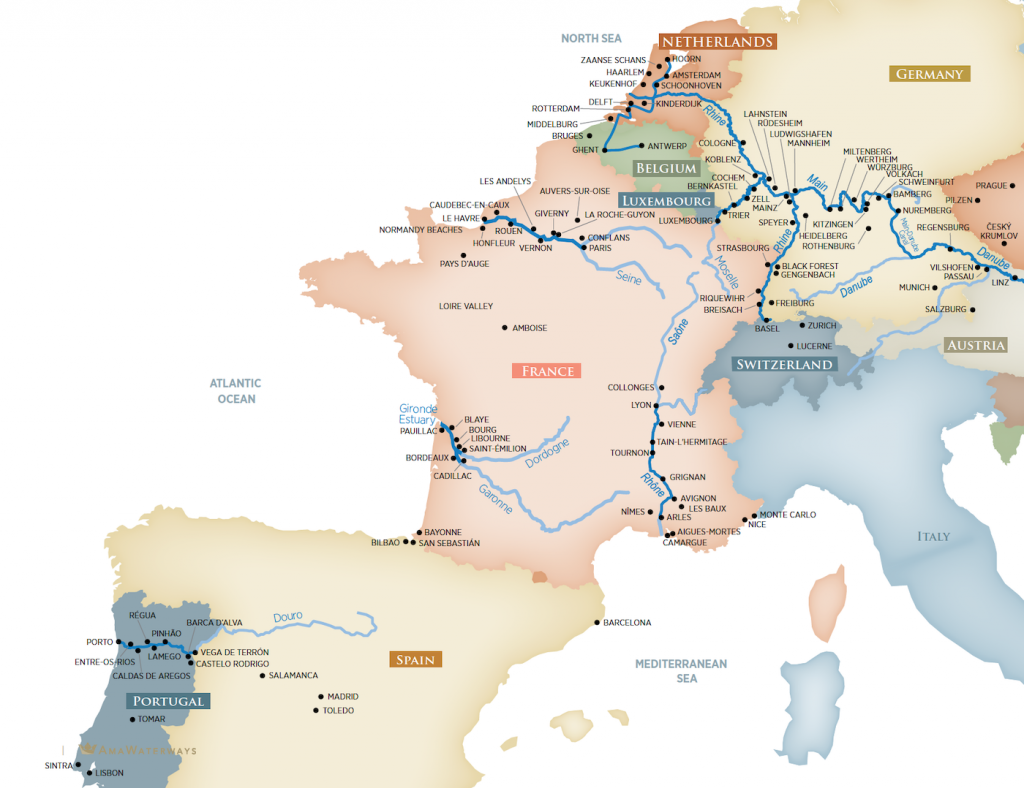 Of all the businesses impacted by COVID-19, travel and leisure companies have been among the hardest hit. For the first time since the end of World War II, even transatlantic crossings have been canceled en masse. And because cruises – such as those offered by quality operators such as AmaWaterways – are among life's most pleasant diversions, I hope to be among a vanguard of early travelers to get back to exploring the world when international travel restrictions are lifted.
To that end, Schreiner, Karst, and I held a lengthy telephone conversation to talk about the future of the travel industry, the pent-up travel demand that's emerging, and how their river cruise company has adapted to this new world.
The company is based in Calabasas, California, so when the stay-at-home order on March 19, 2020, was issued, the couple hurriedly equipped their office teams with laptops and headsets. While the AmaWaterways call center was ready to continue booking travelers, new reservations slowed down dramatically. "The 18 ships in our European fleet were more than 85 percent booked for the 2020 season," Schreiner says. "We were anticipating a very successful year and were ready to welcome close to 100,000 passengers." Unfortunately, with international travel restrictions in place, their ships have been on pause for more than a year.
One bright spot was that AmaWaterways became the only U.S.-based river cruise company to actually sail in Europe during the summer and fall of 2020; with enhanced health and safety protocols in place, they completed a successful four-month series of river cruises for a German tour operator sailing the Rhine river within Germany. Because of that, the company gained valuable experience in operating in a COVID-conscious world.
Taking Care of Travelers
Before going on to future plans – as the United States, and presumably the rest of the world, begins to open up – it's worth noting how AmaWaterways chose to handle travelers whose plans were affected by the suspension of sailings in 2020. "We wanted to encourage our guests to reschedule rather than cancel their plans completely," Karst explains. "Once we announced a suspension date, rather than opt for a refund, all those who wanted to move their trip to the future received 115 percent future cruise credit. So if you paid $10,000, you got $11,500 for future use."
It was a policy that earned them well-deserved admiration and kudos from clients and their travel-advisor partners, who worked closely with AmaWaterways to patiently reschedule all their clients' travel plans.
During the summer of 2019, AmaWaterways launched the double-wide AmaMagna, an innovative vessel that essentially offers twice as much space as any other European river cruise ship. "When Rudi designed the ship," Karst marvels, "he didn't anticipate what was coming, but now this ship is the top ship, because it's all about the luxury of personal space. You have the double width which provides our guests with huge standard staterooms and spacious suites with open-air balconies."
Karst also mentions a "well-equipped Zen Wellness Studio, which allows outdoor 'spinning with a view' classes, plus an expansive sundeck with a heated swimming pool. And with four separate restaurants," she adds, "people can really get away from each other if they want to."
Coming Soon to a Ship Near You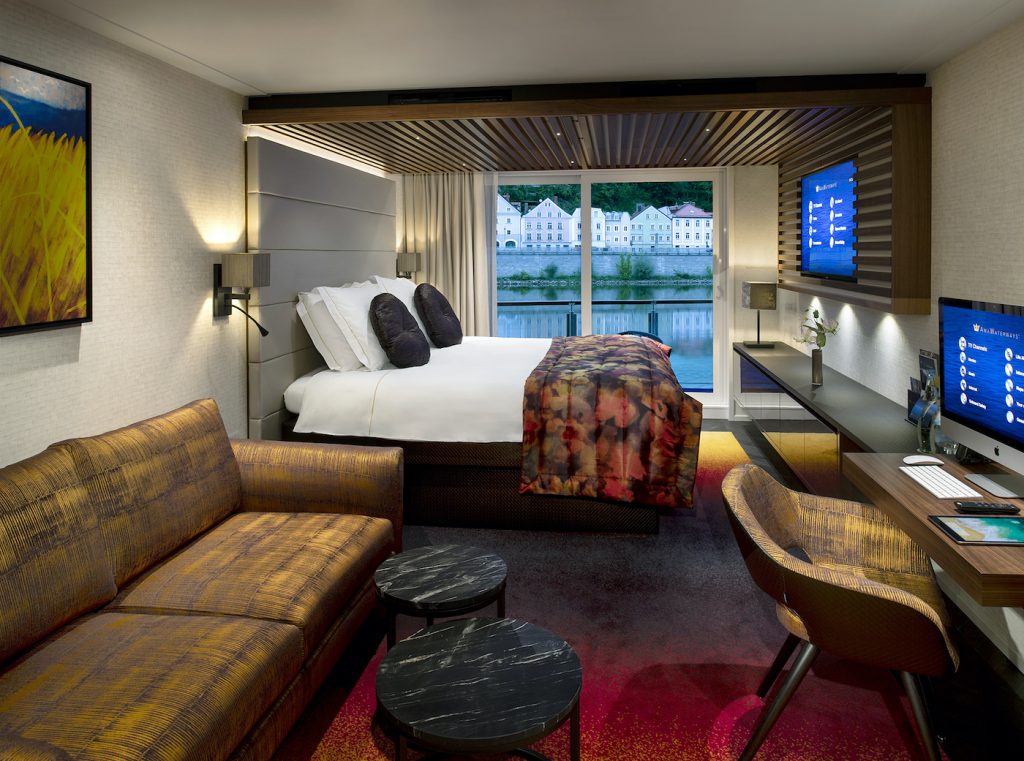 When asked when they believe they'll be sending their 25 ships out again, Schreiner says he expects to be nearly fully operational by August; Karst is more optimistic and hopes for a July kick-off with their two new ships, AmaSiena and AmaLucia, both of which are scheduled for a christening ceremony on the Rhine on July 4. As for what changes guests should anticipate when river cruising resumes, local and international regulations are still evolving, but there will probably be enhanced health and safety protocols in place that will need to be respected. AmaWaterways, for example, may limit the number of passengers to 100 to facilitate a certain amount of physical distancing. The mask policy is yet undetermined, but it will follow what local government officials require and what individual passengers are comfortable with. Seating arrangements in the dining room and elsewhere have been adapted with Plexiglass dividers installed in the lounge between sofas, and hand sanitizer stations are plentiful. There may also be temperature checks for guests before breakfast. Table service with expanded menu choices is replacing the self-serve buffets for breakfast and lunch, although there will still be all-day snacks available and – weather permitting – sundeck barbecues will be more frequent.
All staterooms were designed with "fan coil" individually controlled heating and air conditioning units, so there's no circulation of air between staterooms. In the public areas, a "rain fog" system produces cool air that falls down as warm air rises, so there is no blowing of air as there would be with regular air-conditioning units.
The Near Future
River cruising's main advantage over ocean excursions is that the smaller ships dock right in the center of towns. The variety of small group excursions offered each day is an additional and attractive benefit, and nearly all come at no additional fee. And – this option often appeals to me and my wife – one can always simply walk off the ship and wander around town at one's leisure.
When asked about the future viability of businesses such as AmaWaterways, Schreiner and Karst remain confident. "Reservations are strong for sailings during the second half of 2021," Schreiner notes (particularly for those Christmas markets my family so enjoyed). "And 2022 is filling up very quickly with both rescheduled guests and new-to-river-cruise travelers anxious to get away from crowds," Karst adds.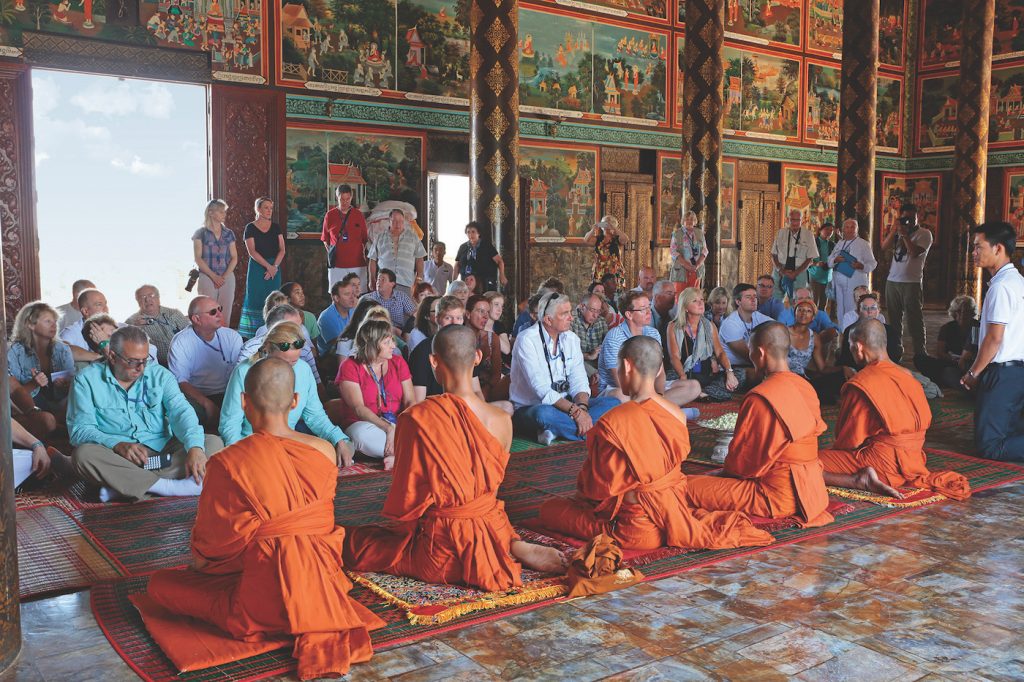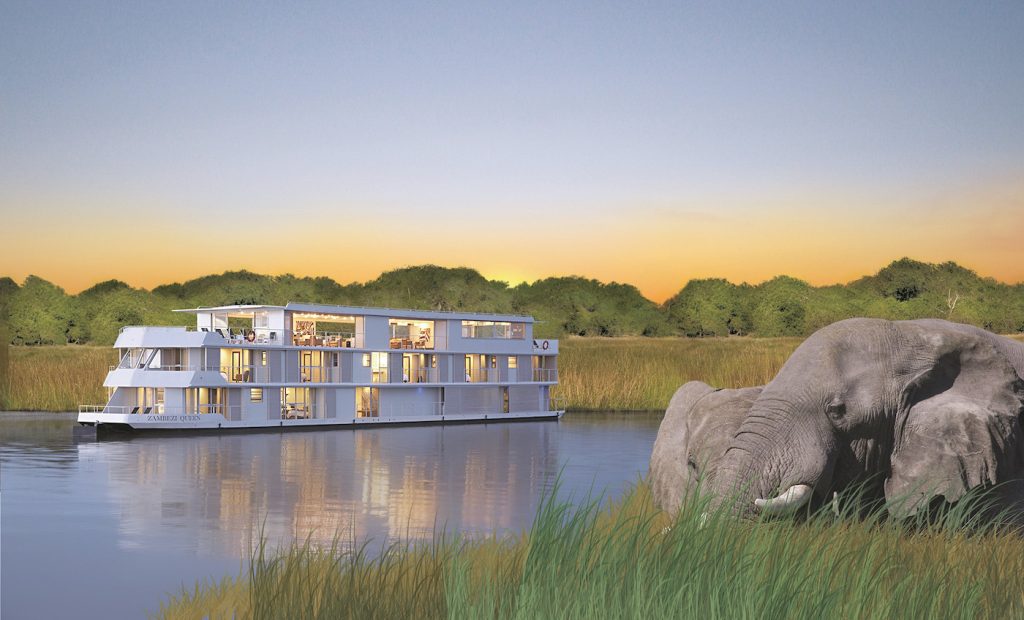 Besides the two new ships in Europe, Schreiner is particularly animated when talking about the new one he has planned for Egypt that begins sailing the Nile in September.
AmaWaterways has ships in a number of exotic locations, including one that sails on the Chobe River through Namibia and Botswana, and a favorite of both Karst and Schreiner: the Mekong cruises through Vietnam and Cambodia. Looking further out, new potential river cruise destinations include the Gambia River from Senegal that would feature a visit to the island where the fictional character Kunta Kinte (from the 1976 novel Roots: The Saga of an American Family) came from.
Of special note is a never-before-offered seven-river, 47-day cruise through 14 countries in Europe just announced for June 2023.
AmaWaterways also offers special-interest cruises that may highlight anything from wine, beer, classical music, biking, and hiking, to one of my favorite pursuits – golf. Santa Barbara and Montecito residents should know that some of the trips have included local winemakers (Doug Margerum and Bion Rice have both been featured on AmaWaterways cruises in Europe).
Charters (with enough advance notice) for groups or companies are also available. And, if you peruse the website you'll find a plethora of eight- to 12-day cruises in Africa, Asia, and Europe from which to choose.
You might also be interested in...