Music to our Ears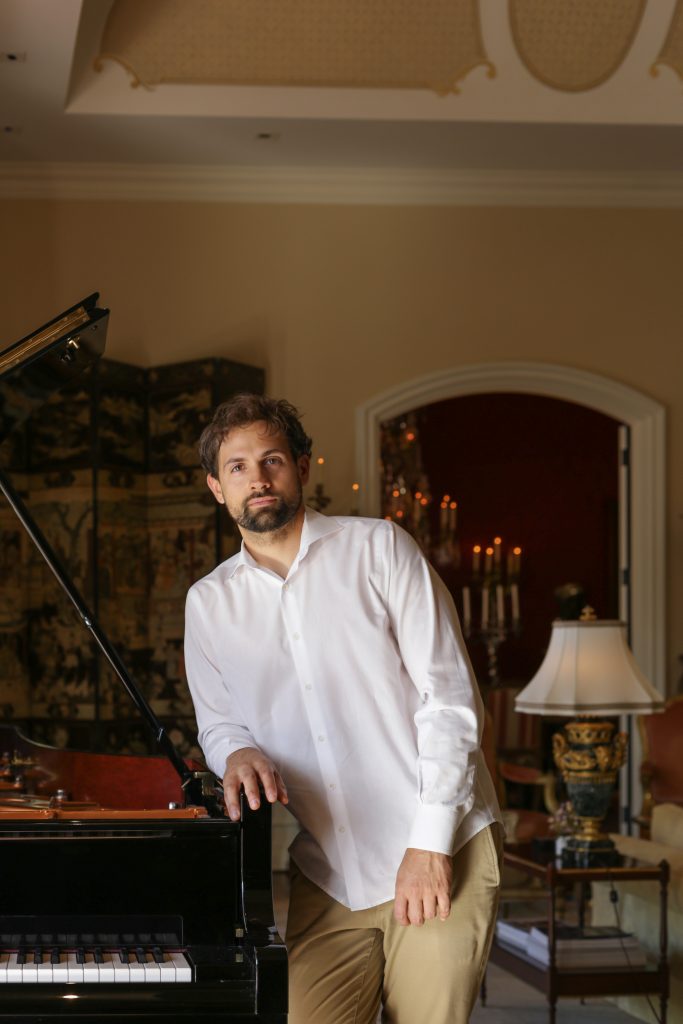 Former Music Academy of the West fellow Jacopo Giacopuzzi is using his keyboard skills in his new profession as a realtor with Berkshire Hathaway in Montecito.
Jacopo, who hails from Verona, Italy, moved to the Left Coast in 2013 to start his master's degree at USC after being a fellow at the Miraflores campus. Since then, he has performed around the world, from the Hamptons to Hawaii, and of course Europe where he started his career.
"The entrepreneurial mindset has been with me since the early stages of my life," he says. "I love exploring possibilities, new music, and new endeavors sometimes not strictly related to music. But I find that my music has always benefited from my passion for scouting the world, traveling, and mining new ideas."
Now he is putting his abundant keyboard skills to good use to showcase local real estate in videos.
"I love combining the featuring of incredible homes with birds-eye views and framing them with my piano playing. It adds a lot and certainly enriches the images."
Jacopo is currently collaborating with Konstantin Soukhovetski, a colleague from New York's Juilliard School and fellow MAW alumnus, in launching a new project next January at La Jolla Music Society called Solo Due. It will feature a variety of composers and genres that include Rachmaninoff hidden gems, Hollywood soundtracks, and extravagant jazz.
Another project he launched a few years back, Bistro Musicale, with music thoughtfully paired with a selection of wine and a three-course dinner, is scheduled to return in due course.
"It is intended to enhance the music through an intimate multi-sensory experience that takes place in beautiful estates in Santa Barbara and surrounding areas," says Jacopo.
Count me in…
Hey, Neighbor
Tech investor and hedge fund manager Philippe Laffont is the latest billionaire resident in our rarefied enclave, I can exclusively reveal.
Laffont, founder of Coatue Management and ranked at No. 1513 on the Forbes rich list with $2.1 billion, paid $11.7 million for a Mediterranean-style estate on nearly two acres with the two homes on the sprawling property oozing period charm.
It was built in 1924 with the houses collectively containing six bedrooms and five bathrooms and the grounds boasting a pool, clay tennis court, and a bocce ball court.
Laffont, who studied at the Massachusetts Institute of Technology, founded his company in 1999 and focuses on technology themed investing.
Welcome to the 'hood…
California Gurl Heads to Vegas
Having just splashed out $14.2 million on a new nine-acre home with six bedrooms and 12 bathrooms on Park Lane with fiancé British actor Orlando Bloom, Santa Barbara warbler Katy Perry looks like she won't be spending too much time there.
The former Dos Pueblos High student, currently worth around $330 million from her hit records and world concert tours, is adding to her hefty coffers having just signed a reported $168 million contract for a two-year residency at the new $4.9 billion Resorts World complex in Las Vegas, the biggest in casino history.
Katy, 36, who earns a reported $25 million annually as a judge on ABC's American Idol, is expected to start her lengthy stint at the 3,500-room mega hotel, owned by the Malaysian hospitality group Genting Berhad, later this year. It will run through 2022 and will be a circus-themed performance.
Katy joins Jennifer Lopez, Britney Spears, and Celine Dion as female megastars who have signed up for long-term deals in Sin City.
The new luxury hostelry also boasts one of the biggest casinos in town with 117,000 square feet of gambling space.
You might also be interested in...