Call it a Comeback
Montecito artist Allison Armour, whose huge global figures have been collected by former Beatle Ringo Starr and even Russian President Vladimir Putin, is getting back to prominence in Goleta, and I'm delighted to hear it.
Eight years ago, Goleta Valley Hospital held a competition for a new art installation outside the complex and Allison's work won, with it being duly installed with its water feature for the opening ceremony.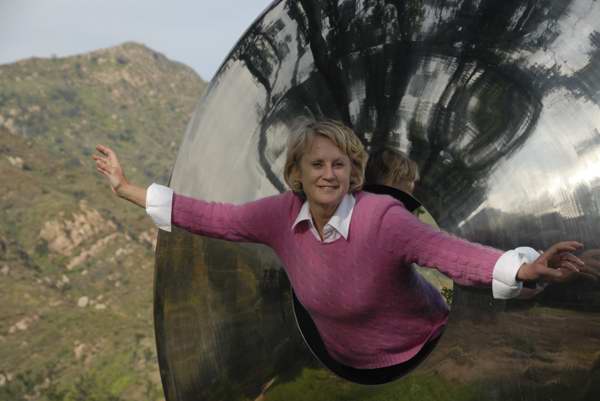 But the same year California went through a devastating drought and the hospital felt that it couldn't be seen to be wasting water, so it was turned off and the sculpture consigned ignominiously to the basement.
In October, Allison had surgery for breast cancer at the hospital and asked about her sculpture while undergoing treatment.
"The nurses clamored around me asking 'Is that beautiful piece yours?' and told me of its fate in the cellars," says Allison, who was born in Paris and studied at New York's Parsons School of Design. "I thought it quite ridiculous and called Arie Dejong, the hospital's vice president. I explained that Putin had come to the unveiling of my piece in Moscow, President Erdogan of Turkey had two of my pieces in his palace, as did the King of Denmark.
"Ringo Starr was one of my first clients and I have just been asked to quote a 35-foot piece to be exhibited in Tel Aviv with a budget of $1.2 million. He totally agreed that it certainly shouldn't be languishing in a basement, but he was worried about health and safety, which I totally understood.
"I then explained how to make it safe and he said he would meet up with his maintenance crew and see about resurrecting it."
Allison, who is an active board member of Sarah House, a home for end-of-life care for low-income residents, hopes her piece will be back on display any moment now.
Brava!
Simply Electric
Rather than peddling his views with Oprah Winfrey, Prince Harry has been taking to pedaling his new electric bike around our rarefied enclave followed closely by a security posse in a black Range Rover.
Queen Elizabeth's grandson was suitably attired for his workout wearing New Balance trainers, Adidas sweatpants, a baseball cap, sunglasses and a mask.
Her Majesty is said to be "sad, but not angry" at the current turn of events that have undoubtedly hurt the Royal Family.
Oprah's good friend, CBS morning show anchor Gayle King – who attended Meghan Markle's over-the-top baby shower at the Mark hotel in New York two years ago – has discussed the Duke of Sussex's supposedly private conversations between his father, Prince Charles, and elder brother, Prince William, describing them as "not productive."
And William, Duke of Cambridge and heir to the British throne after the Prince of Wales, has voiced his concerns about the personal intercourse being made public, a clear reference to King's comments about family conversations.
Buckingham Palace meanwhile refuses to be drawn into this very public rift.
"None of the households will be giving a running commentary on private conversations!" huffed one senior courtier to London's Daily Mail.
Stay tuned…
You might also be interested in...