From Salmon to Sweets: Options Abound for Passover and Easter Eats
Spring brings two delicious holidays: Passover and Easter. With restaurants moving into the red tier and opening their doors, local chefs are rolling out new menus with unique offerings.
Now is the time to savor this forward-thinking season.
From a swank steakhouse with a rack of lamb special; to a Scandinavian bakery with buttery pastries; to a former citrus packing house offering herb crusted crab cakes on brioche and Meyer lemon from its very own garden, there's a little bit of something for everyone.
Here are a few suggestions on where to feast this spring holiday:
San Ysidro Ranch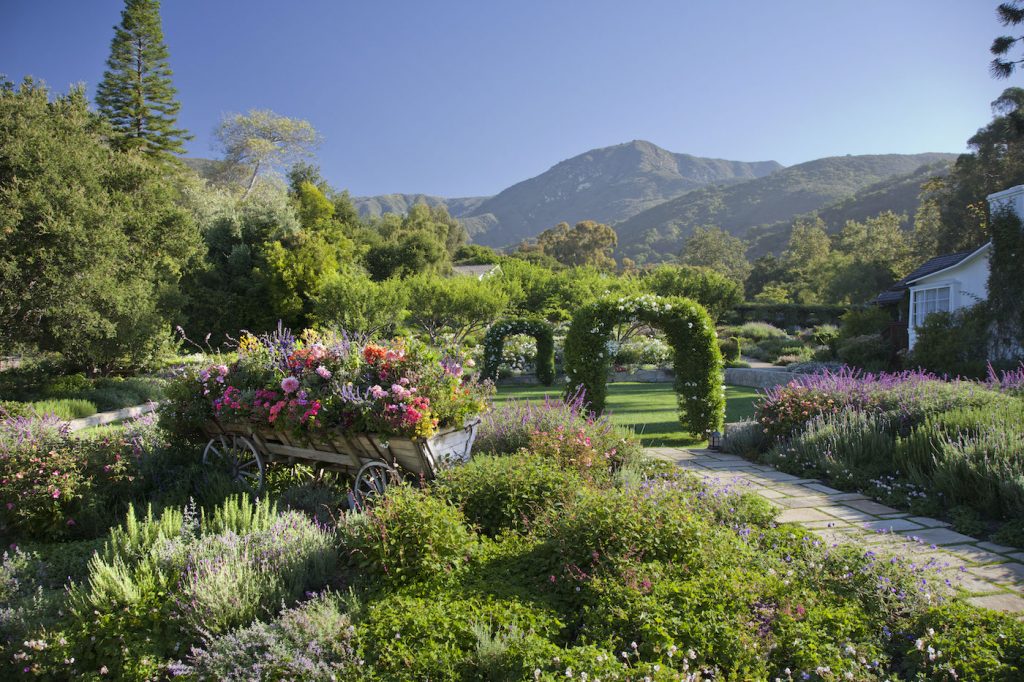 The Stonehouse at San Ysidro Ranch, with its award-winning wine list and iconic views of the Pacific Ocean, is welcoming spring with an Easter brunch from 10 am to 2 pm. Fresh seasonal herbs, fruit, and vegetables from the on-site organic garden will highlight a chef-driven menu, which runs $145 per person, not inclusive of tax and gratuity.
Brunch goers may enjoy a stroll around the fragrant gardens before or after their meal.
Main course highlights:
• Big eye tuna crudo with strawberry, petit basil, grapes, sea salt and verjus;
•Smoked Muscovy duck roll with Napa cabbage, avocado, herb fromage blanc, and sweet chili sauce;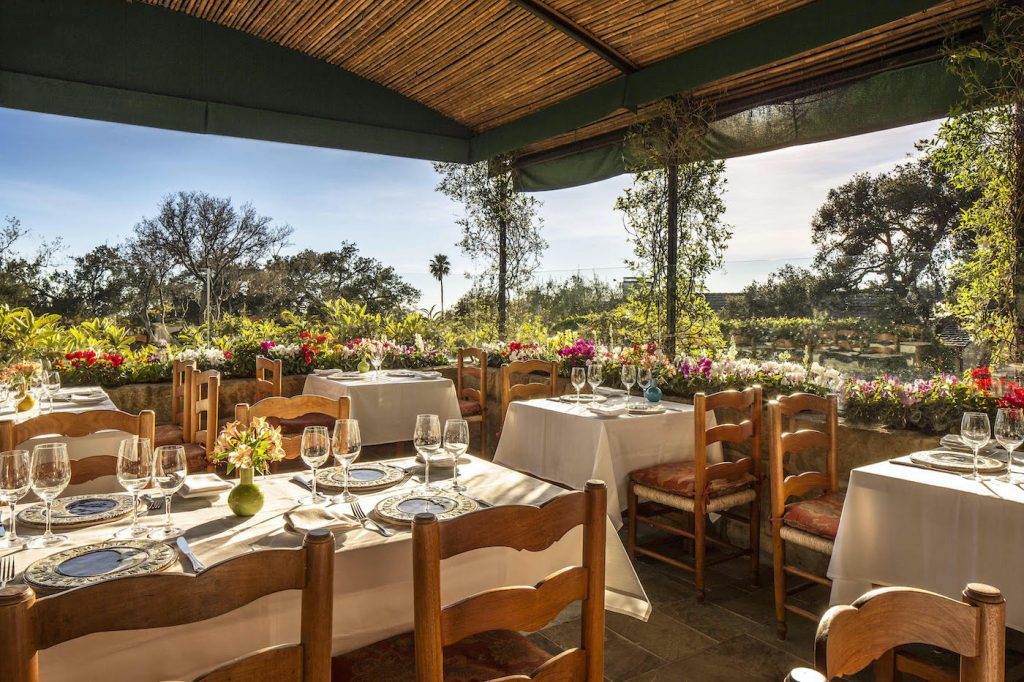 •Roasted garden vegetable shakshuka with pan squash, baby kale, poached organic eggs, grilled ciabatta, sweet paprika, and San Marzano tomato sauce;
•Jumbo crab cake benedict served on toasted brioche with avocado, piquillo peppers, and wild rocket arugula dressed in a zesty Meyer lemon hollandaise;
•Herb-crusted spring Colorado lamb loin with morel mushrooms, spring peas, confit yellow tomatoes, whole grain spaetzle, and pinot noir jus;
•Prime filet of beef with gruyere potato pavé, creamed spinach, white asparagus dressed in bordelaise sauce.
For sweet tooths:
• Crème fraiche panna cotta served with strawberry sorbet, rhubarb, and ginger jelly;
•Carrot cake served with a scoop of coconut sorbet and vanilla pineapple marmalade and Valrhona chocolate truffle tart with Early Grey caramel and Tahitian vanilla Chantilly.
Address: 900 San Ysidro Lane, Montecito, CA 93108
More information and reservations: (805) 565-1720
Lucky's Steakhouse
Lucky's Steakhouse creates dishes for any holiday and this one is no different. The eatery will celebrate Passover (March 27-April 4) and Easter with a medley of dishes for brunch and dinner, available for dine-in or to-go.
Main course highlights:
•Wild mushroom and gruyere omelet, Spanish chorizo omelet with avocado, waffles, and French toast with assorted berries;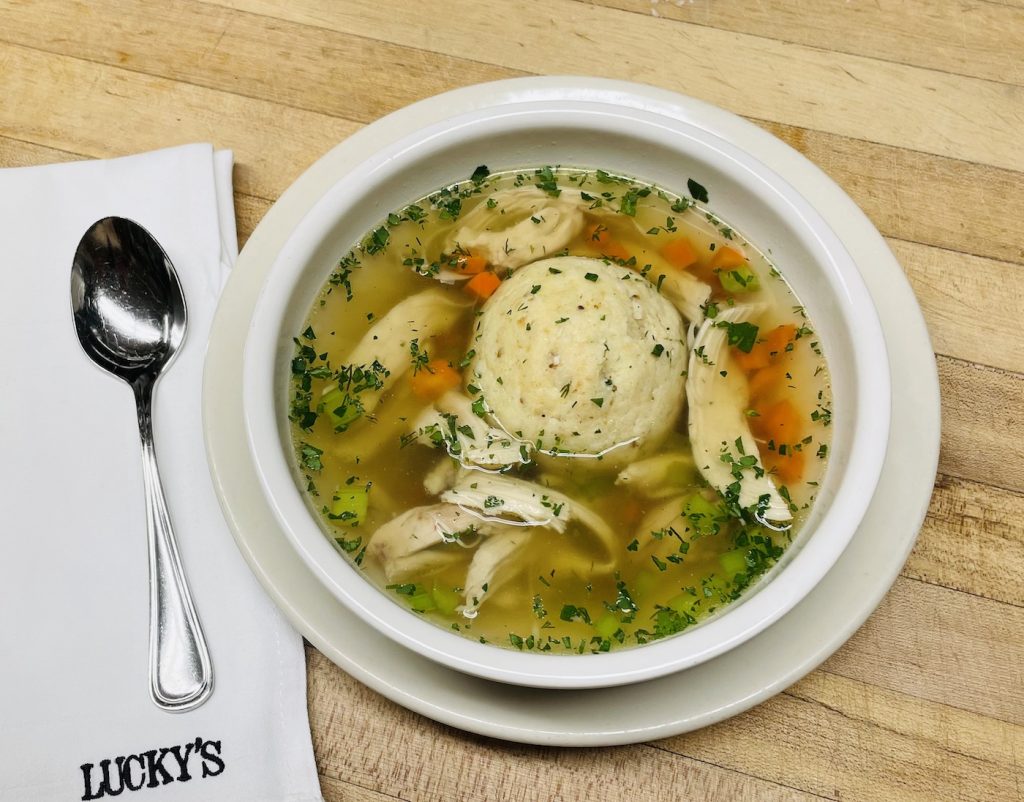 • Matzo ball soup with chicken and parsley;
• Roasted chicken with thyme au jus;
• Filet mignon pepper steak with cognac;
• Petite filet and half of a lobster;
• Delmonico Flannery dry-aged beef;
•A la carte sides include hashed brown potatoes with gruyere, creamed spinach, sautéed mushrooms, and jumbo asparagus with hollandaise sauce.
For sweet tooths:
• Molten triple chocolate cake;
• Grand Marnier soufflé, baked from scratch.
Address: 1279 Coast Village Road, Montecito, CA 93108
For more information and reservations: 805-565-7540
Tre Lune
Easter brunch at Tre Lune begins with a fresh squeezed orange juice or mimosa, with plenty of savory dishes to follow. Breakfast is served from 8 am to 11:30 am and lunch and dinner is served noon to 9 pm. Available for dine-in or pick up.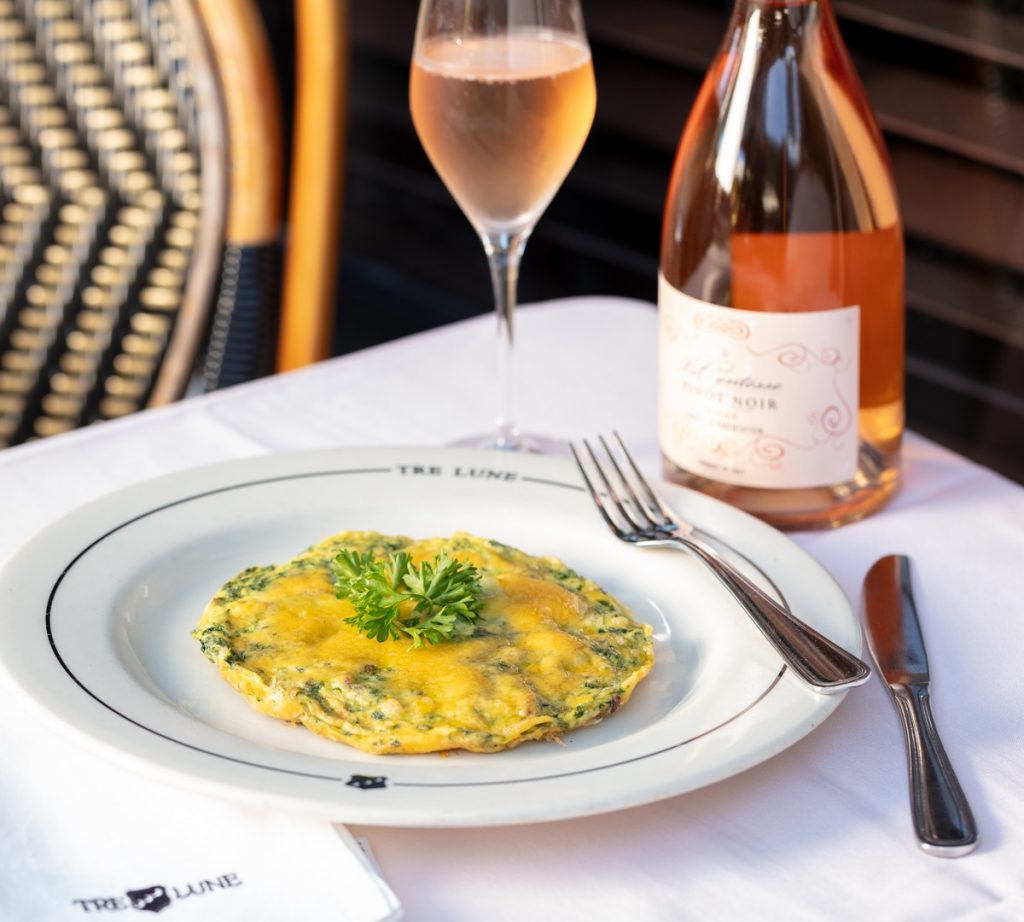 Breakfast highlights:
•Italian Benedict featuring prosciutto on rye topped with two poached eggs smothered in hollandaise;
• Baked eggs with parmesan, garlic, and parsley;
• Farmers' market vegetable frittatas;
• Smoke salmon benedicts;
• Bananas Foster French toast.
Dinner highlights:
• Rack of lamb grilled with rosemary and garlic;
• Half-chicken roasted with rosemary, garlic, and Portobello mushroom sauce;
• Sautéed salmon with lemon and capers;
• Additional entrees include king salmon, dover sole, and sautéed sand dabs.
Address: 1151 Coast Village Rd., Montecito, CA 93108
For more information and reservations: 805-969-2646
D'Angelo Bakery
D'Angelo Bakery was created for pastry lovers, highlighted by buttery pastries made with fresh fruit and preserves. You can grab and go, allowing you to enjoy a home celebration.
Meal highlights:
• D'Angelo Bakery's popular cinnamon buns;
• Plain, chocolate, or almond croissants;
•Baguettes, muffins, scones, bagels, and brioche;
• Rosemary focaccia;
• White and whole wheat Pullman loaves;
• Kalamata Olive Bread;
• Pumpernickel Rye.
Address: 25 West Gutierrez Street, Santa Barbara, CA 93101
For more information: 805-962-5466
Rosewood Miramar
There will be four Easter options along the beach, highlighted by Caruso's offering an inspired five-course prix fixe meal followed by tableside dessert presentation. Manor House Terrace will offer a traditional Easter brunch with a four-course prix fixe menu.
As for brunch, Caruso's runs from 11 am to 2:30 pm at $185 per adult, $65 per child ages 4 to 12, complimentary for children under 4 years old. Manor House Terrace Brunch is 11 am to 3 pm at $145 per adult, $45 per child ages 4 to 12, complimentary for children under 4.
Brunch highlights:
• Omelet with béchamel sauce and farm greens;
• Soft scramble with Passmore Ranch caviar served with toasted brioche and lemon;
• Buffalo ricotta pancakes served with blueberry syrup and Chantilly cream;
• Dungeness crab eggs benedict with avocado and dressed in choron sauce.
Dinner highlights:
• Cannelloni with buffalo ricotta and spinach;
• Ravioli with asparagus and Iberico Ham;
• Pan roasted halibut with poached asparagus and crème fleurette;
• Wild salmon with peas and heirloom carrots served with a fennel relish.
For sweet tooths:
• Lemon meringue tart with raspberry compote;
• Apple tarte tatin;
• Pastiera Napoletana (Neapolitan Easter cake);
• Chocolate mousse stuffed colomba;
• Macaron;
• Eclair pistachio;
• Cannoli;
• Easter cookies.
Address: 1759 South Jameson Lane, Montecito, CA 93108
For more information and reservations: 805-900-8388
Andersen's Danish Bakery and Restaurant
Enjoy a European and Nordic menu, with homemade sausage, country potatoes, and fresh large eggs, or you can go with homemade pastries, strudels, and scones. The Viking-sized mimosas are cause for a double-take.
Meal highlights:
• Salmon hollandaise;
• Oven roasted duck;
• Goulash;
• Dover sole.
For sweet tooths:
For $35, the eatery offers an Easter Package to enjoy at home or gift to friends and family. It features:
• (4) vanilla lemon icing cookies decorated like Easter chicks;
• (4) hot cross buns with rum-soaked raisins, fruit, orange and cardamom;
•(1) butter ring made with marzipan, vanilla, custard, and butter inside of the flaky layers of the hand-rolled Danish pastry;
•(2) Easter Petit-Fours, made with a butter cookie base, raspberry spread, layer of Mazarin cake, real vanilla buttercream, marzipan on top, and dipped in white chocolate.
Address: 1106 State Street, Santa Barbara, CA 93101
For more information or reservations: 805-962-5085
El Encanto
Spend your Easter Sunday with El Encanto's spring brunch menu served on the outdoor dining terrace overlooking the coast. El Encanto's new executive chef Bruno Lopez has curated the dynamic menu of savory and sweet dishes. Brunch begins at 10 am, with the annual Easter Egg Hunt starting at 9 am. Brunch is $95 per adult, $45 per child 12 years and under, exclusive of tax and gratuity. The Egg Hunt is $250 per family, inclusive of 10 high-res digital family portraits.
Brunch highlights:
• Smoked salmon;
• Beet napoleon;
• Ceviche in radicchio;
• Deviled eggs on frisée;
• Butternut squash pancake with a seasonal berry compote;
• House-made granola with maple syrup.
Dinner highlights:
• Roasted rack of lamb served with a garlic flan rosemary jus and spring English peas;
• Grilled cauliflower steak with curry coconut cream garnished with amaranth garnet red.
For sweet tooths:
•A two-tier presentation of mini pastries ranging from key lime meringue tarts to an assortment of macarons.
Address: 800 Alvarado Place, Santa Barbara, CA 93103
For more information or reservations: 805-845-5800
Bristol Farms
Bristol Farms offers a nice selection of catering options for Passover and Easter with pick-up or delivery options. You can also snag colorful florals, such as tulips and lilies. Delivery, set up, and staffing is available. Orders must be received by April 1 at 4 pm for Easter orders.
Passover meal highlights: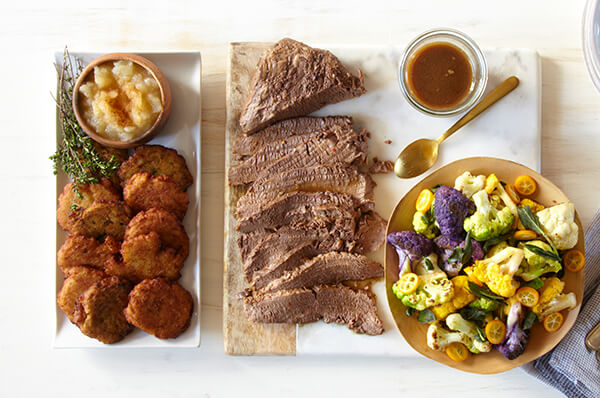 •Angus beef brisket slow cooked in red wine and herbs;
• Wild-caught poached salmon filet in white wine and lemon served with dill sauce;
• Chopped chicken liver with onions, eggs, and seasonings;
• Matzo ball soup with chicken, carrots, and celery;
• Carrot kugel with matzo, eggs, and mixed nuts;
• Root vegetable stew with oranges and prunes.
Easter meal highlights:
• Bone-in honey glazed spiral ham;
• Slow-roasted prime rib roast;
• Wild-caught salmon filet;
• Deep-dish quiche Florentine, Lorraine, or broccoli and cheese;
• Risotto with cremini, Shitake, and white mushroom risotto sautéed in white wine.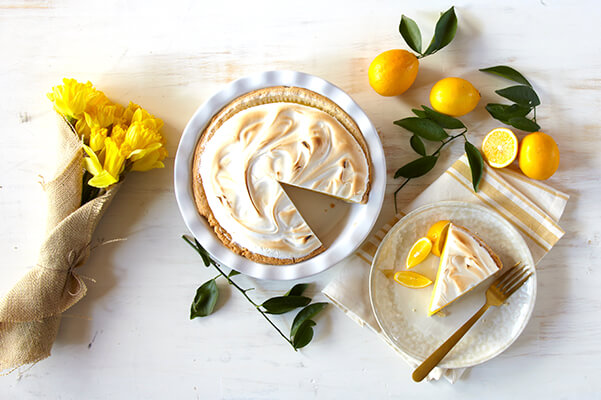 •Scalloped potatoes layered with Swiss and gruyere cheese, béchamel sauce, and fresh herbs and glazed baby carrots.
For sweet tooths:
• Lemon meringue pie;
• Lemon cupcakes;
• Cake pops;
• Customized Easter baskets also available.
Address: 3855 State Street, Santa Barbara, CA 93105
For more information: 888-726-7271
Convivo
Enjoy an oceanside patio brunch at Convivo with all of the traditional favorites that are served here with a Mediterranean twist. Finish your brunch celebration with a stroll on East Beach for the perfect end to your Sunday.
Menu Highlights:
• Frittata of fresh mozzarella made with crispy serrano ham and sprinkled with chives;
• Slow roasted pork served with fried eggs, grilled sweet peppers, and crispy polenta;
• Breakfast croissant with scrambled eggs, white cheddar, avocado, and arugula;
•Healthy and delicious Greek yogurt served with honey, seasonal berries, and cashew granola.
For Sweet Tooths:
• The culinary team will be cranking out sticky spiced pecan cinnamon rolls.
Address: 901 East Cabrillo Boulevard, Santa Barbara, CA 93103
For more information and reservations: 805-845-6789 or convivorestaurant.com
Opal Restaurant and Bar
Serving up eclectic California cuisine, Opal is offering its regular dinner menu plus a three-course prix fixe menu for $55 per person (excluding beverages, tax, and gratuity). Priced at $60, the three-course carry out menu differs from the in-house menu and is only available for pickup Sunday, April 4 from 4 pm to 5 pm.
Menu Highlights:
•Roasted red beets and grilled pears served on baby arugula and watercress with candied pecans, gorgonzola cheese and dressed in a honey balsamic vinaigrette;
•Braised Asian BBQ short ribs with a pinot noir reduction on butternut squash puree, served alongside baby root vegetables;
•Macadamia crusted fresh Atlantic halibut dressed in an orange citrus sauce, served over basmati rice with seasonal vegetables.
To-Go Menu Highlights:
• Filet mignon with a port wine marsala wild mushroom cream sauce;
•Vegetable napoleon, a gorgonzola potato cake layered with grilled eggplant and sautéed spinach and mushrooms;
•Grilled salmon with lemongrass dressed in a Thai curry sauce and served over a bed of orange zest basmati rice alongside julienne vegetables.
For Sweet Tooths:
• Organic strawberry cheesecake with fresh berry coulis.
Address: 1325 State Street, Santa Barbara, CA 93101
For more information and to order: (805) 966-9676 •MJ
You might also be interested in...