Attention California Legislators: Stand with Your Community!
There are two particularly bad bills wending through the legislature, proposed by Senate President pro Tempore Toni Atkins (Senate District 39, San Diego) and Scott Wiener (Senate District 11, San Francisco). They are determined to fulfill Governor Newsom's pledge to build 3.5 million units of housing in California. Prior attempts that have failed to date:
–Wiener's SB 827 (2018) allowed four- to eight-story buildings for housing in transit-rich corridors.
–SB 50 (2019 and again in 2020) allowed five-story buildings in jobs-rich areas. Our then state Senator Hannah-Beth Jackson helped kill it, calling it a "one-size-fits-all approach to a really complicated problem."
Some of you were with us in the electronic hearing in the Assembly the last day of the 2020 session to help fight off Senator Toni Atkins' SB 1120 in 2020. That bill allowed lot splits, duplexes, and multiple units in single-family residential zones.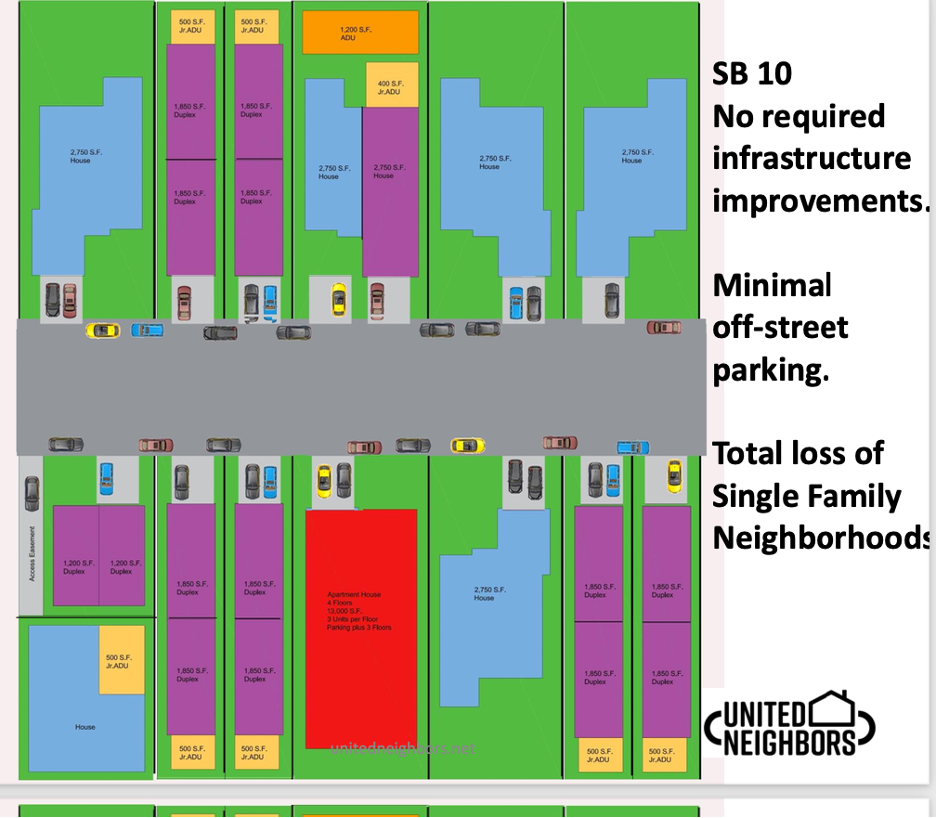 Why is the state so determined to override local controls to build housing? Senator Hertzberg said, "The premise is that mayors and city councilmembers of some of our 482 cities in the state of California are standing in the way of home-building at the behest of single-family homeowners."
The best way to spur housing creation, then, is to eliminate pesky local land use controls and zoning laws. The former director of the state's Department of Housing and Community Development, Ben Metcalf, opened a consulting firm with a provocative paper suggesting that cities view the housing crisis as a civil rights issue. He applauds efforts to "build out the power of the state" to overrule local land-use authority.
Eliminating single-family residential zones is gaining vogue status. Minneapolis banned it in 2019, up-zoning (the new term for increasing density) all single-family residential lots to allow duplexes and triplexes. Berkeley calls single-family residential zones historically racist. Oregon passed a bill that requires cities to allow up to fourplexes in single-family residential areas.
California does not intend to be late to the party, so enter the latest couple of bills to destroy single-family residential zoning in our state: Senate Bills 9 and 10.
To understand the impact of these bills on your neighborhood, ask yourself this:
How would I feel if my neighbor put up eight units of housing next door, with no approvals required, and no parking requirements?
Senate Bill 9 allows this with lot splits and duplexes where the original home once stood, on each lot. ADUs and JR ADUs would still be allowed in this scenario. Thus, where a single-family residential home once stood, eight units can be built, with four-foot setbacks.
The bill requires strictly ministerial approvals, the same as with ADUs today.
How would I feel if my neighbor put up a 10-unit apartment building next to me?
Senate Bill 10 allows for that on any lot in an area that is "high opportunity" – lots that are either jobs-rich or would enable shorter commute distances. A lot of folks commute through this region to get to jobs in other regions, like Venturans who work in Santa Barbara or Goletans who work in Carpinteria. Under that loose definition, Montecito would be a great place to host 10-unit buildings on single family lots!
Again, ministerial approval is all that's needed, under the bill.
See the visual of how these bills could impact a formerly single-family residential neighborhood block (image courtesy: United Neighbors).
This is a massive developer giveaway, will cause real estate speculation, and will not increase affordable housing. Senator Atkins' wife has an affordable housing and economic development consulting business that has quadrupled, according to the L.A. Times. Scott Wiener's 2016 campaign received more than $500,000 from Big Real Estate contributions. His housing bills are perceived as gifts to these contributors.
What We Can Do
We need YOU to help mount a statewide voice in defense of community. Our legislators, Senator Limón and Assemblymember Bennett do not like sweeping bills like these. But they are only TWO legislators. There are 80 Assemblymembers and 40 State Senators. For a bill to pass, 50% + 1 votes are required.
We've joined forces with United Neighbors, an alliance of communities across California, to oppose these bills, and support others that are good for our community. We've hired former State Senator Hannah-Beth Jackson to navigate the legislative process with us (first reported on these pages!). We need your support to get California legislators to stand with community, now.
Our position paper on Senate Bill 9 was submitted to the legislature and our state Senator, and this newspaper has graciously agreed to print it. Other communities are using it to formulate their positions. We will host a townhall in the next couple of weeks to inform communities and help them advocate with the state.
If this bill clears the Senate in June, it will make the rounds through the Assembly and then go to the Governor's desk for signature in October.
Please, join us now in protecting and preserving all our communities from these bills. Email me at execdirector@montecitoassociation.org or call (805) 636-0475 if you want to be part of the team that works to defeat these bills.
What follows is our position paper that was submitted to the legislature and our state Senator Monique Limón:
Dear Senator Limón,
The Montecito Association, representing more than 1,000 residents in Santa Barbara County, opposes California Senate Bill 9 introduced December 7, 2020. SB 9 allows the building of multi-family housing developments in single-family residentially zoned neighborhoods via ministerial approval, wiping out all regulatory, environmental, and discretionary community reviews. SB 9 negatively impacts long-existing, single-family neighborhoods while not addressing the real issue that desperately needs solving: affordable housing. SB 9's trickle-down theory that adding any type of housing will eventually produce affordable housing has been proven false by many cities that have tried. See City of Santa Barbara's AUD (Additional Unit Density) experiment for a relevant case. Allowing more density has often INCREASED the price of the land, and resulted in only marginal increases of lower priced housing, driving any idea of affordability out of reach while making the new units even more expensive than market-rate.
SB9's first provision that allows duplexes is unnecessary. Santa Barbara County already allows Accessory Dwelling Units (ADUs) and Junior ADUS ministerially on every single-family lot. Therefore, the opportunity to add a duplex to single family lots already exists by virtue of the current ADU laws, per Government Code section 65852.2 and 65852.22. Further development on single-family lots would increase a tremendous burden to the community that is already adding thousands of units of housing. The use of the ADU/JADU provision is just now catching on and the State should wait to see how many units are created through this existing program. The addition of smaller units for extended family or younger and older members of the population is a smarter way to integrate the anticipated population growth in the state.
SB 9's second provision allows lot-splitting which will encourage land speculators to buy houses, demolish them, split the lot, and build six to eight market-rate housing units where one house previously existed. This type of prescribed up-zoning fails to recognize physical and environmental constraints of various neighborhoods and should allow local agencies to regulate it, though perhaps via a simpler permit path. We, like many semi-rural communities in the state, are already experiencing speculative "buying and flipping" in Montecito, driving housing prices up further. This will increase land values exponentially and make affordable housing even more impossible. SB 9 eliminates objective zoning standards allowing unrestricted building size, and will surely ruin established neighborhoods of all types throughout the state. If a simplified lot-splitting path is pursued, it must be tied to an affordability requirement to discourage developers from creating more market rate housing with no direct benefit to the very low and low income populations most in need.
We are currently engaged in a community-originated, supported, and funded outreach project for those experiencing homelessness in Montecito. We keenly feel the need for affordable housing as we try to help navigate individuals out of homelessness. We would welcome something that provides affordable housing for those experiencing homelessness. This bill does not do that. Instead, it will exacerbate our affordable housing crises.
SB 9, in its rush to provide affordable housing without a balanced approach to plan for such accordingly, further:
• Requires No Infrastructure Improvements – The magnitude of this bill's impact must be considered in terms of current infrastructure capability. Montecito is already well known to be infrastructure-deficient, as revealed by the Thomas Fire Debris Flow on 1/9/18. The existing sewer, power, water, and gas infrastructure cannot handle intensification of the many small neighborhoods by increasing density by 400% without related infrastructure planning to meet that density. The community plan simply did not envision a plan like SB 9 that directly compromises our community's safety and our ability to manage that safety. The state pushes the financial burden of required infrastructure improvements not on itself, or developers, but on local jurisdictions. Our Special Districts have zero budget for increasing infrastructure.
• Poses Huge Fire Risks – In 2017 Montecito experienced the then largest wildfire in California history, the Thomas Fire. Over 8,000 firefighters from California and the U.S. came here to defend our community and evacuate our citizens down windy, narrow mountain roads. We cannot imagine jamming more people into such an environment without concomitant consideration of increase fire protection resources, improved egress paths, and better water pressure for firefighting.
• Places Unsuspecting New Residents in Direct Path of Significant Geologic Hazards –The 2018 Montecito Debris Flow was seen by billions of people around the world due to its disastrous impact and loss of life. We've learned that at least every 50 years, we experience a debris flow here, dating back to 1914. We have taken steps to make ourselves more climate-defensive, but we continue to face mandatory evacuations in winter rains due to earth instability and potential debris-laden flows. With five creeks in our community, and the realization we are living on an alluvial fan, we are trying to ensure our existing residents are safe from geologic hazards present here. It would be patently insane to place more people in the path of such hazards via mandated housing.
• Reduces Open Space and Permeable Surface – Expanding building footprints and reducing open yard space badly impacts aquifers, the urban canopy, and could worsen greenhouse gas production throughout the state. SB 9 will drastically reduce the size of backyards and necessitates the loss of trees. Montecito has been shown to have small aquifers still recovering from the eight-year drought recently experienced here, and a seemingly new drought cycle on the horizon throughout the state. We are going to be partially supplied by desal water from a neighboring jurisdiction at great expense. We have major concerns regarding water supply in this community, and increasing density inarguably exacerbates those.
• Preferable Options Are Available – We have numerous options for adding housing throughout the state without ruining existing neighborhoods. SB 9 creates more problems and doesn't provide for what is truly needed: affordable housing. We really want to encourage creative thinking to provide for this urgent need, rather than engaging in trickle-down economics in the hope that prescribing higher densities in the states long fought for single-family zone districts will win this fight for housing. This is particularly timely given the fundamental shift of many office workers to telecommuting options welcomed by employers and employees. Residential zone districts are naturally becoming mixed-use developments as more of the work force will continue to work from home. Again, SB 9 may have the opposite effect, as in example, in our local area, we are seeing the exact opposite effect occur: land and units became MORE expensive with added density.
Especially as the state emerges from COVID-19 patterns, please instead look to the currently built environment with much space for housing in increasingly vacant commercial square footage and find incentives to convert that existing development to housing. Current zoning has under-utilized capacity in our commercial corridors and multi-family zones. We need to encourage efficient land use and development of our publicly owned lands. To add affordable housing, please also consider the re-establishment of redevelopment agencies to leverage public funds for truly affordable housing production, and thus reduce dependence on private developers to provide a small, insufficient percent of affordable housing in return for huge density bonuses. We feel there could be huge opportunity in conversion of commercial office space as a result of the pandemic and remote work becoming the norm.
Thank you.
Sincerely,
Megan Orloff
President, Montecito Association
You might also be interested in...