Cajun Kitchen Serves Southern and South-of-the-Border Flavors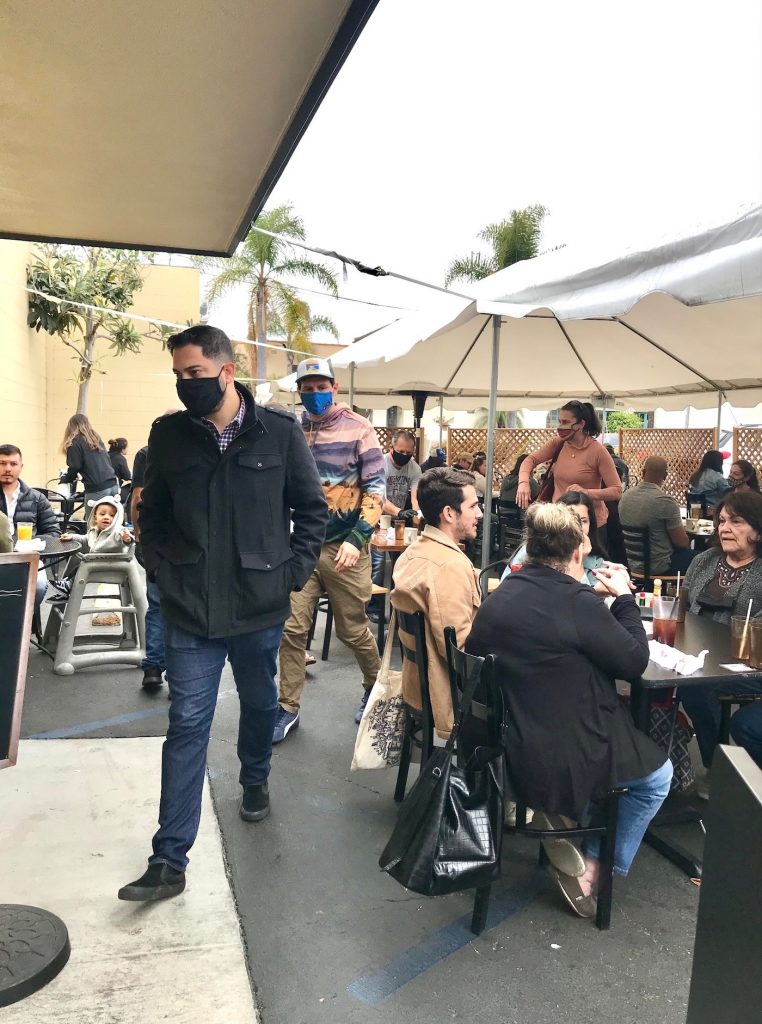 At some point, every local food-chaser has swung through this 1970s-ish retro diner for breakfast or lunch, sliding into the vinyl booths or perching at the counter. Cajun Kitchen's country-style café on Chapala Street has a history of satisfying diners with wholesome, soulful cooking.  
These days, guests nosh on Southern classics in the adjacent parking lot, which has been converted into an outdoor dining area where heaters provide warmth during the cool morning hours. The outdoor patio, with seating for 40 guests, is particularly busy on weekends for brunch.
There are five locations: two in Goleta, two in Santa Barbara, and one in Ventura. Each one serves hearty comfort fare with Cajun and Mexican influences.
With its culinary direction rooted in regional cooking styles found in Mississippi and Louisiana, Cajun Kitchen opened its doors in 1984. The diner was in operation for four years before the Jimenez family took over the struggling restaurant. "At the time, my dad Richard Sr. was working several jobs and raising a young family with my mom when the restaurant went on the market," explained Richard Jimenez Jr., who oversees operations. "My dad saw the restaurant as an investment opportunity, so he, along with my grandfather and great uncle, took a chance."
They decided to keep the name, Cajun Kitchen, and looked for ways to expand the menu. Jimenez Sr. assumed the role of head chef. He had no formal training, so he took it upon himself to learn the craft, Jimenez explained. "My parents studied lots of books and traveled to New Orleans to take cooking classes. They took their Mexican-American culinary experience, combined it with what they learned in Louisiana, and created a unique menu."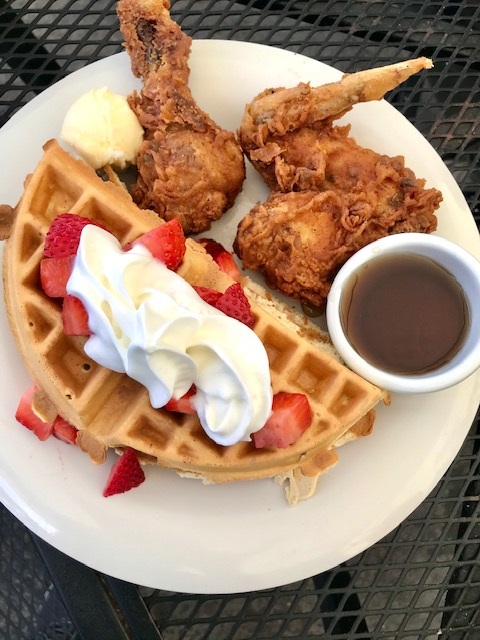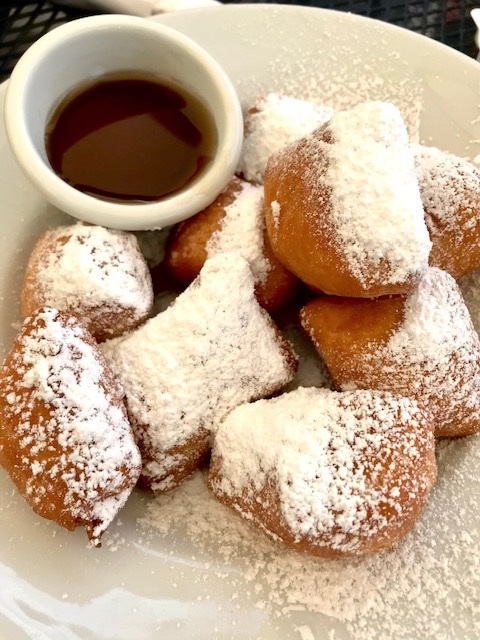 Jimenez Sr. was already skilled at Mexican skillet cuisine. Taking his cue from Cajun masters like Paul Prudhomme and Justin Wilson, he created a menu of "updated" Southern specialties, blending his Mexican heritage into dishes such as chilaquiles with a Cajun hot link and pork chile verde with eggs. Southern classics, including peppery buttermilk fried chicken and fluffy waffles, are served on a menu with crab cakes benedict and pillowy golden beignets sprinkled with powdered sugar and served with fresh fruit.  
Traditional dishes such as shrimp and andouille sausage served with grits and topped with a fried egg and savory crawfish or shrimp etouffee are simply delicious and filling. Smoky and juicy, sausages rule here.
For lunch, there's a spiced-up red beans and rice with pork chop; jambalaya; seafood gumbo; blackened catfish; shrimp po' boy; and a blackened chicken breast Cobb salad. Meals are served with toast, cornbread, or a hot biscuit.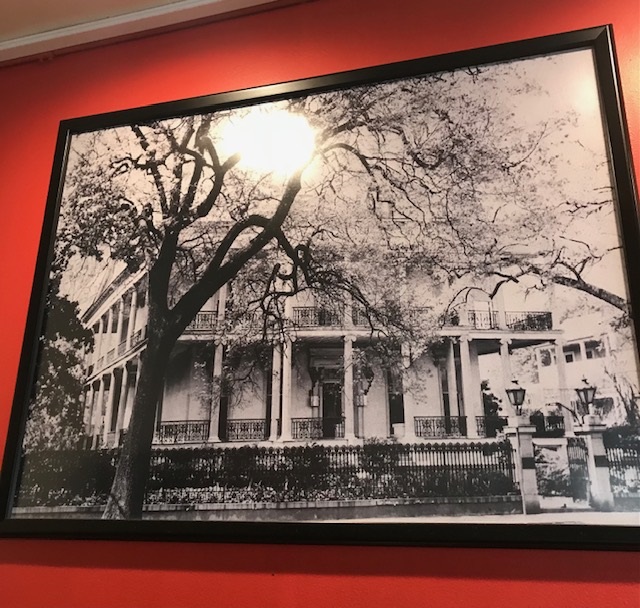 For drinks, the diner serves Dune Coffee Roasters coffee, mimosas, micheladas, Bellinis, and Bloody Marys.
The pandemic hasn't dimmed the popularity of Cajun Kitchen's flavor-rich regional fare. Jimenez said the eatery is always looking at new inspirations for its seasoned fish, meats, and stew. 
The pungent aromas of those vivid Cajun flavorings are as much a part of the diner's history as the spicy dishes Jimenez grew up with.
Like traditional Mexican stew, jambalaya – a creole rice dish made with a potpourri of shrimp, crawfish, poultry, and smoked meat, with West African, French, and Spanish influence – is a meal in itself.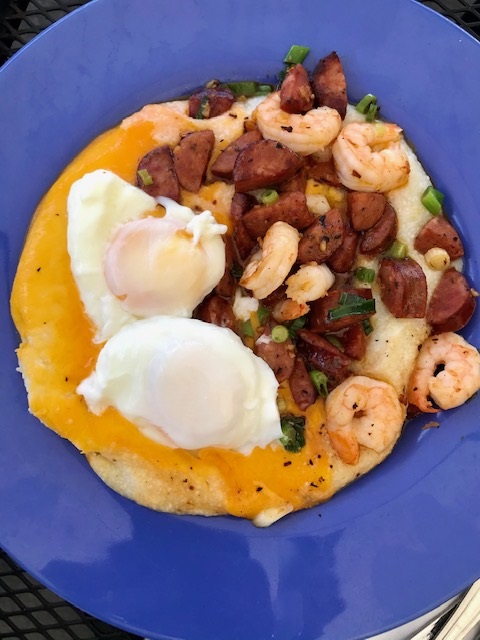 "When you make jambalaya or gumbo, you're usually preparing large quantities to share with friends and family. It's very similar to the way Mexican cuisine is prepared and experienced," Jimenez explained. 
"[Instead of traditional Mexican spices], we use bell pepper, onion, and celery as the base in many of our recipes. We were taught that these ingredients are the foundation of Cajun cooking. When all the ingredients are simmering on the stove, with spices like bay leaves and paprika, the aroma that fills the kitchen is amazing."
The breakfast and lunch format works well for the diner, which is always bustling with new guests as well as regulars.
"It's a lane that was carved out for us from the beginning," Jimenez said. "We introduced a dinner menu in the 1990s but the long hours, working from early morning until late at night, was hard for my dad," he added. "Breakfast has always been a strength of ours and Cajun Kitchen was able to prosper focusing just on breakfast and lunch. So he made the decision to stick to that."
Cajun Kitchen is open from 7 am to 2 pm Monday through Sunday. For more information, visit www.cajunkitchencafe.com.
The Big Easy Gumbo
Notes: For a thicker gumbo, add a little more Filé powder, also known as gumbo Filé. It's an herbal powder made from the dried and ground leaves of the sassafras tree (Sassafras albidum). Serve with white rice and garnish with fresh thyme. This dish pairs well with pinot noir. Complete your culinary experience by selecting your ingredients at the local farmer's market and fish market.
INGREDIENTS
1 cup all-purpose flour
¾ cup bacon drippings
1 cup coarsely chopped celery
1 large onion, coarsely chopped
1 large green bell pepper, coarsely chopped
2 cloves garlic, minced
1 pound andouille sausage, sliced
3 quarts water
6 cubes beef bouillon
1 tablespoon white sugar
Salt to taste
2 tablespoons hot pepper sauce (such as Tabasco®), or to taste
½ teaspoon Cajun seasoning blend (such as Tony Chachere's®), or to taste
4 bay leaves
½ teaspoon dried thyme leaves
1 (14.5 ounce) can stewed tomatoes 
1 (6 ounce) can tomato sauce 
4 teaspoons Filé powder, divided
2 tablespoons bacon drippings
2 (10 ounce) packages frozen cut okra, thawed
2 tablespoons distilled white vinegar
1 pound lump blue crabmeat
3 pounds uncooked medium shrimp, peeled and deveined
2 tablespoons Worcestershire sauce
PREPARE
Step 1
•Make a roux by whisking the flour and 3/4 cup bacon drippings together in a large, heavy saucepan over medium-low heat to form a smooth mixture. Cook the roux, whisking constantly, until it turns a rich mahogany brown color. This can take 20 to 30 minutes; watch heat carefully and whisk constantly or roux will burn. Remove from heat; continue whisking until mixture stops cooking.
Step 2
•Place the celery, onion, green bell pepper, and garlic into the work bowl of a food processor, and pulse until the vegetables are finely chopped. Stir the vegetables into the roux, and mix in the sausage. Bring the mixture to a simmer over medium-low heat, and cook until vegetables are tender, 10 to 15 minutes. Remove from heat and set aside.
Step 3
•Bring the water and beef bouillon cubes to a boil in a large Dutch oven or soup pot. Stir until the bouillon cubes dissolve and whisk the roux mixture into the boiling water. Reduce heat to a simmer, and mix in the sugar, salt, hot pepper sauce, Cajun seasoning, bay leaves, thyme, stewed tomatoes, and tomato sauce. Simmer the soup over low heat for 1 hour; mix in 2 teaspoons of gumbo Filé powder at the 45-minute mark.
Step 4
•Meanwhile, melt 2 tablespoons of bacon drippings in a skillet, and cook the okra with vinegar over medium heat for 15 minutes; remove okra with slotted spoon, and stir into the simmering gumbo. Mix in crabmeat, shrimp, and Worcestershire sauce, and simmer until flavors have blended, 45 more minutes. Just before serving, stir in 2 more teaspoons of Filé gumbo powder.
You might also be interested in...