A Story of Helping Hands and Hope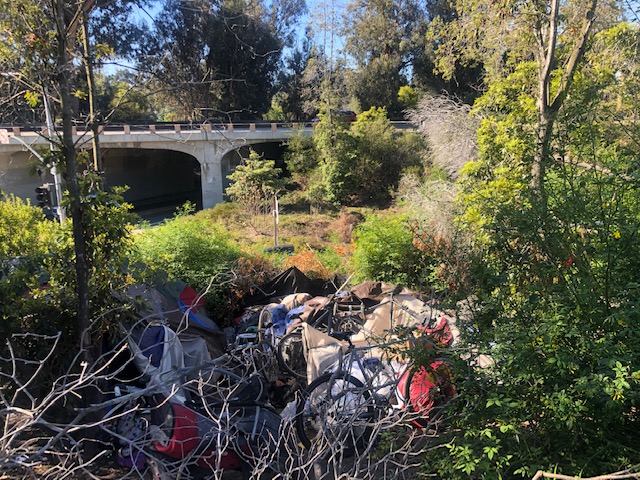 In 2020, the Montecito community witnessed a growing population of unsheltered individuals in the area. Encampments mushroomed and became quite visible. Bicycle thefts were up as were incidents of trespassing on private property.
I started visiting the encampments in Montecito with Luis Alvarado, a case manager from Homeless Outreach Services at Santa Barbara County's Behavioral Wellness Department. We met a lot of people. Some were young and had family living nearby but were using substances in a way that the family wouldn't tolerate. So, they wound up camping by the railroad tracks.
Some were living in tents on the beach. Some people had lost their homes during the pandemic, as well as their jobs, so they had no income for rent. We met people who had been homeless for decades and others who said they wanted to be left alone. Shelter was a situation that had stripped them of their dignity and their belongings, while exposing them to dangerous pathogens circulating during the COVID pandemic. Camping may look like freedom, but it triggers higher stress levels; campers must stay constantly alert for unwanted visits from law enforcement officers and from aggressive fellow transients.
If we believe in community, we must invest in all aspects of our group, not just those people with whom we're comfortable. Homelessness is hazardous to one's health. It dramatically shortens one's lifespan.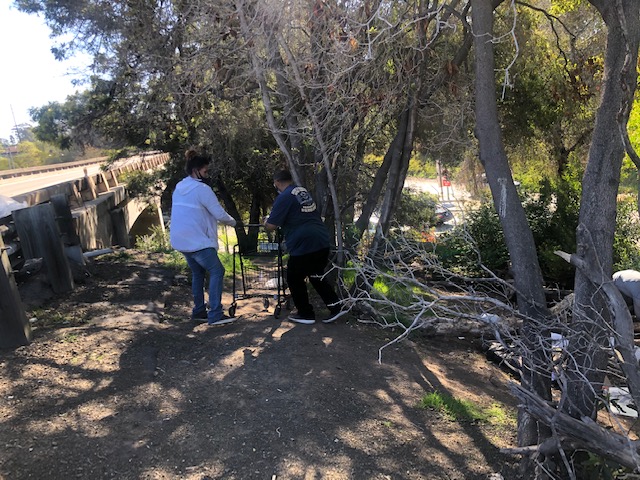 Neighbors accompanied us on some outreaches and personally saw that we needed to do something. We decided to form Hands Across Montecito, a community-supported project to bring homeless people indoors.
In May, we met one such person named Karma. She was friendly and young and lived along the railroad tracks behind Sea Meadow. Her parents resided in Santa Barbara and were raising her young son. But Karma was estranged from them due to substance use and she couldn't live with them. We continued reaching out to her as she migrated to the median between the North and South ramps of Highway 101 at Hot Springs Road. She lived in a tent with a young man named Jessie. We really wanted to move them to a safe hotel room but concerns about their substance use made that untenable.
On our monthly calls for Hands Across Montecito, neighbors and outreach agencies discuss the needs of the people we're trying to get indoors, and what the next steps might be. We wondered if Karma and Jessie might finally want to come in?
A late-night text from Karma gave us the answer: "Come get us."
The couple had a rat problem in their encampment; plus, the cold weather was sapping Karma's spirit. She'd had enough and was more stressed and anxious than before. We wanted to bag up the trash in their camp and they led the charge. Within a few minutes, we'd collected nine enormous bags of garbage. We put those bags next to the railing on the freeway for a Caltrans crew to pick up. That state agency provides a good way to keep the camps relatively clean and to reduce fire hazards.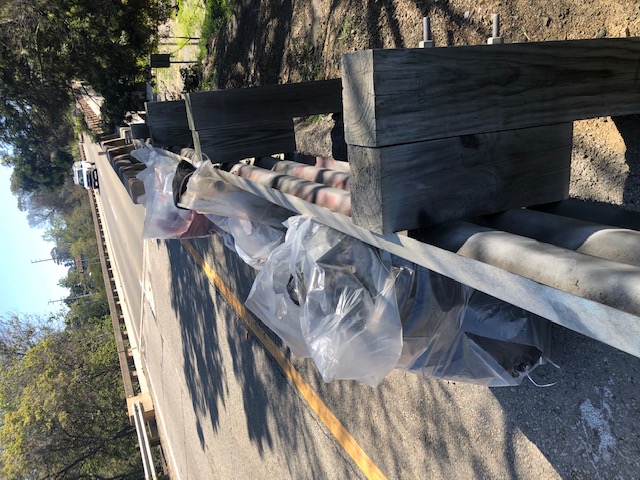 We conducted intake interviews to assess the couple's needs. They agreed to share their story so that Montecito Journal readers could understand why people remain unsheltered. Jessie is 34; Karma is 26. But their stories follow similar arcs: family problems, trauma, substance use, estrangement, and homelessness.
Jessie grew up in Wyoming and used to inspect oil drilling equipment. He got in trouble with substances after getting injured on his job. He lost his job then drifted. In 2018, he was dropped in Santa Maria by a casual girlfriend, who stole his wallet. Jessie made his way to Santa Barbara and has lived in encampments for the past two-and-a- half years. To obtain an identification card, he needed to get his birth certificate from his family. And that required him to make an emotionally painful call.
Karma was born in San Luis Obispo; at age 12, she landed in foster care. She arrived in Santa Barbara as a youth to stay with her extended family. But she began acting out. That behavior is a warning sign that a child needs help. Either that child's needs aren't being met, her boundaries are being violated or something else is seriously wrong. Troubled girls are not desirable foster children and Karma found herself in and out of foster homes. By age 19, Karma had a baby boy whom her parents took in. But Karma has remained in the camps for several years, away from her son.
As we were helping Karma and Jessie pack and getting ready to drive them to their hotel room, Karma took a deep breath and said: "My son really wants his mom. I've not been able to have him with me because I live in a tent. Now, I'm finally going to get to have him with me."
She thought about what a home meant and added: "Wow! I can be with my family again. I can have Christmas again. I haven't had Christmas in years."
We have a load of paperwork to complete, which is often a huge barrier in getting people off the street. Agencies require reams of documentation; just getting an ID card is hard. The homeless can't afford to tote around files and boxes, and personal papers are often stolen or lost.
The good news is that this marks a fresh start for Karma and Jessie. We wish them an amazing yet stable and safe journey.
You might also be interested in...