What a Year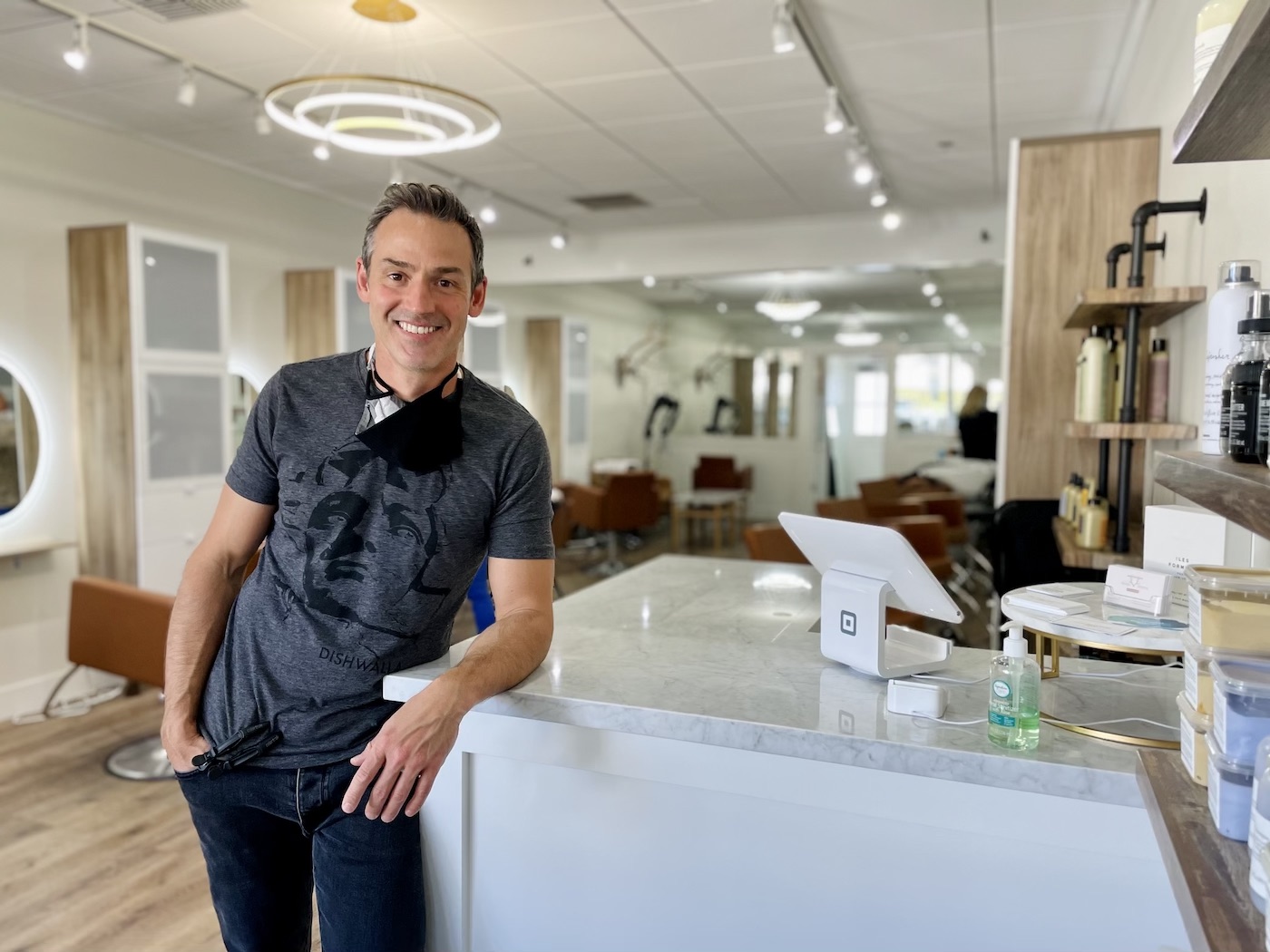 It has been quite a hair-raising year for Montecito crimper Marcus Boyle, owner of the Halo & Horns salon on Coast Village Road with his wife, Clara, just a curling tongs' throw from Ca'Dario.
Marcus, 45, who trained at Vidal Sassoon in London, celebrates the first anniversary of his business this month having worked for eight years at Sequel with his uncle Kevin Charles, hairdresser at the Biltmore for many years before being replaced by celebrity Beverly Hills stylist José Eber, who used to tend the luscious locks of the late Elizabeth Taylor.
"It has certainly been quite a rollercoaster given the pandemic," says Marcus, son-in-law of Montecito author and former Santa Barbara News-Press columnist Robert Eringer, who coined the locale's name.
"It has been like a windshield wiper opening and closing given the edicts throughout the last twelve months. The worst time was Christmas when we had to shut down for two months.
"But I'm an optimist. With all the new vaccines on tap we're clearly moving in the right direction."
Clearly a case of do or dye!…
Battle Royal
A battle royal, appropriately enough, has been raging over the U.K. rights to broadcast former TV talk show titan Oprah Winfrey's two-hour no holds barred interview with Montecito tony twosome Prince Harry and Meghan Markle.
The incendiary interview, which took place over two days last month, is set to air in the U.S. this Sunday on CBS after the current affairs show 60 Minutes.
I understand that ViacomCBS Global Distribution Group, which is selling the program overseas, is keen for the interview to land on a free-to-air broadcaster to ensure a significant profile in the U.K.
According to Variety, Comcast-owned Sky is out of the running while streaming giants Amazon Prime and Netflix – which has already signed a $150 million deal with the Sussexes – are thought not to be involved.
The BBC is also believed not to be in the running as it is instead airing Queen Elizabeth's annual Commonwealth Day message in a pre-recorded speech at Windsor Castle, just 24 hours before Oprah's interview here.
ITV, which employs Harry's longtime friend Tom Brady, has emerged as the main contender, paying $1.5 million for the U.K. broadcasting rights. The channel will be airing the interview on Monday, one day after CBS.
Harry, 36, also appeared on old friend James Corden's Late Late Show on CBS last week where he was shown rapping outside the mansion used in the NBC TV series The Fresh Prince of Bel-Air, which starred Will Smith and ran from 1990 to 1996, which might have garnered boffo ratings, but was described by dismayed officials at Buckingham Palace as "unhelpful."
An appearance by Meghan by iPhone, when the former actress revealed she affectionately called the Queen's grandson Haz, also led to snarky members of the British media dubbing the sixth in line to the throne Prince Haz Been.
CBS morning anchor Gayle King, a longtime friend of Oprah, says the hotly anticipated interview this weekend is one of the best she has ever done.
We'll see…
Oh, Baby!
Santa Barbara Wildlife Care Network is crying out for volunteers as they enter spring baby season, its busiest time of the year.
Last year the Goleta-based organization cared for more than 3,445 animals and expects more this year.
Jobs include washing syringes, preparing animal diets, and even manning the Helpline.
To learn more, email volunteer@sbwcn.org
You might also be interested in...