Polo and Ponies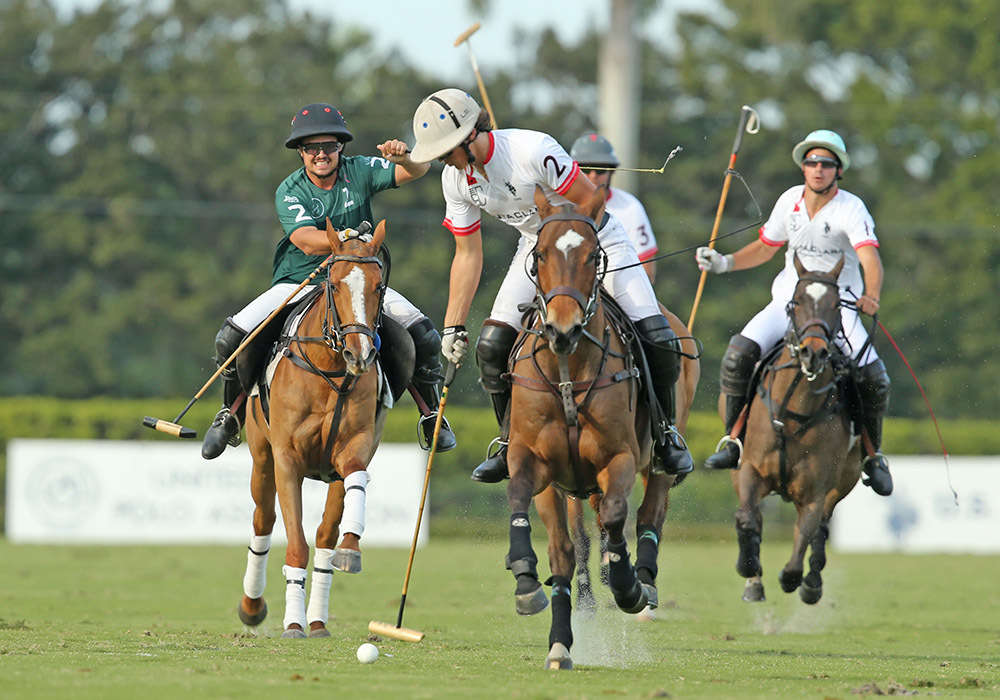 One of the things that fascinated me when we first moved to Santa Barbara in the mid-'70s was the polo field just south of town. We soon became social members even though we lived in town and spent many a Sunday watching and learning about polo and its ponies. Yes, they are called ponies. We eventually bought a condo and lived next to the field for 14 years.
Historically, an American visited England and brought the game back to New York where the Westchester Polo Club was formed. From there, the game spread to the West Coast. Santa Barbara's club was founded in 1911 and is now the third oldest United States Polo Association (U.S.P.A.) club still in existence. Polo is the "most ancient of games played with stick and ball, the fastest game both to play and to watch yet conceived," according to The MacMillan Company.
Polo was the national game of Persia. Predating Christianity, it was played during Alexander the Great's time. Polo's name came from the Tibetan culture, a derivative of "pulu," the Tibetan word for ball. Persians gave the game its structure and rules and it passed through India to England.


An exhibition polo match was first played in 1894 at Santa Barbara's Agricultural Park for the Flower Festival. By 1902, a fledgling club boasted a 40-member roster. It went on to flourish at various fields around town, drawing more players. In 1911, Elmer "Long Legs" Boeseke, Jr. (a former 10-goal player, the best you can be) was able to gain admittance for the local club into the U.S.P.A.
In 1916, a fire in Carpinteria burned a grove of eucalyptus and so paved the way for Fleischmann Field. The club passed through several hands after the fire and in 1929 was eventually sold to Major Fleischmann. Architect Robert Sturgeon designed the barns and office/clubhouse. The players loved running their ponies along the surf at Summerland Beach and trained on the sand. Also, Fleischmann liked having his yacht anchored nearby for the after-polo parties.
The Golden Era
The late 1920s and mid-1930s comprised the golden era at the Club. Teams, horses, and players would arrive by train, unload the stock cars and walk through downtown Santa Barbara all the way to Fleischmann Field. Grooms were a bit nervous because automobiles had been known to accidentally hit the horses.
Sunday at the polo fields was a great social event. It still is, with a few variations. But back in the day, the fields employed servants to cook and serve the noon-day meal. Some diners had familiar names such as Averell Harriman, Cecil Smith, and members of the Elmer Boeseke Family. Yes, polo is glamorous, but it can also be dangerous. Our good friend Eric Friden, who owned the landmark El Encanto Hotel, died days after he was thrown from his saddle when his horse stumbled during a practice game. Friden's memorial is in the hotel gardens. A club manager, Jim Colt, died in 1931 when his pony tripped over the horse in front, fell, and crushed Colt under him. The list goes on. One way that polo has been described: "Polo is kind of like golf, except you are trying to hit the ball at 40 miles per hour while someone is trying to bump you off your cart."
During the Great Depression, Major Fleischmann divided his great polo complex into ten parcels and sold each one for $10. A small group bought the parcels with John de Blois Wack assuming presidency of the club and hiring a seven-goal player from England, Harry East, as manager.
Harry was one of the best No. 1 position players. With the club under his management, foreign team members came to play including the famed Robert Skene. He was a 10-goal player for an incredible 17 years. When I moved to the Polo Fields in 1988, I knew the late Mrs. Elizabeth Skene and her husband. In 1941, ownership was transferred to Ann G. Jackson.
The Japanese Attack
In 1942, there was a surprise interruption in polo. The first enemy bombardment on American soil since the War of 1812 occurred in Goleta near the ranch of U.S. Senator Thomas M. Stroke. A Japanese submarine tried to knock out a large oil storage tank close to Ellwood Beach. Twenty-five shells were fired, but they were all bad shots. None hit their target. Through 1946, the polo fields were used to station and train soldiers and the fields became trampled and bare. There was so much work to be done that few players participated.
After World War II, Harry East remained the manager and the 1950s brought more prosperity along with the arrival of polo families such as the Gragers, the Linfoots, and the Walkers. With Robert Skene making Santa Barbara his home, he helped boost the club's popularity. There were many different owners and lessors during the 1960s. Rudy Tongg of Hawaii for one was able to secure Santa Barbara for the U.S. Open tournament in 1963 and 1966.
More polo families arrived in the 1970s: the Holdens, the Ringers, and the Conants. Skene began holding constant meetings to procure the club. Developers lurked nearby, seeking to turn the fields into a mobile home park and a miniature golf course. To hold them off, Skene subleased the club for $4,000 per month.
In 1974, the winds changed. The Santa Barbara Polo Club, Inc. bought the property and construction began on 139 deluxe condominium units, two swimming pools, a Jacuzzi, eight tennis courts, a tennis clubhouse, an exercise track for the horses, an arena, stables for 350 horses, and three turf fields. The original clubhouse is intact.
Developers' dreams were dashed when the club was put into the trusteeship of Glen Holden, Norman Ringer, and Kenneth Walker, in perpetuity. The club is now under the management of its board of directors, President John Muse, and the name has been lengthened to the Santa Barbara Polo and Racquet Club (SBPRC). The current general manager is David Sigman. Since then, the club has prospered.
SBPRC offers six months of polo a year at every skill level including a polo school with horses for beginners. There is a low-goal season that begins in mid-April; the twelve-goal season runs from May to June, followed by the high-goal one in July and August.
There are memberships available at every level from social to tennis to polo. For more information regarding games and hours, call 805-684-6683.
As General George Patton said, "No sport, save possibly steeple chasing and football, is so good a school as polo."
Remembering Larry King
When I think of Larry King, I do so with humor. Some years ago, we were with him at an event at Fess Parker's Red Lion Inn. I asked King: "Who was the worst interview you ever had?" He didn't blink an eye and immediately said, "Robert Mitchum." I had seen Mitchum a few weeks later at a private party. I sat down beside him and told him what Larry King had told me. Mitchum replied, "I don't give a damn!" That memory always makes me smile.
You might also be interested in...