Needles in a Haystack
Considering there are fewer homes in the Multiple Listing Service (the MLS, which feeds Realtor.com, Zillow, and others) than at any other time in the past 20 years, I feel it's an interesting time to pause and ask (as others often ask me), what's next in our real estate market? 
Will the buyers who find little available inventory from which to choose here in Montecito buy somewhere else or wait for their dream home to hit the market so they can compete with four other buyers? Or will they buy a fixer-up or tear down an existing home? What land parcels or homes are left to feed the demand of what we see every day now? What we see are multiple agents emailing multiple buyers' needs in Montecito and there are few signs that the activity will slow down.
With many agents working with so many clients to find the few homes that are on the market, it's a multiple-offer world, where in some cases not even an all-cash offer is enough to bring to the table. Some sellers are having pre-inspections performed with reputable, local-service providers so that buyers and their agents can review. Because all inspectors are quite busy, some buyers are experiencing contingency periods of a week or less on a sale. Sign-and-buy is a mode that is happening from time to time. You like it, you buy it, and figure out the rest later. Wow.
When a property hits the market and has multiple offers, it often comes down to who can close the fastest and with the most certainty. Or course, it also is tied to who has offered the highest price. But the fewer questions that must be answered, the better for the seller. You as a buyer have cash. Are you okay with the reports that we, the seller, have provided and will you close in a week? Great! If you need a loan or are not feeling adventurous enough to navigate a seven-day escrow, my advice is don't dive in without an experienced Realtor to guide you through the levels of commitment required when buying a home in a multiple-offer or non-contingent situation.
The Scarcity of $1 million Homes
The past few months have seen the depletion of housing inventory priced in the range of $1,000,000 to $4,000,000. As of this writing on February 27, there are only five homes in the $4 million price category and only two homes at the $5 million level. The only segment of the Montecito market that I believe still has more than 10 homes is the one that's priced at $10,000,000 or more. While we saw a solid number of sales last year for properties over $10 million, what caught the media's attention were the $25,000,000 sales and, of course, the purchase of a local home by Prince Harry and Meghan Markle. We will see high-end sales continue into 2021.
January and February closed 44 escrows in Montecito, or about 22 in each month. Sales in the 93108 zip code are very strong and, historically, are above average for winter months. But we are not at the 30-plus closings per month that we saw in 2020. Is that a slowdown? I don't know. It's still January and February. Let's see what spring activity tells us. I think we'd see a lot more sales if potential buyers had more homes from which to choose.
The biggest takeaway that I'd like to share is that normally we see about 50% of all sales in Montecito being under $3,000,000 in any given year, as was generally the case in 2020.  So roughly 50% of sales landed above the $3,000,000 mark. However, the first 44 recorded sales in MLS so far in 2021 showed that a whopping 67% of all sales in January and February were over $3,000,000— and some were well over that figure. 
What Boosts a Sales Price?
This simply means that it's getting more expensive to buy a home here in Montecito. The lower-priced options simply don't exist except for a handful of homes and condos listed for under $3,000,000. Normally, there'd be a dozen or more properties available at this level.
Two price points that have five or so offerings on the market are the $4 million and the $7 million ranges. Those are always strong sales performers in Montecito. Both offer what I call the "more for less" factor; a few in each of these price ranges are in escrow right now. This more for less means that there are often amenities and features, such as a pool or a stunning view, that elevates the market value of a home priced at $4 million or $7 million. A $4 million home with the right features might look like a $5 million home and, likewise, a $7 million property might look like a $10 million one. But a $3 million home usually looks like a $3 million one, give or take.
In the $4-million range right now, there are handful of available homes in the Birnam Wood neighborhood. They offer good value based on recent sales and have generous lot sizes. There are other, more expensive and quite lovely listings in Birnam Wood, but I'm focusing now on the $4 million range in Montecito because there are so few homes on the market at that price. Homes in Birnam Wood include a 24/7 guard, gated security and a life built around a private golf course, as well as the amenities such features provide. There are membership fees and homeowner association dues attached to owning a home at Birnam Wood. Homes within Birnam Wood are located in the Montecito Union School District.
Listed now at the $7 million level are two homes (described below) which have what one might expect from a Montecito estate: The potential to include a private gated drive, a substantial home in a good location, a pool, a guest house, and other special features, as well as privacy and historical significance. I hope you find something that works for you in the listings that follow.
516 Crocker Sperry Drive – $4,488,000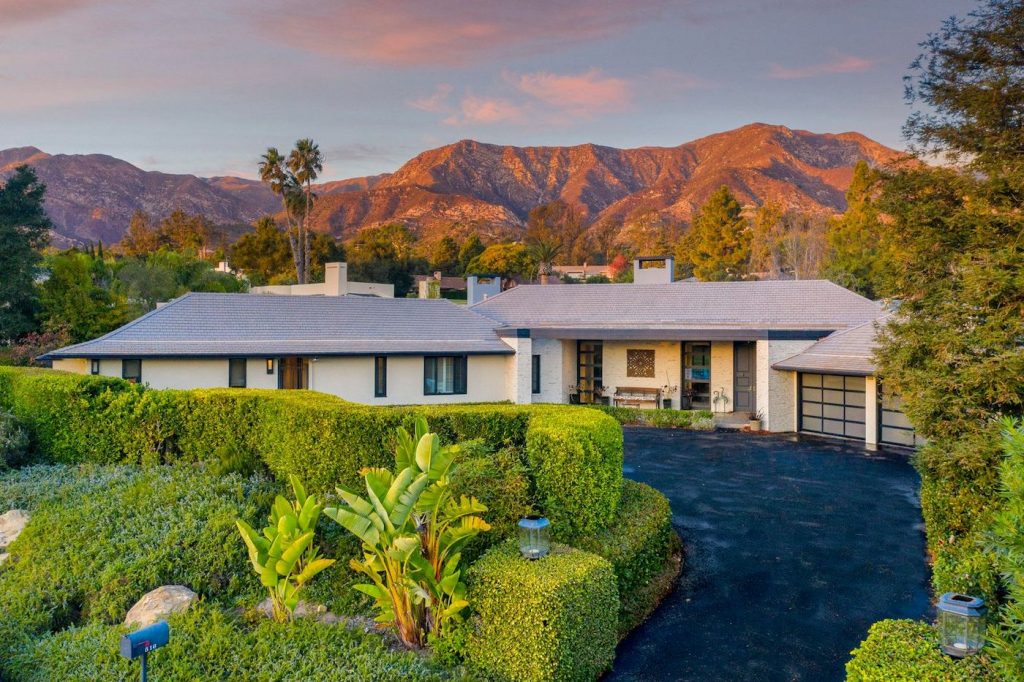 Nestled in the private, gated community of Birnam Wood Golf Club is this classic contemporary home with four bedrooms and five bathrooms in nearly 4,700 square feet of living space. Designed by James A. Morris, the mountain views form a backdrop for the spacious living room and back patio of the home. Right over the private hedge waits the golf course. 
The floor plan fulfills many needs and offers two separate workspaces at either end of the house, with outdoor access and entry options. Each zone of the house has its own private outdoor space. The 71' foyer, living room, and formal dining room have travertine floors and floor-to-ceiling windows, which allows for natural light and air to circulate.
The primary bedroom has two separate en-suite bathrooms, separate closets, and a centrally located gas fireplace. Enjoy the pool, separate spa, and private courtyard. A spacious and separate 20×21 poolside room lends itself as an office/exercise room, a cabana or guest quarters (with a half-bath). There's also a two-car plus golf cart garage.
2109 Stratford Place – $4,595,000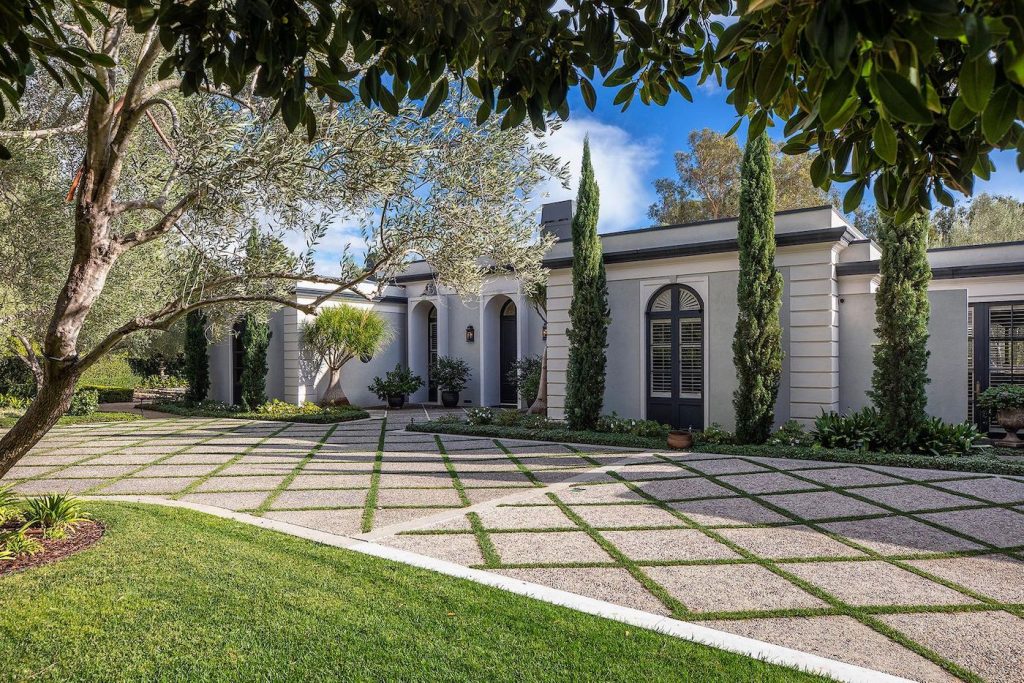 With over 4,000 square feet of living space, this French Provincial-style Birnam Wood estate is intended to set the stage for making memories with friends and family, whether you lunch on the terrace, play music in the living room, or host dinner parties with conversation and laughter in the dining room. 
The three-bedroom, three-and-a-half-bathroom residence boasts soaring ceilings with unique round skylights and walls that are graced with large windows. This allows natural light and views of the enchanting grounds and Santa Ynez Mountains. The home features an impressive marble entry, sleek, white-oak floors, a chef's kitchen, and a luxurious primary suite with dual walk-in closets.
Two additional bedrooms each host en-suite baths. Outside, the grounds boast privacy and tranquility and include a vibrant rose garden, a reflecting pool, a dry rock pond and a spacious terrace. All of it is located convenient to Birnam Wood's exclusive amenities.
2084 East Valley Road – $7,255,000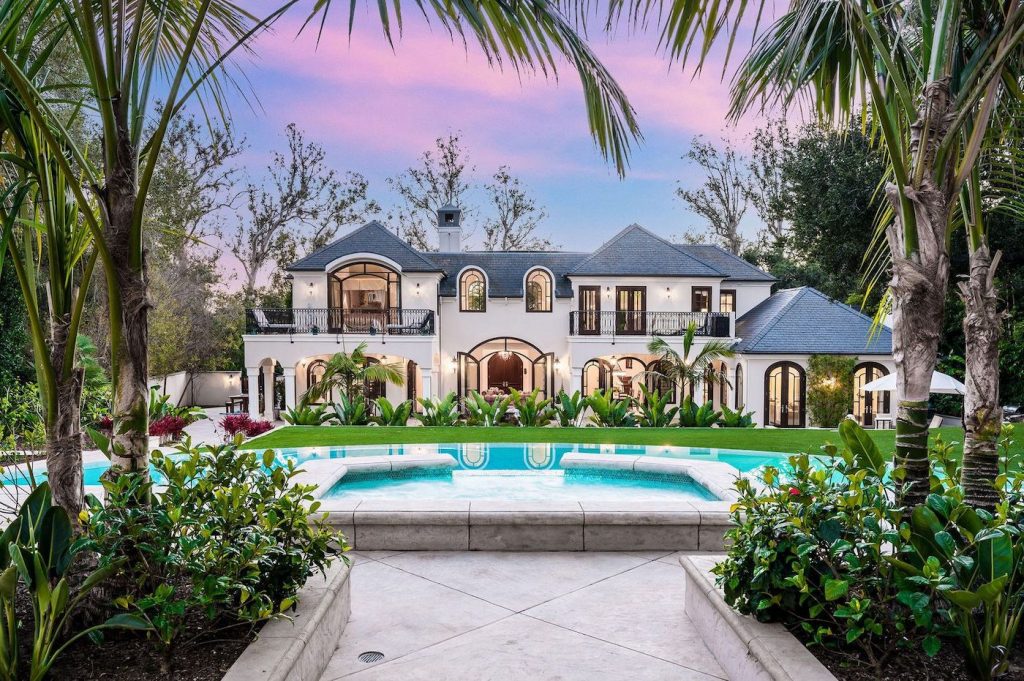 The gated entrance and circular motor court introduce you to this one-acre, Mediterranean Villa estate built in 2011. Upon entering the foyer, you're greeted by ascending ceilings, Palladian windows, and doors that highlight the serene outdoor lush landscaping. The five-bedroom, four-and-a-half-bathroom, 6,027 +/- square foot home has a sprawling floor plan that has many design features and amenities, such as a solar hot water system, a water purification system, and smart-home technology. 
The vaulted living room leads to the formal dining room, creating a beautiful echo of architectural archways. The chef's kitchen features marble countertops, a spacious counter island, and a picturesque window that showcases a tranquil water feature. A den, library, guest bedroom, and laundry room are situated on the first floor.
The swirling staircase to the second floor finds two en-suite bedrooms each with their own balcony. The primary suite features a bird's-eye view of the property and mountain views.
The property also includes a pool and spa purified by H202, ultraviolet lights, and ozone, which it hyper oxygen-aided disinfects. Enjoy the new landscaping and manicured lawns, the outdoor kitchen and the space to entertain. The one-bedroom, one-bathroom pool house features a kitchenette, a sauna, a steam shower, workout space, an outdoor teak hyper oxygen-aided soaking tub, a cold plunge, and outdoor shower. The property also has a detached auxiliary building perfect for an office or artist studio, and a three-car garage.
1098 Golf Road – $7,850,000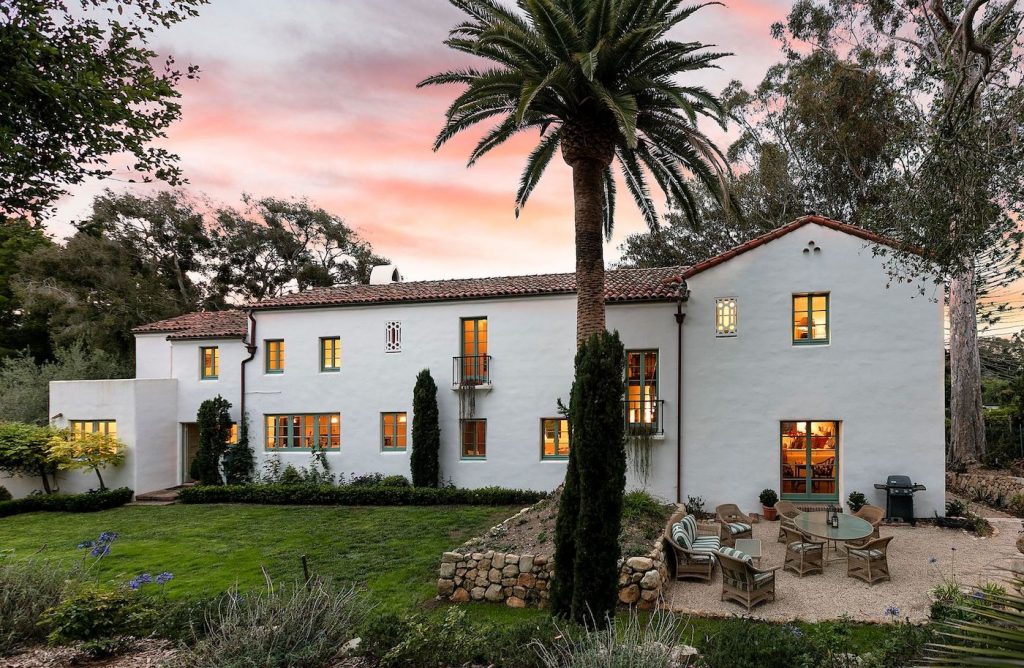 Own a piece of history in this beach-adjacent, Lower Village location on a private street near the exclusive Montecito Club. Drive through the private, stone-walled gates and up the long drive to your own resort-like estate designed by George Washington Smith and set on 1.1 acres of usable property. A Spanish Colonial Revival architectural masterpiece, the home features 4,759+/- square feet of living space with five bedrooms, an office, four bathrooms, three fireplaces, a remodeled chef's kitchen, spacious family room and a dining room that opens to terraces, wonderful balconies, gleaming hardwood floors, and updated systems. 
Each room is flooded with natural light. They are gracious in size and scale, with voluminous ceilings and G.W. Smith's enchanting Spanish architectural design details throughout. Outside, enjoy the mature landscaping that frames the sprawling lawns, pool, and pool area. A private street that includes other significant estates is just off the main road and only a mile or two from Santa Barbara.
You might also be interested in...