A Good Start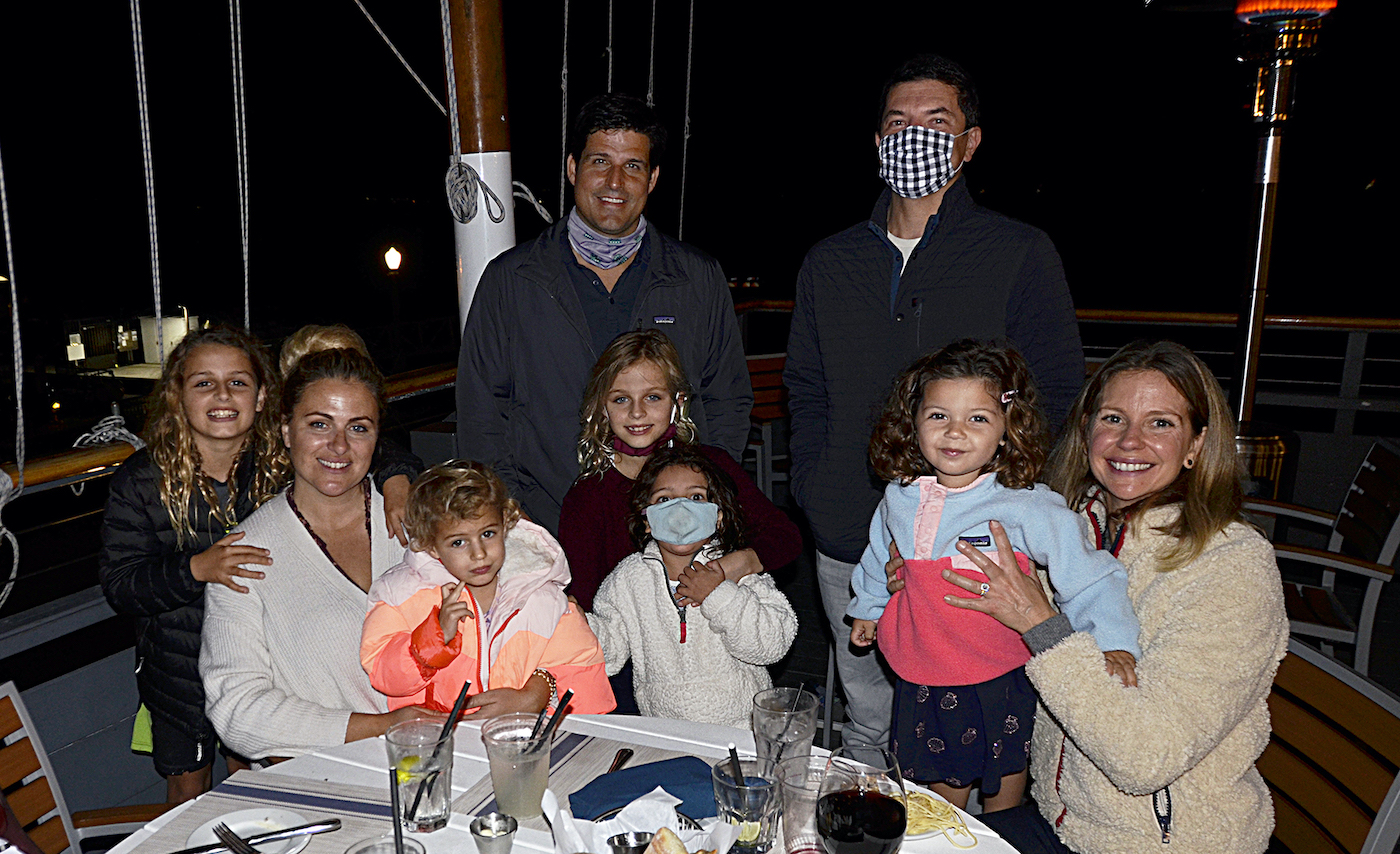 Now that Governor Gavin Newsom has lifted the total ban on eating out, I ventured to the historic Santa Barbara Yacht Club to dine with my trusty shutterbug Priscilla, the Montecito animal activist Gretchen Lieff and her longtime beau Miles Hartfeld.
The dining room on the outside terrace overlooking the Pacific was socially gridlocked, with guests suitably distanced from each other. Chef Mario Santamaria offered a compact, but varied menu.
"Everybody has just been delighted to get out again," said manager Richard Nahas. "Hopefully, with all the new vaccines now available, we'll be back to normal soon. But this is a good start."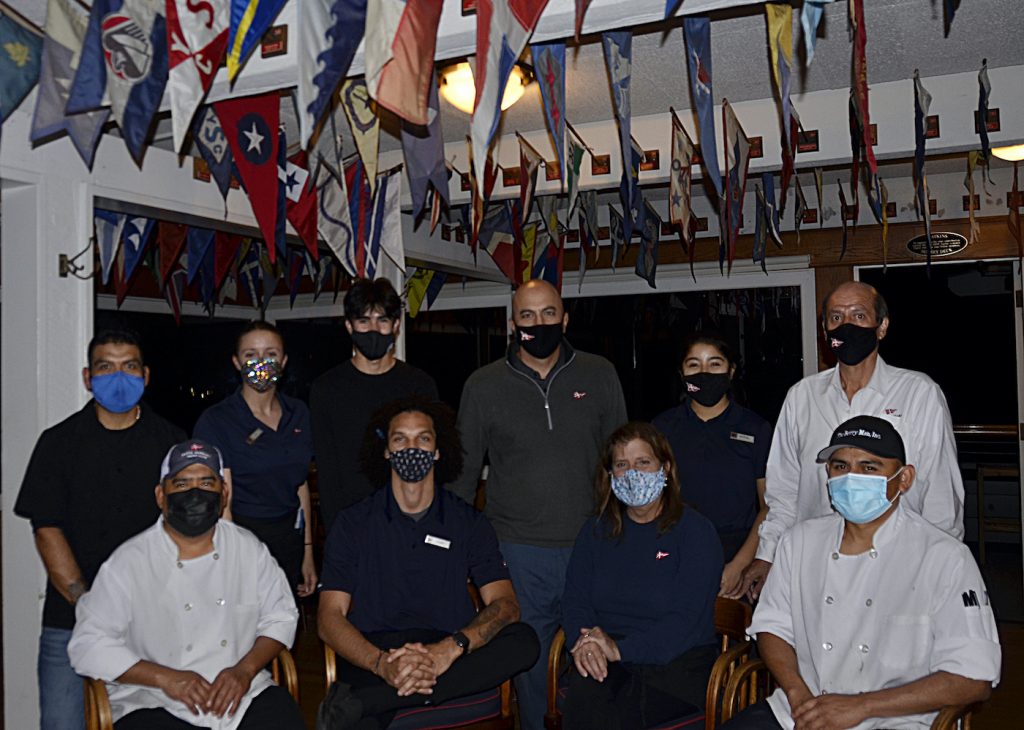 Uncovering the Truth About Doris Duke
Santa Barbara author Peter Lance sent me his latest book Homicide at Rough Point, which is based on a story published in the Conde Nast celebrity glossy Vanity Fair last summer.
After a two-year investigation Peter, 72, a five-time Emmy Award winner, proved that the late tobacco heiress Doris Duke, once dubbed "the richest girl in the world," murdered, her longtime interior designer and curator Eduardo Tirella outside the gates of her 11-acre Newport, Rhode Island, estate – a Gilded Age mansion built for railroad magnate Frederick William Vanderbilt. The murder occurred in October 1966, moments after Tirella told Duke he was leaving her employ to move to Hollywood as a production designer.
As if that wasn't enough, wrote Peter, Duke, who died in 1993 at aged 80, refused to settle with the gay Bronze Star recipient's five sisters and three brothers for as little as $200,000. This was at a time when she was earning $1 million a week in interest on her money. As a result, they sued Duke in a wrongful death action.
Five years later at trial, Duke was found liable. Yet, her lawyer proceeded to denigrate Tirella's reputation to such a degree that, in the end, she was liable for only $75,000 in damages.
Peter, who attended Columbia University Graduate School of Journalism and is a recipient of the President John F. Kennedy Journalism Award, started his storied career as a cub reporter for the Newport Daily News in 1967, eight months after the murder.
"Even then the town was abuzz with rumors that Duke had bought her way out of murder charges," says Peter, who also worked at ABC News 20/20 and was a reporter for Nightline and World News Tonight with Peter Jennings. "I should have covered this in my 20s, but my career got in the way. I spent two years hunting for the truth and finally found it!"
The book comes out in hardcover, paperback, Kindle, and Audible this week.
What a Right Royal Mess!
The news that Montecito tony twosome Prince Harry and Meghan Markle have sat down with neighbor and TV talk show titan Oprah Winfrey for a no-holds-barred, 90-minute interview scheduled to air on CBS on March 7. This will follow the network's top-rated current affairs show 60 Minutes, which may ensure boffo ratings. But the interview has gone down like a lead balloon at Buckingham Palace, I'm reliably informed.
Oprah flew in her Gulfstream jet from her 163-acre home in Maui, Hawaii, to conduct the interview over two days last week at the couple's $14 million Riven Rock estate. But it seems that the Duke and Duchess of Sussex failed to let his grandmother, Queen Elizabeth, know of the revelatory sit-down, or, more importantly, to seek her permission. The incident echoes Harry's mother Princess Diana's notorious tell-all interview with the BBC's Martin Bashir in 1995, when she famously described "three people in the marriage" in a veiled swipe at Camilla Parker-Bowles, now the Duchess of Cornwall.
News of the Oprah interview only leaked when one of her producers contacted Britain's ITV network to obtain footage from another Meghan interview that it had broadcast. With that, the cat was truly out of the bag, much to the consternation of the monarch, who marks her 95th birthday in April, and her senior advisers.
However, her decision to remove Harry and Meghan's royal patronages, including a number of Harry's honorary military ranks, was made before news of the Oprah deal leaked.
Harry, sixth in line to the British throne, served two terms of duty in Afghanistan in the British Army and always looked dashing in his various military uniforms, including the Blues and Royals cavalry uniform he wore at his wedding in May 2018 to Meghan at the historic St. George's Chapel, Windsor.
Now, his grandmother's edict also sees him relinquishing his official positions with British rugby organizations and losing his cherished title of Captain General of the Royal Marines. The question is now being asked: How much longer will the couple be styled as Their Royal Highnesses, given Diana's title was taken away when she divorced the Prince of Wales in August 1996.
Royal service is not like the hokey pokey, where you can put one leg in and one leg out. One must be fully and totally committed, which the Queen obviously thought could not be done from 7,000 miles away in California. Even so, Harry, 36, and Meghan, 39, obviously thought otherwise.
It will be interesting to watch them put their case before Oprah, which will obviously be either a success or a total bust. Meghan reportedly feels it is an opportunity to have her voice heard by a large and sympathetic audience, something she obviously felt she didn't get with the Royal Family.
Earlier this week a TV crew from CBS in Los Angeles interviewed me at Maison Mineards in Montecito to get my take on all matters royal. The interview is scheduled to air in the near future. Watch for more news here.
Healing from COVID
Montecito resident and Academy-Award winner Gwyneth Paltrow has revealed that she battled COVID-19 last year, which left her suffering from long-term fatigue, body inflammation, and brain fog.
"I had COVID-19 early on," the 48-year-old actress recounted in a Goop chat. "In January I had some tests done that showed really high levels of inflammation in my body."
The Shakespeare in Love star said that she has been taking care of herself with an enhanced focus on self-care while refraining from consuming sugar or alcohol. She designed a new regimen to combat the long-term effects of the virus.
"Everything I'm doing feels good, like a gift to my body. I have energy, I'm working out in the mornings, and I'm doing an infrared sauna as often as I can, all in the service of healing."
Fighting the Good Fight
Former Santa Ynez Valley resident and world-class warbler Olivia Newton-John uses plant medicine and medical cannabis in her long-running fight with stage four metastatic breast cancer.
Olivia, 72, told the BBC's The One show: "I'm fine. I've been dealing with this for seven years and every day is a gift."
The British-born, Australian-raised blonde is excited to attend her 35-year-old daughter Chloe Lattanzi's small wedding to her fiancé of ten years James Driskins later this year.
James and Chloe run their cannabis farm Laughing Dog Farm in Canby, Oregon, which they opened in 2016.
Bubble Palace for Sale
Palais Bulles, the south of France summer home of the late French designer Pierre Cardin, who died in December aged 98, is up for sale for $380 million.
Situated near the film festival city of Cannes and overlooking the Mediterranean, the sprawling 13,000 sq. ft. property was designed by Hungarian architect Antti Love in the 1970s and features a network of bubble-shaped structures punctuated with swimming pools and waterfalls.
The ten-bedroom house over six levels on six acres also features a 500-seat amphitheater.
The ideal property to make a real splash…
Remembering Jean
On a personal note, I mark the move to more heavenly pastures for Jean Nell, who has died at the age of 96, just a few days short of her Valentine's Day birthday.
I got to know Jean over the years while watching her usher at myriad events at the Granada, where she was undoubtedly the oldest volunteer, as well as doing sterling work at Cottage Hospital.
She was the oldest resident among 500 students at the Beach City housing complex, a tiara's toss from City College, and never wanted to give up her ocean-view upper floor apartment. The youngsters adored her, helping her with her shopping and laundry, and she in turn baked them cakes and cookies to show her gratitude.
Jean, originally from Chicago, told me that living with young people kept her young.
She will be much missed by us all…
Sightings will return in due course now Gov. Gavin Newsom lifted the total lockdown.
Pip! Pip! – Be safe and wear a mask
You might also be interested in...