Weekend Cooking: Add Red Curry to Your Romance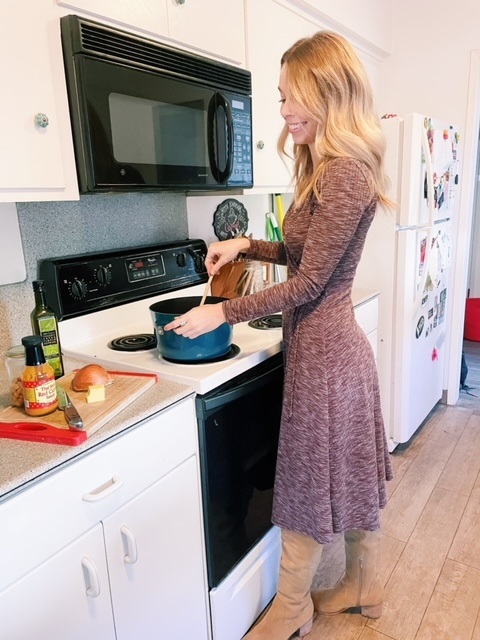 Making a commitment to someone you love is one thing. Committing your time and energy on a complex recipe is another. Keep your Valentine's Day meals simple by focusing on using quality ingredients and placing flavor over ambition.  
Silky and savory with warming spices, Asian curries are a welcome dish during the winter months. It doesn't hurt that curries are relatively simple to prepare, and you can make them with poultry, beef, and seafood or vegetarian and vegan style.
Ever since the stay-at-home orders were put in place, Sarah Lehmberg, a Santa Barbara resident and catering manager at Montecito Club, and her boyfriend, Michael, devote their non-work hours to trying new recipes in their cozy kitchen. For Valentine's the couple is planning to create a romantic evening at home with an aromatic Thai dish: Red Curry Chicken and Chickpeas.
"This dish is perfect to make for your loved one because it is unique, comforting, and extremely easy," Lehmberg said. "Preparing a meal for your partner is an easy way to express your love, even if you aren't the 'chef' in the relationship."
Sarah and Michael share a love of Thai food. "The biggest challenge at first was making it at home instead of taking a shortcut and ordering out every time," she said. Lehmberg's go-to recipe is both quick and nutritious, using Trader Joe's red curry sauce and a combination of garlic, onions, coconut milk, bell peppers, and chickpeas.
"The magic and simplicity comes from Trader Joe's red curry sauce," she explained. "I use chicken, chickpeas, and bell pepper, but you could easily use snow peas, broccoli, or potatoes instead."
For now, Lehmberg isn't letting the pandemic blues discourage her culinary explorations. "One day, when we can travel again, I'm headed to Thailand for the authentic dishes," she said. "But for now I'll enjoy this delicious dish at home."
World's Easiest Red Chicken Curry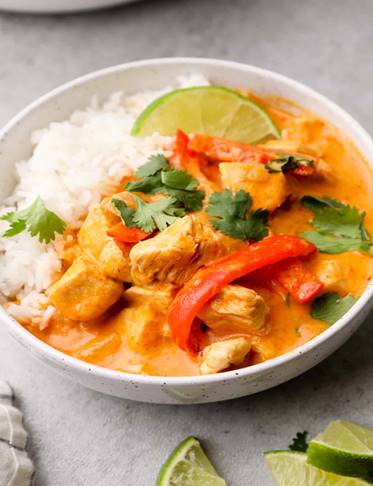 Ingredients:
1 tablespoon vegetable oil
1 pound boneless, skinless chicken tenders, cut into bite-size pieces
1 tablespoon butter
1/2 onion, diced
2 garlic cloves, minced
1 can coconut milk (14 ounces)
1 can of chickpeas
2 red bell peppers, cut into bite-size pieces
Trader Joe's Red Curry Sauce (3/4 jar)
1 tablespoon curry powder 
Dash of salt
Dash of pepper
Fresh cilantro
1 large lime 
2 cups of cooked jasmine rice (either rice cooker or stove top)
Procedure:

In a large skillet, heat one tablespoon of vegetable oil. Sauté onion and garlic for two minutes. Season chicken with salt and pepper and add to the skillet with a tablespoon of butter. Sauté together until chicken is brown, about five minutes. 
Add coconut milk (scoop and discard solids off the top). Add TJ's Red Curry Sauce and bring to a boil. Reduce heat and add a tablespoon of curry powder to thicken and enhance the flavor.
On low heat, add chickpeas and bell pepper and simmer for 15 minutes.
Squeeze in a bit of lime juice and serve over jasmine rice. Garnish with cilantro.
You might also be interested in...