Sepi Consignment Closes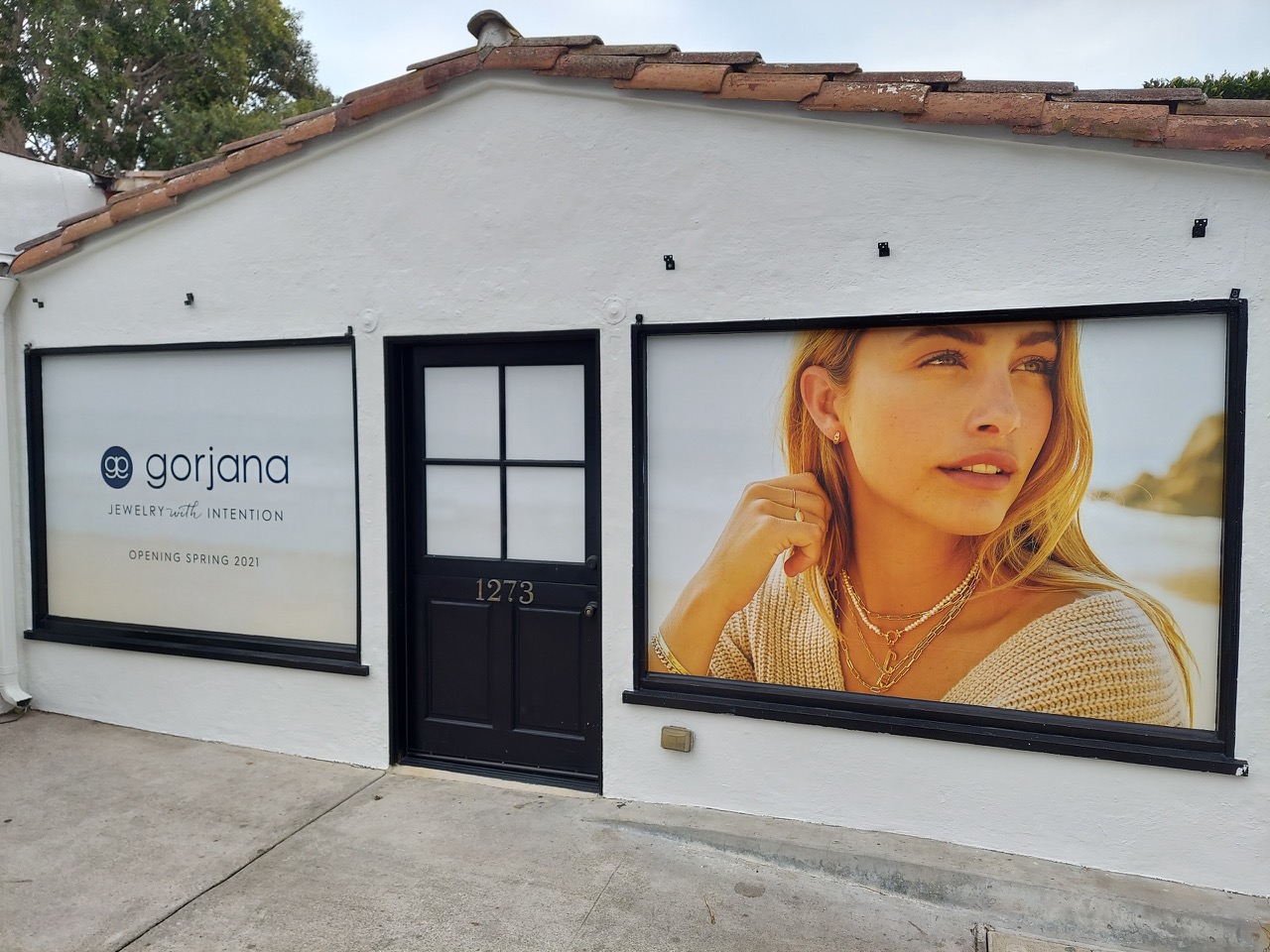 After six years in business, Coast Village Road consignment boutique, Sepi, has closed. Owner Sepideh Babri took over the shop in early 2015, when it was named Matti & Me after then-owners Matti Bourgault and Wendy Nanon Smith.The high-end luxury consignment store featured women's clothing, handbags, shoes and boots, belts, sunglasses, jewelry, and accessories, in some of the most recognizable luxury brand names.
Contemporary jewelry store Gorjana is set to open in the vacant space, 1273 Coast Village Road, in early spring. Founded in 2004, the mid-priced jewelry company is owned by wife and husband team Gorjana and Jason Griffin Reidel, who set out to build a casual jewelry line that was "quintessential California." The company's popularity has steadily soared, and as of 2020 the jewelry can be found in over 1,000 retailers nationwide, as well as standalone stores on both coasts. Opening their first location in Laguna Beach in 2016, the couple and their team have opened 17 additional locations in the last four years, including in Irvine, Venice, Century City, Malibu, Long Beach, La Jolla, San Francisco, Walnut Creek, Brooklyn, and Scottsdale, among others. Montecito will be their 19th store, and the brand continues to grow.
For more information, visit www.gorjana.com.
Montecito Association's Annual Meeting
The Montecito Association Board of Directors held its 73rd Annual Meeting on Tuesday, followed by its monthly meeting.
During her executive director report, Sharon Byrne gave an overview of the MA's activities in 2020. "It was a really, really good year in a lot of ways," Byrne said, adding that the MA gained 102 members in 2020, for a total of 1,221 current members. The organization received 470 different donations throughout the year, earmarked for various causes including the Village Fourth Road Show, the Hands Across Montecito homeless outreach project, and pandemic kits. "Our community is extremely supportive and generous," Byrne said.
Issues tackled by the Association this year include the Hands Across Montecito project, which created a contract and budget for outreach for the ongoing issue of homelessness. Homeless encampments on the railroad tracks between Olive Mill and San Ysidro were cleared in October, and beach camps were cleared in December. Fifteen members of the community have participated in outreach, and three homeless individuals have been moved indoors due to the efforts, including one in permanent housing. Most notable, the City of Santa Barbara and the County of Santa Barbara have adopted similar models of the outreach pioneered in Montecito.
The MA answered several neighbor concerns, including parking issues on Miramar, paparazzi issues on Riven Rock, multiple issues on the trail at Sea Meadow, and fire concerns on local trails. The board has also supported residents of the Periwinkle neighborhood on their pilot program to underground utilities.
The MA has been instrumental in dissemination of information related to the pandemic, including testing, case numbers, vaccines, and more. The MA also procured and delivered pandemic kits and masks to neighbors, and checked in on the most vulnerable members of our community.
President Megan Orloff noted the retirement of two directors: Peter van Duinwyk and Dorinne Lee Johnson, who announced her retirement last month. Orloff called van Duinwyk "thoughtful, inquisitive, rational, and humble," and thanked him for the last six consecutive years of service. Peter has been on the MA a total of 12 years, in addition to his work on the Montecito Union School Board and the Montecito Fire Protection District Board of Directors. Orloff also acknowledged the recent loss of two vital preservationists in our community: Kellam de Forest and Dan Eidelson, both of whom passed away recently.
The board had eight vacant seats to be filled for three-year terms. Newly elected members include Bill Babbitt, a new Montecito resident, who is an architectural designer; Penelope Bianchi, a returning board member who has lived in Montecito since 1997; Martha Gray, also a returning board member and licensed architect; Kathi King, a returning board member who has been on the MA board since 2015; Bill MacFadyen, founder and publisher of Noozhawk; John Murphy, a 17-year Montecito resident; Sandy Stahl, a returning board member and local realtor; and Megan Orloff, returning board member and EVP, Chief Strategy Officer at Montecito Bank & Trust. The slate of officers include president Orloff, first VP Doug Black, 2nd VP Houghton Hyatt, treasurer King, and secretary Bianchi.
During the monthly meeting, there was a healthy conversation with California Senator Monique Limón and Assembly Member Steve Bennett. The two discussed issues they are working on including COVID-19 relief, reopening of schools, and economic recovery, and issues that were at hand prior to the pandemic, including upcoming housing bills, environmental issues, education, and more.
Senator Limón warned the board that it's likely a new housing bill similar to SB1120 will come back, which could create significant issues for the semi-rural atmosphere of Montecito. "I have and will continue to be vocal that housing development should not look the same throughout the state," Limón said. "With wildfires and debris flow, we know that we cannot build without considering our topography."
SB1120, which failed last year on a technicality, would have allowed building of additional residential units within a single-family residential zone. Orloff said the bill, or a newer version, could create the largest threat to the semi-rural character of Montecito that we've seen in the last several years. The MA has been researching the upcoming bills, and have formed a sub-committee to keep close watch on developments. We'll have much more on the concerns in future editions of the Journal.
During community reports, Montecito Fire Chief Kevin Taylor reported that the District's neighborhood chipping program begins on February 22, and is ongoing for six months. Homeowners will receive a postcard in the mail a month in advance of the chipping. Areas to be chipped can be found on the MFPD website.
Santa Barbara County Sheriff Lieutenant Butch Arnoldi reported that recent crimes in Montecito include mail theft in Montecito, Carpinteria, and the City of Santa Barbara. There have been three reported residential burglaries in Montecito, a few stolen vehicle reports, and an arrest of a stalking of a high profile celebrity.
School superintendents Dr. Anthony Ranii and Dr. Amy Alzina reported that in-person learning is going well, and neither school has seen a positive COVID test in staff, nor has there been spread of the virus at either school. There has been an increase in enrollment at both schools, due to the increase in home sales.
First District Supervisor Das William's rep Darcel Elliott reported that the Board of Supervisors voted to send a letter to the Governor, asking for Santa Barbara Unified to be able to reopen for in-person learning, a decision which the Public Health Department is advocating for due to the drop in local COVID cases. Elliott also reported that the County is roughly 65% through the vaccination of the 75+ population, and the Board of Supervisors is eager to open up vaccination to the 65+ population, as well as teachers. The County is expecting an increase in supply of vaccines over the coming weeks. Lastly, Elliott said the County is testing a pilot program of road striping to delineate parking on Riven Rock between Mountain Drive and Hot Springs. If someone parks over the lines, the Sheriff's Department can issue citations. This will be the first of potentially several areas where striping of parking lines will be considered.
The next Montecito Association meeting is scheduled for Tuesday, March 9. For more information, visit www.montecitoassociation.org.
You might also be interested in...