At Olio e Limone, It's Amore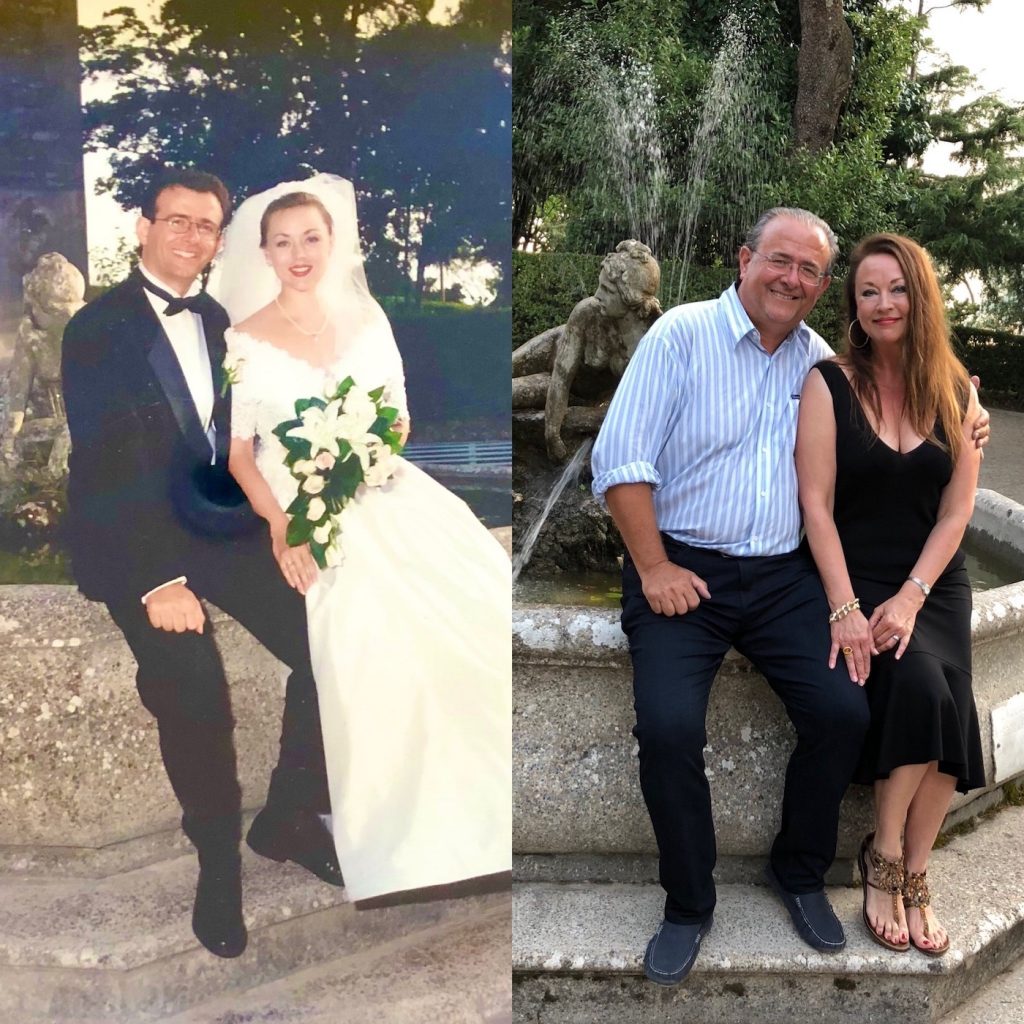 Regular patrons of Olio e Limone are fans of the eatery's Southern Italian fare as much as its owners Elaine and Alberto Morello. But there was a road that led the Sicilian chef and business partner wife to Santa Barbara. The two embarked on a business venture and romance that has lasted more than three decades and produced three popular restaurants: Olio e Limone, Olio Bottega, and Olio Pizzeria. Over the years, the couple has learned how to withstand long hours, short fumes, and the trials of success. At the end of each day, they are as passionate for one another as the day they met, or so we learned during a recent interview.  
Q. You met while working at Celestino Ristorante in Beverly Hills. Was it love at first sight?
Elaine: Not at first sight, but I did think Alberto was the most interesting and mysterious out of the five to six other Italians flirting with me at work! Then he swept me off my feet. Literally. He proposed to me mid-flight on a hot air balloon. If that's not romantic, I don't know what is.
Chef Alberto: Yes, I was the quiet, stealthy one who won her heart. I got the nickname lupo (wolf) from that. On the day I proposed to Elaine, I didn't tell her where we were going, just to wear layers of clothing for both cold and hot weather. I knew she had always wanted to go up in a hot air balloon. I'll never forget the look on her face when we got to the airfield and she saw the balloons.
Your next job after that was working for Prego Ristorante in Irvine, where Chef Alberto served as executive chef and Elaine was on the event planning and catering side. Did you know then that you made a good business team?
Elaine: We already knew we'd make a good business team from our time working together at Celestino. But the experience we both gained at Prego (part of then-Spectrum Foods/American Restaurant Group) was invaluable and definitely set the stage for us running successful restaurants of our own. What people don't realize is that a restaurant isn't as glamorous as they think, and it's not just about good food and hospitality; it is first and foremost a business.
Chef Alberto: Yes. What Elaine said. And I had over 30 kitchen staff who reported to me at Prego.
What were some of the obstacles to opening your own restaurants and how do you work through challenging times?
Elaine: We had to wait nine years from the time we first created our concept for our own restaurant (which evolved during that time period) until it finally came to fruition. Lots of sacrifices, cost, time, energy, perseverance. Working through the many challenging times over the years from 9/11 to the 2008-09 financial crisis, multiple fires, the worst being the Thomas Fire and subsequent Montecito debris flow. I think the most important factor was us continuing to play a role in our community, bringing people together, providing comfort and normalcy. Now with COVID-19 we're doing the same but on a different level.
Chef Alberto: We would have opened our first restaurant in 1991 or 1992 if it were up to us, but it was good we had to wait. I think we've been more successful because we did. We've made it through so many hard times and we're still here. That says something. We have a friend who calls us "The Little Engine That Could."
What's the secret to a healthy life partnership?
Elaine: The man cave.
Chef Alberto: The man cave.
Operating three restaurants is a 24/7 operation. How do you manage and still have time for romance?
Elaine: We are very pragmatic people now – we've been married for 27 years and together for over 30 – and the business takes up almost all of our time but I'd say it's the little things. Alberto still cuts roses from our garden and puts them in different spots to "surprise" me, which I think is the sweetest thing.
Chef Alberto: We don't have a lot of free time but yes, it's the little things. Like encouraging one another to spend time with our friends then being happier to see each other because we did. Once in a while, a sushi date night.
You might also be interested in...